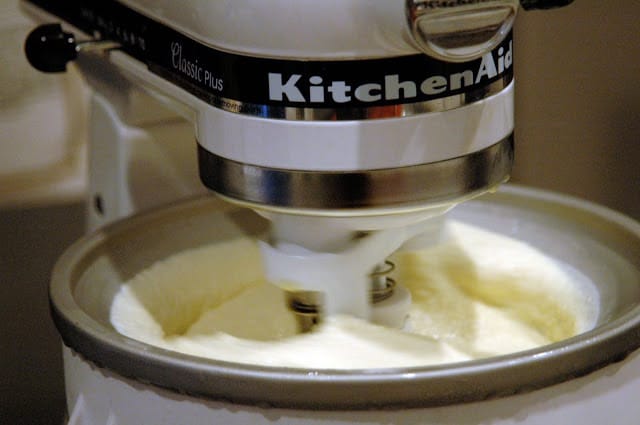 Nothing says 4th of July like home-made ice cream! Making ice cream is a labor of love, and as explained in my kitchenaid ice cream attachment manual it is a 2 day process. Because this recipe and all other ice cream recipes call for not only a lot of dairy but tons of eggs I highly suggest if you are going to make multiple batches that you purchase your eggs, half and half, and heavy cream from a whole sale store such as Costco. Another big tip I can give is that you must make sure your egg/milk mixture not only doesn't boil but cooks long enough to cook the raw egg out of the ice cream… Your mixture will be very bubbly after mixing in the mixer for a minute–don't think that once it's in the pot and the bubbles are there that its ready… you should keep it on heat for a good 5 to 10 minutes… something kitchenaid does not tell you in the manual! Another thing that Kitchenaid fails to tell you is that you will not instantly have ice cream after churning… it will resemble ice cream soup.
You will need to freeze it for a few hours before you can really try it, and you'll need to either let it sit out for a good 15-30 minutes prior to scooping since it will be rock hard (or put it in the microwave for 30-60 seconds to soften)!
I started with this recipe since it's what KitchenAid suggested. I like it; however, it's very fattening… now that I've made a few batches and feel more experienced I'll be making more lower-fat ice creams that I don't feel all that guilty eating!
Source: KitchenAid Ice Cream Maker Attachment Book
Ingredients
2 1/2

cups

half and half

8

egg yolks

1

cup

sugar

2 1/2

cups

whipping cream

1

vanilla bean scrapped

leave the pod in each of the containers batter will cool in--remove the pod before churning

1/8

tsp

salt
Instructions
In a medium saucepan over medium heat, heat half and half until very hot but not boiling, stirring often. Remove from heat and set aside.

Place egg yolks and sugar in mixer bowl. Attach bowl and wire whip to

KitchenAid Mixer

. Turn to speed 2, and mix for about 30 seconds or until well blended and slightly thickened. Continuing on speed 2, very gradually add half and half; mix until blended. Return half and half mixture to medium saucepan; cook over medium heat until small bubbles form around edge and mixture is steamy, stirring constantly. Do not boil. Transfer half-and-half mixture into large bowl; stir in whipping cream, vanilla, and salt. Cover and chill thoroughly, at least 8 hours.

The next day: Pour the french vanilla ice cream batter into ice cream maker and churn according to manufactures directions. *I use the

KitchenAid Ice Cream Maker Attachment

and this recipe takes 15-20 minutes for me, on speed 1.

Immediately transfer ice cream into serving dishes, or freeze in airtight container for up to 1 week.
Discliamer: This post contains affiliate links. If you buy something I will make a percentage off your purchase.