First off, I wanted to give everyone a little update. Seems that our little guy is being a little stubborn and still has yet to grace us with his presence. You can follow along via social media. I've been trying to give daily updates (especially on Instagram).
Today, we have a tasty round-up of 50 Easy, Healthy Family Meals from Angela, from Seasonal and Savory. I met Angela last year during a Google+ Hangout! I love her blog and hope that after you check out this impressive list of recipes you'll head over and check out all the great recipes she has to offer!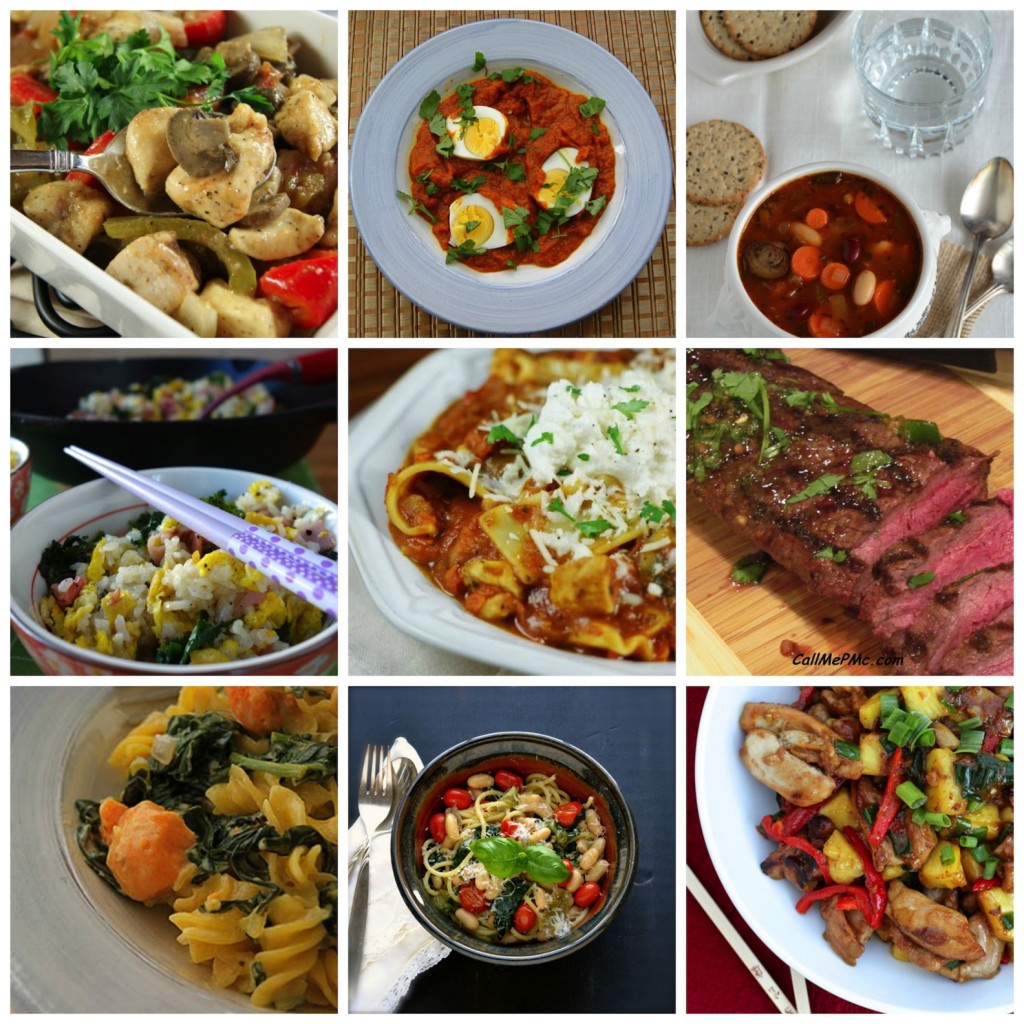 Hi, this is Angela, from Seasonal and Savory, stepping in for Katie while she is on maternity leave! My recipes are mostly gluten free and free of refined sugars, and with a focus on fresh, seasonal produce. Since Katie has her hands full right now I called on some of my food blogger friends to put together a round-up of fifty easy, healthy, family-friendly meals to help her out. I hope she finds some recipes here that her family will enjoy, and I hope you do, too.
Chicken and Turkey Recipes:
Pizza Chicken Roulades, from Emily Bites
Green Chicken Curry, from A Cedar Spoon
Easy Baked Chicken Cacciatore, from The Kitchen is My Playground
Breaded Whole Chicken, by Cook the Story
Stir-Fried Chicken with Pineapple and Peppers, by Karen's Kitchen Stories
Chicken and Bell Pepper Chow Mein, by Karen's Kitchen Stories
Chicken Parmesan Wonton "Cupcakes," from Emily Bites
Honey Mustard Chicken, by Overtime Cook
Chicken with Italian Plums, by Seasonal and Savory
Quinoa Crusted "Fried" Chicken, from Cooking on the Weekends
Roasted Lemon Rosemary Chicken and Red Potatoes, from A Cedar Spoon
Turkey Gyro Burgers, by Renee's Kitchen Adventures
Roasted Red Pepper and Asparagus Quinoa, by Inside BruCrew Life
Slow Cooker Dishes and Soups:
Slow Cooker Turkey Chili, from Yummy Healthy Easy
Slow Cooker Moroccan Chicken Thighs, by Rachel Cooks
Basque Chicken Stew, by Savoury Table
Crock-Pot Chicken Tacos, by Two Healthy Kitchens
West African Sweet Potato and Peanut Stew, by Seasonal and Savory
Chicken Lasagna Stew, from The Kitchen is My Playground
Busy Day Chicken Fajita Soup, by One Creative Mommy
Pasta Dishes:
Salmon Linguine, from A Cedar Spoon
Three-Pepper Ravioli with Italian Sausage, by Two Healthy Kitchens
Spaghetti Squash Pad Thai, by Lexi's Clean Kitchen
Pasta with Olives and Feta, by Seasonal and Savory
Lightened-Up Italian Chicken Sausage with Pasta Skillet, by Renee's Kitchen Adventures
Lasagna Inspired Spaghetti Squash Casserole, by Everyday Maven
Lemon Asparagus Pasta with Roasted Shrimp, by The Law Student's Wife
Pasta with Sweet Potatoes and Cajun-Spiced Creamy Greens, by Seasonal and Savory
Meat Dishes:
Six Minute Flat Iron Steak, by Call Me PMC
Paleo Pesto Meatballs, by Everyday Maven
Steak and Ale Pie, by Savoury Table
Easy Beef Vegetable Stir Fry, by Rachel Cooks
Mustard Roasted Venison, by Seasonal and Savory
Healthy Hamburger Stroganoff, by The Weary Chef
Sauteed Kale with Sausage and White Beans, by An Edible Mosaic
Seafood Dishes:
Shrimp and Artichoke Frittata, by Seasonal and Savory
Gingered Tuna Salad, by Tag Sale Tastes
Spicy Shrimp Tacos, by Jersey Girl Cooks
Olive-Crusted Grouper, by Seasonal and Savory
Coconut Curry Shrimp and Grits, by Spice Lime
BBQ Shrimp, Broccoli, and Cheesy Quinoa Bowls, by Cupcakes & Kale Chips
Salt and Pepper Shrimp, by Seasonal and Savory
Vegetarian Dishes:
Squash, Mustard Greens, and Chickpea Masala Stew, by Farm Fresh Feasts
Lentil Walnut Veggie Burgers, by Because I Like Chocolate
Easy Saag Paneer, by Seasonal and Savory
Spaghetti with Escarole White Bean and Tomato, by Taste, Love & Nourish
Fried Rice with Massaged Kale, by Farm Fresh Feasts
Salsa Egg Tacos, by Cupcakes & Kale Chips
Two-Bean Vegetable Soup, by An Edible Mosaic
Easy Curried Eggs, by Seasonal and Savory