What's for dinner? I have 50 Easy, Healthy Family Meals to get you out of the dinnertime rut, and bringing dinnertime joy back to the table for everyone. No need to make separate meals for kids and adults. Dinnertime is about sharing the same meal together. After all, you are not a short order cook!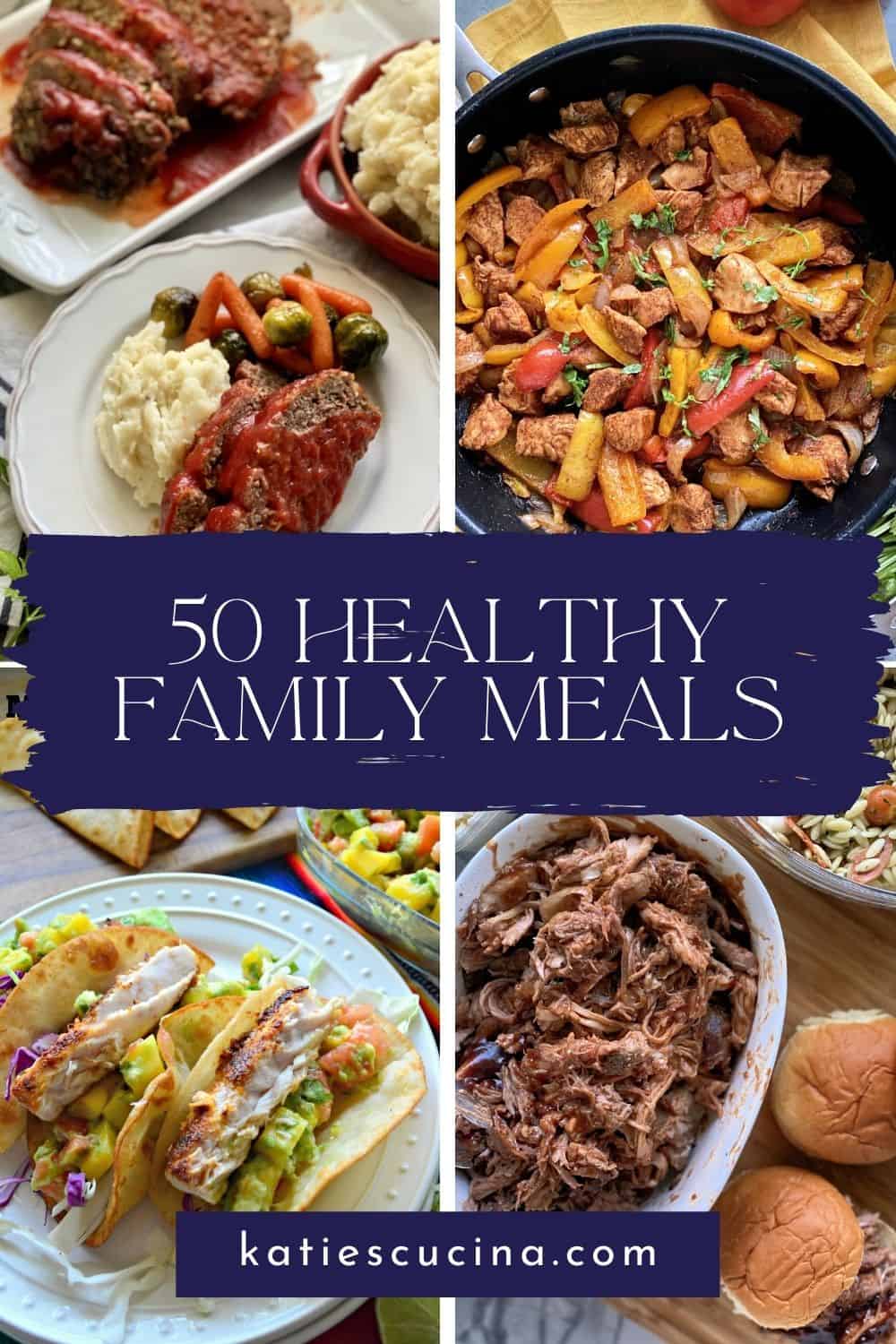 Being a parent is hard. So why does dinner have to be hard too? Today, I'm focusing on ways to help not only simplify your dinner time routine but get you out of the "what's for dinner" rut! My recipe round-up of 50+ Easy Healthy Family Meals is sure to be your new go-to. My hope, is that you will save (or pin) this list of family meals and start cooking down the entire list.
Most dinners are perfect for a family of 4. However, some might make more or a little less. Either way–I know you are going to love this time saving guide to give you a wide variety of ideas for dinner.
Jump to:
FAQS
Here are a few of my frequently asked questions when it comes to cooking healthy family meals.
How do I start cooking healthy for my family?
Cooking healthy for your family can be easier if you set yourself up for success. Here are a few of my tips and tricks on how to start cooking healthy for your family.
1. Meal Plan– This sounds like a no brainer, but it really is the way to start cooking healthier. If you have a plan in place for the week you are less likely to steer away from it, and more likely to actually stick to the plan.
2. Whole Foods – These are foods with a single-item ingredient list like carrots, broccoli, chicken, salmon… See below because I go into this in more detail.
3. Meal Prep – Circling back to number 1… if take time to meal prep like chopping vegetables, marinating meat in the beginning of the week you will set yourself up for success.
4. Healthy Swaps – This is a somewhat easier one for some and not so easy for others. Instead of fried chicken try an oven baked chicken that resembles the crispness of that fried chicken you love so much. Think outside of the box. Try little swaps to start with.
5. Flavor – Don't skimp on flavor. Healthy food does not have to taste bland or bad! Add some homemade cajun or blackening seasoning on fish or veggies. You will be surprised by how much flavor it has and it's still healthy for you!
How can a family start clean eating?
I am not a nutritionist by any stretch of the imagination, but I do know a thing or two about foods. Here are a few of my go-to tips for eating cleaner as a family.
-Cook your own meals – Try staying away from eating out and eat in more. During these current times it's a little easier; however, when you eat out you don't know the quality of food nor what is really in it. Thinking you are eating healthy, but in all actuality that fried chicken salad has over 1,000 calories in it!
–Eat Whole Foods – Think of whole foods (not like the Supermarket) as stuff that either has a heart beat or grown. So essentially meat, vegetables, and fruits. They are not packaged–fresh and full of so much nutrients.
–Avoid Packaged Foods – This is a biggie and one that is so hard to do in this day in age. Don't get me wrong my family eats their fair share of packaged foods. However, when I can afford it both time and money I will make the recipe by scratch vs grabbing a package that is pre-made. Packaged foods tend to have tons of extra ingredients that we don't typically need (i.e., preservatives, chemicals and other stuff that you can't understand on the label).
– Read the labels – Yes, this is really a thing! Read the labels. If you can't pronounce it then you probably shouldn't put it in your body. At least that's my motto.
Healthy Beef Dinner Ideas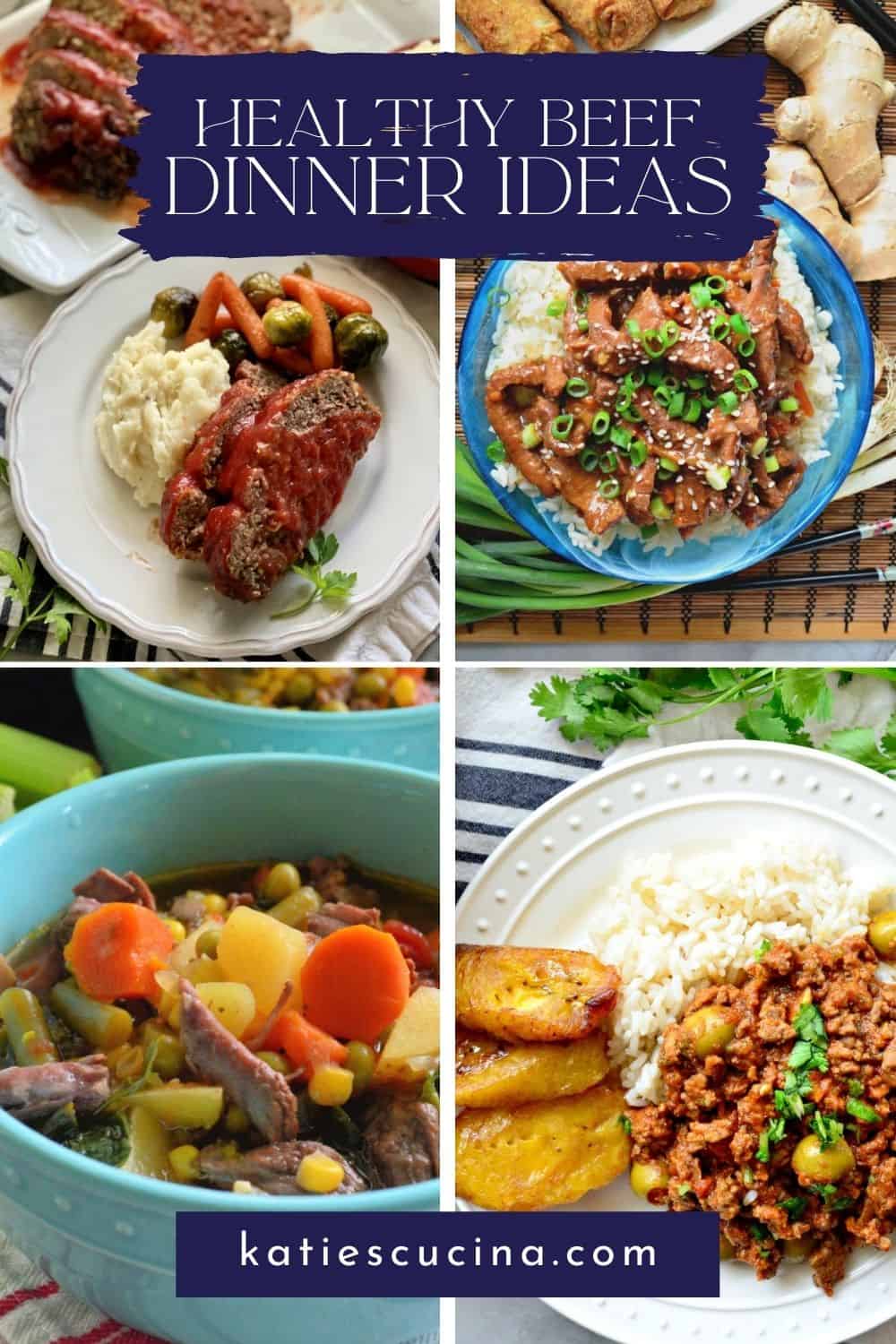 If you are looking for Healthy Beef Dinner Ideas I have over a dozen for you. From my family favorite of Skillet Picadillo to my kids most requested dinner of Instant Pot Mongolian Beef. Or give my Instant Pot Meatloaf with Garlic Mashed Potatoes you cook both the potatoes and meat together! You are sure to find something to please your palate.
Healthy Chicken Dinner Ideas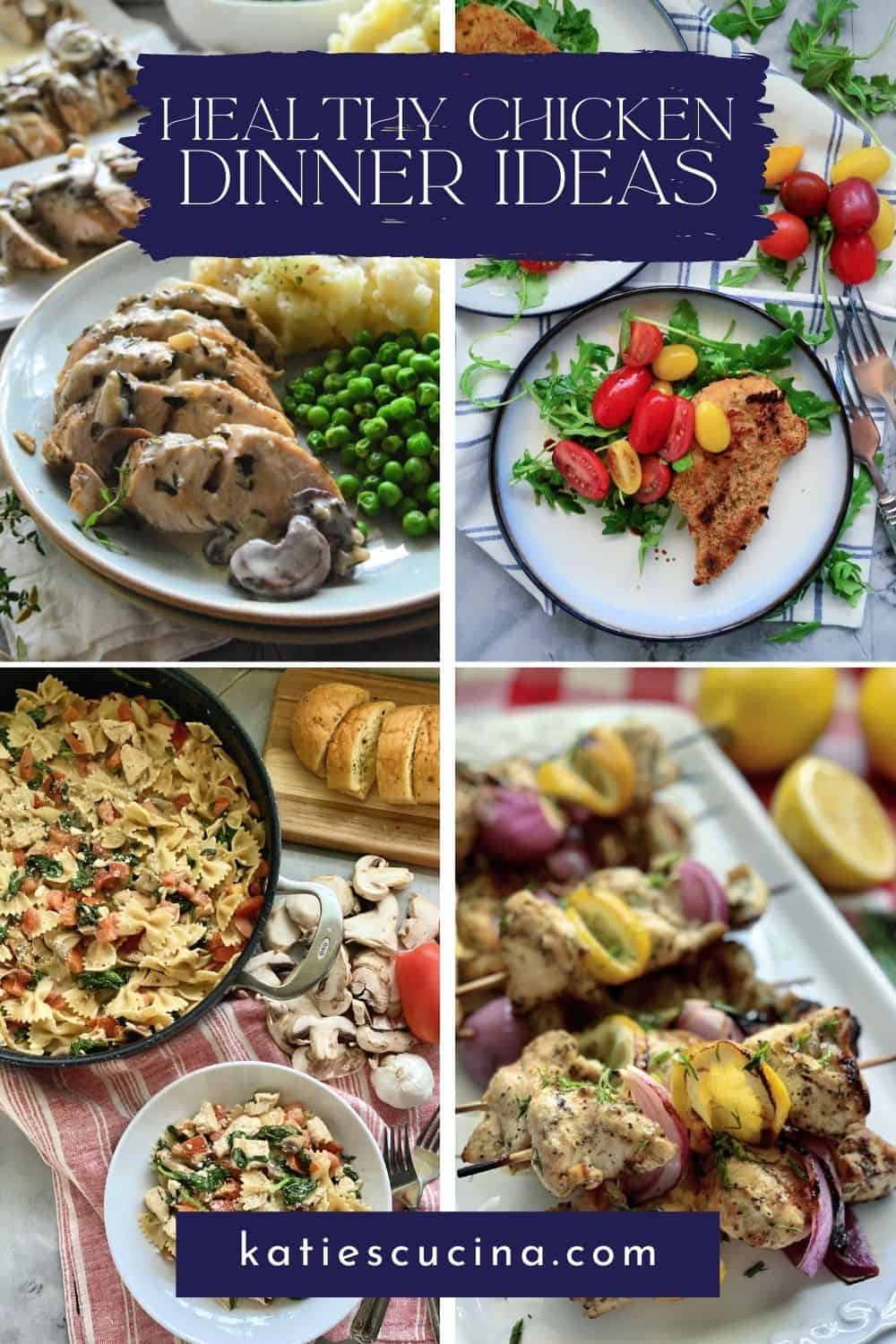 If you are looking for Healthy Chicken Dinner Ideas I have over a dozen for you. From my Chicken Milanese Recipe, air fryer chicken strips, or even my grilled lemon chicken recipe. Don't forget to try my Instant Pot Turkey Tenderloin with Mushroom Gravy. It's one of my most popular here on Katie's Cucina! You'll find plenty of healthy family-friendly chicken dinner ideas.
Healthy Pork Dinner Ideas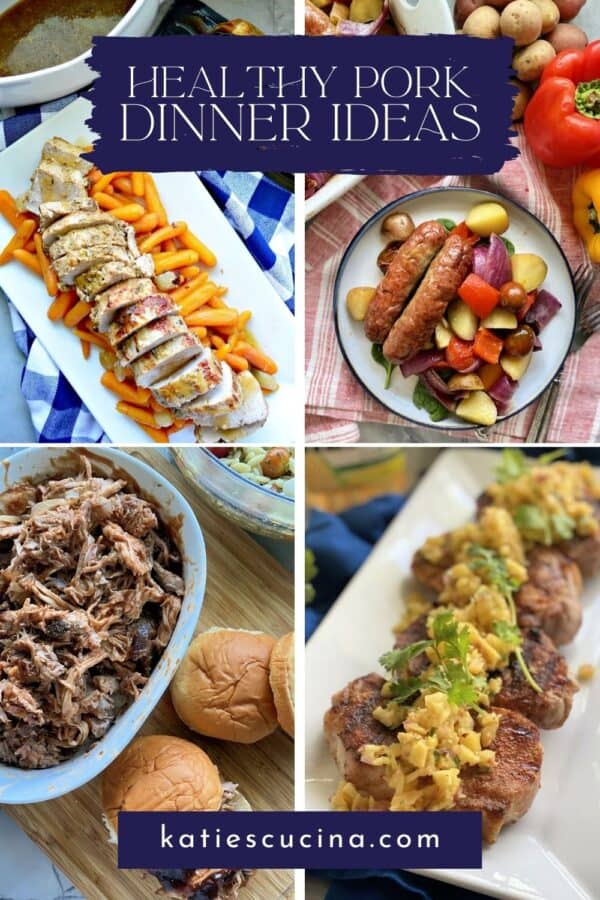 If you are looking for Healthy Pork Dinner Ideas I have over a dozen for you. From one of my most popular and reader favorites of Instant Pot Garlic and Herb Pork Tenderloin with Carrots and Pearl Onions to my Polish Feast: Roasted Pork, Potato Dumplings, Sauerkraut, and Red Cabbage. You are sure to find something delicious.
Healthy Seafood Dinner Ideas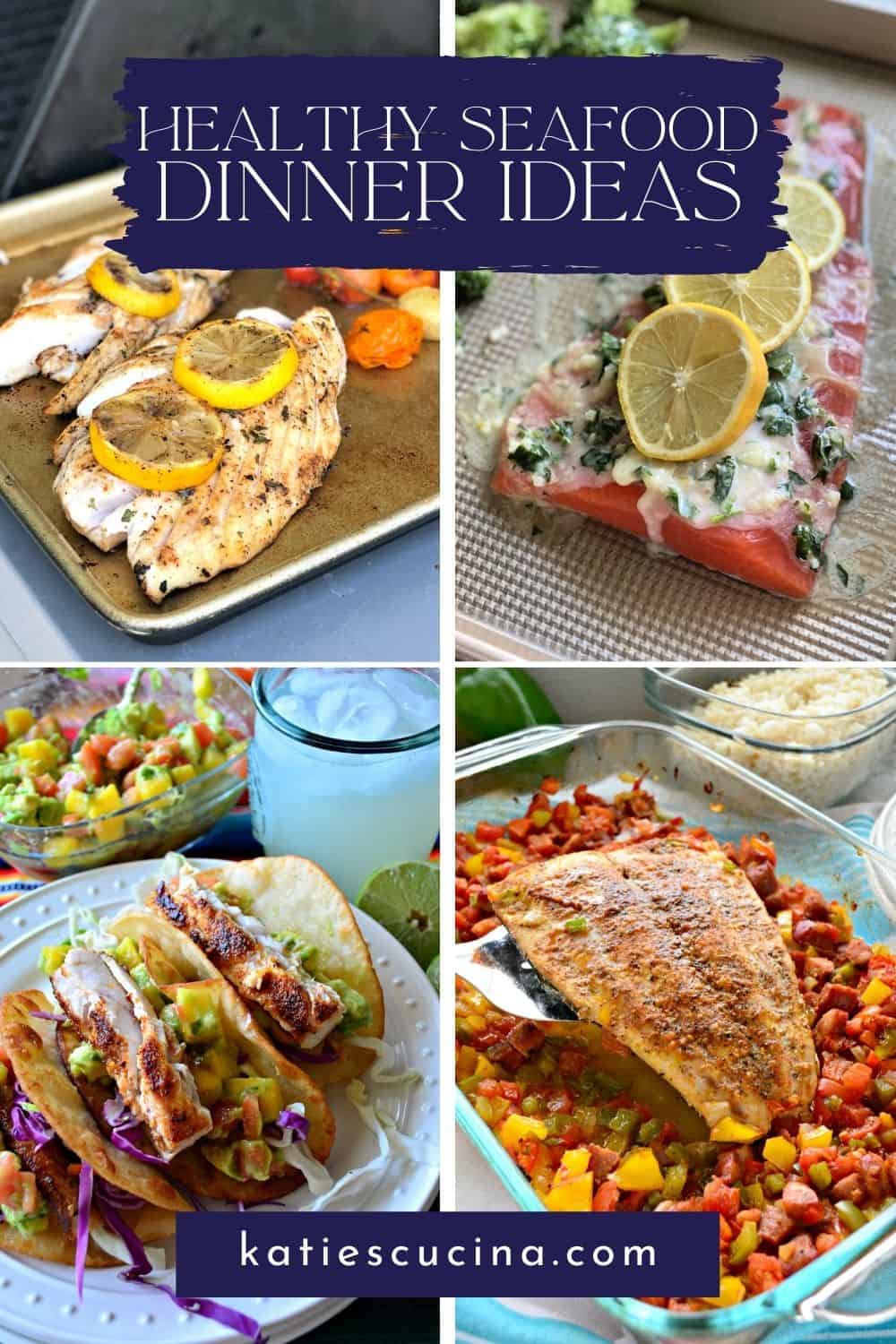 If you are looking for Healthy Seafood Dinner Ideas I have over a dozen for you. My family loves seafood and I love that we can enjoy a healthy yet delicious dinner. Some of our favorite dinners is my Lemon Butter Garlic Salmon with Broccoli, Grilled Lemon Garlic Red Snapper, or my One Pot Shrimp Scampi Zoodles. You are sure to find a healthy family-friendly seafood dinner recipe.
Healthy Vegetarian Dinner Ideas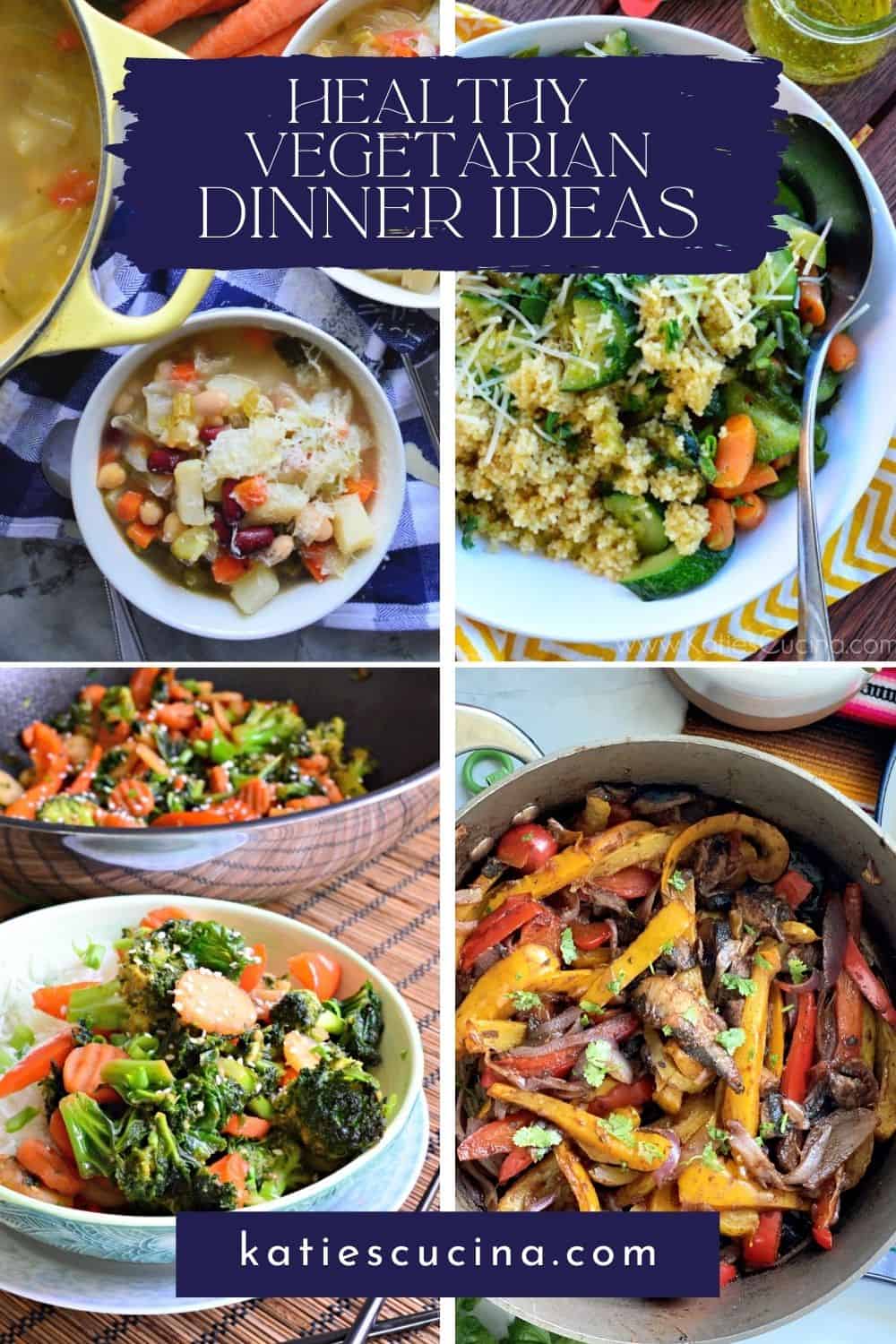 If you are trying to cut out your meat consumption, try more plant-based meals, or maybe it's just the way you and your family typically eat you'll love some of these Healthy Plant Based Dinner Ideas.
For a fun twist on taco night I invite you to try my easy skillet Vegetarian Fajitas. For a home takeout spin on stir-fry give my Kale Carrot and Broccoli Stir-Fry a try. Or try my copycat Carrabba's Minestrone Soup or my One Pot Creamy Vegetable Linguine.
I hope you find this recipe round up of over 50+ healthy dinner ideas for family as useful as I do. Whenever, I'm stumped at menu planning, I'll take a look at this list and figure out what to make my family of 4.