One Pot Creamy Vegetable Linguine
Make dinner exciting with my recipe for One Pot Creamy Vegetable Linguine. On the table within 30 minutes–perfect for busy weeknight dinners!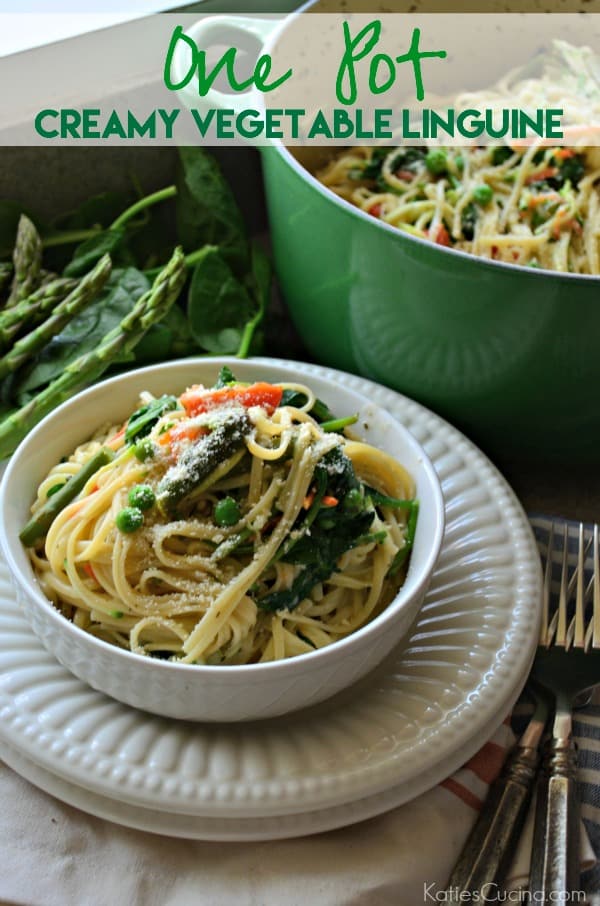 I'm at it again with a delicious and easy-to-make One Pot Creamy Vegetable Linguine pasta dinner that is out of this world good and even better chocked full of veggies. I really would love to call this clean out the vegetable crisper pasta but I know that no one would ever find the recipe that way. To make it a little more SEO friendly.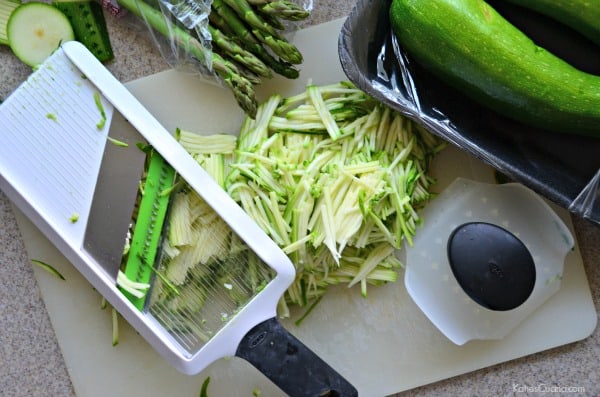 Let's get back to all the veggies. I used the OXO Juliene slicer to sneak in the zucchini. My son eats it up this way–any other way he won't touch zucchini with a 10-foot pole. The little shreds of zucchini stick to the pasta and other veggies making this a great sneaky way to get in extra veggies. He loved the pasta too.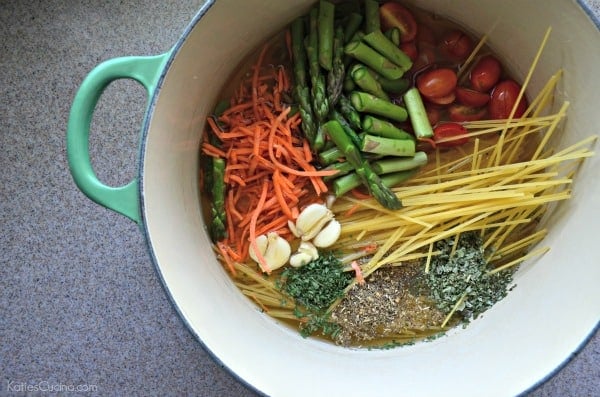 This recipe makes a lot of pasta. Make sure you cook it in a large pot or dutch oven like the one I cooked mine in. You'll get a good 6-8 servings of pasta. And it keeps getting better each and every day it sits in the creamy sauce. I brought it to a playdate the following day–just thinking the parents would gobble this up for lunch.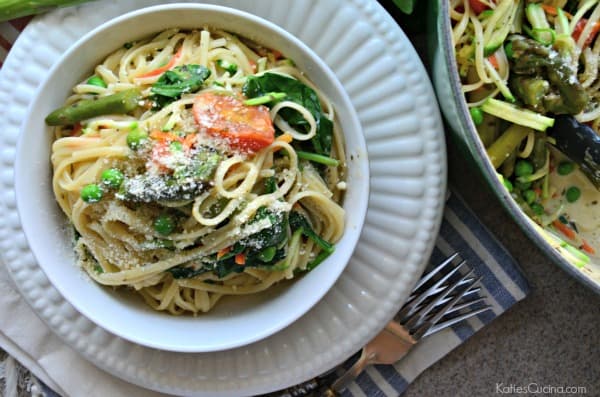 To all of our surprise the kids were fighting over each others plates of pasta. Every kid was chowing down on pasta and veggies. Who doesn't love a good creamy pasta. This is totally toddler approved since I had 5 picky toddlers all chowing down on this pasta.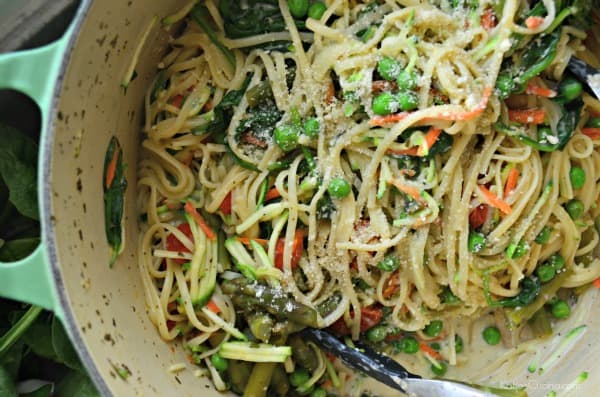 This One Pot Creamy Vegetable Linguine is ideal for entertaining. It makes a lot and all you need to do is grab a rotisserie chicken from the store and make a light salad and dinner is done. Or eat it just like it is–it's hearty and filling and chocked full of veggies. If your entertaining this is the pasta recipe to make for the crowd. More time for entertaining and less time in the kitchen cooking followed by lots of unwanted/needed dishes.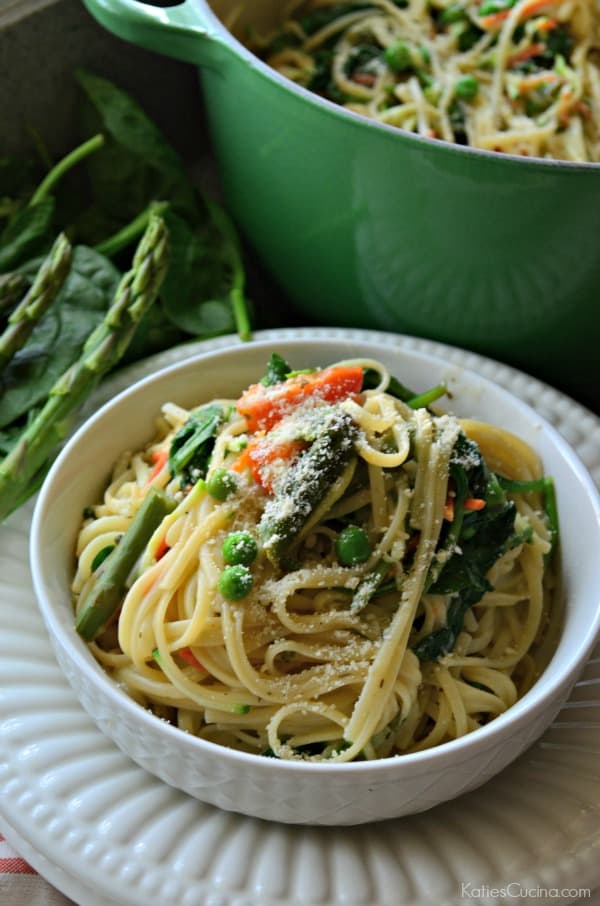 One Pot Creamy Vegetable Linguine
Yield: 6-8
Prep Time: 10 minutes
Cook Time: 15 minutes
Total Time: 25 minutes
Ingredients:
32 oz. vegetable broth
12 oz linguine- pronto no boil no drain pasta
1/4 cup matchstick carrots
1 cup grape tomatoes sliced in half
12 asparagus spears, cut in 2-inch pieces
1/2 lemon zested
1 teaspoon salt
1/8 teaspoon black pepper
1 teaspoon Italian seasoning
1 teaspoon dried basil
1 teaspoon dried parsley
3 cloves of garlic, smashed
1/2 cup whole milk
1 tablespoons cornstarch
2 cups spinach
1 cup frozen peas
2 zucchini, julienne
1 cup grated Parmesan
Directions:
Combine the vegetable broth, linguine, matchstick carrots, grape tomatoes, asparagus spears, lemon zest, salt, black pepper, Italian Seasoning, dried basil, dried parsley and smashed garlic cloves in a big stock pot stir and cover bring to a boil and reduce to medium. Cook for 10 minutes.
In a small bowl, combine milk and cornstarch and create a slurry. Place to the side.
Once the pasta is almost done cooking and the 10 minutes are up, add in the spinach, peas, and zucchini. Mix well then add milk mixture and cheese. Mix again, turn the heat off from the stove, and place lid on pot. Let the pasta sit for 5 minutes. Stir in the parmesan cheese and begin to divide among plates.
Warning
: Use of undefined constant rand - assumed 'rand' (this will throw an Error in a future version of PHP) in
/home/kjasiewicz21/webapps/katiescucina/wp-content/themes/katiescucina/single.php
on line
74
Leave a Comment