Ham Egg and Cheese Breakfast Casserole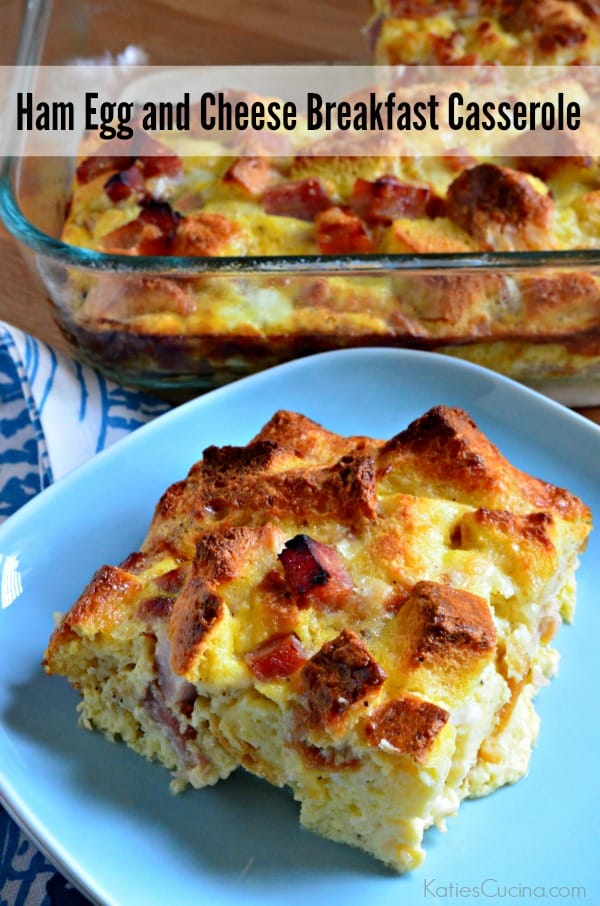 Before I gave birth to my son, I cooked a
ham in the slow cooker
. We had a delicious Sunday dinner with our neighbor, had tasty lunches the next day and the rest of the leftover ham I froze to enjoy when the baby arrived. Boy, was that the best idea ever. I had about 3 packages of ham (about 1/2lb each) and then one package of diced ham.
My cousin (whose like a second brother to me), came to visit for the weekend, a month after Ryder was born. When I have family in town I tend to cook like a crazy woman. It's my way of showing them how much I love and appreciate them. I knew that this visit would be much different. I knew I wouldn't have as much time to show my love through food with a one month old needing me 24-7.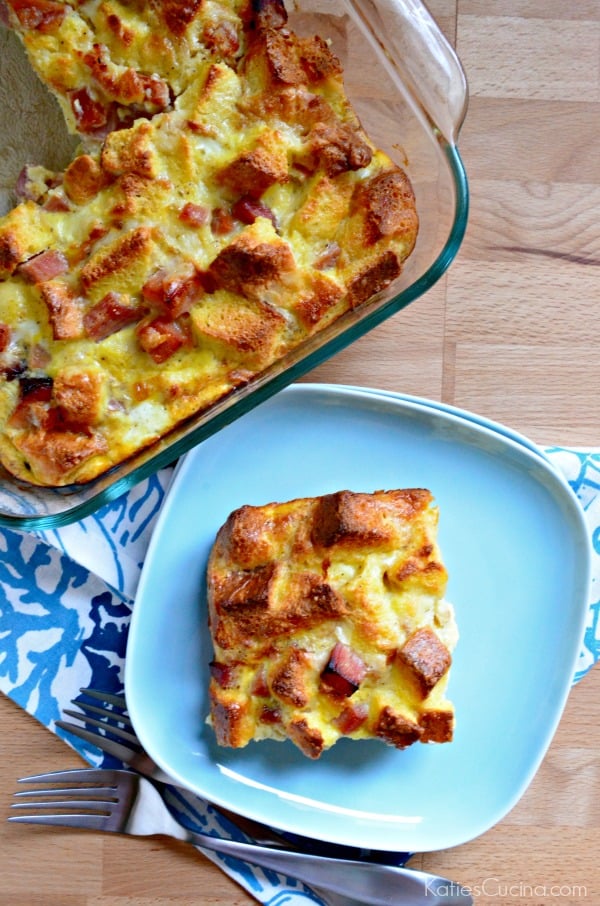 On that Sunday morning, I made my husband and cousin this Ham Egg and Cheese Breakfast Casserole. Super simple to put together. The night before I thawed one cup of the cubed ham that I had previously frozen. The next morning I used the leftover biscuits from the morning prior and diced them up, mixed in some eggs, shredded cheese, and of course the diced ham. In went the casserole into the oven and I went back to tending to my needy newborn.
This hearty breakfast comforted my favorite guys and filled my heart full of love. This Ham Egg and Cheese Breakfast Casserole made for a tasty reheated breakfast the days following. Perfect for a busy and tired new mom that still wanted to "make" my husband breakfast each morning.
Katie Original Recipe
Ham Egg and Cheese Breakfast Casserole
Ingredients
6 large eggs
1 cup whole milk
1 cup shredded cheddar
1 tsp dijon mustard
1/2 tsp salt
1/4 tsp black pepper
1 cup ham, cubed
2 cups biscuits, cubed
Cooking Spray
Directions
Preheat the oven to 400 degrees Fahrenheit.
In a large bowl, beat eggs with whole milk, cheddar cheese, Dijon mustard, salt, and pepper. Then add the two pieces of bread to the egg mixture (cut the bread in 1x1 pieces). Mix well with a spoon then add the cubed ham and biscuits to the egg mixture. Using an oven-proof 9x9 glass casserole dish-- spray with cooking spray. Then add the egg mixture to the casserole dish. Bake in the oven for 30 minutes at 400 degrees.
Remove from the oven and serve immediately.
https://www.katiescucina.com/ham-egg-and-cheese-breakfast-casserole/
This recipe is brought to you by Katie Jasiewicz of Katies Cucina
Warning
: Use of undefined constant rand - assumed 'rand' (this will throw an Error in a future version of PHP) in
/home/kjasiewicz21/webapps/katiescucina/wp-content/themes/katiescucina/single.php
on line
74
5 Responses to "Ham Egg and Cheese Breakfast Casserole"
Leave a Comment