Egg and Ham Savory Waffle Stacks
Make this decadent Egg and Ham Savory Waffle Stacks for your family for a delicious breakfast or tasty brunch in just a few minutes.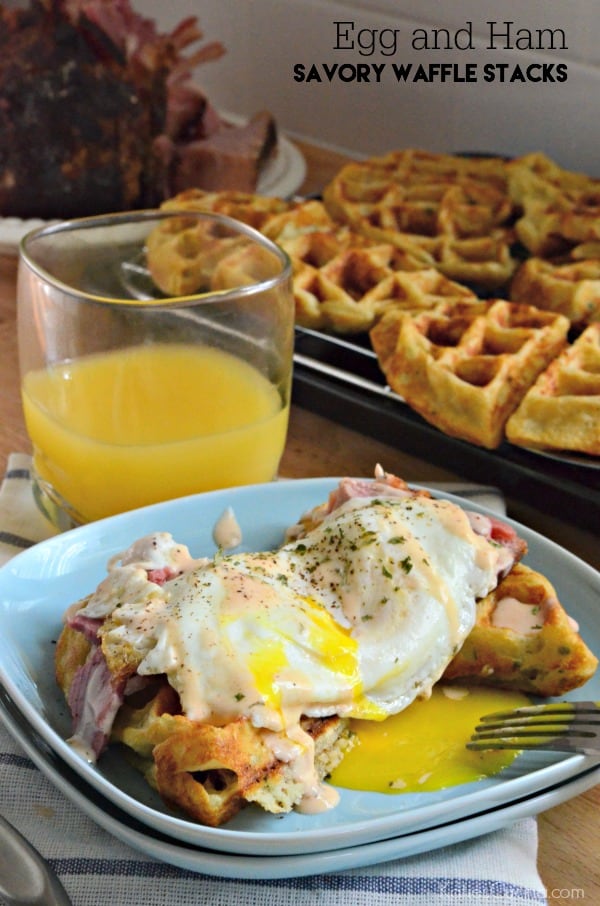 Last year, before I gave birth to my son, I contributed to the KitchenAid blog and shared my recipe for chicken and waffles. Because I tested the recipe so many times I had an excess of frozen savory potato and chive waffles. A month after my son was born we celebrated Easter and had a lot of leftover ham.
How do you make Egg and Ham Savory Waffle Stacks?
On a whim I I reheated some of the potato and chive waffles, topped each savory waffle with a slice of leftover Easter ham, and then fried an egg. I felt like the egg and ham savory waffle stack needed some sort of sauce.
So, I mixed together some store-bought ranch dressing with Louisiana hot sauce. I felt like a spicy creamy sauce would be the perfect compliment.
Next, I drizzled just a little bit on the waffle stack, a little cracked black pepper and a few parsley flakes for garnish and breakfast was done.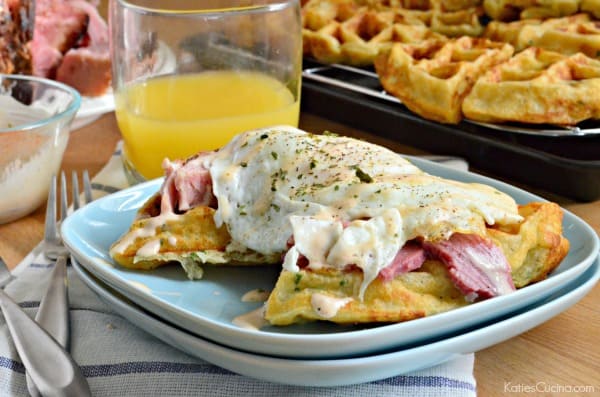 Now, you might be thinking… how the heck did you make this decadent super-fancy breakfast just one month post-partum? Well… we had to eat. Cooking has always been my escape. So hubby took care of the baby while I cooked and got a "break" from baby. Seriously though, these sound fancy but they only take minutes. Especially if you just need to reheat the savory waffles.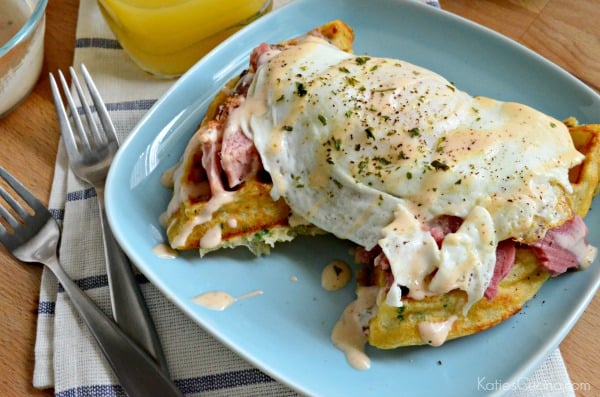 After my husband took one bite he looked at me and said "this is the best meal you have ever made". Now let's set this straight… my husband LOVES breakfast. It is his absolute favorite meal of the day. Although, ironically he doesn't like brinner. Odd right?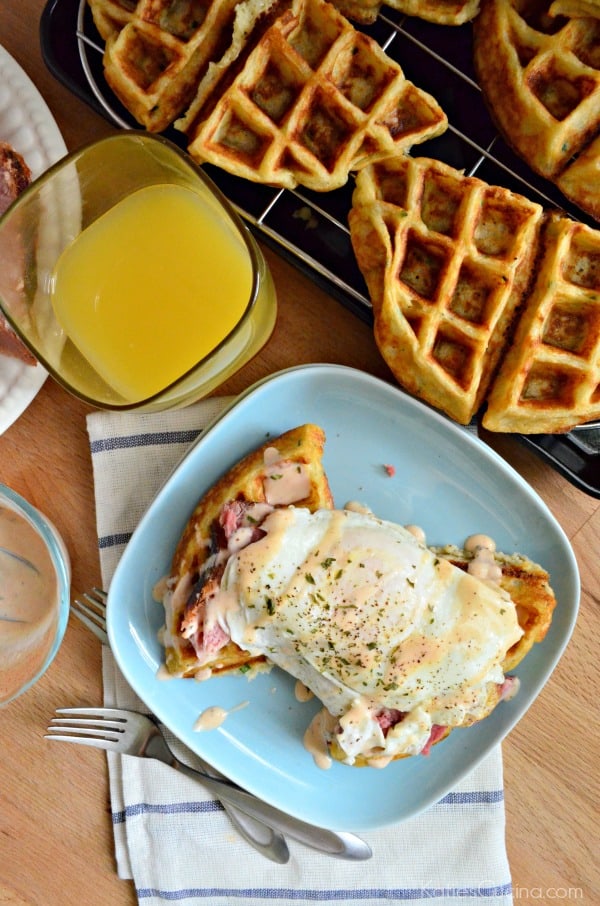 I had never planned on blogging about this recipe that I just whipped up my husband insisted that the world had to know about this. So over the past year I've been perfecting this recipe, measuring it out, and writing it down. If you have leftover ham this Easter or are hosting a brunch I challenge you to make these Egg and Ham Savory Waffle Stacks for your family and friends. I guarantee they are going to love it as much as my husband did!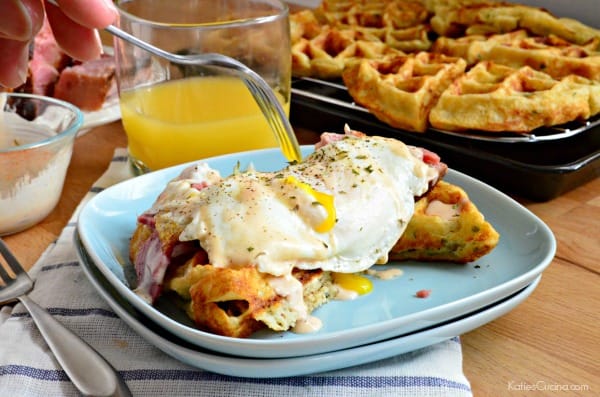 Egg and Ham Savory Waffle Stacks
Yield: 4
Prep Time: 5 minutes
Cook Time: 10 minutes
Total Time: 15 minutes
Ingredients:
Directions:
Reheat savory potato and chive waffles in a toaster oven until hot and crispy.
While waffles are reheating  heat the ham in a skillet until warm, about 2 minutes on medium-high heat.
While ham heats mix together the sauce. Mix together ranch and Louisiana hot sauce and set to the side.
Place cooked ham on a plate. Then begin frying eggs over medium. I like to do 2 at a time. As eggs are done begin stacking waffles. Place savory waffle on a plate, top with ham, then a fried egg. Drizzle spicy ranch sauce on top. Garnish with cracked pepper and parsley. Enjoy immediately.
Warning
: Use of undefined constant rand - assumed 'rand' (this will throw an Error in a future version of PHP) in
/home/kjasiewicz21/webapps/katiescucina/wp-content/themes/katiescucina/single.php
on line
74
Leave a Comment