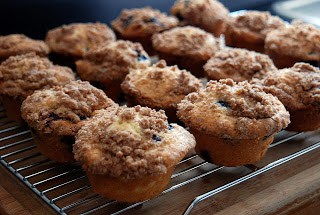 I'm constantly trying to break out of my own comfort zones and this time I've went above and beyond. I found this recipe a while back on an awesome cooking blog called: The Novice Chef. These blueberry muffins intrigued me and I knew once blueberries became in season I would want to try these. OMG! I'm so happy I did. These are the most amazing muffins I've ever tasted… and I'm not being biased here, people. These were so good and so easy to make. I forbid myself to ever buy a muffin mix ever again. I now know I can make my own, even better than the box, from scratch! I was able to make 18 muffins out of this batter! So, make sure you go to the store today, and pick up all the ingredients so you can make these for breakfast tomorrow morning!
Featured on: Food Gawker
Prep: 10 minutes
Total: 25-35 minutes
Serves: 18 individual muffins
Ingredients:
8 tablespoons (1 stick) unsalted butter, softened at room temperature
1 cup sugar
2 eggs
1 teaspoon pure vanilla extract
2 teaspoons baking powder
¼ teaspoon salt
2 ½ cups fresh or thawed frozen blueberries

(I used 1 pint which is about 2 cups)

2 cups flour
½ cup whole, 2 percent fat, or 1 percent fat milk

(I used ¼ c half and half ¼ cup rice milk)

½ cup sugar
⅓ cup flour
¼ cup butter, softened at room temperature
1 tablespoon cinnamon
Directions:
1. Preheat the oven to 375 degrees F. Grease a muffin tin or line the cups with liners. In a mixer fitted with a paddle attachment (or using a hand mixer), cream the butter until smooth. Add 1 cup of the sugar and mix. Add the eggs, vanilla, baking powder, and salt and mix. With the mixer running at low speed, add ½ of the flour, then ½ of the milk, and mix. Repeat with remaining flour and milk. Fold in the blueberries by hand until well mixed.
2. In a separate small bowl make the cinnamon-sugar topping: mix ½ cup sugar, ⅓ cup flour, ¼ cup butter, and tablespoon of cinnamon together with a fork.
3. Use an ice-cream scoop or large spoon to fill the muffin cups ¾ full. Sprinkle the cinnamon-sugar over the muffins and bake until golden brown and risen, 25 to 30 minutes.
4. Let them cool in the pan before turning out.