Prosciutto and Blueberry Naan Flatbread
This post is sponsored by Wish Farms in conjunction with a social media campaign through Sunday Supper LLC. All opinions are my own.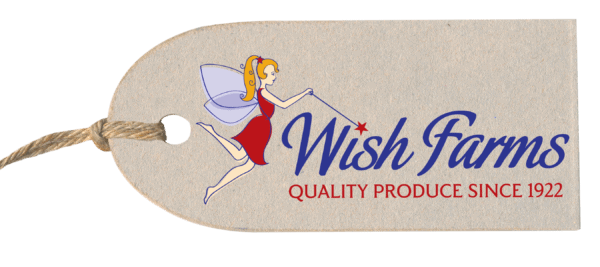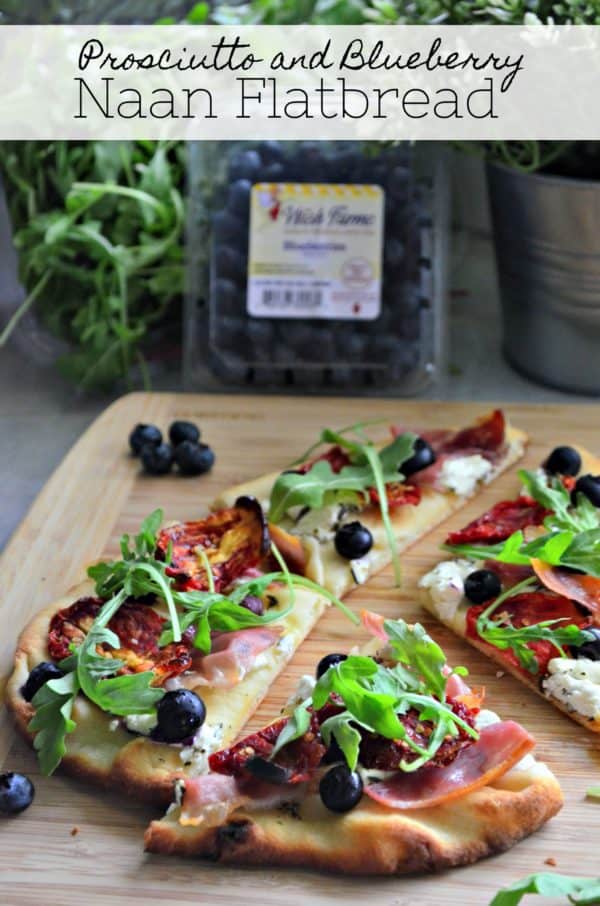 Happy Mother's Day to all the mama's who read Katie's Cucina! I've been celebrating beach side all weekend with my family. I'm so excited to share this recipe today. My recipe for Prosciutto and Blueberry Naan Flatbread was created after I went on a farm tour with Wish Farms a few weeks ago. We had the most amazing dinner at Posto 9 in Lakeland, Florida as our kick-off dinner. The chef created a very creative and delicious menu all centered around blueberries. My favorite recipe of the evening was the Prosciutto and Blueberry Naan Flatbread. I wasn't sure what to expect but after just one bite I was hooked and in fact I had a few slices not just one! When I made this flatbread for my husband he loved it. He was definitely skeptical of the blueberries on the flatbread at first but once he took a bite he instantly recognized how well it complimented!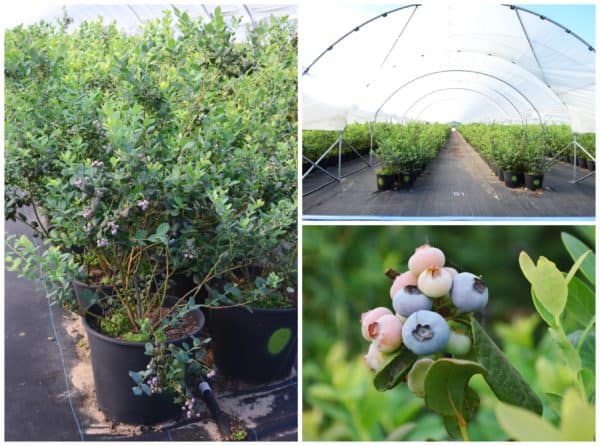 Quality. Consistency. Flavor. At Wish Farms, they focus on growing berries that are memorable. This trip was awesome–just like all my other media trips I have had the pleasure of going on I loved learning all about blueberries. My family loves the fruit and it's one that we eat on a weekly basis when in season. We had the opportunity to tour Misty Organics. This is Wish Farms' new state-of-the-art organic blueberry farm. This twenty-acre farm features 7 organic varieties grown in containers and under high tunnels. It was super fascinating and so much science behind every single berry on the land! Another thing I realized during this trip was that Berry farming isn't just a profession, it's a way of life. Wish Farms berry growerstake great pride in caring for the land. Sustainability is a top priority for farmers across the country. They want to leave the land in the best condition possible for future generations.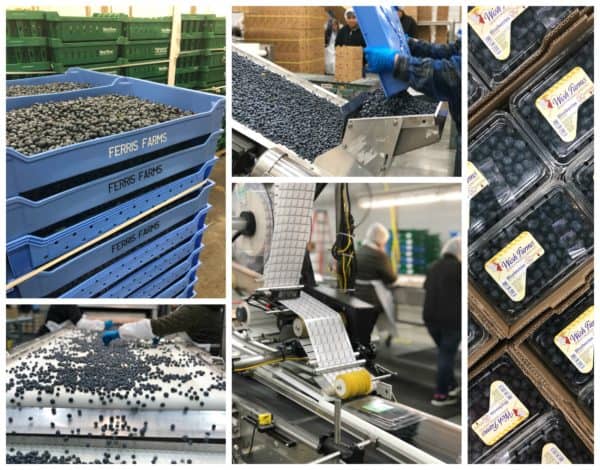 After we visited Misty Organics we headed over to the Wish Farms' processing facility, which included the blueberry packing line! It was so interesting watching the process from farm to clam shell. Half of the processing is done by machine and the other by employees. It amazed me watching the ladies sort through the blueberries. They have a machine that will weed out some "bad" blueberries, and then after that people weed through to make sure all of the "bad" blueberries are found.
Blueberries are hand harvested and then packed into consumer units at a packing facility. Wish Farms inkjet prints a unique 16-digit code onto each package providing traceability and accountability. Consumers are encouraged to
visit howsmypicking.com to enter their package code, share feedback and learnabout the farm where their fruit was grown.
Did you know that Wish Farms southeast blueberries are now in season. Florida blueberries are at the end of their season, but fear not! Georgia and North Carolina have delicious blueberries that they are providing here in the south and all around the United States.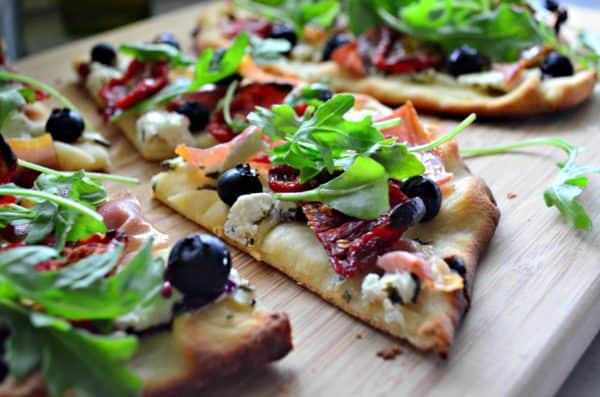 These flatbreads are so easy to put together. Simply preheat the oven, place the naan bread on top of a baking sheet and begin crumbling the goat cheese on top of the naan bread. Then top with prosciutto and sun dried tomatoes. Distribute the blueberries evenly among the flatbread, and then bake for a few minutes. The key to this flatbread is baking the blueberries. By baking the fresh blueberries it intensifies the sweetness of the berry. Top the warm flatbreads with peppery arugula, cut and serve.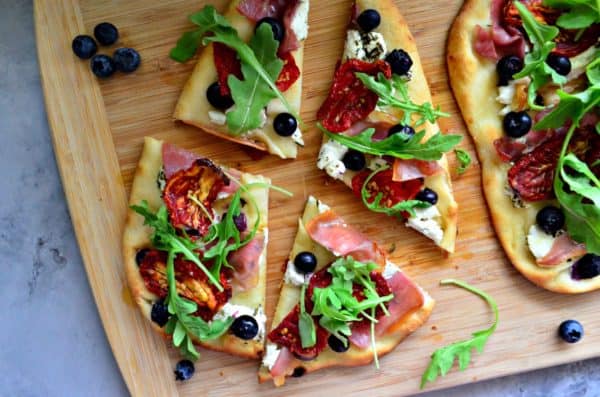 This is sophisticated appetizer or even a tasty lunch or dinner. Before my dinner with Wish Farms I had never thought to put blueberries on a flatbread. It's now a new pairing I'll continue to pair together from here on out. If your looking to switch things up I invite you to try my recipe for Prosciutto and Blueberry Naan Flatbread.
Follow Wish Farms here: Facebook | Instagram | Pinterest | Twitter | YouTube

Prosciutto and Blueberry Naan Flatbread
Yield: 4
Prep Time: 5 minutes
Cook Time: 5 minutes
Total Time: 10 minutes
Ingredients:
2 Naan Flatbreads
2 oz. herbed goat cheese, crumbled and divided
4 slices of prosciutto, divided
4 sundried tomatoes, julienne sliced and divided
1/4 cup Wish Farms Blueberries
1/2 cup arugula, divided
Directions:
Preheat the oven to 450 degrees Fahrenheit.
On a pizza pan, place two naan breads on the pan. Top with one ounce crumbled herbed goat cheese. Place two pieces of prosciutto on each flatbread as well as the sundried tomatoes. Scatter Wish Farms blueberries throughout the flatbreads.
Bake for 5 minutes or until golden in color. Carefully remove from the oven and top with arugula. Slice and enjoy immediately.
Warning
: Use of undefined constant rand - assumed 'rand' (this will throw an Error in a future version of PHP) in
/home/kjasiewicz21/webapps/katiescucina/wp-content/themes/katiescucina/single.php
on line
74
3 Responses to "Prosciutto and Blueberry Naan Flatbread"
Trackbacks/Pingbacks

Leave a Comment