Spice up dinner with a simple but flavorful Sheet Pan Chicken and Squash dinner recipe! A delicious and easy meal to make, and very few dishes to be cleaned up after dinner.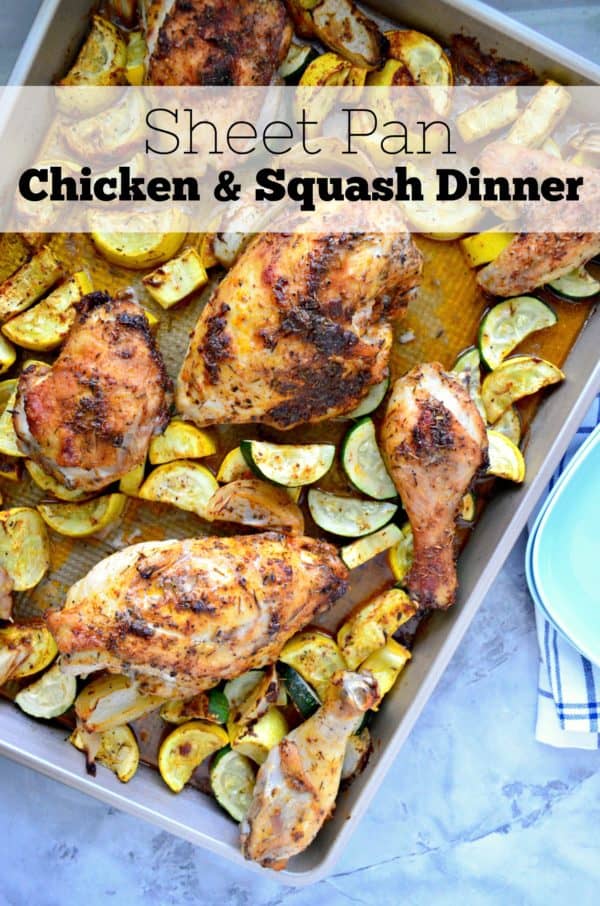 Squash season here in Florida has arrived. Years ago, at our old house I had an amazing and very abundant garden. I grew yellow squash and zucchini. If you've ever grown squash you know that if you find a good spot you will have more squash then what you know what to do with. That was always my case. We had so much squash we would eat it for breakfast, lunch, and dinner for weeks if not months depending on how the weather was. Here in Florida, our gardening season is much different then the rest of the country. We garden mostly in spring and fall—it's way too hot to grow anything in summer here. So with squash season in full bloom that's what helped inspired me for this new sheet pan dinner. This dinner is both dairy and gluten free. Making it the perfect meal to enjoy if you are on a specific diet or deal with food allergies.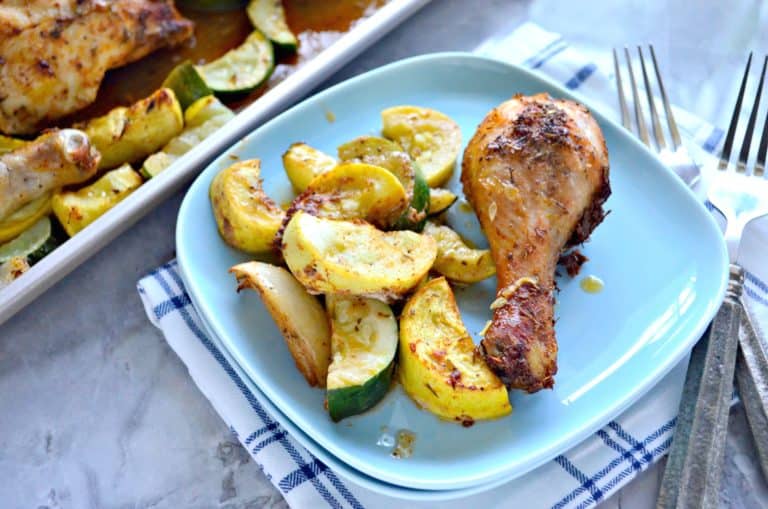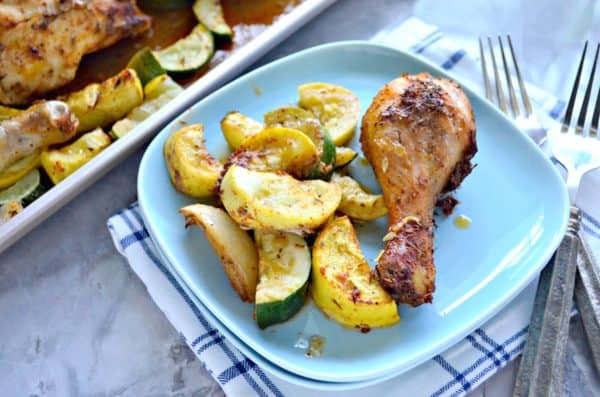 This is a very simple but flavorful meal and my entire family loves it. I always only used my homemade Cajun seasoning mix on fish. Never thought about adding it to any other protein or veggie for that matter. Once I added it to this chicken I was in love. I added squash on the sheet pan because it's what I had on hand and it worked out perfectly! The best part—I can prep this meal a day in advance. It actually taste better because the chicken marinates in the Cajun seasoning. I like to prep this meal the night before. Then, the next day pull out my sheet pan, pour the contents of the chicken and squash bags (you need to keep them separate until cooking) on to the sheet pan and bake! I'm all about a simple meals. Don't worry if you want to cook this recipe right away you don't have to prep ahead of time—just don't expect the flavors to be as intense.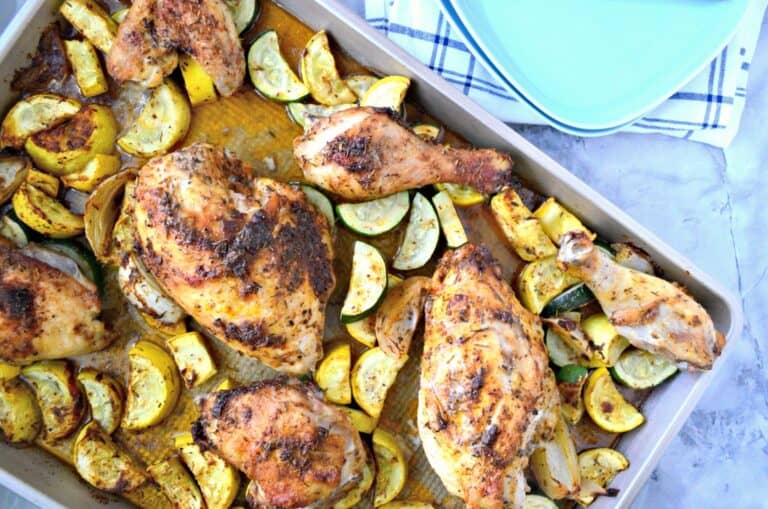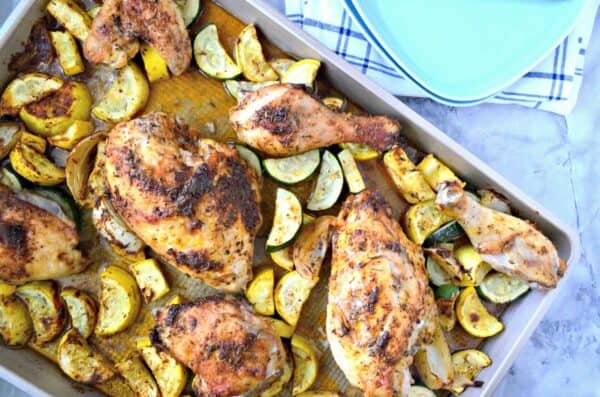 I've tested this recipe multiple ways. I've tested prepped and cooked immediately, prepped the day ahead, and I've even prepped the meal, froze it and defrosted and cooked a week later. I prefer the prepped the day ahead method the best. I also don't mind prepping the chicken and freezing but I'm not a fan on how the squash turns out after being frozen and then defrosted. I found it to be on the soggy side and let's face it—it doesn't take that long to wash and slice veggies so that's the route I go.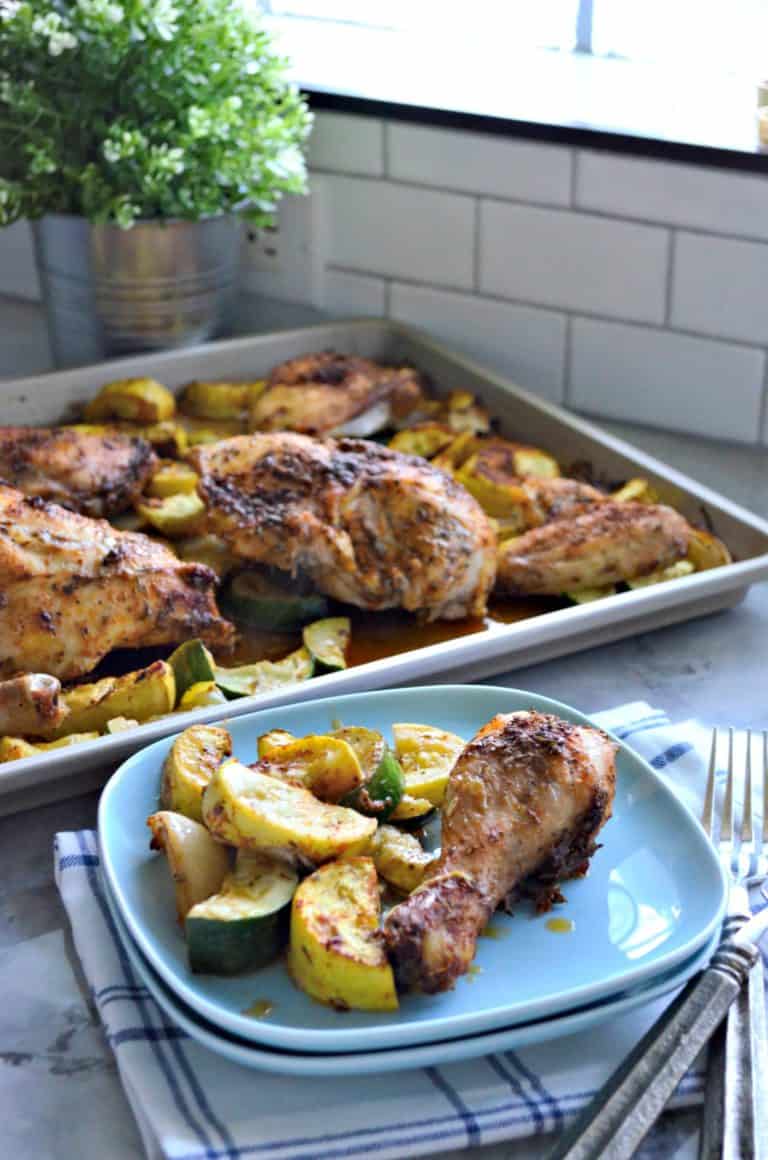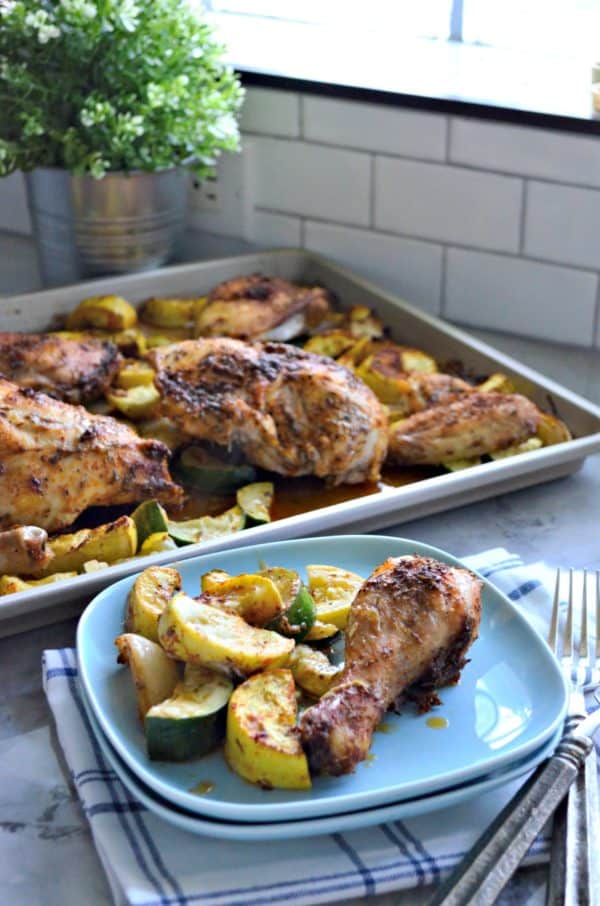 Let's talk about a few kitchen items you'll need to make this recipe: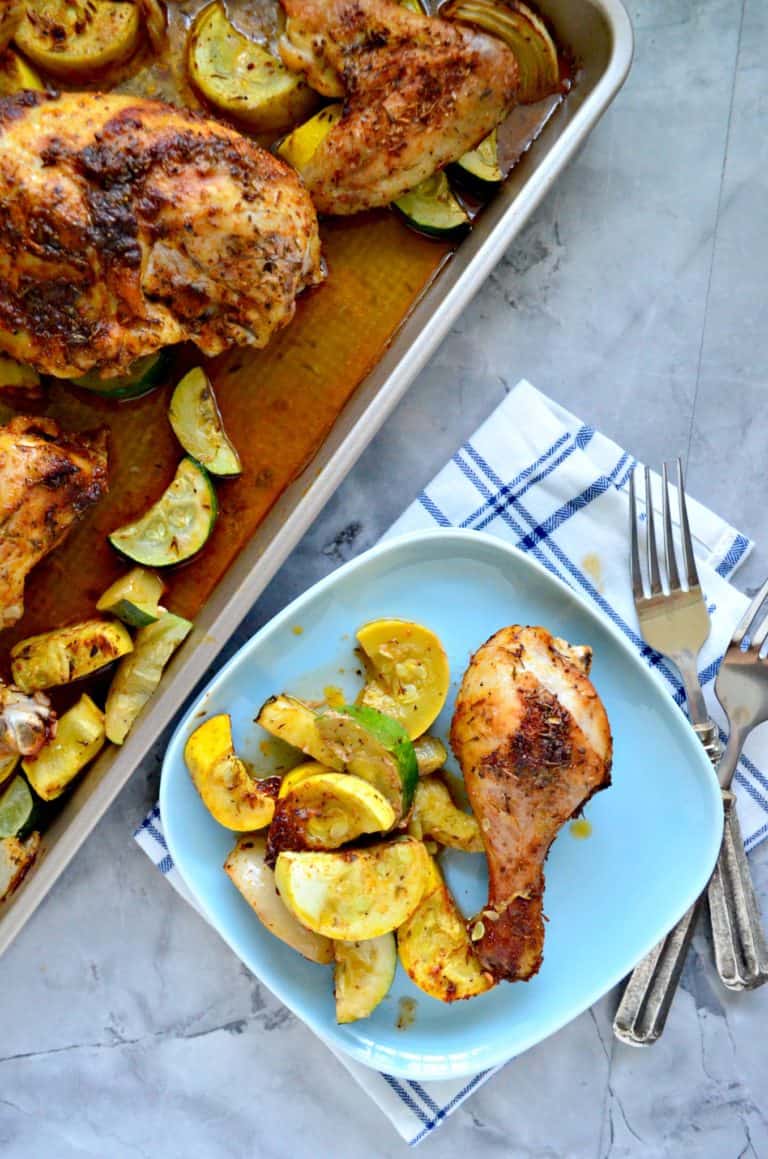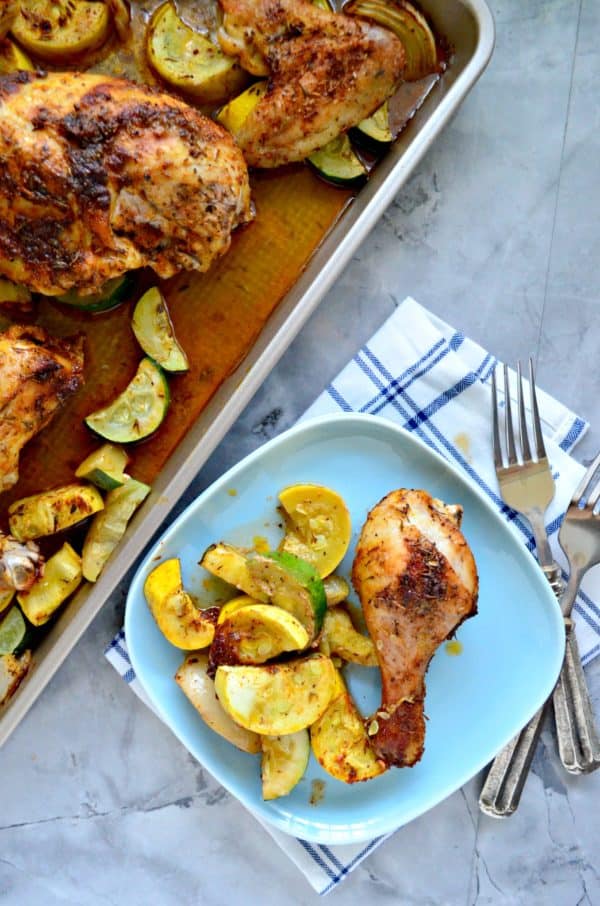 As you can see, with just a few basic supplies and ingredients you will have a delicious dinner in under an hour. If your looking to switch up dinner you'll want to give this Sheet Pan Chicken and Squash dinner recipe a try!


Disclaimer: There are affiliate links in this post. That means, if you click on a link and purchase from it I will receive a small amount at no additional cost to you!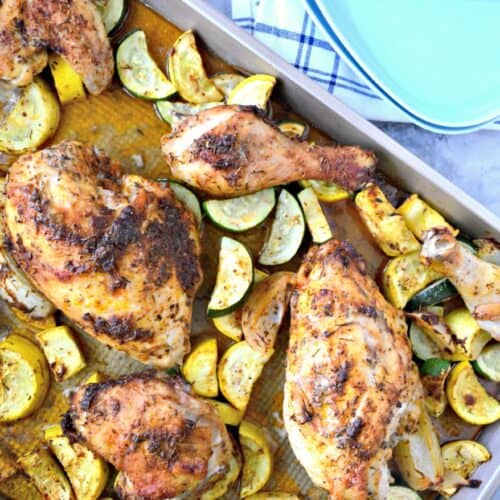 Ingredients
8

pieces

Chicken

separated

2

tablespoons

Barleans Coconut Oil

divided

3

tablespoons

homemade Cajun seasoning

divided

4

yellow squash

sliced

4

zucchini

slices

1

onion

quartered

1

teaspoon

salt
Instructions
Preheat oven to 400 degrees Fahrenheit.

While oven preheats, rinse and pat dry the chicken pieces. Place on a large rimmed baking sheet.

Drizzle one tablespoon of coconut oil over all the pieces of chicken then sprinkle with 1-1/2 tablespoons of the Cajun seasoning. Mix and massage seasoning with hands.

Next, rinse and slice vegetables. Place in a bowl, and drizzle the remaining coconut oil over the vegetables and sprinkle the Cajun seasoning on top. Mix well with hands and then place on the baking sheet. Sprinkle salt on top of chicken and veggies.

Bake at 400 degrees Fahrenheit for 45 minutes or until internal temperature of all chicken pieces reaches 165 degrees Fahrenheit. Carefully, remove from oven and divide evenly among plates. Enjoy immediately.
Notes
Note: you can prep this meal one day in advance. Place rinsed and dried chicken in a gallon bag. Drizzle coconut oil and Cajun seasoning over chicken. Seal tightly, mix and refrigerate until ready to bake. Repeat this step with the squash and onions in a separate bag.
Nutrition
Calories:
155
kcal
|
Carbohydrates:
18
g
|
Protein:
6
g
|
Fat:
9
g
|
Saturated Fat:
7
g
|
Cholesterol:
2
mg
|
Sodium:
607
mg
|
Potassium:
1185
mg
|
Fiber:
6
g
|
Sugar:
11
g
|
Vitamin A:
3370
IU
|
Vitamin C:
70
mg
|
Calcium:
79
mg
|
Iron:
3
mg