Enjoy a delicious healthier dinner of Sheet Pan Shrimp Stir-Fry in just 30 minutes time. Prep in the morning and bake on a sheet pan at dinner time for an easy and delicious quick dinner.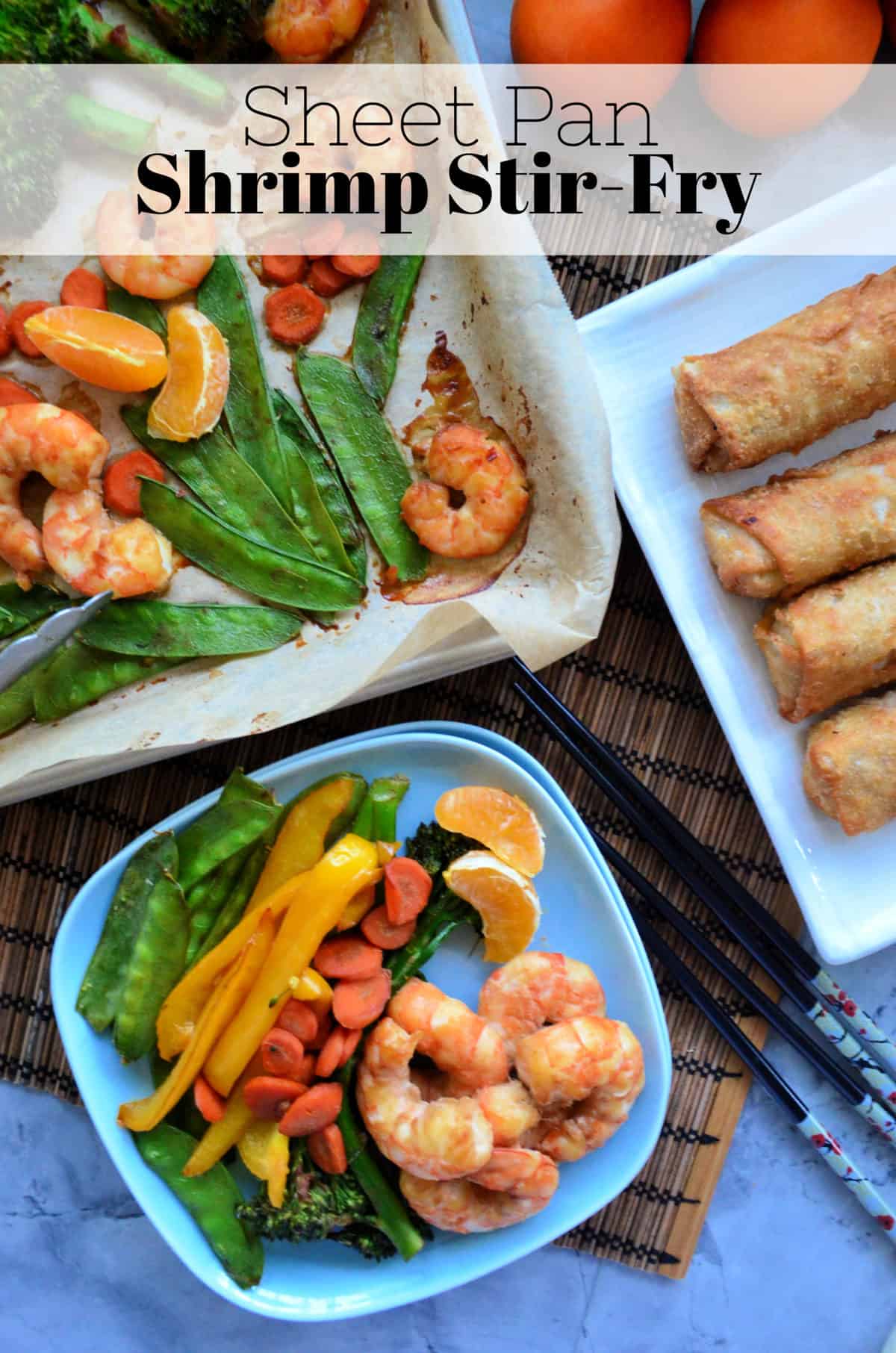 Get ready for a new delicious and easy-to-make sheet pan dinner! When I first tested this recipe for sheet pan shrimp stir-fry; my husband was a little apprehensive. He figured, it would lack flavor and just be straight up bland. After his first few bites, he changed his opinion quickly! My entire family devoured this easy healthy meal that I made in under a half hours time.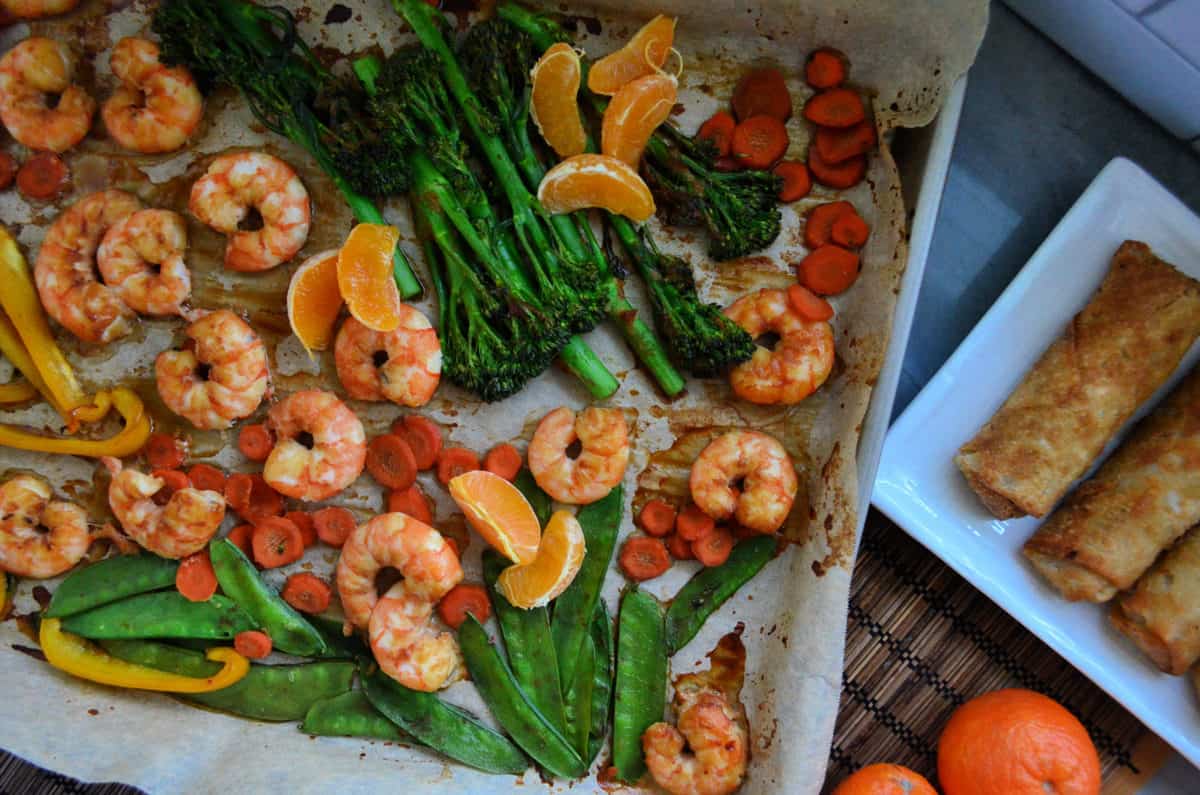 Should you marinate your stir-fry ahead of time?
I tested this recipe two ways. I tossed veggies and shrimp in the marinade just before baking and I also let the veggies and shrimp sit in a bath of marinade hours before baking. Everyone preferred the second way of cooking this sheet pan stir-fry. So you'll notice below that I wrote the recipe to marinate for at least 30 minutes. The veggies and shrimp yielded so much more flavor.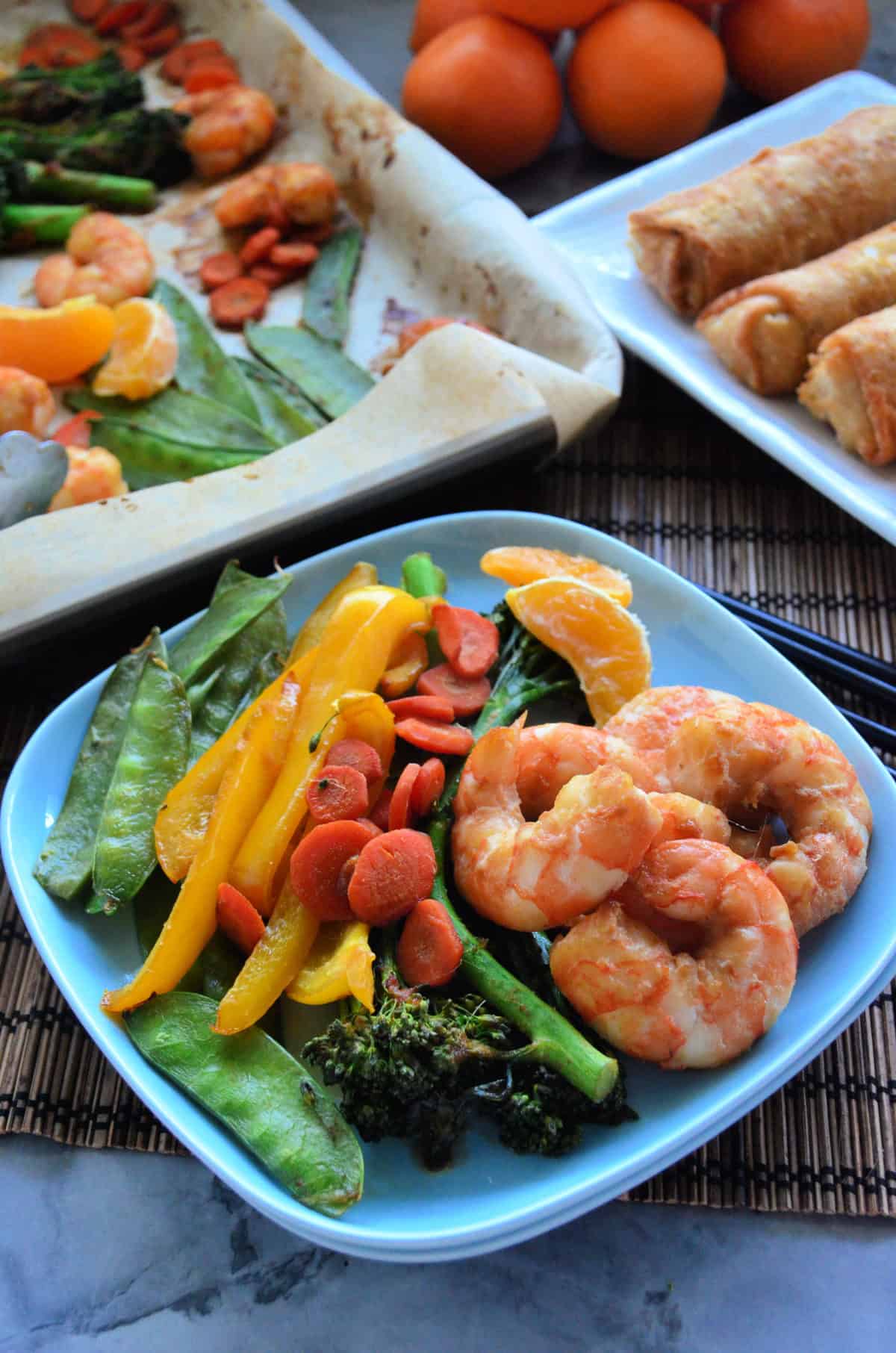 How to do you make stir-fry sauce?
To make the marinade, I blended everything in my high-power blender. This method means you don't have to chop the garlic or ginger. However, you will want to peel the ginger. You can also use a food process to blend the stir-fry sauce. If you don't have a blender or food process don't worry. You can mince the ginger and garlic and whisk the sauce together in a large bowl.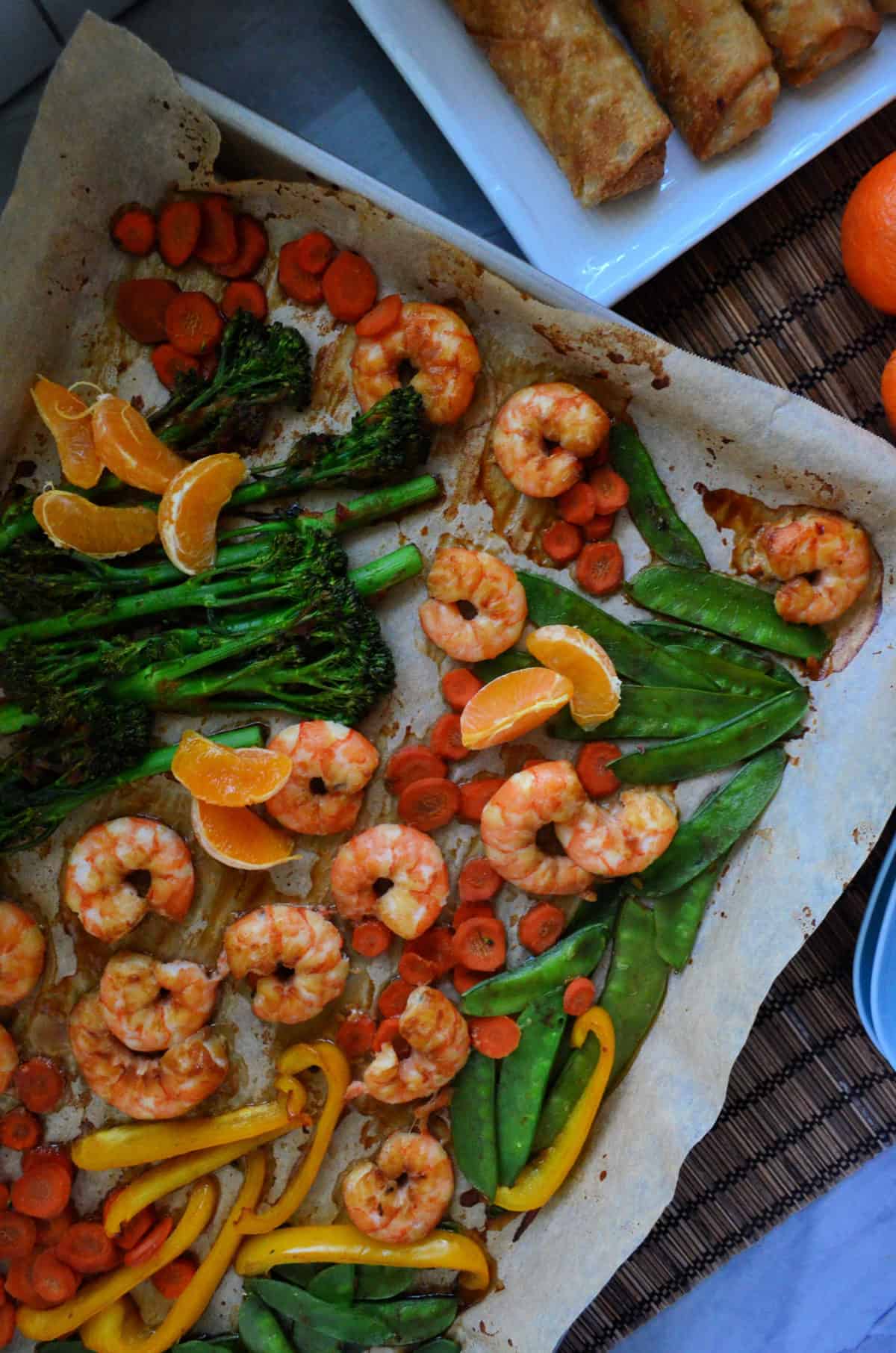 How to do you make Sheet Pan Shrimp Stir-Fry?
I didn't pour all the marinade on the sheet pan because I knew it would burn. First, you'll want to place some parchment paper on two sheet pans. I used two sheet pans so they weren't over crowded. If you have one extra large sheet pan you can use this too. This helps with a much easier clean up, too.
I removed veggies and shrimp using a slotted spoon and placed them on the baking sheets. This helps reserve as much of the marinade as possible. Then, I placed the remaining marinade in a sauce pan and simmered while the shrimp and vegetables roasted in the oven.
For those who like additional sauce (like my husband who likes his food extra saucy), I was able to top their plates with the simmered sauce. You have to simmer the sauce to ensure the raw shrimp that was marinating in the sauce is cooked to be consumed. You don't want anyone to get sick!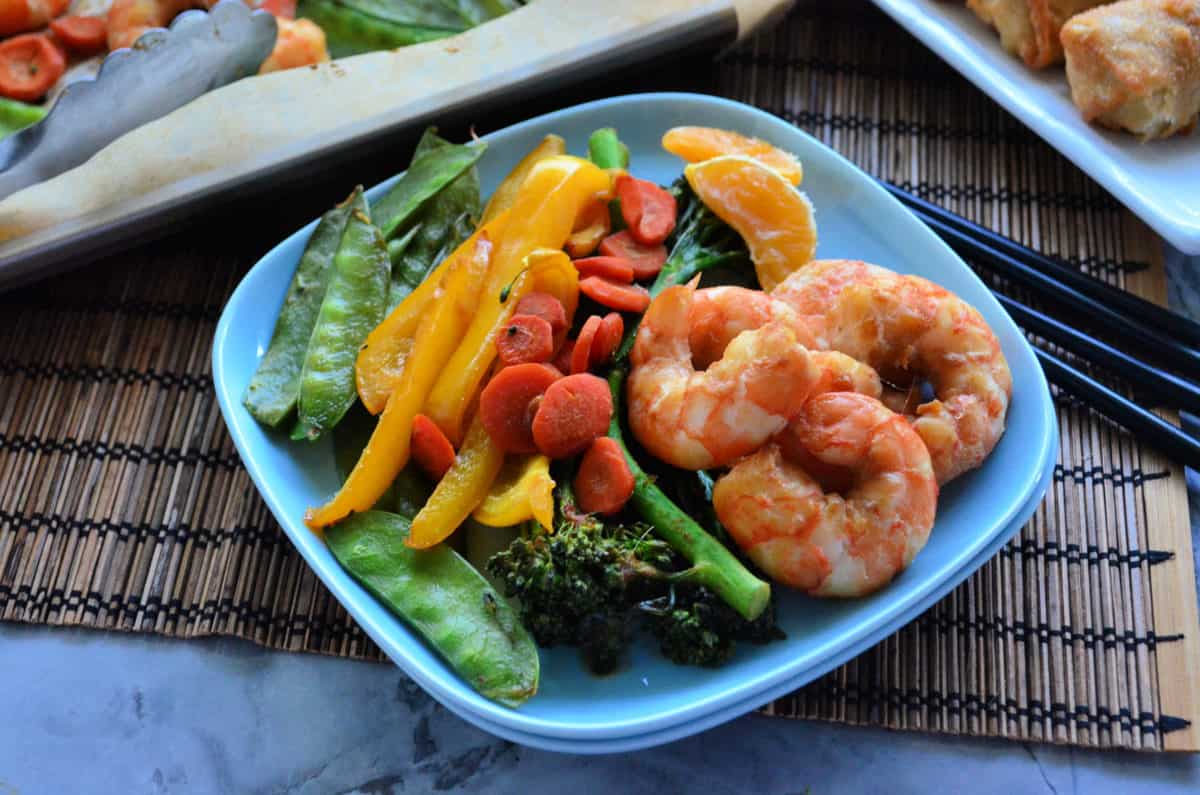 What do you serve with Sheet Pan Shrimp Stir-Fry?
For my family, I served this recipe with rice and store bought egg rolls I found in the freezer section. Or you can make these sweet chili chicken egg rolls. I ate this stir-fry with cauliflower fried-rice to keep it on the healthier low-carb side. I may or may not have had an egg roll. Let's face it, if I'm eating any type of Asian food I can't resist egg rolls. They are just too good!
If you're looking to add a salad on the side you could also make my Sesame Cucumber Salad or a ginger salad to go with your dinner. Two great salad options that compliment the meal. If you want to simplify dinner time and looking for a healthier quick cooking recipe I hope you'll give this recipe for Sheet Pan Shrimp Stir-Fry a try!
Disclaimer: There are affiliate links in this post. That means if you click on a link and purchase something I will receive a very small percentage of the sale at no additional cost to you!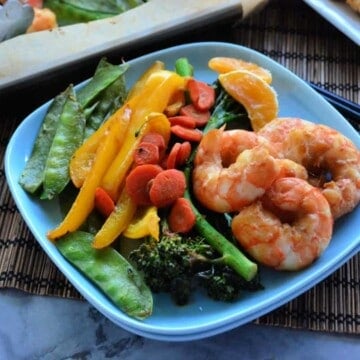 Sheet Pan Shrimp Stir-Fry
Enjoy a delicious healthier dinner of
Sheet Pan Shrimp Stir-Fry
in just 30 minutes time. Prep in the morning and bake on a sheet pan at dinner time for an easy and delicious quick dinner.
Print
Pin
Rate
Ingredients
1

tablespoon

grapeseed oil

⅓

cup

reduced-sodium soy sauce

2

tablespoons

fish sauce

⅓

cup

orange juice

2-

inch

thick piece of fresh ginger

4

cloves

garlic

1

tablespoon

sesame oil

¼

teaspoon

crushed red pepper

3

carrots

peeled and thinly sliced

1

small yellow bell pepper

thinly sliced

1

cup

snow peas

8

Oz.

Broccoletti

1

lb.

peeled and de-veined large shrimp

2

tangerines

divided
Instructions
In a blender or food processor, add in the grape seed oil, soy sauce, fish sauce, orange juice, fresh ginger, garlic, sesame oil, and half the crushed red pepper. Blend on high for 30 seconds until garlic and ginger are crushed.

Place the shrimp in a bowl and pour half the sauce on the shrimp. Coat evenly, and let marinate for at least 30 minutes (or up tot 8 hours) in the refrigerator. Then, prep the veggies and place in a zip lock bag. Pour the remaining sauce over the vegetables.

Once the shrimp and vegetables are done marinating and your ready to cook. Preheat the oven to 400 degrees Fahrenheit. Line two baking sheets with parchment paper. Scoop the shrimp out of the bowl using a slotted spoon (reserving the remaining sauce to be cooked down) and divided evenly on the baking sheets. Repeat with the vegetables.

Bake in the oven for 15 minutes or until the shrimp are opaque in color. While the shrimp and vegetables bake pour the remaining marinade into a sauce pan. Bring to a boil, then reduce heat to low and let simmer until shrimp and vegetables are done cooking.

Remove the shrimp and vegetables out of the oven. Divide the tangerine slices among the baking sheets. Sprinkle with remaining crushed red pepper if desired. Divide shrimp and vegetables evenly among plates and top with remaining sauce if desired.
Notes
It does take planning ahead, but don't skip the marinade! You need to give it at least 30 minutes to achieve the best flavor in the dish.
Nutrition
Calories:
274
kcal
|
Carbohydrates:
23
g
|
Protein:
29
g
|
Fat:
8
g
|
Saturated Fat:
1
g
|
Polyunsaturated Fat:
4
g
|
Monounsaturated Fat:
2
g
|
Trans Fat:
0.01
g
|
Cholesterol:
183
mg
|
Sodium:
1660
mg
|
Potassium:
802
mg
|
Fiber:
4
g
|
Sugar:
11
g
|
Vitamin A:
9349
IU
|
Vitamin C:
147
mg
|
Calcium:
177
mg
|
Iron:
2
mg