Goat Cheese, Bacon, and Pear Naan Flatbreads
This blog post is sponsored by Stonefire® Authentic Flatbreads but the opinions are all my own.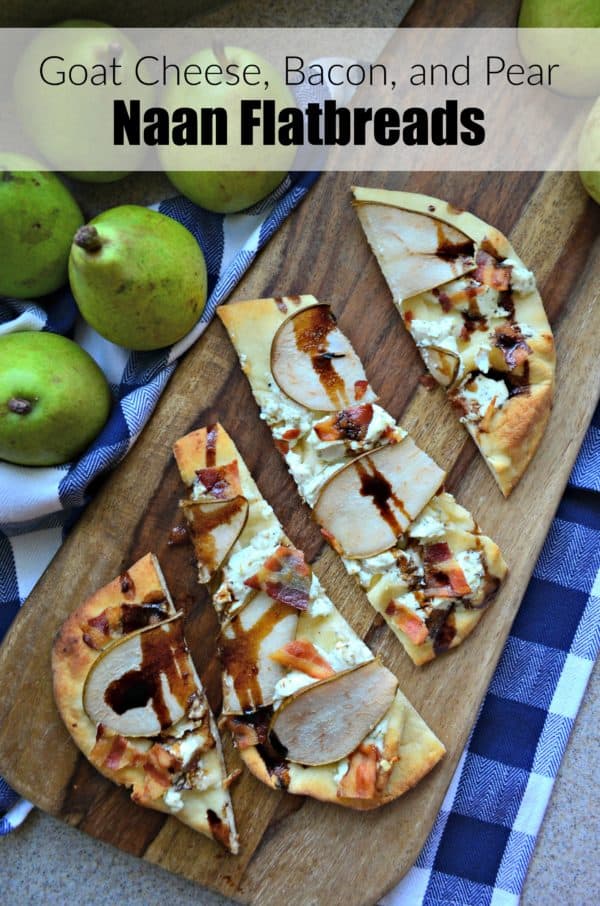 I'm so excited to be sharing a simple yet sophisticated appetizer to entertain with this holiday season. I introduce you to my Goat Cheese, Bacon, and Pear Naan Flatbreads. Sophisticated with the flavors of goat cheese and balsamic reduction and classic in the sense of using a seasonal fruit like pears and everyone's favorite meat, bacon.  My family has been a long time fan of the Stonefire® Authentic Flatbreads and I'm thrilled to be partnering with them!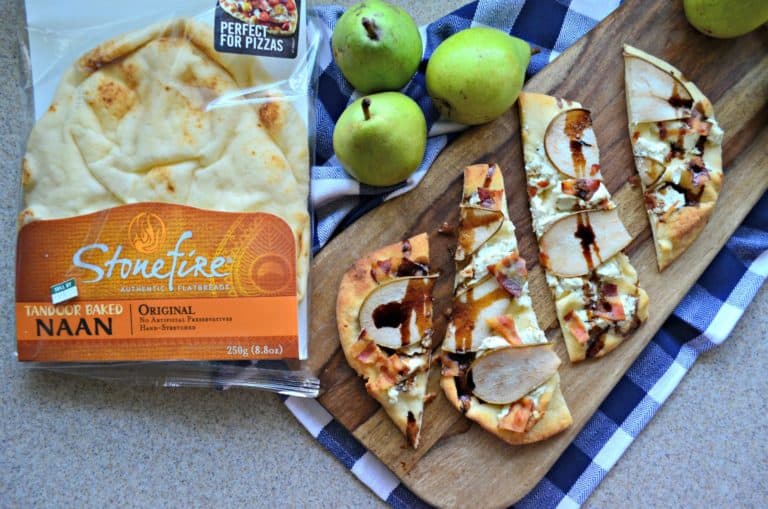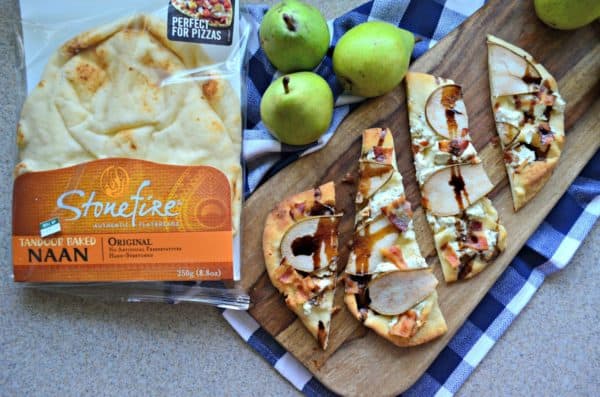 If your like me, you find yourself entertaining on the fly during the holiday season. I try to keep a few staples in my refrigerator and pantry at all times, so I can whip up a quick and easy appetizer to entertain with when unexpected guest pop in. I keep an assortment of cheeses on hand, as well as seasonal fruits like apples, pears, and grapes to create a delicious cheese board. I always have bacon on hand as well as a store-bought balsamic reduction syrup.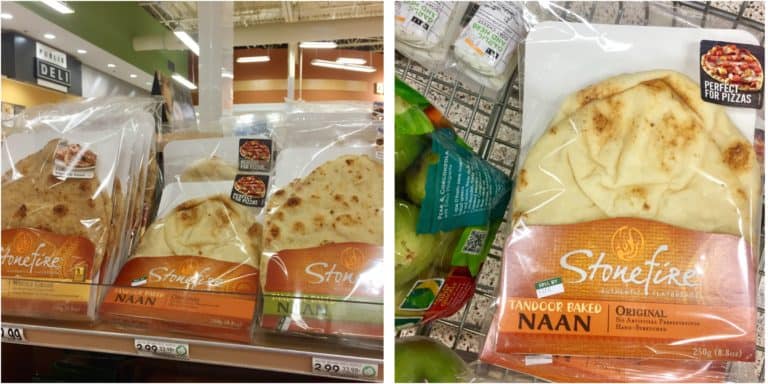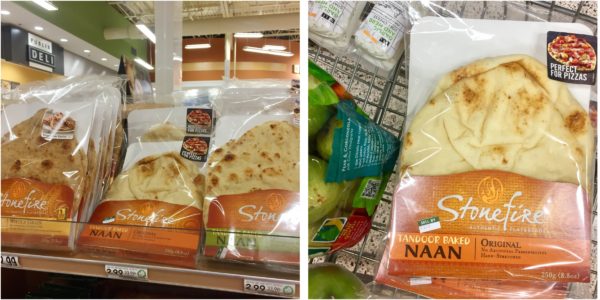 I also always have at least one package (if not 2,3, or even 4 packages) of  Stonefire® Authentic Flatbreads. Whether they are freshly bought from the store or if I have a few packages sitting in my freezer. Stonefire® Authentic Flatbreads have a shelf life of 7 days, and it's good for 1 year if frozen properly directly after purchase. Making it an essential to my entertaining! You can find the flatbreads in the deli section at your local  Publix grocery store!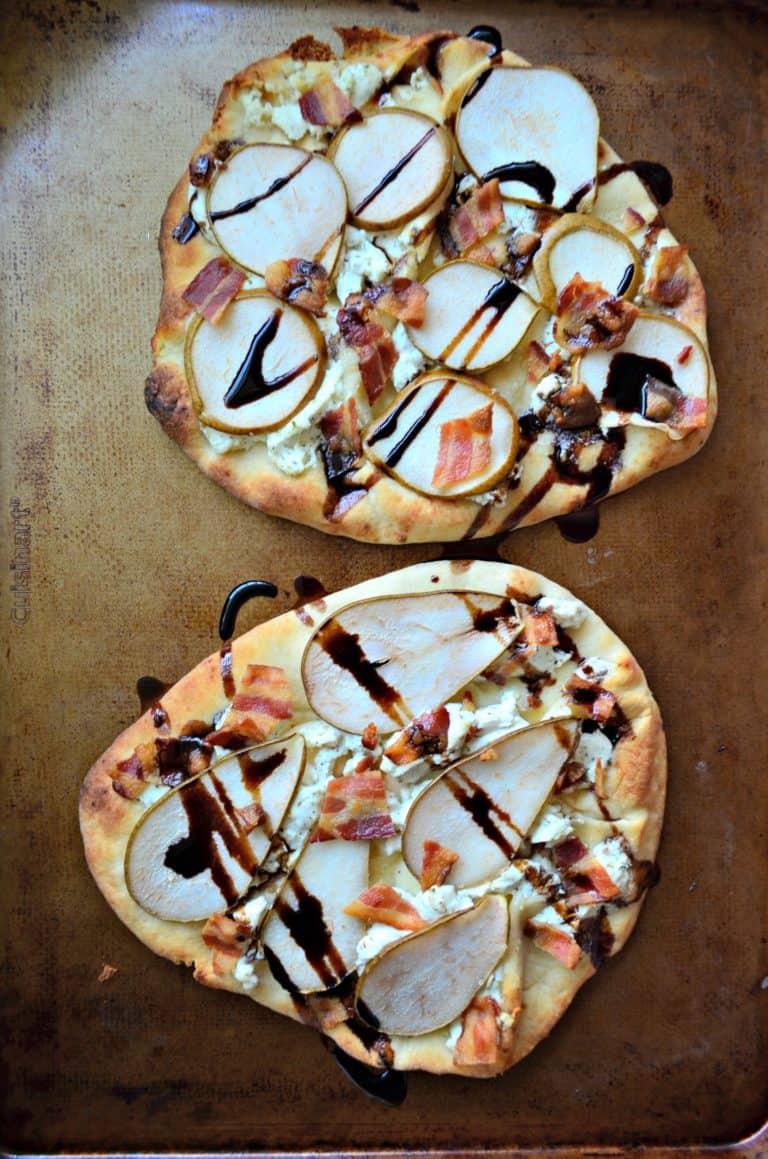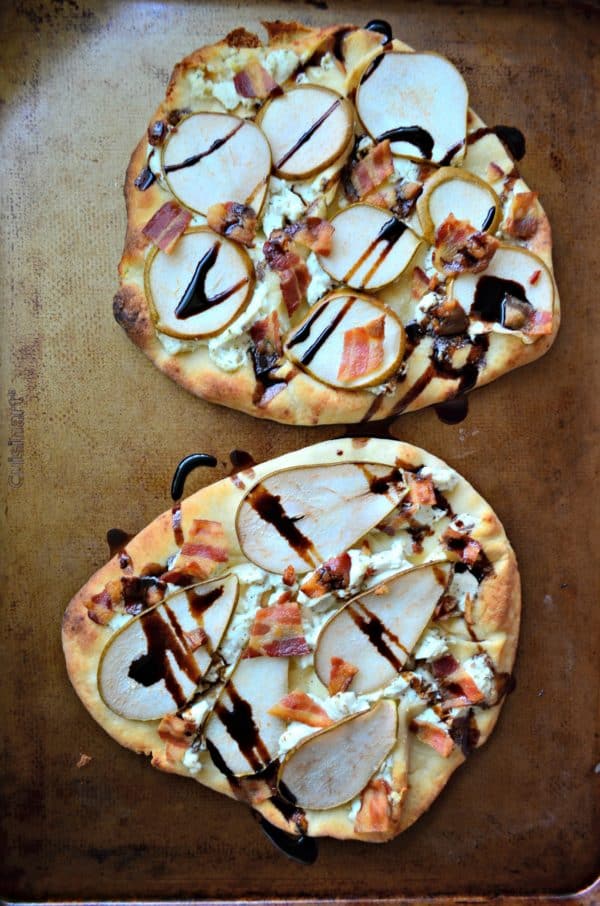 Stonefire® Authentic Flatbreads are best to heat the naan until it becomes warm and pliable. In the case of my Goat Cheese, Bacon, and Pear Naan Flatbreads we will heat all of it together. I preheat the oven, cut the goat cheese in half, spread that on top of the original naan flatbreads that are resting on a baking sheet. Then I top them with thinly sliced pears and crumble bacon on top. I bake it in the oven for only 10 minutes so that the pears cook slightly, the goat cheese melts, and naan bread toast to a golden brown. I remove the flatbreads from the oven, cut them and then drizzle with a little balsamic reduction. Simple yet sophisticated appetizer. My toddler even loves these Goat Cheese, Bacon, and Pear Naan Flatbreads. But I'll admit he has quite the sophisticated pallet for his age. Must be because of his foodie mama. If your looking for a quick appetizer for your holiday party this year–or heck a sophisticated lunch or dinner option for your guest I invite you to try my recipe for Goat Cheese, Bacon, and Pear Naan Flatbreads.
Download money saving coupons from Stonefire® Authentic Flatbreads here!

Goat Cheese, Bacon, and Pear Naan Flatbread
Yield: 4
Prep Time: 5 minutes
Cook Time: 10 minutes
Total Time: 15 minutes
Ingredients:
1 8.8oz. Package of Original Stonefire® Authentic Flatbreads
4 oz. Garlic and Herb Goat Cheese
2 small pears, thinly sliced
2 slices of cooked bacon, chopped
Balsamic reduction for garnish
Directions:
Preheat the oven to 400 degrees.
Place the two Stonefire Original Naan Flatbreads on a baking sheet. Divide the garlic and herb goat cheese in half and spread equally on the two flatbreads. Thinly slice one pear and place on one flatbread, repeat with the other flatbread. Sprinkle chopped bacon on top and bake for 10 minutes.
Remove from the oven once the flatbreads are golden in color. Cut with a pizza wheel or scissors into pieces. Drizzle with balsamic reduction and serve immediately.
Save
Save
Save
Save
Warning
: Use of undefined constant rand - assumed 'rand' (this will throw an Error in a future version of PHP) in
/home/kjasiewicz21/webapps/katiescucina/wp-content/themes/katiescucina/single.php
on line
74
Leave a Comment