Buttermilk Thyme & Garlic Turkey Brine
Save your turkey and make my Buttermilk Thyme & Garlic Turkey Brine for Thanksgiving this year yielding a moist and plump bird!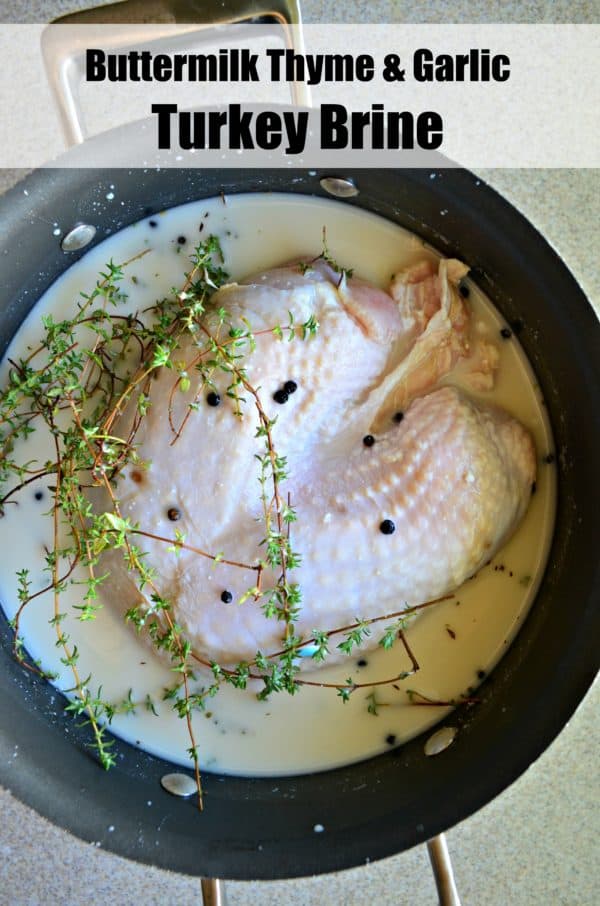 How in the heck is Thanksgiving NEXT week! Next week, people! Have you set your menu? Two years ago, I shared my recipe for Buttermilk Sage Turkey Brine and I'm at it again and created another delicious and flavorful turkey brine. This time I got inspiration from the herbs that I'm growing in my own herb garden; thyme! That's how this year's recipe for Buttermilk Thyme & Garlic Turkey Brine came about.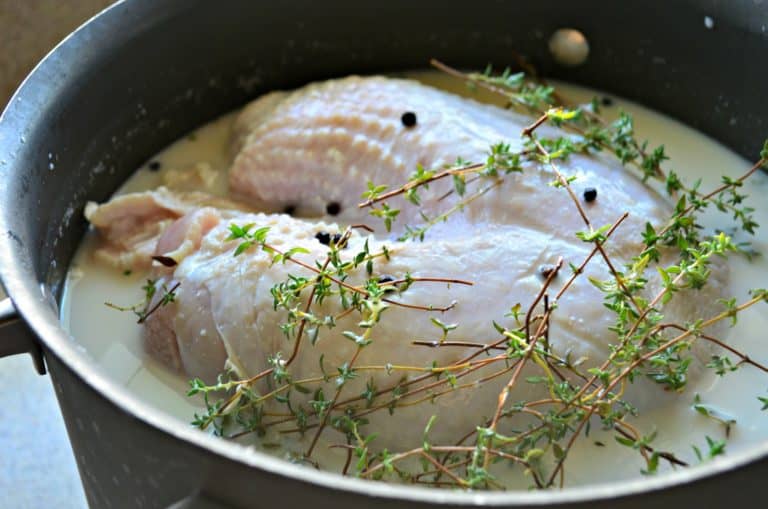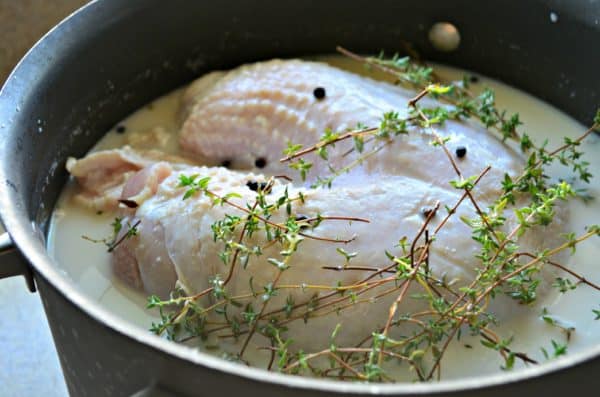 To make your brine you'll start by combining the salt and warm water and whisking for a few minutes until it combines. Like I mentioned, I had an abundance of thyme that I hadn't used and figured this would be the perfect base. I added in the thyme, quite a bit of fresh garlic cloves along with some peppercorns! Then it was time to pour in the buttermilk and whisk again. You'll carefully place your turkey into the brine mixture. I like to place it breast side down so that only a little bit is exposed out of the brine mix and it's typically not the part that we are eating. I like to let my brine sit in the refrigerator for a good 12 hours.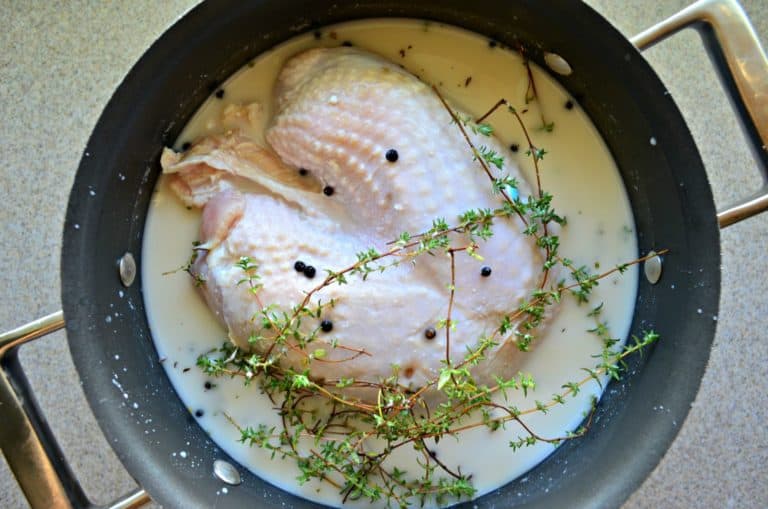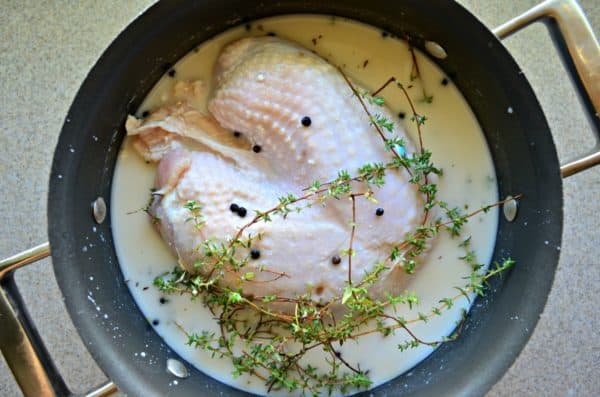 Before it's time to start cooking, I'll place the big pot of brine out of the refrigerator and was the turkey off well. With this brine I actually reserved some of the garlic cloves and thyme and stuffed it in the cavity of the turkey breast to enhance the flavor! So if your looking for a new brine this year or maybe new to brineing all together I challenge you to try my recipe for Buttermilk Thyme & Garlic Turkey Brine.

Buttermilk Thyme & Garlic Turkey Brine
Yield: 4 quarts
Prep Time: 15 minutes
Total Time: 24 hours, 15 minutes
Ingredients:
3 tbsp kosher salt
1 tbsp whole peppercorn
1 bundle of thyme leaves
10 garlic cloves, smashed
12 cups warm water
1 quart buttermilk
Directions:
Place kosher salt, whole peppercorns, fresh thyme leaves and garlic cloves in a large stock pot (large enough to cover your turkey breast with a lid on). Then pour in warm water. Whisk water until salt has dissolved (about 2 minutes). Pour the buttermilk into the pot. Whisk again then place the turkey inside the pot. Turn the turkey breast so that only a small piece is exposed. Place lid on pot and refrigerate for at least 12 hours no more than 24 hours.
After turkey breast has sat in brine for at least 12 hours. Rinse turkey breast off thoroughly and pat dry before baking.
Save
Warning
: Use of undefined constant rand - assumed 'rand' (this will throw an Error in a future version of PHP) in
/home/kjasiewicz21/webapps/katiescucina/wp-content/themes/katiescucina/single.php
on line
74
Leave a Comment