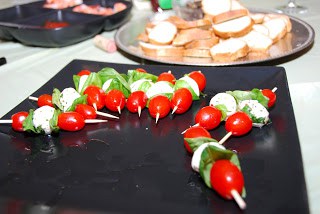 These little gems are sure to be a hit at any party you throw! Super easy appetizer to put together a day before the party or just a few minutes before guest arrive! This picture was taken by a good friend of mine, Christy. She has a photography blog, and posts new pictures weekly, go check it out! I had a Shutterfly House Party last weekend and she took some awesome pictures for me! The plate was full when I first put them out, and by the time she had a chance to take a picture of them they were half gone!
Prep: 10 minutes
Serves: 10 (2 per person)
Ingredients:
1 container of mini fresh mozzarella balls
20 basil leaves
20 cherry tomatoes (about one carton)
olive oil
salt & pepper to taste
bamboo skewers
Directions:
1. Wash your tomatoes and basil leaves, dry thoroughly.
2. Take a small bamboo skewer place a cherry tomato, basil leave, mozarella ball, basil leave, and cherry tomato on the skewer. Repeat until you've made enough for your appetizer.
3. Drizzle olive oil and sprinkle salt and pepper to taste over all the skewers. Enjoy!