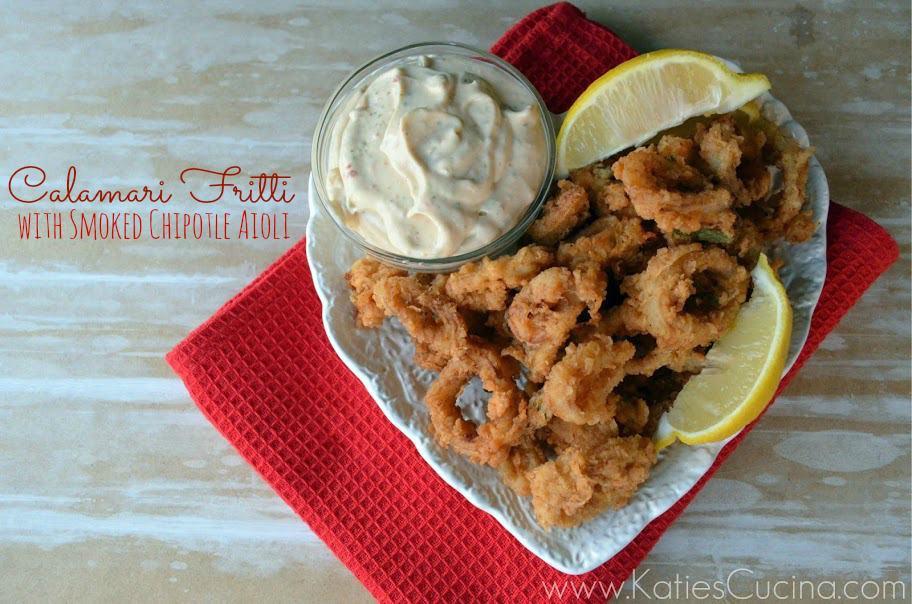 I have been making my own Calamari Fritti for a few years now. I experimented on a whim one hot summers day when I was tasked with making a birthday dinner for my mother in-law. With only one day's notice I whipped together what I felt to be an amazing meal. Everyone in my husband's family loves calamari, and I figured why not try to make it for the dinner as a nice surprise appetizer! After doing quite a bit of recipe research online I had finally found what I felt to be the best recipe for Calamari Fritti out there.
I love the Smoked Chipotle Aioli dipping sauce that accompanies this dish. It's spicy yet creamy and satisfies the taste-buds. Don't get me wrong. I love dipping the rings of the fried squid into a tomato-basil sauce. But there is also something about an aioli sauce that just does it for me.

Adapted from Tyler Florence, Republished from February 5, 2010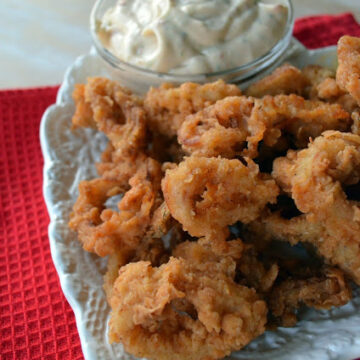 Ingredients
For the Calamari Fritti:
1 pound whole squid cleaned and sliced
1 cup milk
1 large egg
6 fresh basil leaves chopped
Canola oil for frying
2 cups all-purpose flour
1 tbsp paprika
1/4 tsp each; salt and pepper
For the Smoked Chipotle Aioli:
1 cup mayonnaise
1 to 2 canned chipotle chile in adobo
1 garlic clove
1/2 lemon juiced
1 tbsp flat-leaf parsley
Pinch salt
Instructions
For the Calamari Fritti:
Rinse the squid and pat dry with paper towel. Cut the body of the squid (tubes) into 1/2-inch rings (trim the tentacles as necessary).

In a large bowl combine the milk, egg, and basil leaves. Mix with a fork until lightly beaten. Put the prepared calamari in the milk mixture. Refrigerate for about 15 minutes.

Preheat deep fryer.

Mix the flour, paprika, salt, and pepper in a shallow dish. Once the oil is hot toss the calamari in the seasoned flour to coat and immediately place it into the deep fryer.

Fry for one-to-three minutes or until golden brown. Using a slotted spoon, transfer the fried calamari to paper towel lined plate to drain. Sprinkle additional salt, to taste.

Serve immediately with lemon wedges and dipping sauces.
For the Smoked Chipotle Aioli:
Using a food processor combine all the ingredients and blend for 1 minute or until well combined. Refrigerate the sauce until ready to serve. Serve as a dipping sauce with fried calamari.