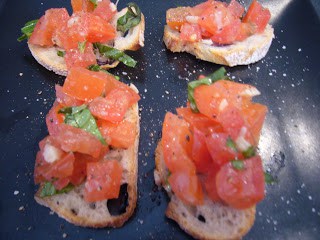 mmmm… how I love bruschetta! I created this recipe a few years back after having some for an appetizer at a restaurant! Boy, am I glad I created this recipe…. it's amazing, and never fails for entertaining, can easily be made a day or two in advanced, and is always a big hit at parties!
Prep: 15 minutes
Serves: 4-6
INGREDIENTS:
6-8 firm plum tomatoes
1 tbsp minced garlic
2 handfuls of basil
2-3 tbsp of olive oil
salt and pepper to taste
1 loaf of crusty bread
DIRECTIONS
1. In a small frying pan add 2 tbsp olive oil, and 1 tbsp of minced garlic. Make sure that the garlic is evenly distributed throughout the pan. Cook on low until garlic is cooked. Be careful not to burn the garlic! Once it's done put it off to the side so that it can cool.
2. Wash all the tomatoes, cut the stems off. Slice diagonal. Take a spoon and scoop all the guts out of each tomato. Cut length wise into julianned slices, then turn them to dice.
3. Once all of the tomatoes have been diced into bite size peices, add them to a large bowl.
4. Rinse the basil, and pat dry. Take the largest basil leaf and place at the bottom then add the remaining basil in layers on top. Roll up and hold tightly, cut very small strips so that the basil is "chiffonade".
5. Add basil, cooled olive oil with garlic, salt, and pepper to the tomato bowl. Mix well and add another tablespoon of olive oil if needed.
6. Cut bread into ¼-1/2 inch slices. You can toast them for more of a crunch or keep them as is. Top each piece of bread with a spoonful of bruschetta mixture! Enjoy!