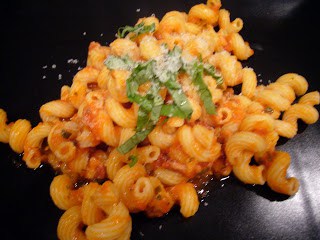 I order this every time we eat at Carrabbas, and I've tried making this before, and it didn't live up to my expectations. I found this on a whim on the Saveur website, and boy is this one pretty darn close to Carrabba's amatriciana sauce! This is easy enough to cook after a hard day's work. Next time I make this recipe I plan to double the sauce recipe and save half the sauce for a rainy day!
Cook: 50 minutes
Serves: 4
INGREDIENTS:
3 tbsp. extra-virgin olive oil
4 oz. thinly sliced guanciale or pancetta, cut into 3?4″ pieces
Freshly cracked black pepper, to taste
2 cloves garlic, minced
1 small carrot, minced
1?2 medium onion, minced
1?2 tsp. crushed red chile flakes
1 28-oz. can peeled tomatoes, preferably San Marzano, undrained and puréed
Kosher salt, to taste
1 lb. cavatapi
1 1?4 cups grated Pecorino Romano
DIRECTIONS:
1. Heat oil in a large, high-sided skillet over medium heat. Add pancetta; cook, stirring, until lightly browned, 6–8 minutes. Add pepper; cook until fragrant, about 2 minutes more. Increase heat to medium-high; add garlic, carrots, and onions and cook, stirring occasionally, until soft, about 6 minutes. Add chile flakes; cook for 1 minute. Stir in tomatoes, reduce heat to medium-low, and simmer, stirring occasionally, until sauce thickens and flavors meld, 20–25 minutes. Season with salt; keep warm.
2. Bring a 6-qt. pot of salted water to a boil. Add pasta and cook until just al dente, 6–8 minutes. Reserve 1?2 cup pasta water; drain pasta. Heat reserved sauce over medium heat. Add pasta and reserved water; cook, tossing, until sauce clings to pasta, 2–3 minutes. Add 1?2 cup Pecorino; toss. Divide between serving bowls; serve with remaining Pecorino. Top with threds of basil if desired.
Side Suggestions:
start with some bruschetta, serve the pasta with crusty bread, and end the meal with a delicious summer salad