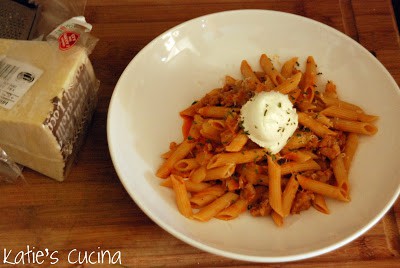 I received this recipe many months ago via an email newsletter from Carrabba's Italian Grill. I printed the recipe out and it sat for a few months. The other month when I attended the Carrabba's Tastemaker Event this is the dish they gave us to take home and enjoy for dinner that evening. I finally made this recipe at home, and it was just as good as it was the night we ate it for dinner from Carrabba's!
2 tablespoon Olive Oil

1 cup onion, chopped

1 cup fennel, chopped

1-½lbs Italian Sausage, crumbled

½ cup water

6 cups tomato sauce

1lb penne pasta

½ cup grated romano cheese

¼ cup ricotta cheese
1. Heat olive oil over medium heat. Saute onions and fennel for 10-15 minutes or until golden brown. Stir frequently. Add sausage to the pan and brown.
2. Once the sausage has browned add the water and tomato sauce, increase heat and bring sauce to a boil stirring frequently. Reduce heat and let simmer for 5 minutes.
3. Drop penne in boiling salted water and cook until al dente. Drain pasta in colander.
4. Add pasta in with sauce and toss to coat.
5. Add Romano cheese, toss with the pasta until melted.
6. Transfer pasta to serving dish or individually plate and serve with a dollop of ricota on top.