Make a delicious Italian dinner with fork-tender Italian Sausage in the Instant Pot in 20 minutes time! This is an easy weeknight dinner recipe.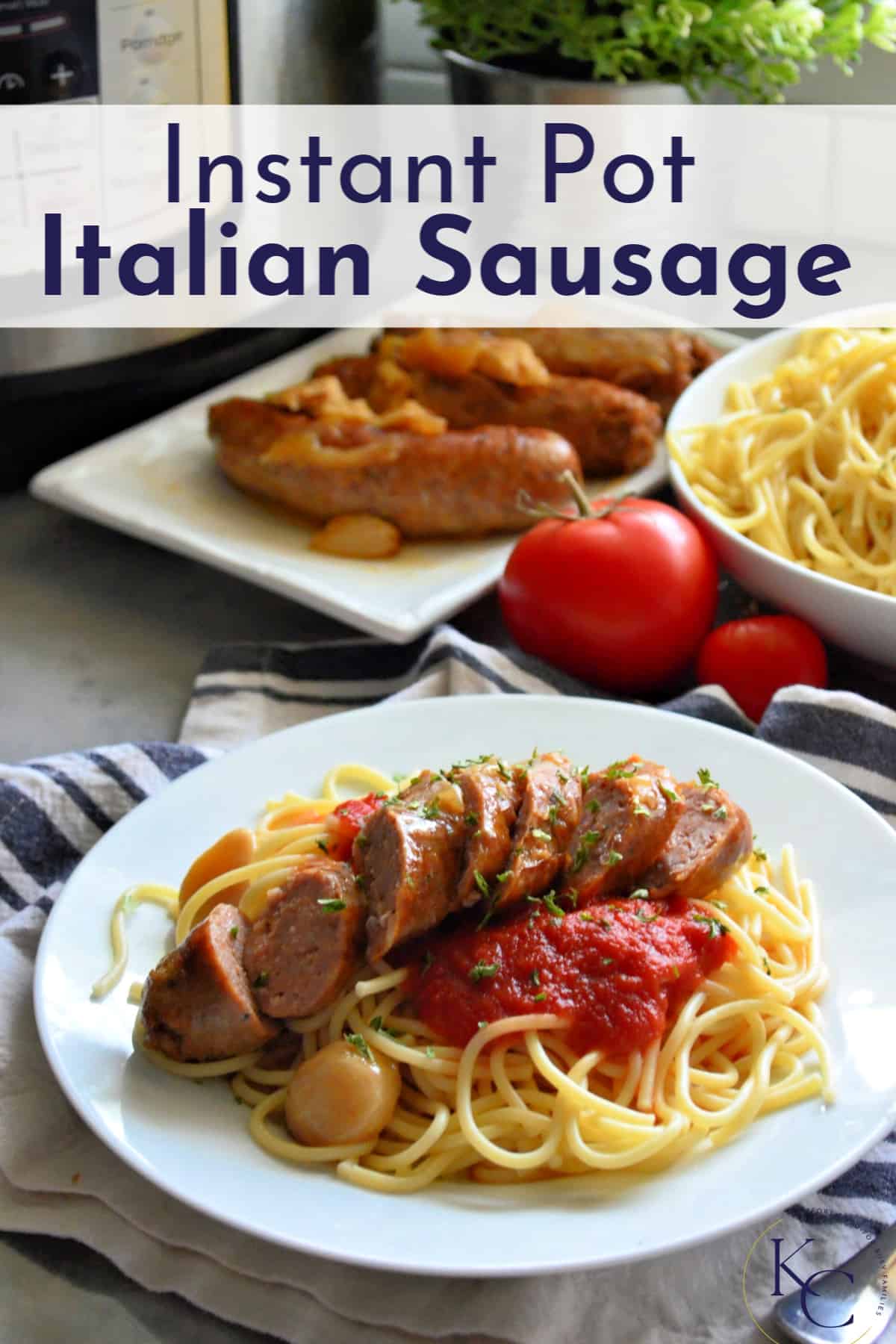 I'm part Italian for those who might not know me in real life. Hence where the "cucina" comes from the title of this blog. I grew up eating a lot of Italian Sausage and peppers. I kept up with the tradition and also feed my family the same meals that I enjoyed growing up.
Thankfully my children also love Italian sausage. In past years, I found that I really enjoyed grilled Italian sausage or even baked Italian sausage. That was until I tried cooking my Italian sausage in the Instant Pot. Total game changer. In about 25 minutes time you get the most fork tender Italian sausage but I've ever had. It taste like it's been slow cooking for hours.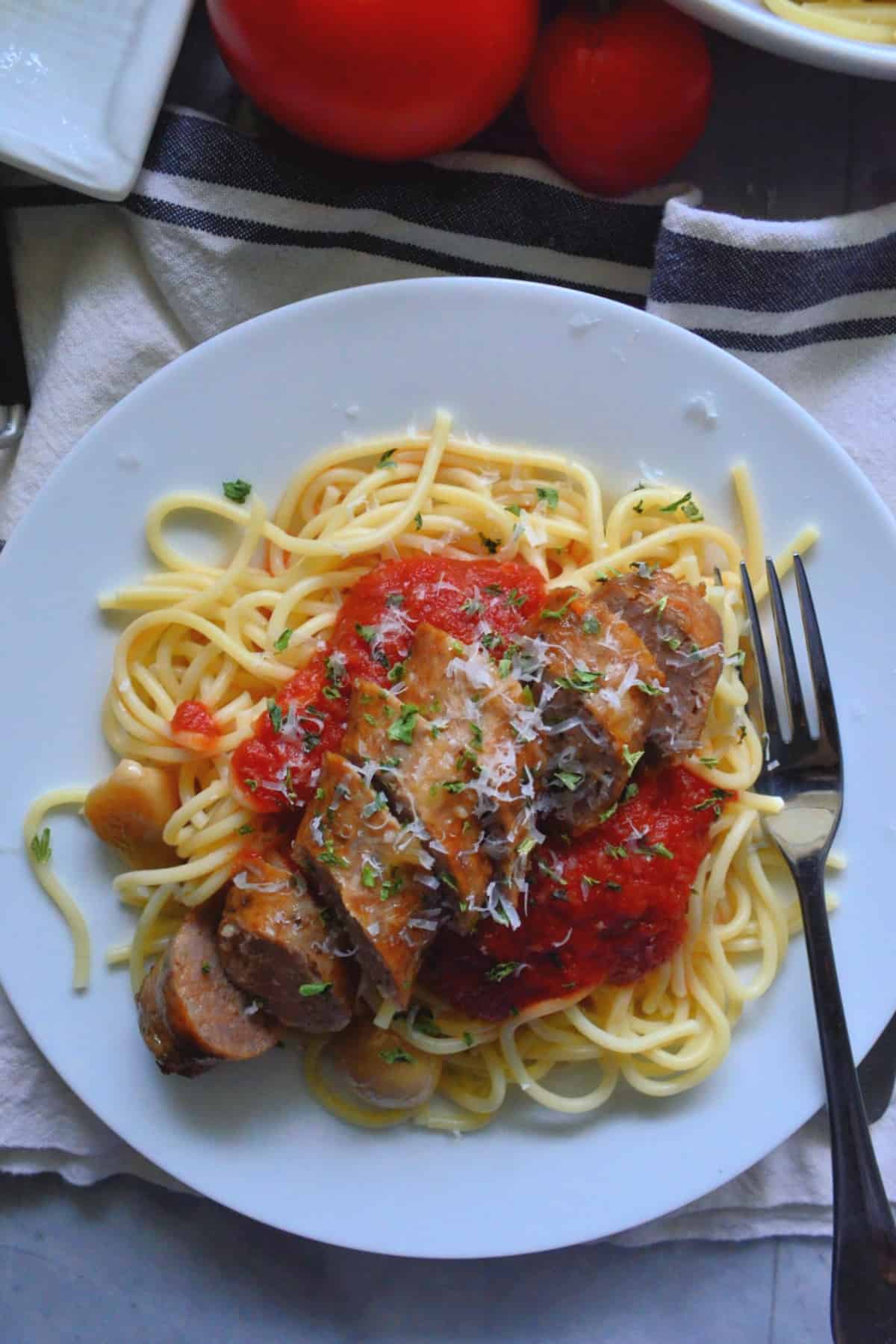 Ingredients
Making Italian sausage in the Instant Pot is very easy and really requires just a few simple ingredients. Here is exactly what you will need.
Directions
A common question I receive often from friends and readers is "how do you cook Italian sausage in an electric pressure cooker?"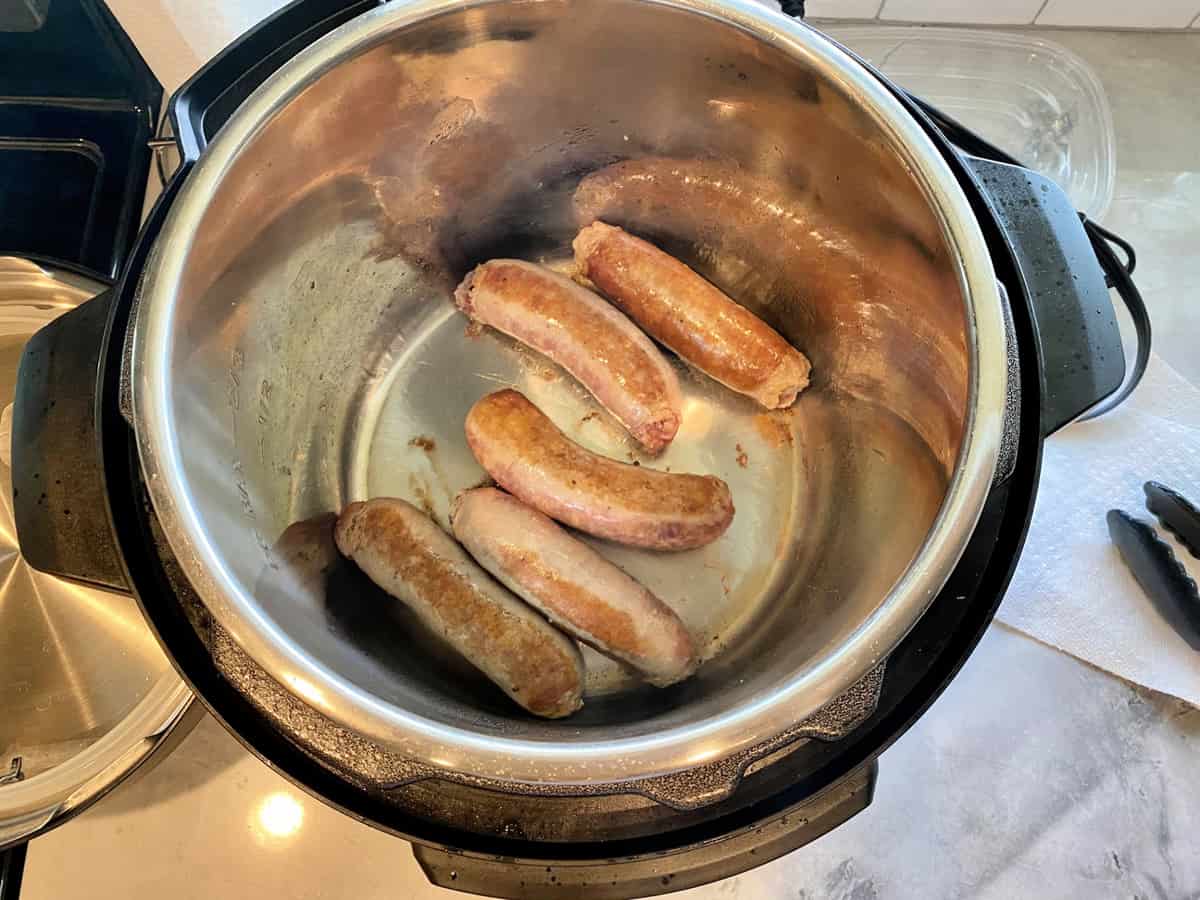 First, you want to add a little oil to the pressure cooker. Then select the sauté setting. You will want to brown the Italian sausage just like you would if you were cooking on the stove top. Giving the sausage a nice sear will not only add to the flavors developed during the cooking process. It also seals all those delicious juices in the sausage keeping it moist, tender, and exceptionally flavorful.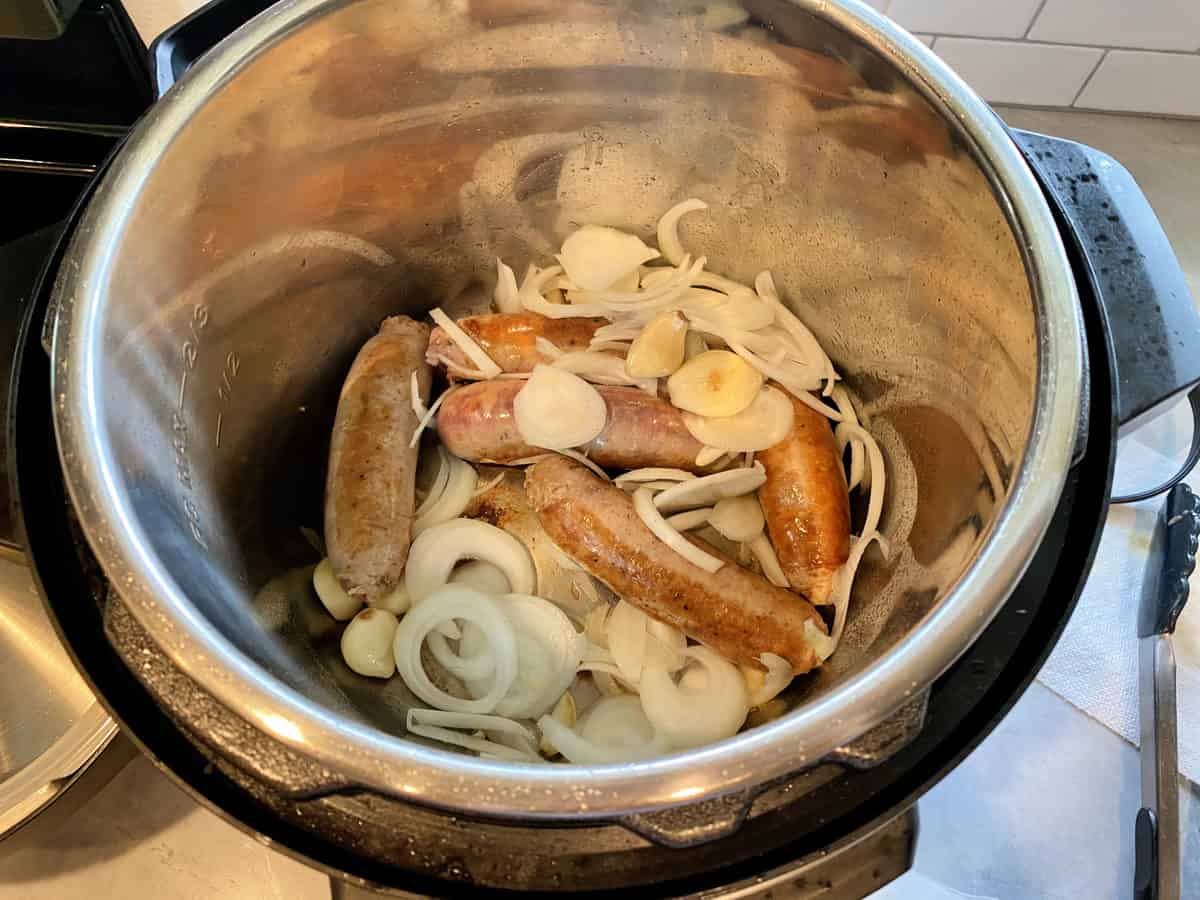 The Italian sausage will need to brown for about five minutes. Once browned, that's when you can go ahead and add in the other ingredients like onions, garlic, or any other spices or herbs you might want to incorporate.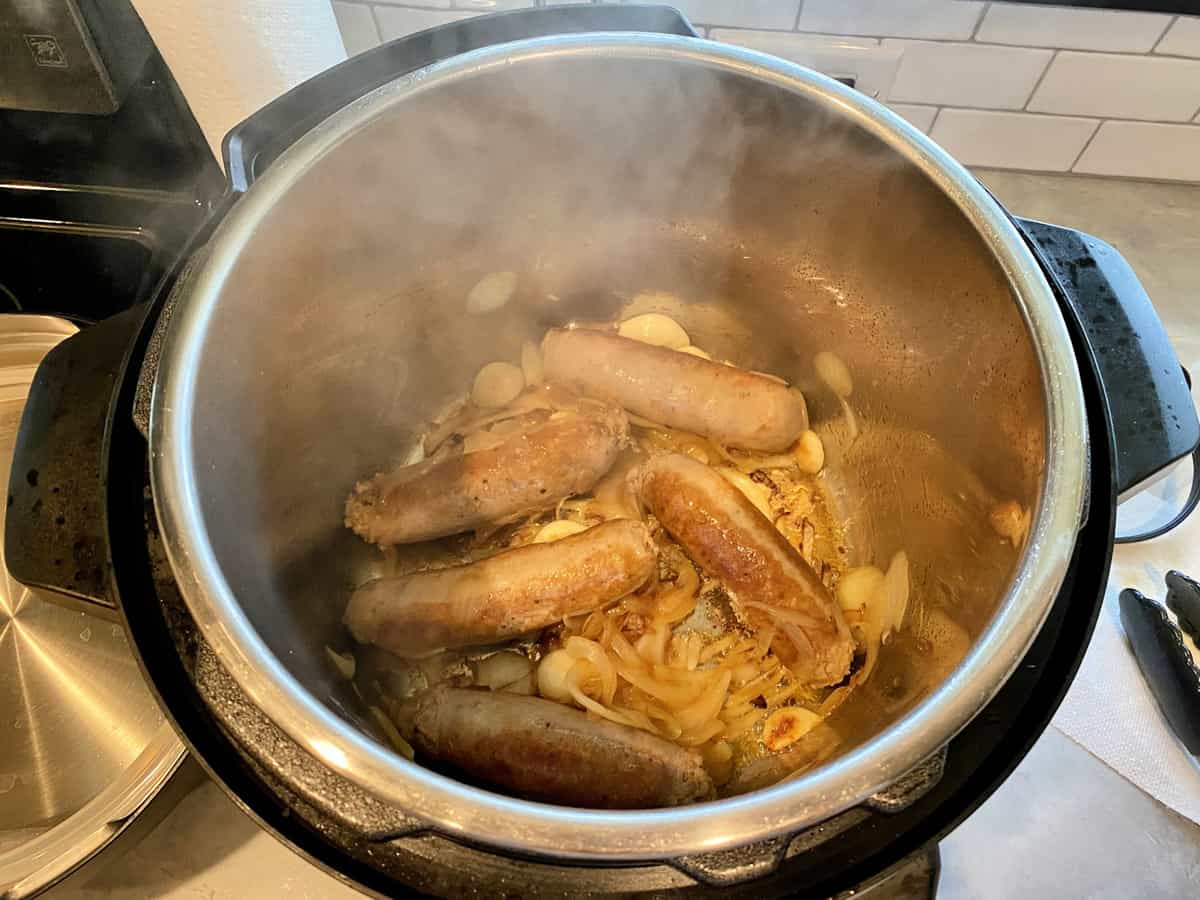 It's always important to incorporate some sort of liquid when using an electric pressure cooker. This is where I will deglaze the bottom of the Instant Pot to prevent the dreaded "burning" warning. As long as you've scraped up those brown bits you won't have that issue. I add a little bit of water or broth to the pot and scrape with a wooden spoon.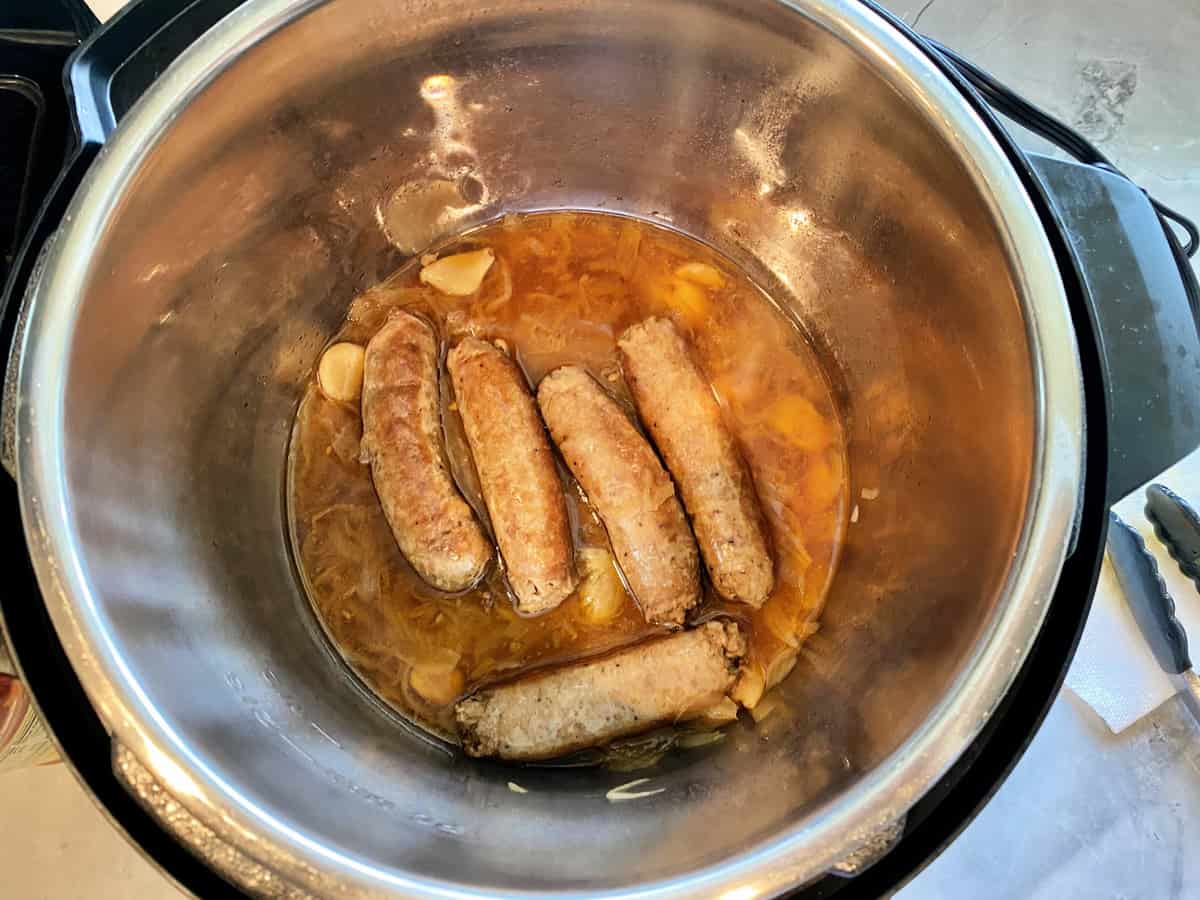 Next, turn off your pressure cooker, place the lid on top and set the valve to "sealing". Set the Instant Pot to manual. If I'm only cooking five Italian sausage links I will only set the pressure cooker to 10 minutes. Once the sausage is done cooking I will carefully force pressure immediately.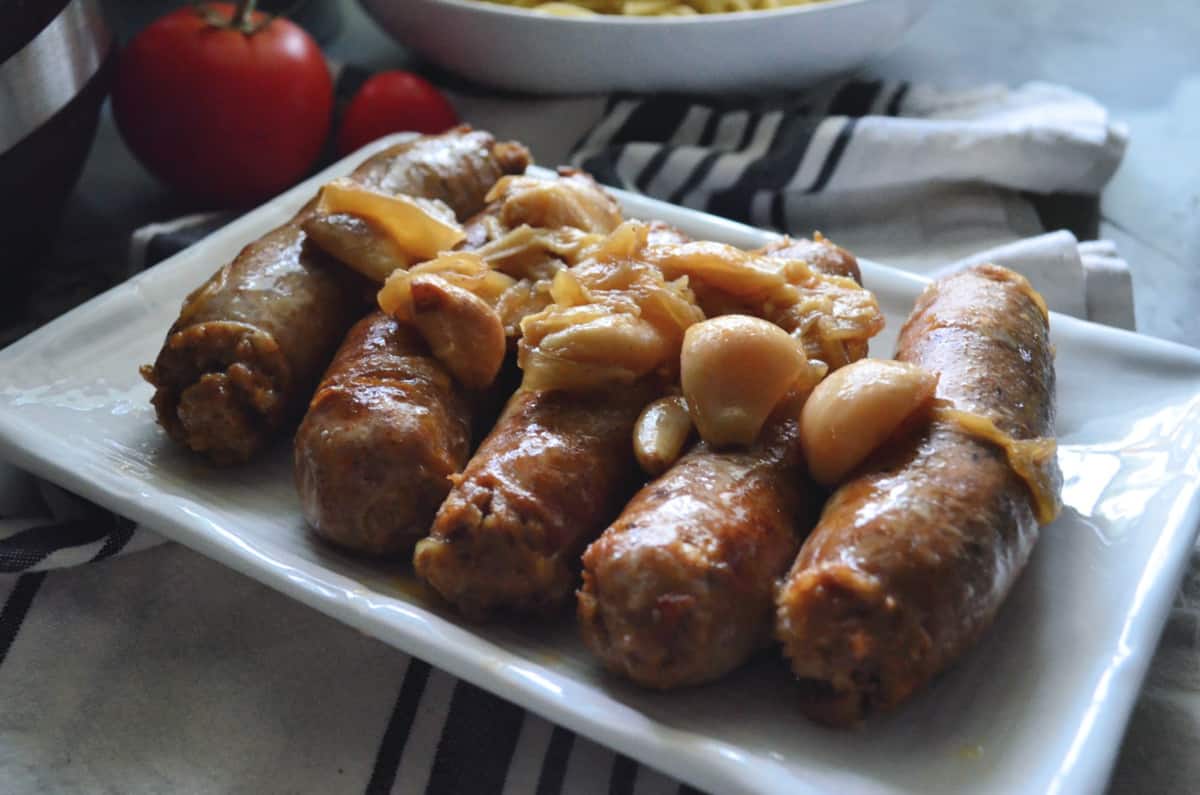 Can you cook more than five sausage links in the instant pot at a time?
Yes! I've actually cooked up to 15 sausage links in my 8 quart Instant Pot. I did, however, cook the sausage links in batches so that all links were golden brown. Then once it was time to set the pressure I selected the manual setting. Making sure the lid is on and the valve is set to "sealing" I set the pressure cooker to cook at 15 minutes. When cooking more sausage I always let the pressure naturally release for at least 10 minutes before forcing pressure.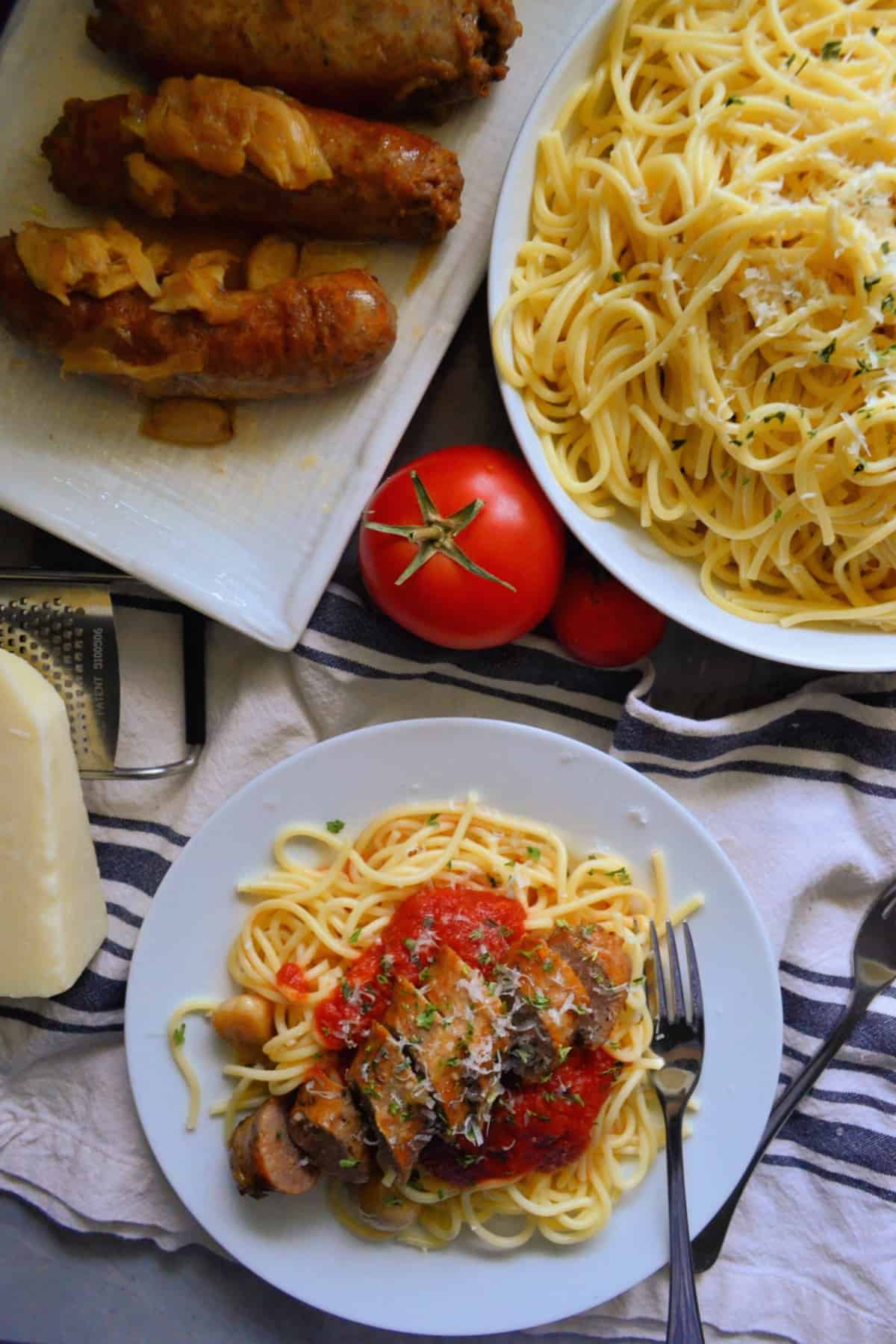 Instant Pot frozen sausage cooking time
Do you want to make Italian sausage for dinner, but forgot to thaw the sausage! No worries. The great thing about the Instant Pot is that you can safely cook meat from frozen because it cooks the food quickly thanks to the "high pressure".
If you want to cook this recipe for Italian Sausage from frozen you'll skip the browning step. You'll add the frozen sausage links, onions, and garlic into the electric pressure cooker with the water. Then set the setting to "manual" for 20 minutes. Let the Instant Pot manually release for 10 minutes before you carefully force the remaining pressure.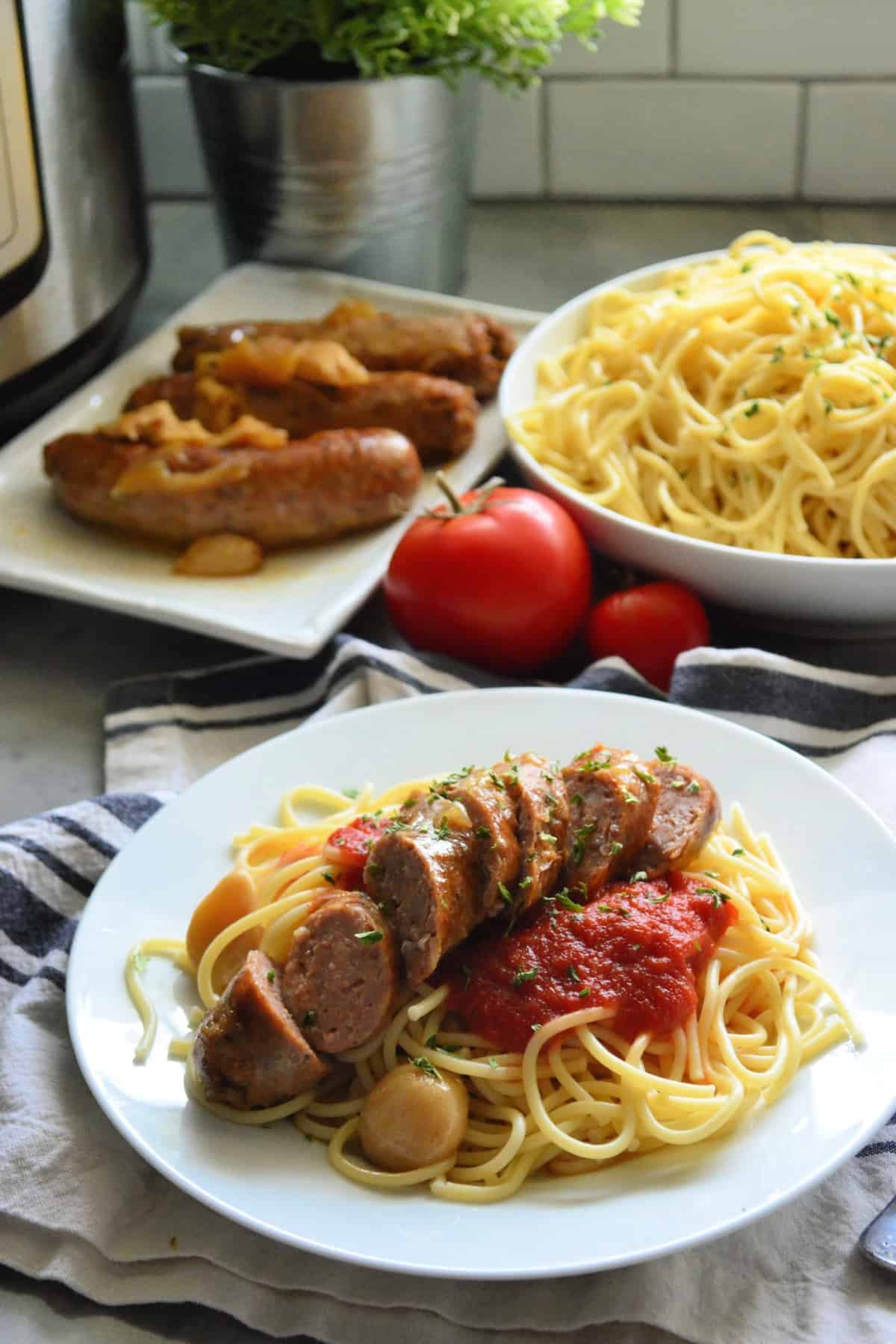 Sides that go with Italian sausage
While I'm cooking the Italian sausage it gives me just enough time to boil a pot of water for pasta and heat up some sauce. I do you have an Instant Pot Italian sausage and peppers sauce recipe. That is different than this recipe. This recipe is just for the Italian sausage.
If I'm not making homemade sauce with the Italian sausage I either tap in to my freezer stash of sauce or simply open up get a jar of pasta sauce. Yes, even food bloggers use jarred pasta sauce from time to time. No shame in it whatsoever. Here are a few other ideas on what you can start with Italian sausage.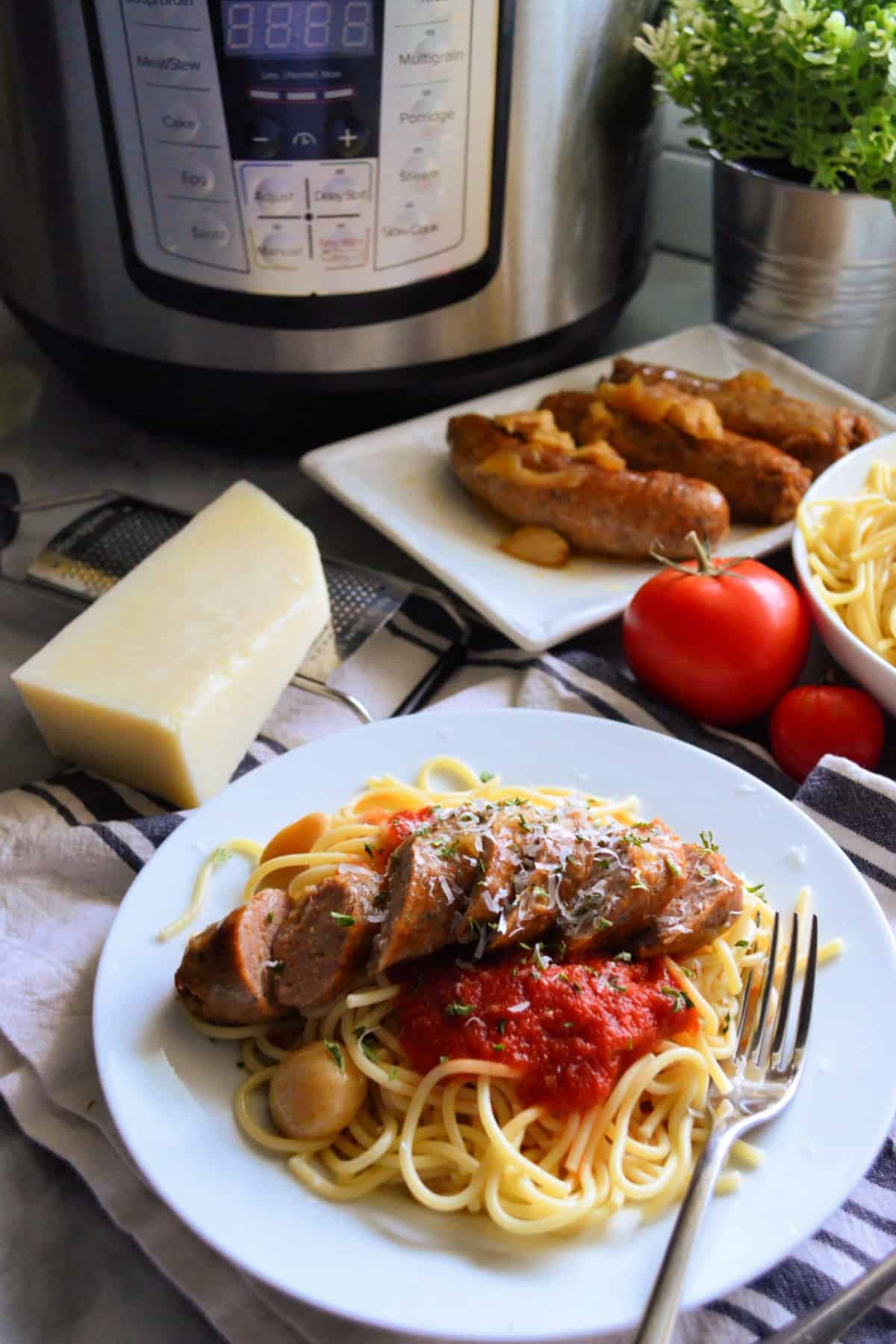 If you love Italian Sausage I hope you'll give this easy method of cooking Italian Sausage in the Instant Pot a try!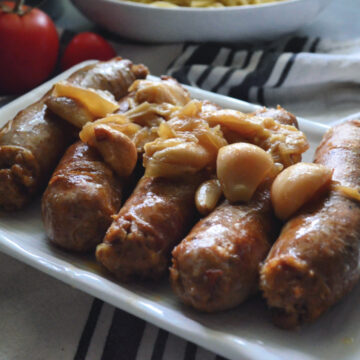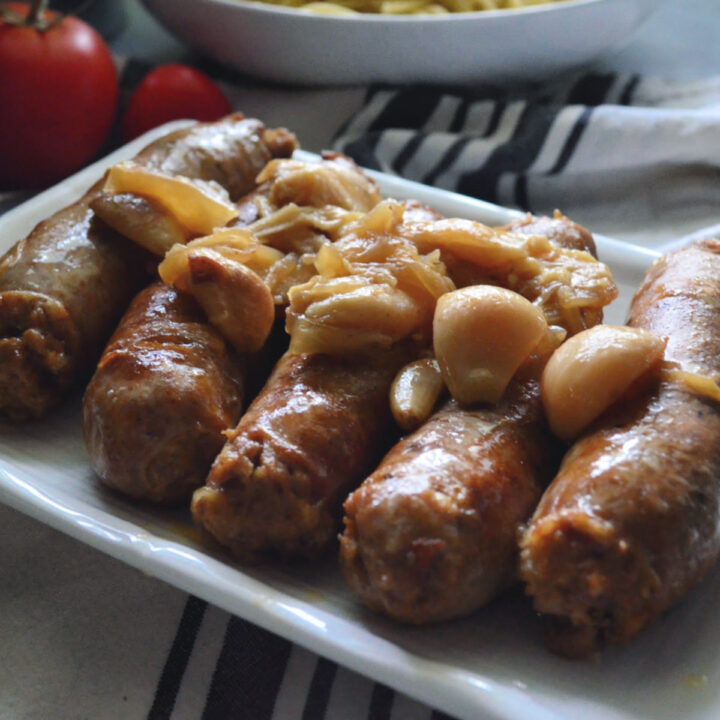 Instant Pot Italian Sausage
Make a delicious Italian dinner with fork-tender Italian Sausage in the Instant Pot in 20 minutes time! This is an easy weeknight dinner recipe.
Print
Pin
Rate
Ingredients
1

tablespoon

Olive Oil

5

Mild Italian Sausage Links

6

Garlic Cloves

1

White Onion

thinly sliced

½

cup

Water
Instructions
Place instant pot setting to "sauté". Then add in 1 tablespoon olive oil. Next, place the Italian sausage in the Instant Pot and cook for 5 minutes. Make sure to turn 1 to 2 times until brown on both sides. Then added the whole garlic cloves and white onion and sauté for an additional 5 minutes into onions begin to become translucent and color.

De-glaze the pot with a half cup of water. Use a wooden spoon to break up the brown bits on the bottom of the pot.

Turn the Instant Pot off. Place the lid on the Instant Pot making sure the valve is set to "sealing". Select the "meat" setting for 10 minutes. It will take the Instant Pot roughly 10 minutes to come to pressure before the timer begins.

Once the sausage is done carefully, force the pressure by releasing the pressure valve using a pot holder and a dish cloth.

Remove the lid from the Instant Pot. Mix well and divide evenly among plates.
Notes
Note: you can leave the sausage in the Instant Pot on the "keep warm" setting until ready to serve. Any leftover Italian sausage should be stored in the air tight container in the refrigerator for up to 3 days.
Nutrition
Serving:
1
g
|
Calories:
426
kcal
|
Carbohydrates:
4
g
|
Protein:
16
g
|
Fat:
38
g
|
Saturated Fat:
13
g
|
Cholesterol:
85
mg
|
Sodium:
822
mg
|
Potassium:
330
mg
|
Fiber:
1
g
|
Sugar:
1
g
|
Vitamin C:
5
mg
|
Calcium:
32
mg
|
Iron:
1
mg