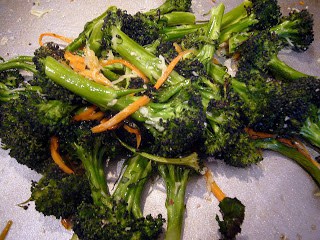 I don't know about you, but I get tired of eating steamed vegetables. Day-in and day-out! That's why I absolutely LOVE to roast vegetables; even in the dog-days of summer I still turn my oven on. I know, I'm crazy! Next time you go to steam your broccoli try to roast it instead… you'll be pleasantly surprised on how tasty it is!


Serves:

4
Ingredients:
2 broccoli stalks, sliced long ways

1 cup match stick carrots

2 garlic cloves, minced

2 tablespoon grated parmesan

1 tablespoon olive oil

salt & pepper to taste
Directions:
2. Toss broccoli, match stick carrots, and garlic with olive oil. Place on baking sheet. Sprinkle with salt and pepper.
3. Roast for 20 minutes, then sprinkle parmesan on vegetables, and roast for an additional 5-10 minutes. Enjoy!