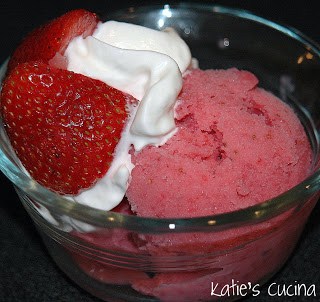 My husband loves sherbet–way more than actual ice cream. So I've had to switch it up a little and make some sherbet's as well! I did not hull out the seeds, and should have since I'm one of those people who hates all the seeds in smoothies. It still turned out delicious, but next time I'll spend the hour hulling out seeds! I found this recipe on
Delish blog
.


Prep:

20 minutes




Total:

40

minutes
Serves:

4-8
Ingredients:
3 cups hulled strawberries, fresh or frozen

1 ½ cups milk

¼ cup granulated sugar
Directions:

1. In a food processor or blender, puree fruit until smooth. Press the mixture through a strainer to remove seeds if desired (I didn't bother with this, but wished I would have). Sweeten the puree with sugar until desired sweetness achieved ( I used a ¼ cup).
2. Chill the mixture thoroughly, then freeze it in your ice cream maker according to the manufacturer's instructions. Best when served immediately. Can be stored in freezer; leave out for 10-15 minutes to soften before scooping and serving.