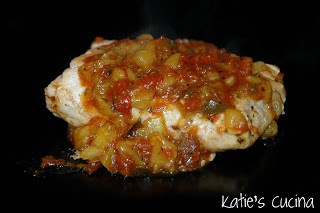 I found this recipe at Publix (our local grocery store), and knew I would want to try this as soon as my husband caught us some fresh Mahi; however, that didn't happen this season, so I bought some from the store instead. We both loved this pineapple salsa and it was super easy to make!
Prep: 5 minutes
Total:
20 minutes

Serves: 4
Ingredients:
½ lb fresh pineapple chunks

(canned would work too)

4 mahi fillets

1 cup fresh salsa

1 tablespoon honey mustard

1 teaspoon cornstarch

2 teaspoon horseradish

½ teaspoon lemon pepper

cooking spray
Directions:
1. Combine pineapple, salsa, honey mustard, cornstarch, and horseradish; set aside.
2.
Preheat large sauté pan on medium-high 2–3 minutes. Coat both sides of fish with cooking spray; sprinkle with lemon pepper. Place fish in pan; cook 3 minutes.
3. Turn fish and add salsa mixture. Cover and reduce heat to medium; cook 5–7 minutes or until 145°F.
Side suggestions: White/brown rice, mixed veggies