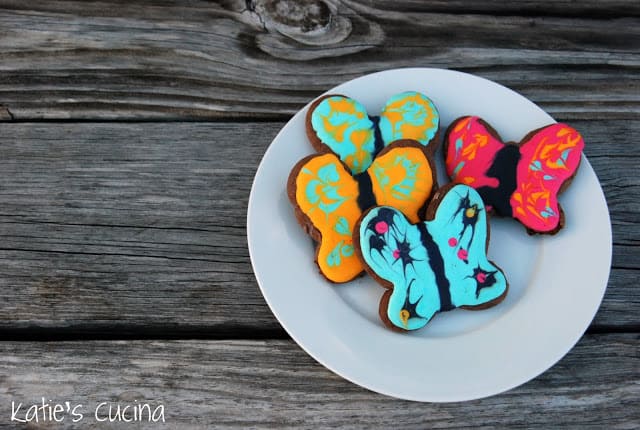 When Julie from
The Little Kitchen
, asked me if I'd be interested in participating in the
Central Florida Food Bloggers Bake Sale
last month I immediately agreed to participate. After racking my brain and then searching high and low on the internet I knew I wanted to make decorated sugar cookies. Other bloggers were starting to respond to what they were bringing and it didn't seem like we had a lot of cookies. That's when I had remembered seeing a blog post on
Annie's Eats
about these chocolate sugar cookies and marbleizing royal icing. I knew these would be the cookies I'd make.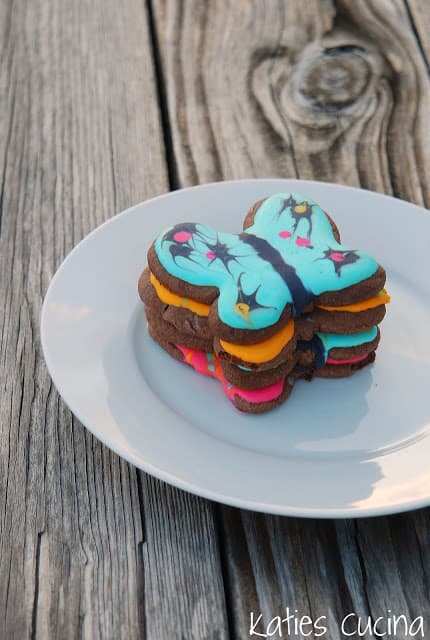 However, I did not plan accordingly leaving me with very little time prior to the bake sale to bake, decorate, and package. It took me two week's just to decide what type of cookie shape I would use, and how I would decorate it. I then baked these up that Thursday night prior to the Saturday bake sale and frantically decorated Friday afternoon/evening. Because I did not leave myself enough time to decorate the center (black) which would be the butterflies torso is not perfect… by any stretch of the imagination. I like to call these abstract butterflies since some of the centers are a little more runny than others. In a perfect world I would have piped on the black and let them dry thoroughly, and then work on the wings! The marble technique is not difficult but it's not easy either. It definitely takes a little practice. You will find that Annie's tutorial on how to marble royal icing is very well written and will include everything you should know about conquering this technique!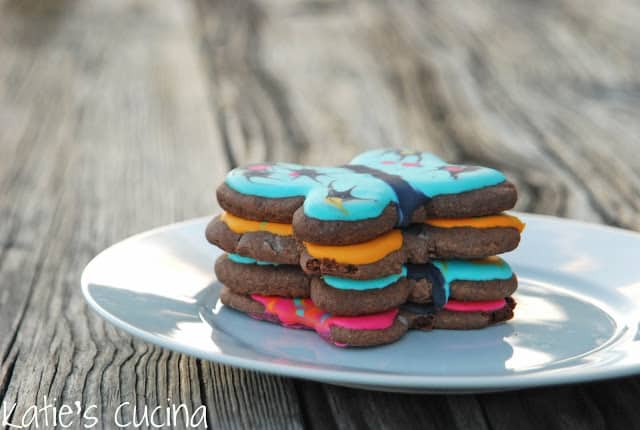 Source: Annie's Eats via Martha Stewart
Prep Time:10 minutes + 1-2 hours in the refrigerator
Cook Time: 10-12 minutes
Servings: ?
Ingredients:
¾ cup all-purpose flour
⅓ cup Dutch process cocoa powder
Pinch of salt
6 tablespoon unsalted butter, at room temperature
¾ cup confectioners' sugar
1 large egg
½ teaspoon vanilla extract
Directions:
1. In a small bowl, combine the flour, cocoa powder and salt; whisk to blend and set aside. In the bowl of an electric mixer, combine the butter and sugar. Beat on medium-high speed until light and fluffy, 2-3 minutes. Blend in the egg and vanilla. With the mixer on low speed, add the dry ingredients and mix just until incorporated and no streaks remain. Form the dough into a disc, wrap tightly with plastic wrap and refrigerate until firm, 1-2 hours.
2. Preheat the oven to 325 degrees F. Line a baking sheet with parchment paper or a silcone baking mat. On a lightly floured work surface, roll the dough out to about ¼ inch thickness. Cut out desired shapes with cookie cutters and place cut outs on the prepared baking sheet. Bake 10-12 minutes, just until set. Let cool on the baking sheet about 5 minutes, then transfer to a wire rack to cool completely. Decorate as desired.
*? There is no set amount as to how many cookies you will get out of one batch of sugar cookie dough since it will depend on what size cookie cutter you are using. I was able to get roughly 6 butterfly cookies out of one batch of dough.