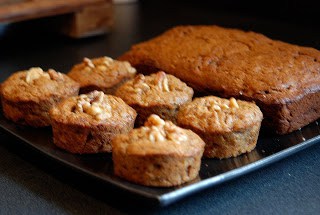 Growing up I never enjoyed banana bread, and would roll my eyes if a family member made it and wanted me to eat it. Now that I'm older I can appreciate banana bread. I try not to waste food in our house and as soon as I see the bananas have officially more spots than I care to count I un-peel them and place them into my zip lock freezer bag. Once I have around 6 bananas I make a loaf or muffins or both! I simply take the amount of frozen bananas out of the freezer and defrost them in the microwave. I drain all the excess juice and mash! Tastes just as good in the banana bread, and anyone who eats it has no clue that the bananas had once been frozen. I adapted this recipe from a recipe I found on my All Recipes app for my iphone!
*Keeping bananas in the freezer can also be used to make smoothies!
Cook:

65
minutes
Serves:
1 loaf or 18 muffins or 1 loaf and 6 muffins!
Ingredients:
2 cups all-purpose flour

1 teaspoon baking soda

¼ teaspoon salt

½ cup butter

¾ cup brown sugar

2 eggs, beaten

6 mashed overripe bananas

¼ cup chopped walnuts
Directions
Preheat oven to 350 degrees F (175 degrees C). Lightly grease a 9×5 inch loaf pan.

In a large bowl, combine flour, baking soda and salt. In a separate bowl, cream together butter and brown sugar. Stir in eggs and mashed bananas until well blended. Stir banana mixture into flour mixture; stir just to moisten and add walnuts. Pour batter into prepared loaf pan (or muffin pan).

Bake in preheated oven for 60 to 65 minutes (15-20 minutes for muffins), until a toothpick inserted into center of the loaf comes out clean. Let bread cool in pan for 10 minutes, then turn out onto a wire rack.