Thank you Barlean's for sponsoring today's recipe. As always, all opinions are my own.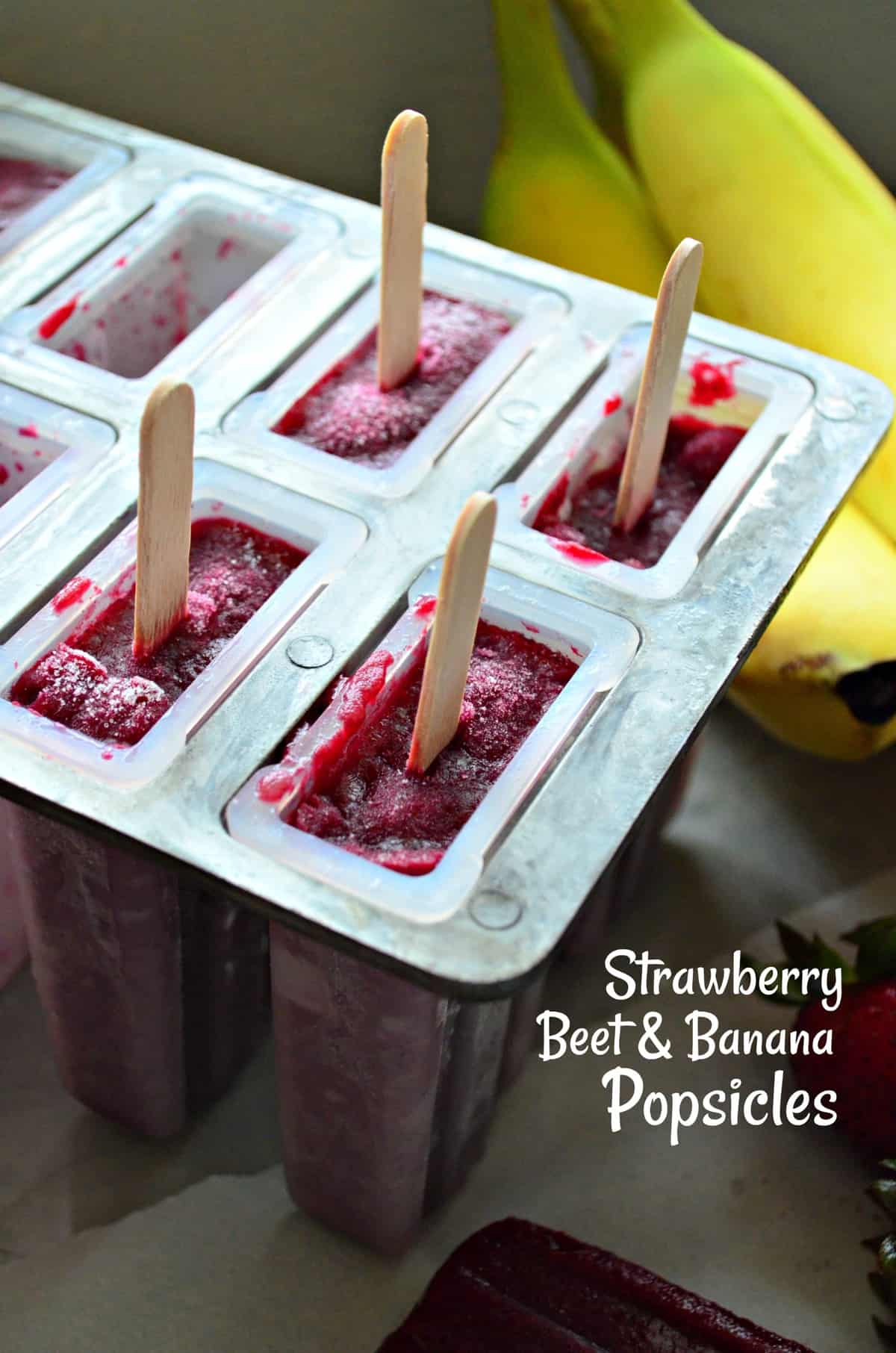 Get ready for a new popsicle in town. One that is pretty healthy and packed full of fruits and veggies! Love that deep purple color in these ice pops? That's one of my two secret ingredients. I might have snuck a cup of red beets into these popsicles. If your toddler is anything like mine getting him to eat his veggies (and some fruits) are an extremely hard sell. Let's get real for a minute, some days I find myself bribing an m&m for a bite of broccoli. True life. I can't lie about that–not my proudest moment but dang he ate that broccoli and made me proud for a moment until he reminded me about his single M&M after dinner. Of course, I also bargained into it that he had to eat his entire plate of dinner. I know, I'm that mean mom. How dare I?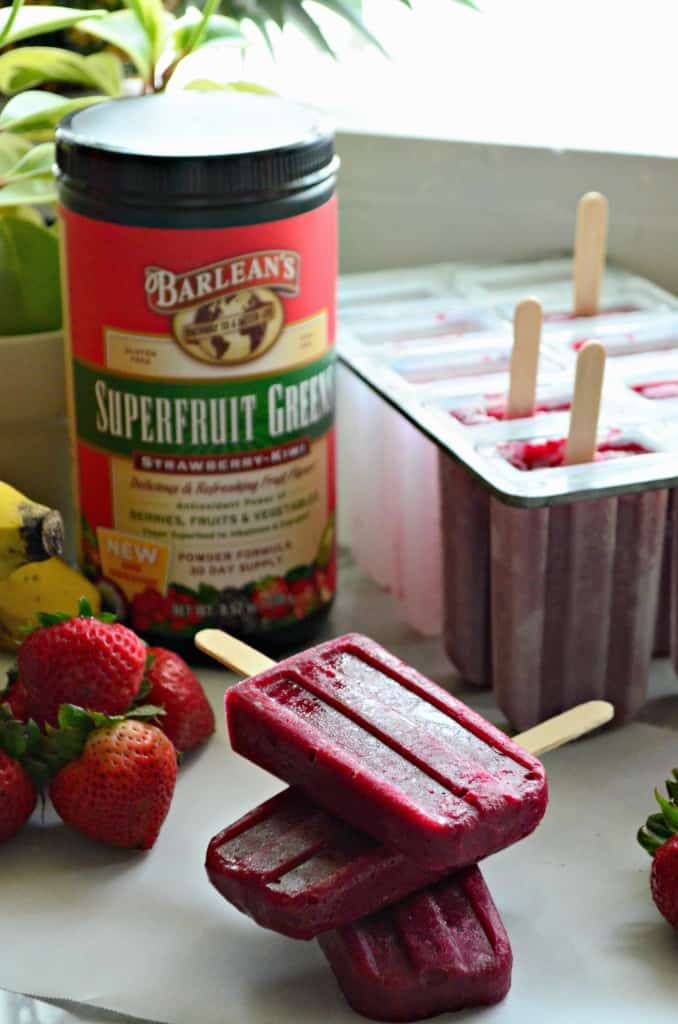 Another way, I've found to be able to sneak in more fruits and veggies is by adding in 2 scoops of Barlean's Strawberry-Kiwi SuperFruit Greens. These are the easiest and most delicious way to fuel your whole family with powerful whole food nutrition. Made with antioxidant-rich, berries, fruits and vegetables no one will ever know they are "eating healthy" with the greens mixed in! The SuperFruit Greens are also dairy, soy, and gluten free so if you have a friend or family member who has a food allergy you can serve them these ice pops with confidence knowing that they are allergy friendly! In fact, these Strawberry Beet and Banana Popsicle's are even vegan!
Everyone can benefit from the vitalizing nutrients in plants! They are fundamental for energy, detoxification, fighting free-radical damage, and providing loads of nature's best antioxidants. Our powdered greens formulas are easy to add into your daily diet—mix them into smoothies, shakes, juice, milk, yogurt or water. They disperse easily and are vegan, Gluten-Free, Non-GMO and have no added sugar. They also provide a powerful dose of whole food nutrition, which can help you achieve your recommended servings of fruits and vegetables for only about 30 calories per serving. Barlean's powdered greens formulas are perfect for those who are trying to cut calories and still feel energized.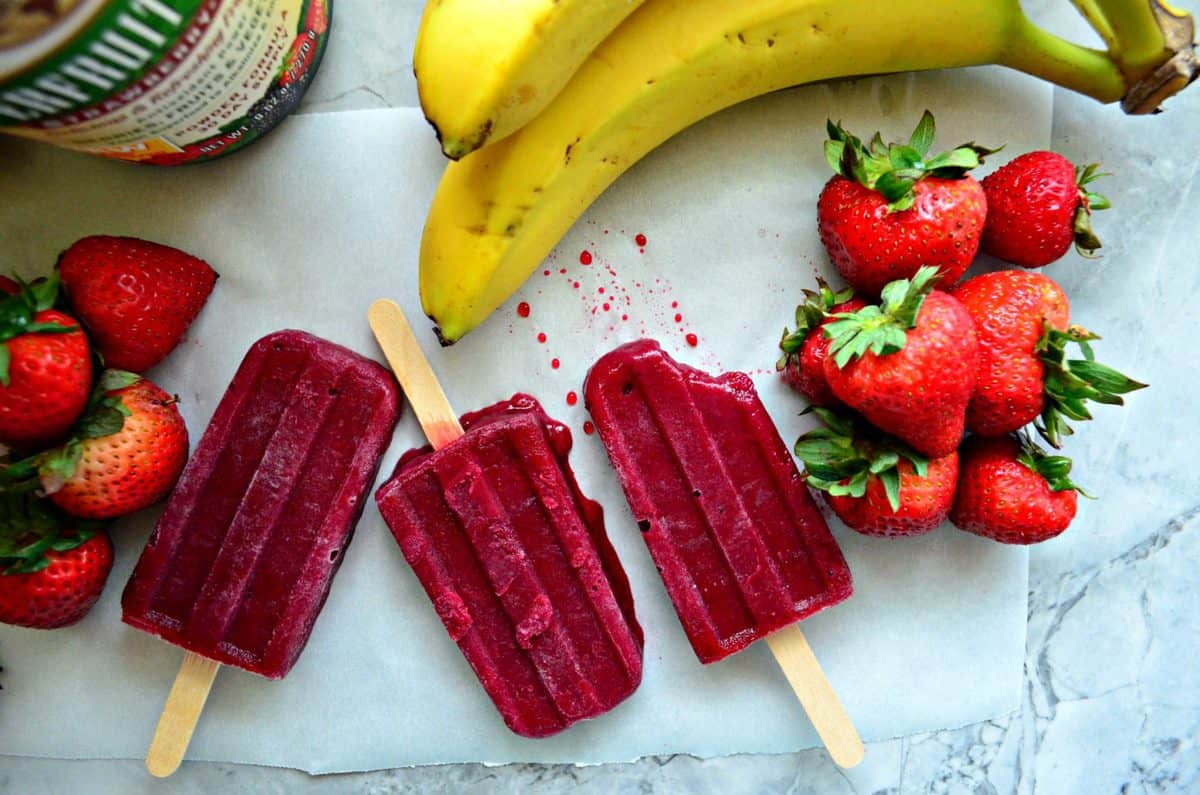 Making these popsicles are actually really easy. Wash and cut the strawberries, peel the bananas and throw in the blender. You'll want to use steamed beets (this process can be done a day or two in advance) for this recipe. Add in a little sugar (or you can sub with stevia or honey), almond milk and 2 scoops of Barlean's strawberry-kiwi SuperFruit Greens and your ready to blend. Puree for a good minute to ensure that the mixture is super smooth with absolutely no fruit/veggie chunks and then pour into the popsicle mold. I was able to get 8 full ice pops. It will vary on the type of ice pop mold you use, so just be cautious of that. Once you pour the mix in, place the wooden popsicle sticks into the mold (if your mold is that type) and place in the freezer. I found that the popsicles were frozen within six hours, but this time will once again vary depending on the mold and your freezer.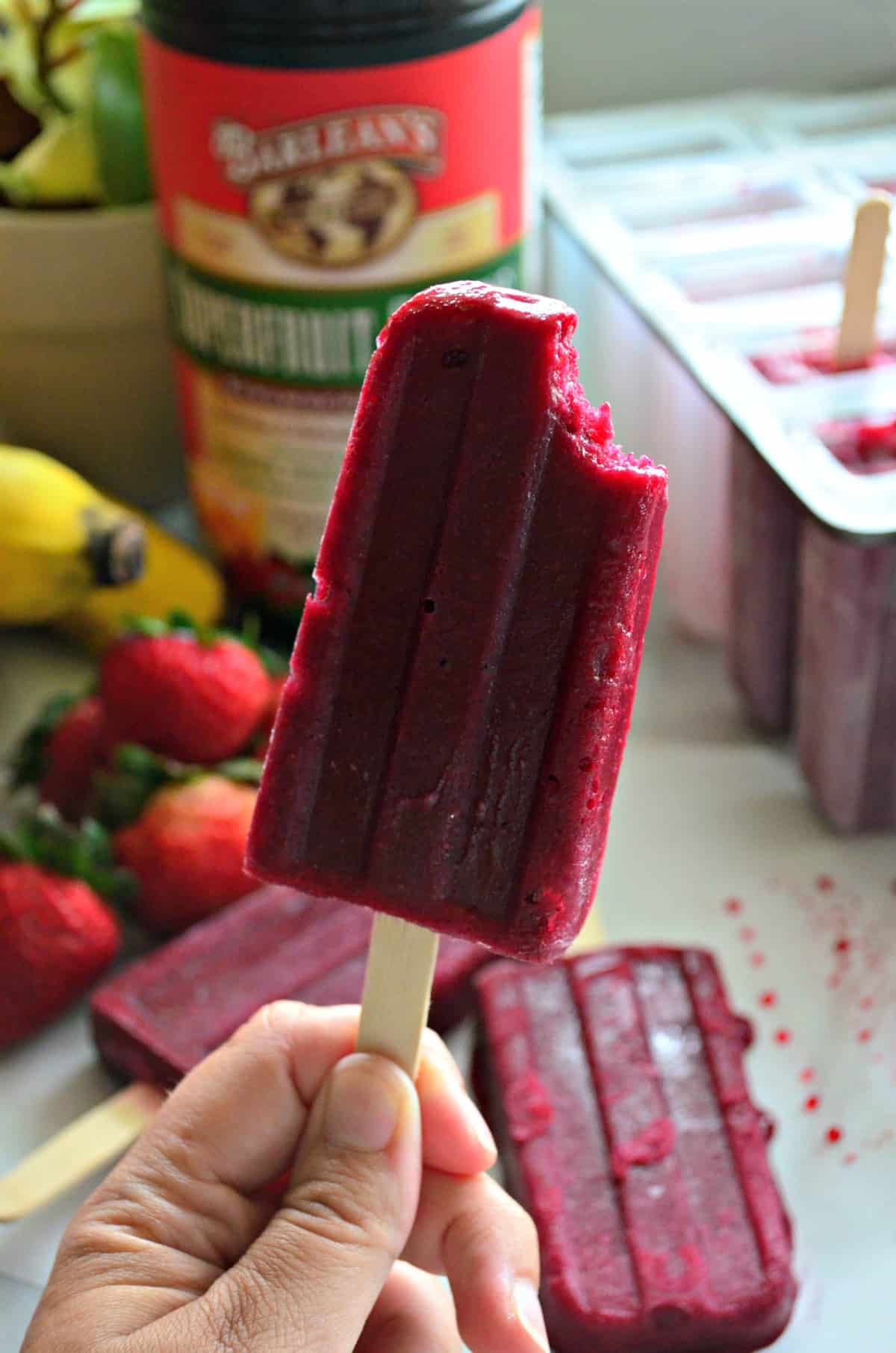 You'll have to run the mold underwater once the popsicles are frozen. This is to loosen them out of the mold. This is totally normal and should take about a minute under luke warm water. If you don't plan to consume all 8 in one sitting no worries. Just place the leftovers in a freezer safe bag. Freeze and consume within a week or two! These popsicles are easy to make and your kids will have fun making them too! My son loved throwing (I'm not exaggerating here) the strawberries in the blender. I also made it a little educational and made him count how many he was putting in the blender. He's 3 so we count, say colors and shapes on just about everything right now. Then pour them into the popsicle mold and set into the freezer. The popsicles will need a good 6-8 hours to freeze.

The popsicles were done around dinner time and since dinner wasn't ready yet and Ryder had been playing outside and was begging for snacks I decided to give him a Strawberry Beet and Banana Popsicle. When I asked him if he wanted an ice pop his eyes lit up. Little did he realize that these ice pops are good for him and full of fruits and veggies. I'll warn you now that with the beet added to your ice pops they are prone to staining so place your kids where you don't mind something getting messed up (i.e., go outside). Right after I snapped the last photo he dropped part of it on my rocking chair and I was a bit upset because I now have a nice deep red/purple stain on my favorite rocker. If your like me, and trying to get your family to eat more fruits and veggies then I invite you to try any of the Barlean's powdered greens and my recipe for Strawberry Beet and Banana Popsicles!
Save
Save
Save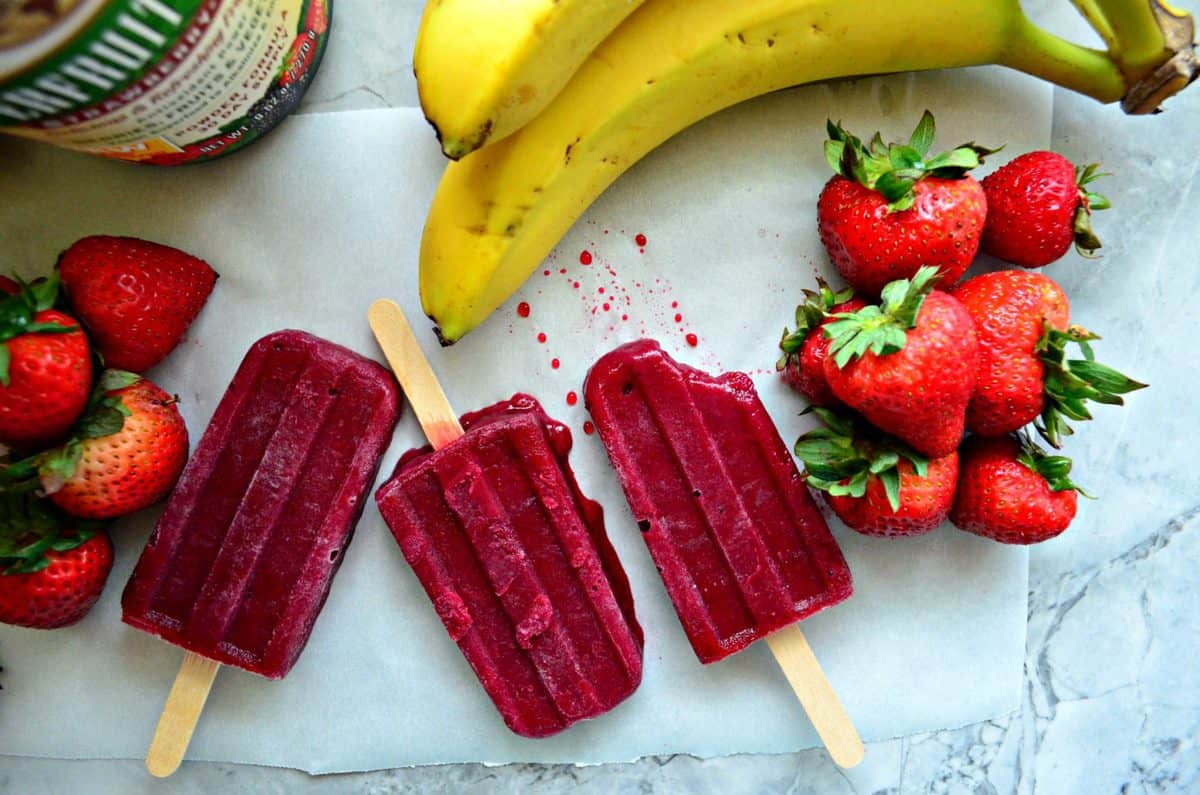 Strawberry Beet and Banana Popsicle's
If your like me, and trying to get your family to eat more fruits and veggies then I invite you to try any of the Barlean's powdered greens and my recipe for Strawberry Beet and Banana Popsicles!
Print
Pin
Rate
Ingredients
2

cups

fresh strawberries

stems removed

2

ripe bananas

1

cup

cooked red beets

2

tablespoons

white granulated sugar

3

oz.

Almond Milk
Instructions
In a high-power blender, combine all the ingredients. Puree on high for 1 minute until the mixture is completely smooth.

Freeze for 6 hours or until solid.

Remove from the freezer, run the popsicle mold under warm water for a minute to loosen the popsicles. Carefully remove popsicles and enjoy immediately!
Nutrition
Calories:
58
kcal
|
Carbohydrates:
14
g
|
Protein:
1
g
|
Fat:
1
g
|
Saturated Fat:
1
g
|
Sodium:
28
mg
|
Potassium:
216
mg
|
Fiber:
2
g
|
Sugar:
10
g
|
Vitamin A:
19
IU
|
Vitamin C:
25
mg
|
Calcium:
23
mg
|
Iron:
1
mg