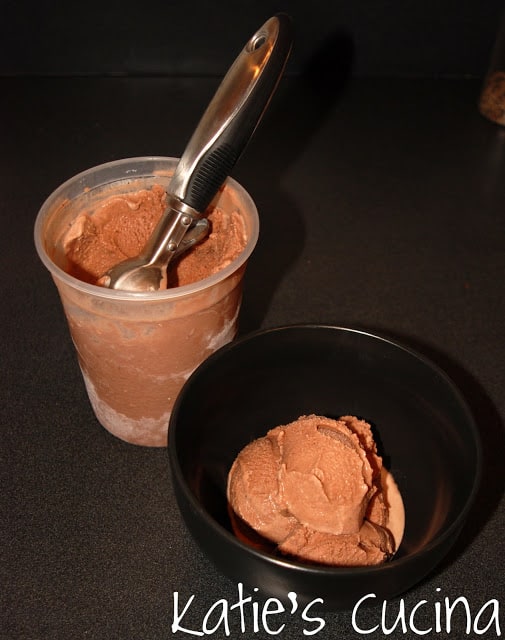 If you love nutella, this ice cream is for you. Even if you haven't tasted nutella before ((gasp) at such a thought), but you like chocolate I think you'd like this. In case you aren't familiar; nutella is a spread made of hazelnuts. Apparently, back during World War II there was a shortage of cocoa, so this brilliant man,
Pietro Ferrero
, decided to grind hazelnuts since they had an abundant supply of them
… thus the birth of nutella! If you want to read about the history of nutella I suggest you read the history of Nutella on the website.
Ok, now back with the ice cream. This by far was probably the easiest of ice creams I've made to date. No whisking egg yolks, simmering milk and eggs, mixing–then returning back to a simmer. Just throw the ingredients into the mixer get them well incorporated and throw them in your ice cream attachment. That's it! No fuss ice cream at its best! For those of you who aren't familar with making ice cream–you might wonder why you need to add some vodka to this mix. It's so that your ice cream doesn't freeze to a solid block of "ice"… this will allow for the creamy consistency through out. If you have an ice cream attachment/machine, and you like nutella, please give this recipe a try! It's amazing!!!
Adapted from: Langes Fädchen, Faules Mädchen from Sugarlaws
Ingredients
⅔

cup

Nutella

⅔

cup

sugar

1

cup

heavy cream

2

cups

milk

2

tbsp

vodka
Instructions
1. In a large mixer, beat together the nutella, sugar, heavy cream, milk and vodka until blended evenly (about 5-10 minutes).

2. Churn into ice cream machine according to your ice cream machine's directions, and then freeze for 4 hours before serving.
Notes
*You should store the ice cream in the freezer for up to one week.