Italian Sausage Bake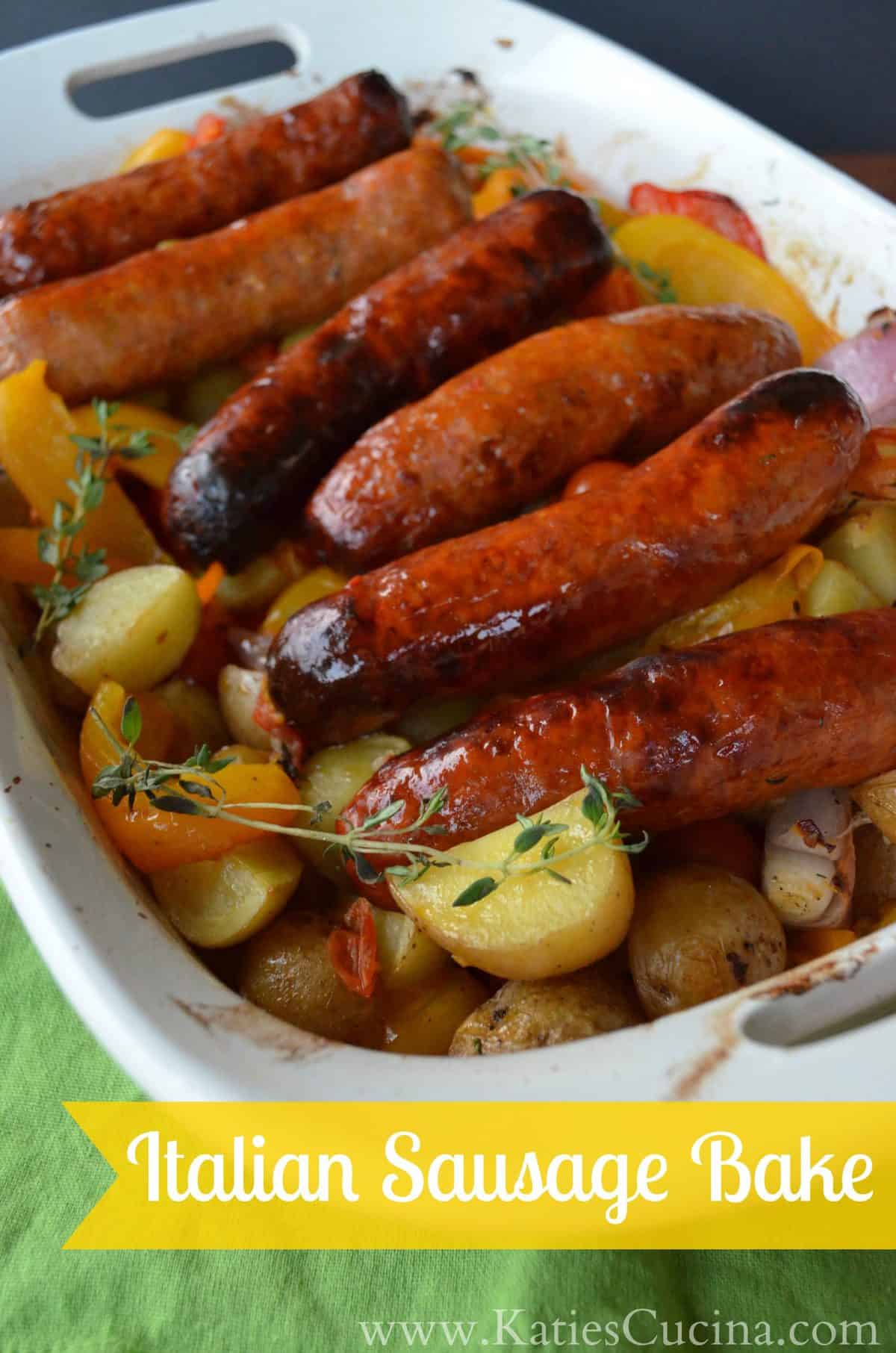 Today, I'm over at Food Fanatic contributing the most divine one-pot meal recipe I've created to date. I'd like to introduce you to the Italian Sausage Bake. This is perfect for a weekend meal. Fresh ingredients such as pepper, onions, grape tomatoes, and potatoes tossed with spicy Italian sausage that bakes in the oven for a whopping 2 hours.
I've made this recipe a few times now, and found that it is best to let the sausage cook on top over the vegetables. The juices from the sausage permeates into the veggies creating the most flavorful and simple dish. Since you have your starches, veggies, and proteins all in one–this is all you have to make. Of course you can always pair it with crusty Italian bread and a side salad.
What's the best way to cook Italian sausage?
You can cook Italian Sausage multiple ways whether it's indoor or outdoor. I'm excited to share with you four different ways you can cook sausage.
How long does it take to cook sausage at 350?
To cook fresh sausage by itself, you need to cook it at 350 degree's Fahreneheit for at least 40-50 minutes. Or until you insert a thermometer in the center and the internal temperature reads 165 degrees Fahrenheit. For this recipe you will actually need to cook it double the time because of all the vegetables in the pan.
How do you make Italian Sausage bake?
Preheat the oven to 400°F.
In a large baking dish, toss grape tomatoes, potatoes, bell peppers, and red onion with one tablespoon olive oil and chopped garlic.
Mix well until incorporated and salt and pepper to taste.
Place the sausage links on top of the vegetables. Place sprigs of thyme throughout the dish. Cover with foil and bake for 90 minutes.
Remove tinfoil from baking dish, mix vegetables around, and bake for an additional 30 minutes until sausage is golden brown. (*You may need to turn the sausage to prevent from burning). Serve immediately.
If you are looking for a delicious easy dinner, make this Italian Sausage Bake! 
Disclaimer: I am paid contributor to food fanatic. There are affiliate links in this post. As always all opinions are my own. 
Warning
: Use of undefined constant rand - assumed 'rand' (this will throw an Error in a future version of PHP) in
/home/kjasiewicz21/webapps/katiescucina/wp-content/themes/katiescucina/single.php
on line
74
86 Responses to "Italian Sausage Bake"