Italian Seasoned Roasted Pumpkin Seeds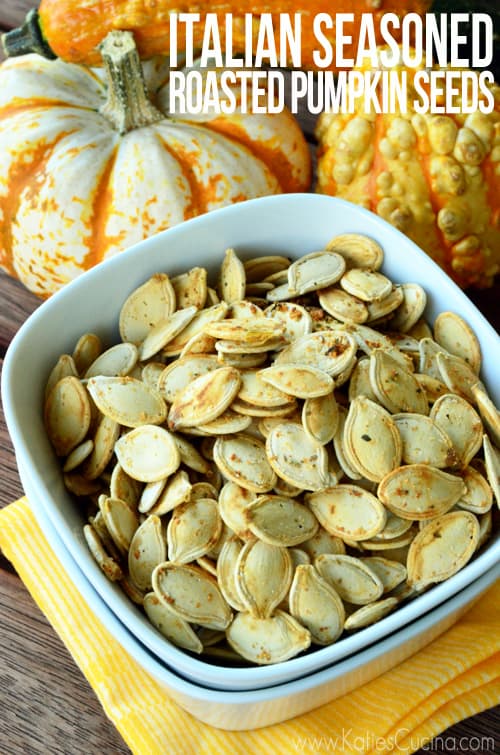 First off, how is it mid-October? I feel like the fall season is slipping right through my finger tips! Last weekend we worked on carving a few really cool pumpkins for our DIY blog. Think lots of power tools and eclectic pumpkins! I requested that my husband save some pumpkin seeds so I could roast some. I had Italian recipes on my mind. It was the same day I made the Italian Chicken Gnocchi Soup.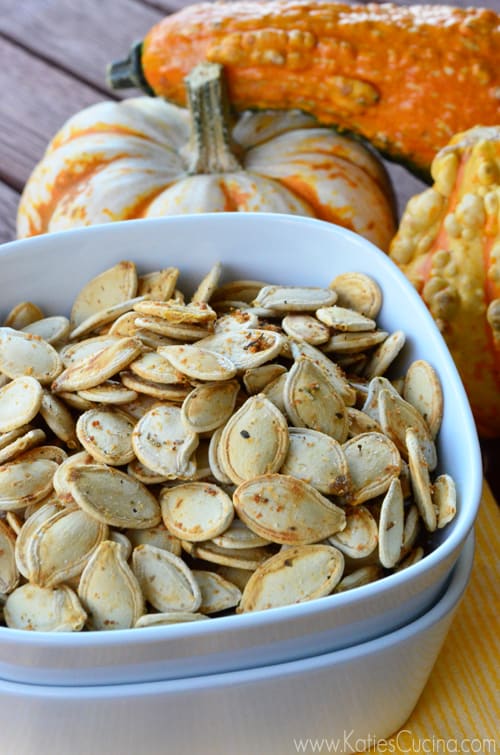 I'm not one for pumpkin seeds but these just seemed right and oh-so good if you ask me! A nice crunch and full of flavor. Plus, my husband loved taking them to work. So if roasted pumpkin seeds are your thing… try my Italian seasoned roasted pumpkin seeds!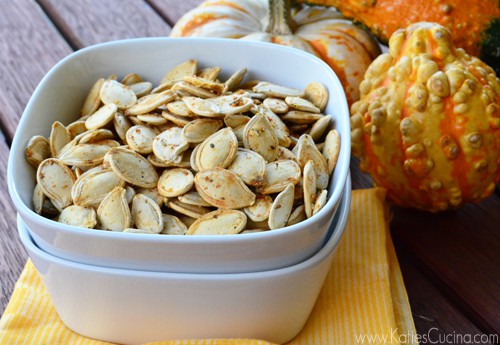 Looking for cool pumpkin carving tips? Head on over to my DIY blog to learn more!

Italian Seasoned Roasted Pumpkin Seeds
Yield: 2 cups
Prep Time: 10 minutes
Cook Time: 30 minutes
Total Time: 40 minutes
Ingredients:
2 cups pumpkin seeds
1 tablespoon salt
1 tablespoon olive oil
2 tablespoon grated Parmesan cheese
1 teaspoon garlic powder
1 teaspoon Italian seasoning
Directions:
Rinse the pumpkin seeds very well making sure that all the pulp and pumpkin parts have been removed.
Preheat oven to 350 degrees Fahrenheit.
In a large pot, bring water to a boil. Place pumpkin seeds in the boiling water with one tablespoon of salt and boil for 10 minutes. Strain and pat dry.
Spread the pumpkin seeds on a baking sheet and drizzle with one tablespoon olive oil. Mix well and let them bake for 20 minutes, mixing half way through. While the seeds bake, mix, Parmesan cheese, garlic powder, and Italian seasoning. Set aside.
Remove the seeds from the oven and toss in seasoning. Seal in a container for up to 1 week.
Save
Warning
: Use of undefined constant rand - assumed 'rand' (this will throw an Error in a future version of PHP) in
/home/kjasiewicz21/webapps/katiescucina/wp-content/themes/katiescucina/single.php
on line
74
14 Responses to "Italian Seasoned Roasted Pumpkin Seeds"
Trackbacks/Pingbacks

Leave a Comment