Kick off the new year with a comfort food classic. Make my recipe for One Pot Italian Sausage and Potato Skillet tonight!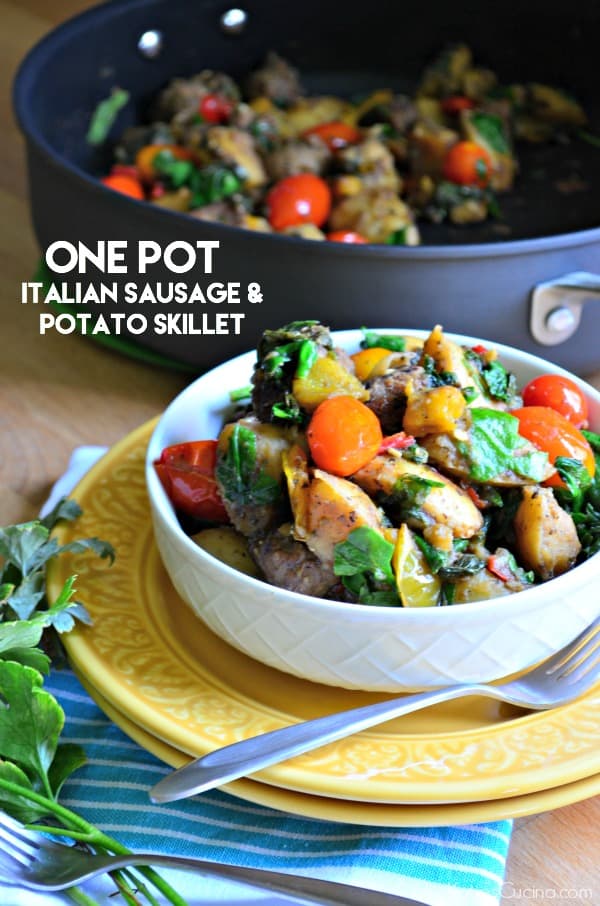 You guys… I've been working on this recipe for One Pot Italian Sausage and Potato Skillet since last spring when we lived in our previous home. I miss those gorgeous butcher block counter-tops at times (but the lighting in my new kitchen fully makes up for it)! Yep, I even took the photos at our old home; however, I still wasn't 100% on this recipe so I continued to tweak it over the course of 6 months until I got it just right!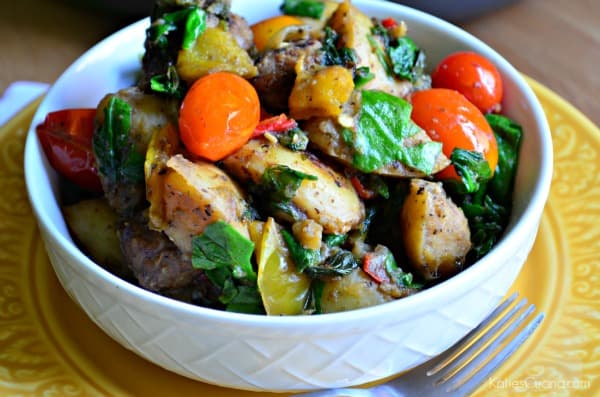 I first shared my recipe for Italian Sausage Bake back in 2013. It is one of my most popular recipes on Katie's Cucina to date. I love making this recipe; however, the 2-hour cook time is pure torture. In fact I made the full baked version just a few nights ago for dinner. It hits my dinner rotation at least once a month! I've been working on a one pot Italian Sausage Bake recipe that is cooked on the stove-top and isn't really baked. The flavors come out to be almost identical; however, the sausage and potatoes aren't as crisp as they would be if they baked in the oven for 2 hours. So if you need crisp sausage and potatoes then I would skip this quicker version. But if you are game for trying a quicker version then you'll love my One Pot Italian Sausage and Potato Skillet recipe.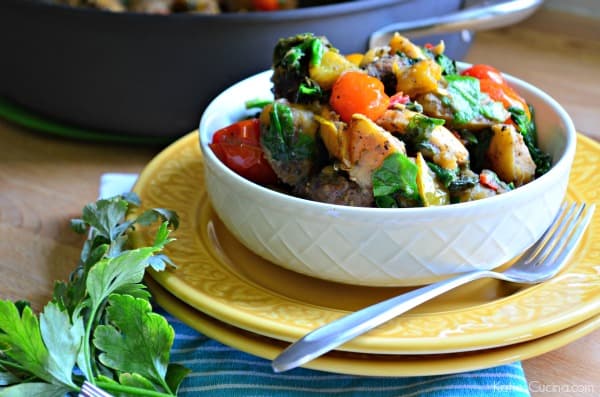 I also tested this recipe with both fresh potatoes and frozen southern style potatoes. The flavors come out identical. The only difference is by using the frozen potatoes you reduce the cooking time by 10 minutes (which is the way I wrote the recipe below). I've recently found that frozen potatoes are becoming a new staple in my freezer repertoire. Perfect for quick side dishes for dinner or breakfast potatoes for brunch! If you're looking for a warm comforting meal in about 40 minutes time, this is the recipe for you. Perfect for crazy cold nights out where you just want to warm up! Serve with a salad and of course you can't forget dessert; Tiramisu!