Instant Pot Zuppa Toscana Soup
Instant Pot Zuppa Toscana Soup is a copycat Olive Garden recipe that tastes just as good, but better in the comforts of your own home!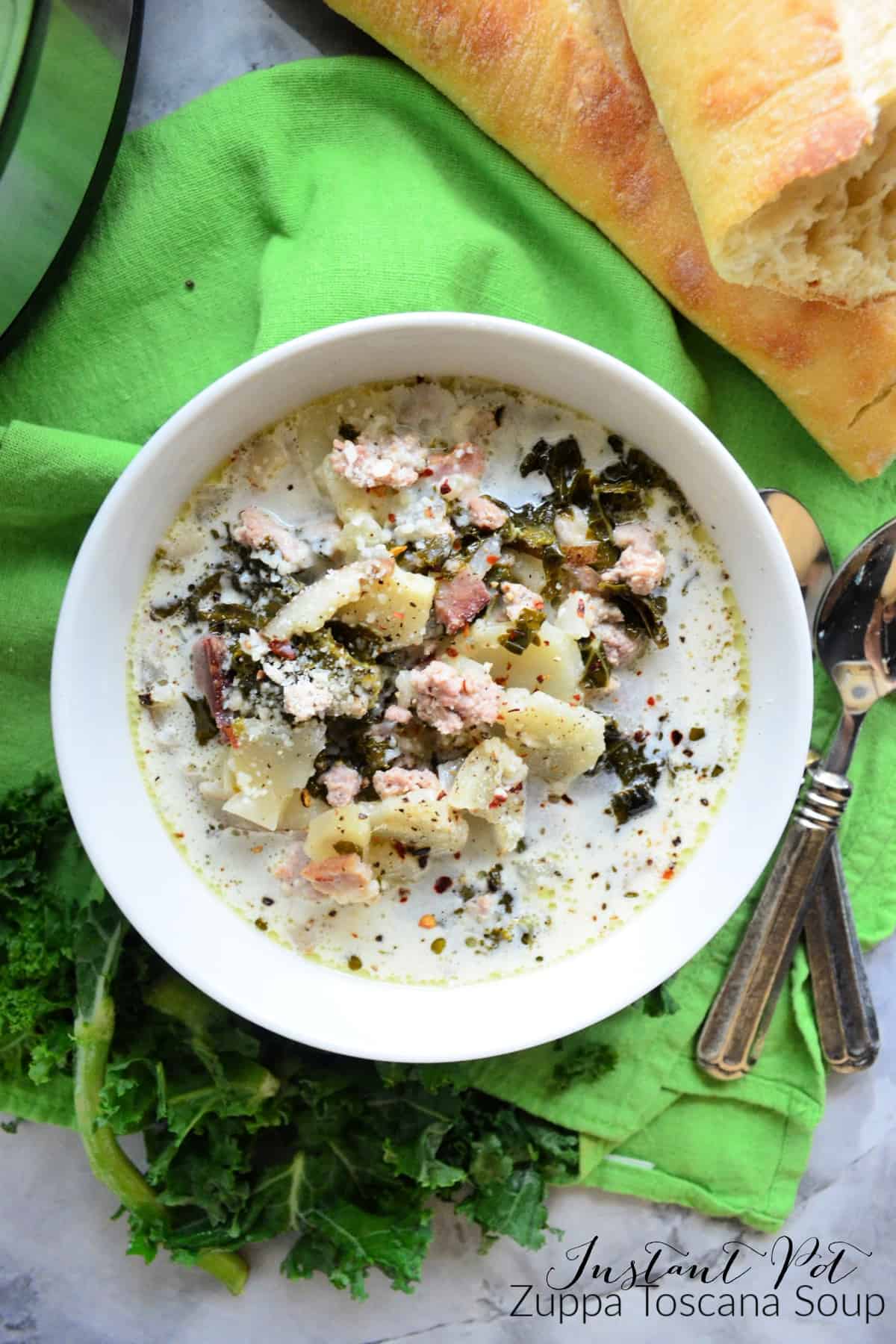 We love soup in my house! There is not a week that goes by that I'm not making a big pot of soup. We don't eat at Olive Garden often; however, we do you love the Zuppa Toscana soup! That's when I decided it's time to try to make it on home! I made it years ago on the stove top and figured it would be an easy one to adapt to the Instant Pot. I always found that it took the kale a long time to break down. I like the kale on a softer side, so I knew the Instant Pot would work great. This soup is full of so much flavor and is done in a fraction of the time.

What do you need to make soup in the Instant Pot?
Here are a few of the basic items you'll need to make soup in the Instant Pot.

How do you make Olive Garden's Zuppa Toscana soup?
Ever wonder how easy it is to make Olive Garden's signature soup? I'm going to share how to make it in the Instant Pot. I'll also give some pointers on how to cook it on the stove top, too!
First, you'll want to select the "sauté" mode on the Instant Pot. Pour in the olive oil then place the ground pork sausage and diced bacon into the pot. Sauté for five minutes until both the Italian sausage and bacon are cooked and browned. You will want to use a wooden spoon to break up the meat into bite-size pieces.
Next, add in the onion and minced garlic clove. Sauté for an additional minute and season with salt and pepper. Then, pour in the container of chicken broth, the thinly slice potatoes, and the chopped kale. Mix well then place the lid on the instant pot securing the valve to closed. Turn off the Instant Pot, then turn on to soup mode for 5 minutes.
Once the Instant Pot is done cooking let it naturally release pressure for 15 minutes. Carefully, force any remaining pressure out of the Instant Pot and open the lid. Stir in the heavy cream and a dash of the red pepper flakes. Ladle into bowls and serve with grated cheese on top if desired.
*If you want to adapt this to stove top you'll follow all the same steps, but instead of cooking for 15 minutes on high pressure you'll need to cook for about 30 minutes until the kale is soft.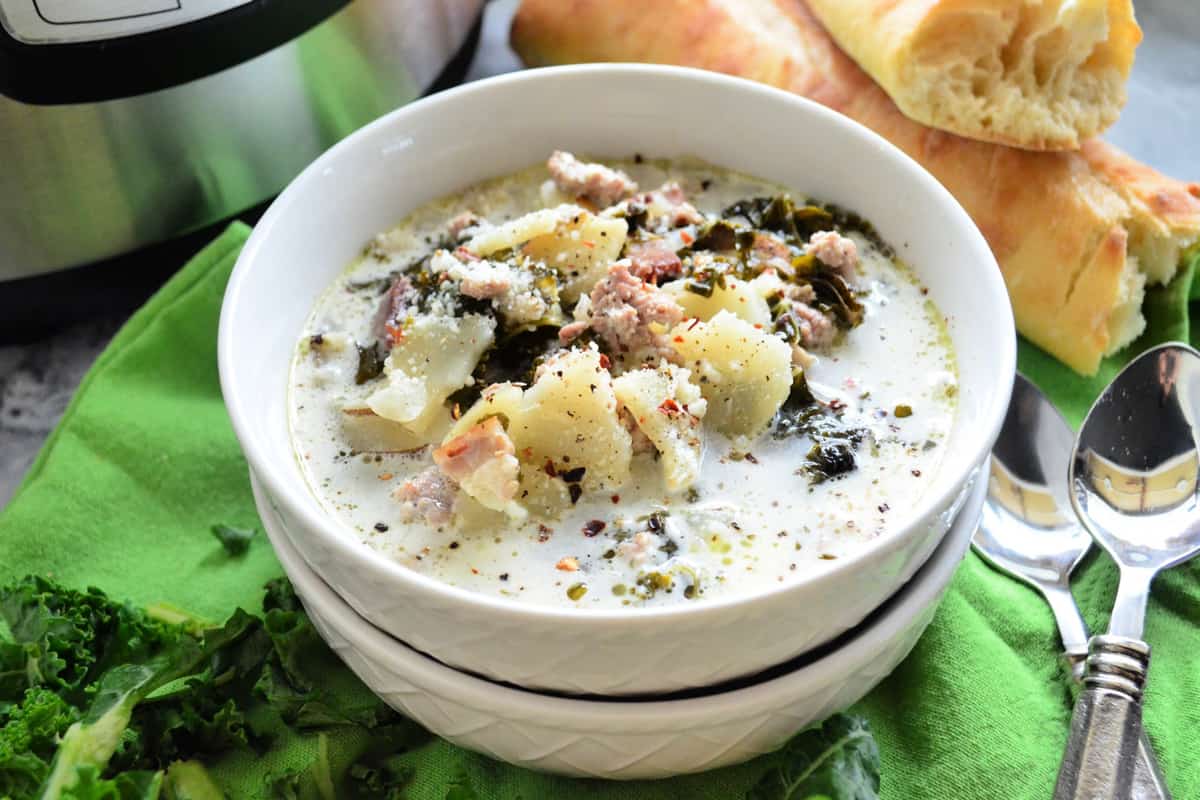 How do you freeze soup?
If you know me, by now you've learned that I absolutely love soup recipes! I'm constantly working on new soup recipes to make at home. I make a pot of soup At the start of every week. It gives me a quick lunches or even a little soup appetizer before dinner for my family. Whatever I have left over on Friday I freeze into either a large container that serves 2 to 3 for individual freezer containers to serve one.
Whenever, you are freezing any food you always want to make sure it is at room temperature before goes into the freezer. I use anything from leftover plastic Chinese takeout containers, freezer proof glass containers, or even freezer ziploc bags. Like I mentioned above, for soup I will freeze and either a large batch or an individual serving batch depending on how much I have left, and what I think I might want to eat it later on down the road. Just like all other foods that you freeze– soup will last around three months in the freezer.
So if your like my family and love Zuppa Toscana soup, but don't want to head out to the restaurant I hope you'll give my easy recipe a try.
Warning
: Use of undefined constant rand - assumed 'rand' (this will throw an Error in a future version of PHP) in
/home/kjasiewicz21/webapps/katiescucina/wp-content/themes/katiescucina/single.php
on line
74
Leave a Comment