Enjoy the hearty flavorful slow cooked taste of split pea soup done in less than an hour thanks to the convenience of the Instant Pot!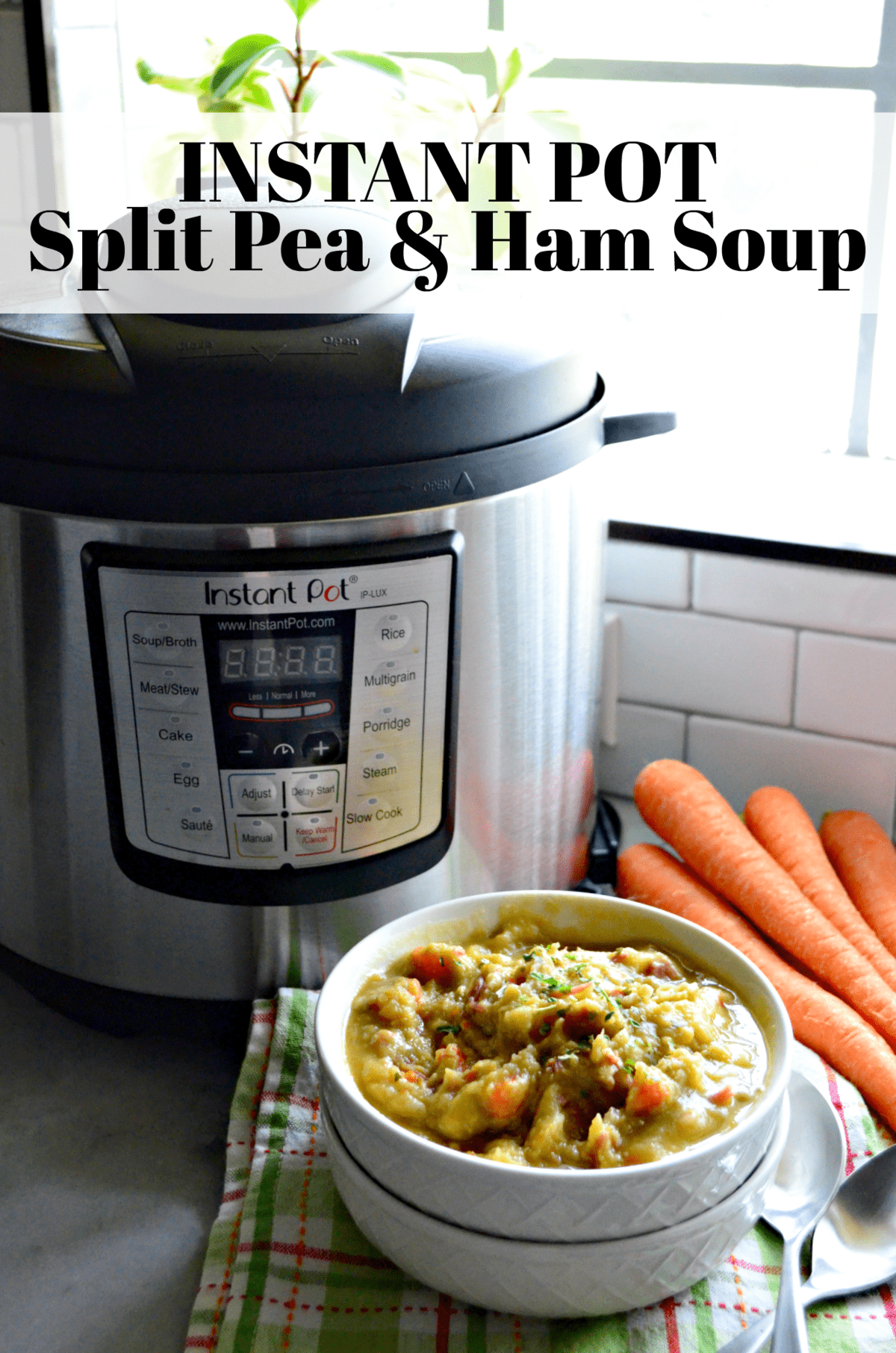 We love split pea soup in my home. I grew up with my mom making it after Christmas and Easter ham dinners and each and every time she would make it I would refuse to try it. What the heck was I thinking? I'm guessing it was the dark green coloring that turned me off (which is also why it took me years to try guacamole as well). Once I was in my twenties I finally gave it a try and holy cow! It was delicious. What the heck was I thinking to not try this thick and hearty soup sooner!??!
I had my mom teach me how to make the soup after one of our ham eating holidays and then I started playing around with the recipe until I found the winning recipe. In past years, I've always made it in the slow cooker. However, last year, after having my daughter and receiving an Instant Pot for my Birthday I decided to give it a try in the Instant Pot. Let me just tell you it was the best split pea soup I had ever made in my life. That was the proclamation my husband gave it at least.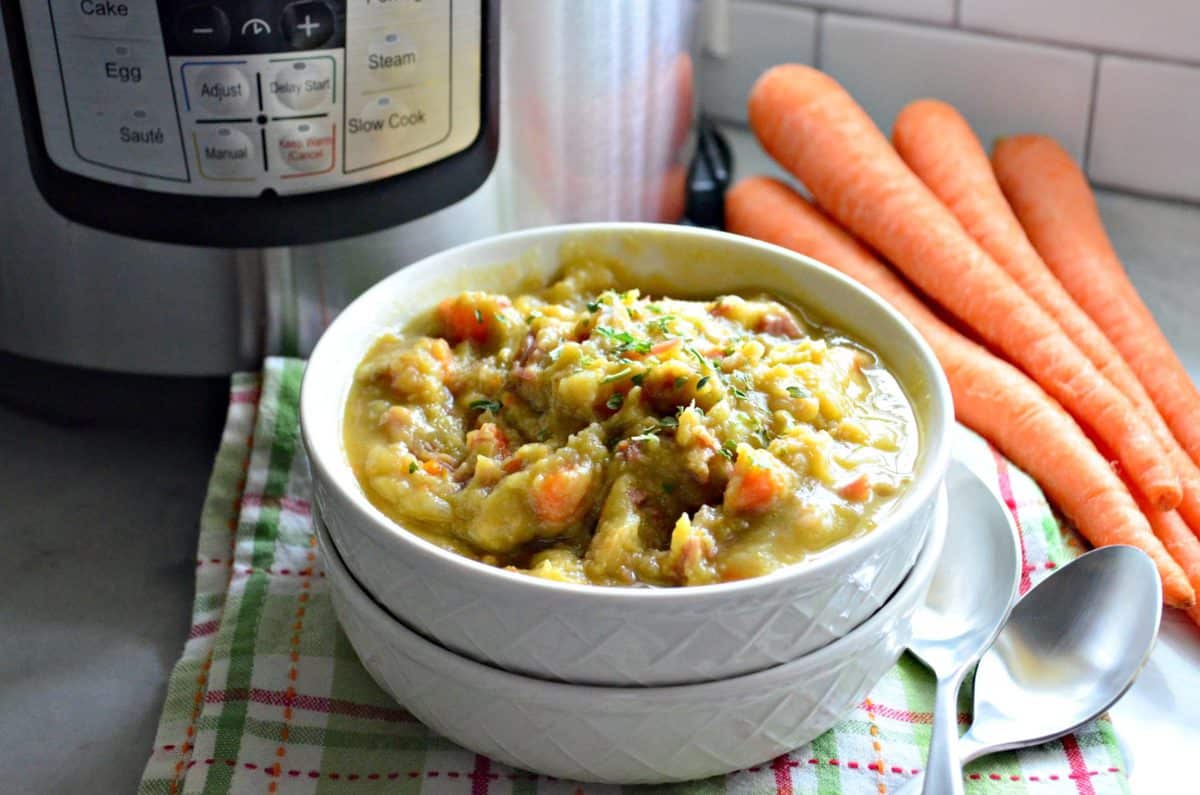 I then made it again after Christmas and it was still the best split pea soup I had ever made. So with that being said I don't think I'll ever make split pea soup any other way again. Instant Pot Split Pea Soup for the BIG win! I think the reason why it's so much better, thicker, and more flavorful in the Instant Pot is because you literally get every single piece of ham off the bone when you use the pressure cooker.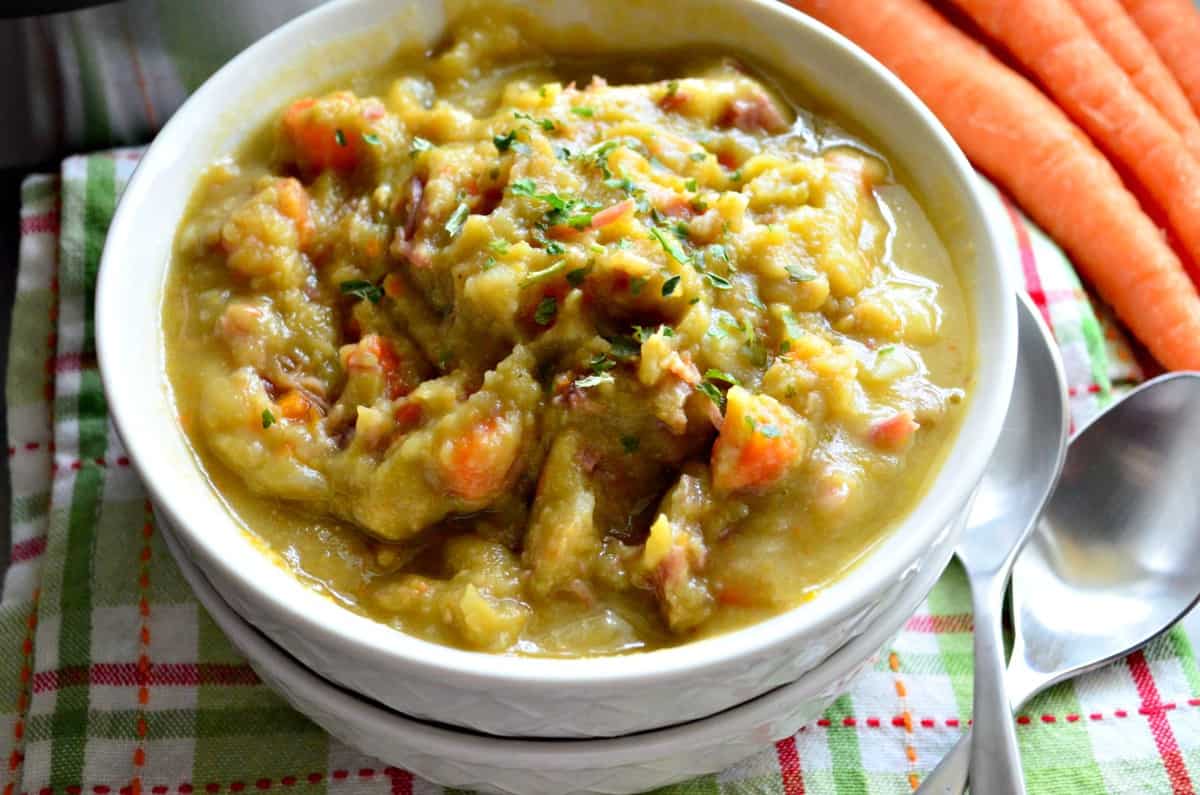 The stove-top and my slow cooker have never been able to achieve that sort of victory. I mean we have no waste of meat with this recipe. Which of course, I love that as well. I'm not one to waste food.

How do you make Instant Pot Split Pea Soup?
Making split pea soup in your Instant Pot (or any electronic pressure cooker) is very simple. This recipe takes just minutes to prepare. You add in the ham bone (of course make sure it will fit in your Instant Pot). Then add in all your veggies, split peas, seasoning, and water. Set the Instant Pot and let it do it's magic.
What do you make with Instant Pot Split Pea Soup?
I love to add a salad or bread with my split pea soup. Here are a few of my favorite recipes:
If you are a lover of split pea soup and own an Instant Pot, I'm begging you to do yourself a favor and give this delicious recipe a try. I'm confident that once you try it in the Instant Pot you will never make it any other way again!
Disclaimer: There are affiliate links in this post. That means, if you click on a product and purchase I will receive a small portion of the sale at no additional cost to you.