Slow Cooker Ham with Apple Sauce
This is a sponsored conversation written by me on behalf of the National Pork Board. Opinions and text are my own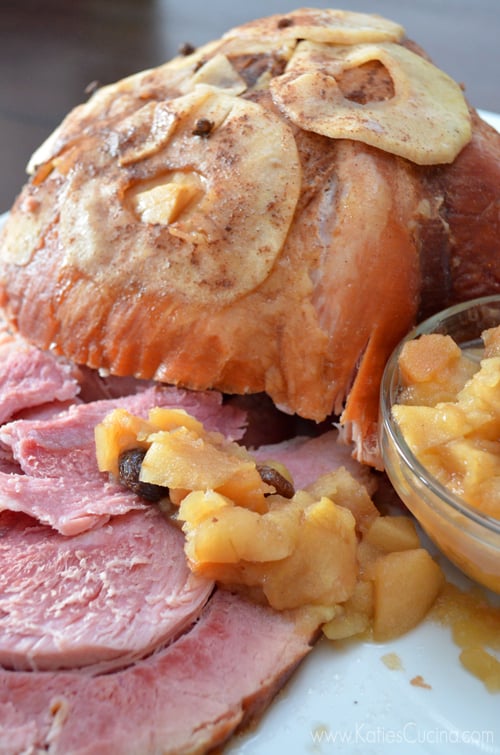 The holidays are right around the corner. I feel like I blinked and here it is November. Where has this year gone? And I know now that we are about to have a kid everyone says time really flies. I partnered up with Pork Be Inspired to create a few holiday recipes. Y'all know I love making my ham in a slow cooker. This recipe is what I like to call a two-for one. We love to eat our ham with apple sauce, and I created a recipe where you make homemade apple sauce right in the slow cooker with the ham itself!
Genius.
I know.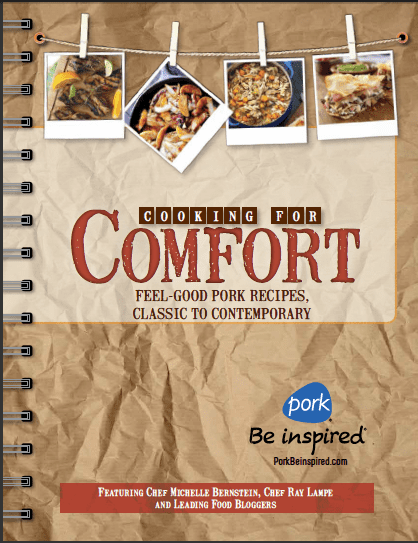 Whether or not there's a chill in the air (Florida has a little cold streak going on–woohoo!), those all-too-familiar cravings for a little taste of comfort have returned… and the National Pork Board has just the thing to help people across the country get cozy: its first-ever "Cooking For Comfort" eCookbook.
Featuring time-honored favorites and new twists on classics from James Beard Award-winning Chef Michelle Bernstein, BBQ expert and author Ray Lampe and 10 leading food bloggers, the free cookbook highlights some of the tastiest ways to warm up with pork.
Perfect for any occasion that calls for a heart-warming meal and full of delicious ideas that highlight pork, "Cooking for Comfort" includes:
Two recipes from Chef Michelle Bernstein, including Chorizo and Cheese Empanadas with Avocado Crema. Bernstein, who learned how to make empanadas from her mother at the early age of 8, made them her own by adding homemade chorizo.
A modern pork twist on a classic favorite with Ray Lampe's Pork Noodle Soup.
A selection of comforting favorites from the National Pork Board infused with modern twists, like BBQ Pork Mac n' Cheese
So, how would you like a free eBook with over 20+ delicious pork recipes? Yes, my recipe along with other bloggers and chef recipes are in the Cooking for Comfort eBook! The first 15,000 to download the eBook will receive $1 off any pork product!
Katie Original Recipe
Slow Cooker Ham with Apple Sauce
Ingredients
¼ cup brown sugar
½ tsp ground cinnamon
4.5 lbs Semi-boneless half smoked ham
3 granny smith apples, peeled and diced
1 gala apple, peeled and thinly sliced
1-1/2 tbsp raisins
½ cup apple juice
10 whole cloves
Directions
In a bowl combine ¼ cup brown sugar and ½ tsp ground cinnamon. Mix well and set to the side.
Peel and dice granny smith apples. Place diced apples in a bowl with 1-1/2 tablespoons raisins and mix well with 1 tablespoon of the brown sugar/ cinnamon mixture. Peel the gala apple, using a hand-held mandolin slicer cut 10 slices on the thickest setting (about ¼ inch thick). Put the thinly sliced gala apples to the side. With the remaining gala apple, dice it and place it in the bowl with the rest of the diced apples.
Place a slow cooker liner in a 6.5 quart slow cooker. Place the ham flat side down in the slow cooker. Sprinkle the remaining cinnamon and sugar mixture on top of the ham. Press it into the ham.
Add diced apples to the sides of the slow cooker. Then pour apple juice in the slow cooker (not on top of ham). Carefully add thinly sliced gala apples (evenly spaced) to the top of the ham and secure them with 1 whole clove each.
Place the lid on the slow cooker and cook for 5 hours on low (or 8 hours on low). Once cooked, remove ham from slow cooker and thinly slice. Mix apples together, strain juice and place in a bowl. Serve together immediately.
https://www.katiescucina.com/slow-cooker-ham-apple-sauce/
This recipe is brought to you by Katie Jasiewicz of Katies Cucina
Stay connected with the National Pork Board Twitter | Facebook | Pinterest
Disclaimer: This is a sponsored conversation written by me on behalf of the National Pork Board. I received compensation to create this recipe, and opinions and text are my own.
Warning
: Use of undefined constant rand - assumed 'rand' (this will throw an Error in a future version of PHP) in
/home/kjasiewicz21/webapps/katiescucina/wp-content/themes/katiescucina/single.php
on line
74
9 Responses to "Slow Cooker Ham with Apple Sauce"