Last month I was contacted by Magimix by Robot-Coupe to review the Magimix 4000. I was elated with joy. Before receiving this brilliant piece of machinery I used an old, handy-me down food processor that was barely chugging. It was on its last leg. So this review came at a welcomed time. The Magimix is manufactured in Burgundy, France. Since coming back from Europe last month, I feel like I have a great connection to all things European. I fell in love with France during the day I visited the French Riviera (I have 2 post to come on that). Magimix has been around for a while now. The brand was created in 1971 and was coined a French revolution of the 20th Century!
The first recipe I made using my new Magimix by Robot-Coupe was Gratin Dauphinois. The food processor comes with a recipe book with over 100 recipes. I love Potatoes Au Gratin and am always looking for a new recipe to try. This recipe was delicious. I've never cooked with Gruyere cheese before. I know… sigh… stone me, do whatever you want to me, but I'm being honest and real here. Needless to say, this recipe definitely intrigued me.
Look at the thin layer of potatoes. Every slice of potato was cut evenly ensuring that this dish cooks evenly throughout. Using the food processor was super simple. I've always been scared to use a variety of attachements. I think it stemmed back to not being educated on what to use when. The Magimix comes with a DVD that shows you how to use every attachment with ease. These creamy cheesy potatoes would make for a nice french spin for a side dish to make this Thanksgiving. Can you believe that Thanksgiving is less than 2 weeks away? I can't, and I'm feverishly planning my menu. I'm hosting again at my house this year for 8 people instead of 12 like I did last year. So we will definitely be cutting down on the crazy amount of food I cooked and baked last year. I'm figuring out a way to incorporate these potatoes into my Thanksgiving menu plan!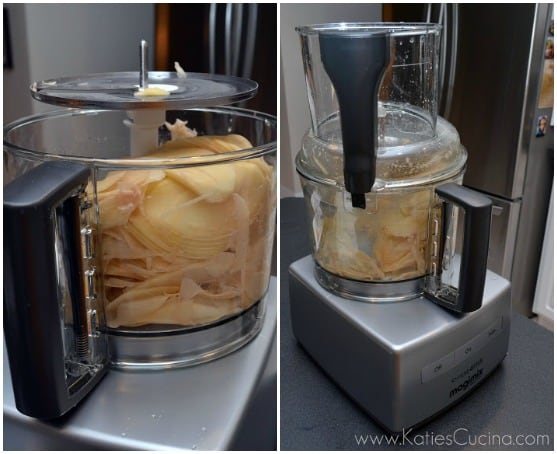 I instantly fell in love with this machine, and so did my neighbor as she watched me grate soft cheese and thinly slice potatoes. It's not noisy at all. I was able to talk over it without raising my voice. Then again, my husband pointed out that I talk loud to begin with! Even my husband commented how quiet this food processor was compared to my previous one. I will warn you… this piece of machinery is heavy. I can see many good workouts in the future lifting it, but to me its totally worth it. It also comes with an awesome storage container to store all of the blades. A nice perk that I welcome. The only downfall is that it doesn't lock. So you have to keep it secure on a shelf and if you have little ones make sure to keep it out of their reach. Magimix is pleased to introduce a new 30 year warranty on all Food Processor motors. Its hard for me to imagine having anything for more than 30 years, so I love that they have a 30-year guarantee. I know that this food processor will be by my side in the kitchen for at least the next 30 years if not longer. Not pictured is the trio of nested bowls. Yes, as in multiple size bowls in one food processor.
Small bowl is perfect for mincing herbs, chopping nuts, blending a sauce or making baby food. It can also be used directly in the large bowl without the medium bowl in place.
Medium bowl is ideal for slicing and grating.
Large bowl handles prep jobs like whisking egg whites, mixing batters, kneading dough and slicing or grating a large batch of vegetables.
Now, on to this amazing giveaway! One lucky winner, will receive one Magimix Cuisine Systeme 4200 XL. Below is a list of everything that comes with the food processor.
• 14-cup main bowl
• 12-cup midi bowl
• 6-cup mini bowl
• 950W commercial grade motor
Comes with:
• Mini and main metal blade
• Dough blade
• Egg whisk
• BlenderMix
• 2mm slicer and shredder discs
• 4mm slicer and shredder discs
• XL feed tube
• Storage accessory box
• DVD and recipe book with more than 100 recipes
Please wait for the rafflecopter widget to load. If you do not see your comment right away do not panic. Comments must be approved first and could take up to a few days.
Adapted from Magimix by Robot-Coupe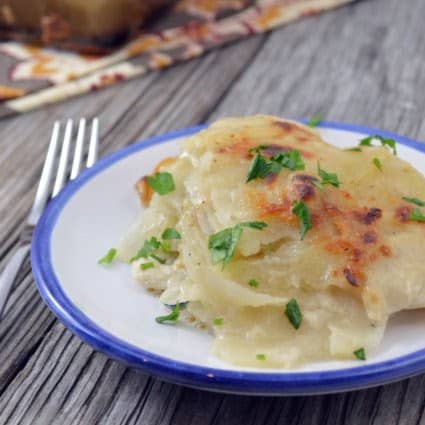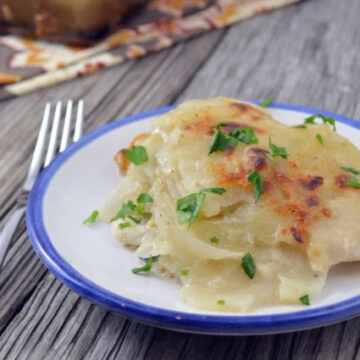 Ingredients
2

lb

russet potatoes

5

oz

Gruyere cheese

5

tbsp

heavy whipping cream

2

tbsp

unsalted butter

2-1/4

cups

whole milk

1

clove

garlic

pinch

of nutmeg

salt and pepper to taste

fresh parsley for garnish
Instructions
Using the Magimix grate the cheese using the 2-mm grating disc and set aside.

Peel and wash the potatoes, and dry well.

Using the 2-mm slicing disc, cut the potatoes into thin slices.

Preheat the oven to 355 degrees.

Peel the garlic and cut in half. Rub a square glass dish with the garlic, followed by butter.

Cover the bottom of the dish with a layer of sliced potatoes. Add some of the cheese, salt and pepper, and 1 tablespoon of heavy whipping cream. Repeat until you have used up all the ingredients (I had about 5 layers). The top of the potatoes should end with grated cheese.

In a separate bowl stir nutmeg into the milk and pour over the layered potatoes.

Place the glass dish on a baking sheet, and bake for 1 hour or until liquid has absorbed and the top is golden brown. Serve immediately and garnish with fresh chopped parsley.
Notes
This recipe was provided by Magimix by Robot-Coupe.
Disclaimer: I received the Magimix Food Processor to review and use in my home. As always, all opinions are my own. This giveaway is sponsored by Magimix by Robot-Coupe.B