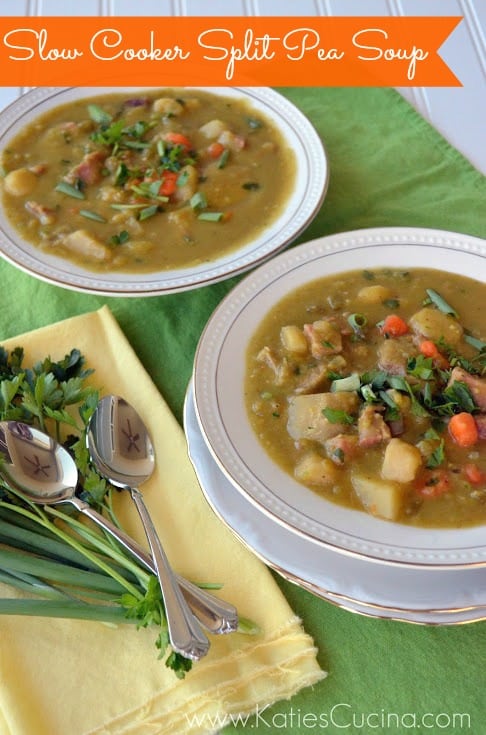 Split pea soup. You either love it or hate it. I grew up hating it. My mom would make it a few times each year, and try to persuade me to try her families recipe for split pea soup. Of course, me being a young bratty child I always refused. It wasn't until I was in college that I finally gave the soup a try and found out that I loved it. I think it is the green murky color that this hearty soup has. It's a turn-off, and quite frankly what us food bloggers like to call "ugly food". Its hard to photograph and convey how delicious it really does taste.
Last year, I made my first large stock pot full of split pea soup. It was ok. Both my mother and mother in-law make split pea soup and ironically both are pretty different (each using their own family recipe, both equally delicious). When I made my Brown Sugar Honey Glazed Ham in the slow cooker the other week I knew I wanted to take that bone and make a decadent pot of split pea soup. I combined ingredients that both mothers use plus put my own spin on it. You know I love veggies. So why not add lots to the pot. I also did something daring. I put a few parsnips in the slow cooker. Yep, that's right. I've never even cooked or consumed parsnips. But I knew it was a root vegetable and I figured this Split Pea Soup was the perfect dish to put it in. Another spin I put on it. I used my slow cooker. Both mothers let theirs simmer on the stove top for hours on end. I don't have that kind of time. One morning before work, I peeled and chopped up all my veggies, tossed everything in my KitchenAid Slow Cooker, and then let it go to work. I love letting my slow cooker do all the cooking for me! I got home, removed the bone, stirred the split pea soup, added the fresh herbs, and voila–dinner was done!
I even brought some over to my neighbor to try. In her thirty-some odd years on this planet she had never consumed split pea soup! She tasted the soup with hesitation and then requested more. I've now converted one more person to becoming a split pea lover. So if you have a ham bone from Easter Sunday dinner–don't hesitate to throw it in your slow cooker with tons of veggies, dried green split peas, and a whole lot of water to make a thick and hearty soup (large enough to feed an army).
Katie Original Recipe for Slow Cooker Split Pea Soup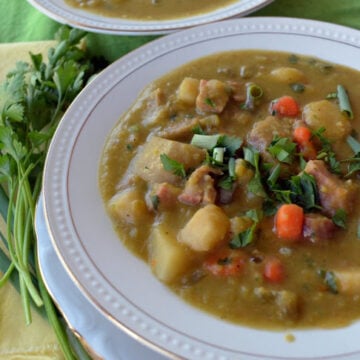 Ingredients
1

Ham Bone

2

cups

Ham

diced

1

16 oz bag of Dried Green Split Peas

3

carrots

peeled and sliced

2

parsnips

peeled and sliced

2

white potatoes

peeled and cubed

1/2

medium onion

diced

3

ribs celery

diced

2

cloves

garlic

diced

1

bay leaf

1

tbsp

season salt

1/2

tsp

black pepper

6

cups

water

1/4

fresh parsley

diced

6

green onions

thinly sliced
Instructions
In a 6 quart slow cooker, place the ham bone, diced ham, and split peas in the slow cooker. Then add the sliced carrots, parsnips, white potatoes, onion, celery, and garlic on top. Add bay leaf, season salt, and black pepper followed by 6 cups of water. Stir until everything is incorporated. Cook on low for 8-10 hours.

Once the soup is done, mix well, and add 3 tablespoons fresh parsley and 5 of the 6 sliced green onions, mix well. Ladle soup into bowls and top with remaining fresh parsley and green onions.
Disclosure: This post contains affiliate links.