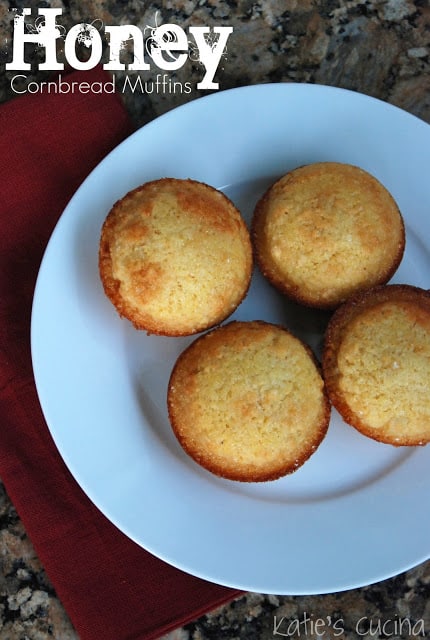 I love cornbread. Growing up this was not something we ever had in my house. It was a novelty item that I would periodically get to have if we were on vacation eating at a Cracker Barrel. My parents are from up north and cornbread was just something they did not grow up eating–thus they didn't pass on the cornbread loving genes to me! *I know I'm probably going to catch hell from my mom on this post just as I do almost any post I ever mention her in.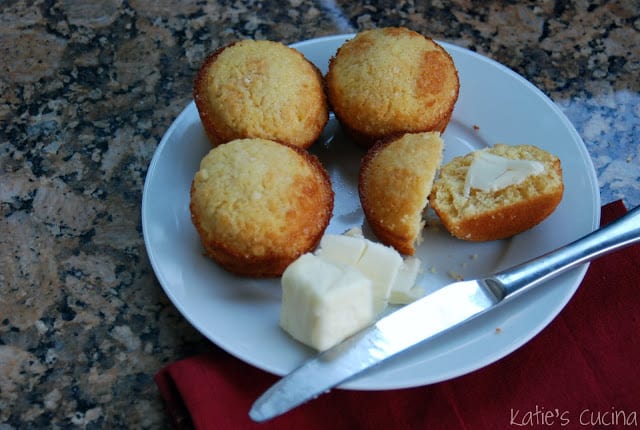 As I've grown older I've been on the hunt for the most amazing and perfect cornbread recipe out their. This my friends… is it. This is my new go-to recipe. I love sweet cornbread and this recipe satisfies all my cornbread needs!

Source: Food Network, The Neelys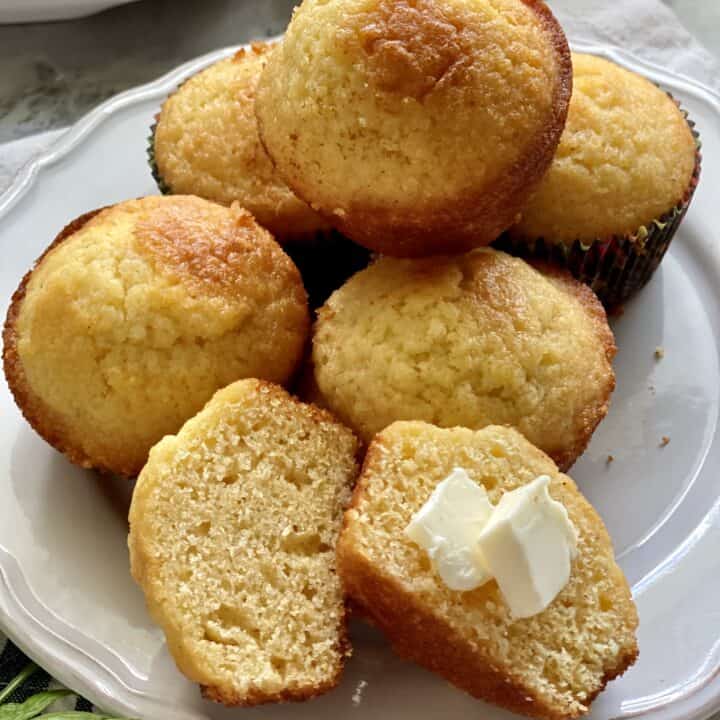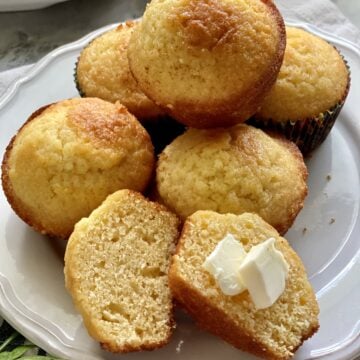 Honey Cornbread Muffins
Delicious Honey Cornbread Muffins are moist, sweet and full of flavor. This cornbread muffin recipe is made from scratch in under a half hour!
Print
Pin
Rate
Servings: 12
Calories: 167kcal
Equipment
Oven

KitchenAid Stand Mixer
Ingredients
1 cup Yellow cornmeal
1 cup All-purpose flour
1 tablespoon Baking powder
1/2 cup Granulated sugar
1 teaspoon Salt
1 cup Whole milk
2 Large eggs
1/2 stick Salted Butter melted
1/4 cup Honey
Instructions
Preheat oven to 400 degrees Fahrenheit.

In a KitchenAid Stand Mixer fitted with a paddle attachment place the cornmeal, flour, baking powder, sugar, and salt. Mix on low for 10 seconds. Then, add the whole milk, eggs, melted butter, and honey. Mix on medium low speed until just incorporated.

Spray a muffin tin with non-stick cooking spray. Evenly divide the cornbread mixture into the muffin tins filling about 1/2-3/4 of the way full.

Bake for 15 minutes, until golden* (see notes below on testing muffin for doneness). Let rest for 5 minutes, before removing from a muffin tin.
Notes
If you don't have a KitchenAid Mixer don't worry! You can use a hand mixer or your hand with a silicone spatula to mix batter.
For an easier cleanup you can use cupcake paper liners to line the muffin trays prior to pouring in the batter.
*Test that the muffin is done by inserting a toothpick into the middle of the muffin. If the toothpick comes out clean with minimal crumbs the muffin is cooked all the way through. If it is loose with some batter, you need to extend the time by a few minutes.
Nutrition
Serving: 1g | Calories: 167kcal | Carbohydrates: 33g | Protein: 4g | Fat: 2g | Saturated Fat: 1g | Cholesterol: 29mg | Sodium: 215mg | Potassium: 195mg | Fiber: 2g | Sugar: 15g | Vitamin A: 73IU | Calcium: 72mg | Iron: 1mg