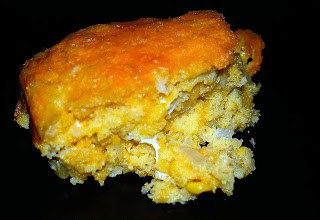 I've been eyeing this recipe for months now… I found it in my Super Suppers cookbook. The ingredients and directions seemed simple enough that I felt I could make it. I'm glad I gave it a try-it came out awesome!!! Very moist and full of flavor. I had so much left over that I ended up bringing in most of the tray to my coworkers. Next time I'm going to make this recipe and then place it into 2 or 3 ziplock freezer bags and freeze the batter… that way I'm not tempted to eat a whole tray of this corn bread! That or I'll freeze most of it for a later date.
Prep: 5 minutes
Total: 45 minutes
Serves: 12
Ingredients:
Nonstick cooking spray
1 cup cornmeal
1 teaspoon salt
½ teaspoon baking soad
1 17-oz can creamed corn
1-½ cups shredded cheddar cheese
½ cup finely chopped onion
¼ cup vegetable oil
2 eggs, beaten
1 4 oz can diced green chile peppers, undrained
Directions:
1. Preheat the oven to 375 degrees F. Coat an 8-inch baking dish with cooking spray (or you can use a muffin pan).
2. In a large bowl stir together cornmeal, salt, and baking soda. Stir in creamed corn, cheese, onion, oil, eggs, and undrained chile peppers.
3. Pour batter into prepared baking dish. Bake for 45 minutes. Let the bread sit for 5 minutes to cool after cooking.
Side Suggestions: Chicken Tortilla Soup, Mexican Style Salad with Spicy Ranch Dressing