Warm up with a big bowl of slow cooker chicken enchilada soup. A tex-mex treat that everyone will enjoy on a cold winters day!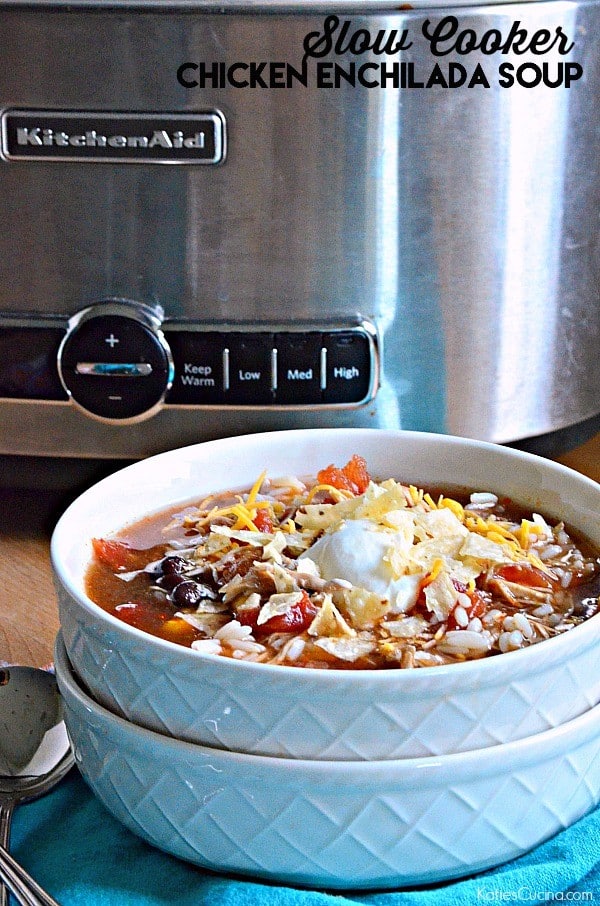 I felt it was time to post another soup recipe. Most of the United States is experiencing a blizzard this week and I felt what better time to share another soup that is sure to warm your soul than today! Plug-in that slow cooker and get ready for a fiesta! I have a delicious and easy-to-make slow cooker chicken enchilada soup that is going to leave your family and friends asking for more. Even better it takes little to no time to put together and it makes a lot of soup! Perfect for feeding a hungry group.
I've always loved my slow cooker and now with a baby I really love my slow cooker! I try to make 1-2 slow cooker recipes each week to help ease the craziness in my life. I'm really lucky in the sense that I can prep food and cook and my son, Ryder, for the most part is content in his high chair. As long as I have a snack for him he's happy!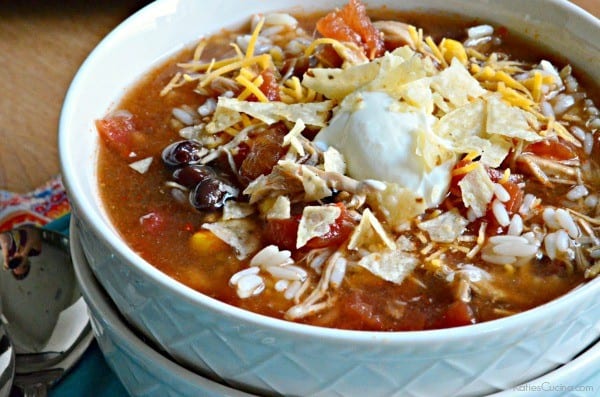 The day I made this soup I threw it together right after I got him down for his morning nap, so I didn't have to worry about being interrupted. It literally took me all but 5 minutes to throw together.
Here's a cooking tip that will help you during the busy work-week. If you're prepping early in the week for a meal and you know you'll be using that same fresh produce ingredient a few more times throughout the week, take the extra few minutes and chop all of it and store it in a sealed container in your refrigerator. Then you'll have it already prepped and ready for you throughout the week.
I do this a lot with onions and bell peppers. That's why this took me a whopping 5 minutes to throw together – because I spent the extra few minutes dicing all the onions and peppers I would need for the rest of the week. I also do the same thing with rice. I typically like to make a big batch of rice for dinner early in the week and then I plan to incorporate the leftover rice later in the week. This recipe calls for rice, although, I don't cook the rice in the soup—the rice would absorb all the chicken stock.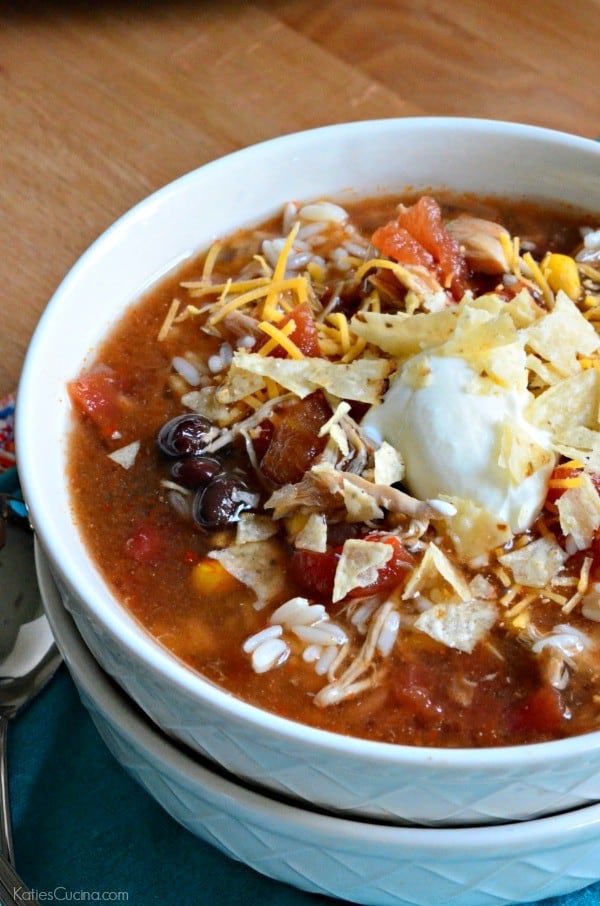 In order to stretch this soup far and get a large amount of servings out of it you won't want to cook the rice in the soup. Always cook the starch outside of the soup. You don't have to have the rice, but I feel like it makes this soup a little more filling. I used up the leftover rice I had from a few days prior.
Another way I stretch this recipe is by using only one chicken breast. I know you might think this is crazy talk, but trust me when you shred the chicken and add it to soup it magnifies. If you are really concerned then add a second chicken breast. But trust me, it's really not needed. I hope you love my slow cooker chicken enchilada soup recipe as much as my family and I do!
Katie Original Recipe Created for Food Fanatic
Disclaimer: I am a paid contributor for Food Fanatic. There are affiliate links in this post. As always all opinions are my own.