Get ready to bite into the most delectable chicken and cheese enchiladas you've ever tasted and in under 30 minutes time!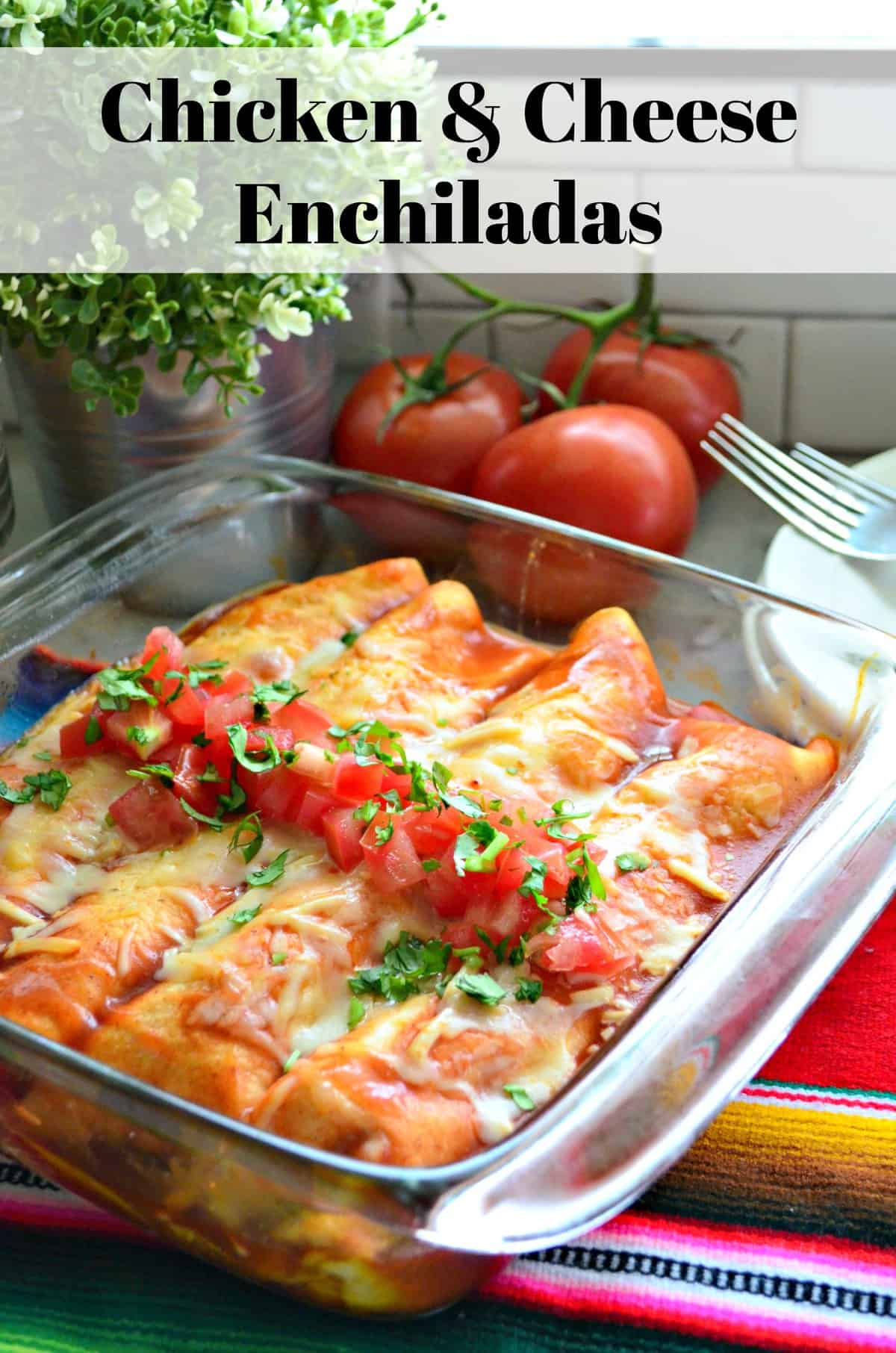 Cinco de Mayo is probably one of my favorite food holidays of the year. Of course, followed behind Thanksgiving, Christmas, and probably tied with 4th of July! We love Mexican food in our house. We eat it every Tuesday. Since being dairy free for the past year I've missed enchiladas (and quesadillas). I finally broke down and made them recently and holy cow I forgot how good they were. Even my husband couldn't stop raving (which when he's married to a food blogger it means a lot because he is the most critical about my cooking)! I realized that I had never posted my chicken and cheese enchiladas recipe. Just my beef and green chile enchiladas. So here is my recipe in all it's glory today!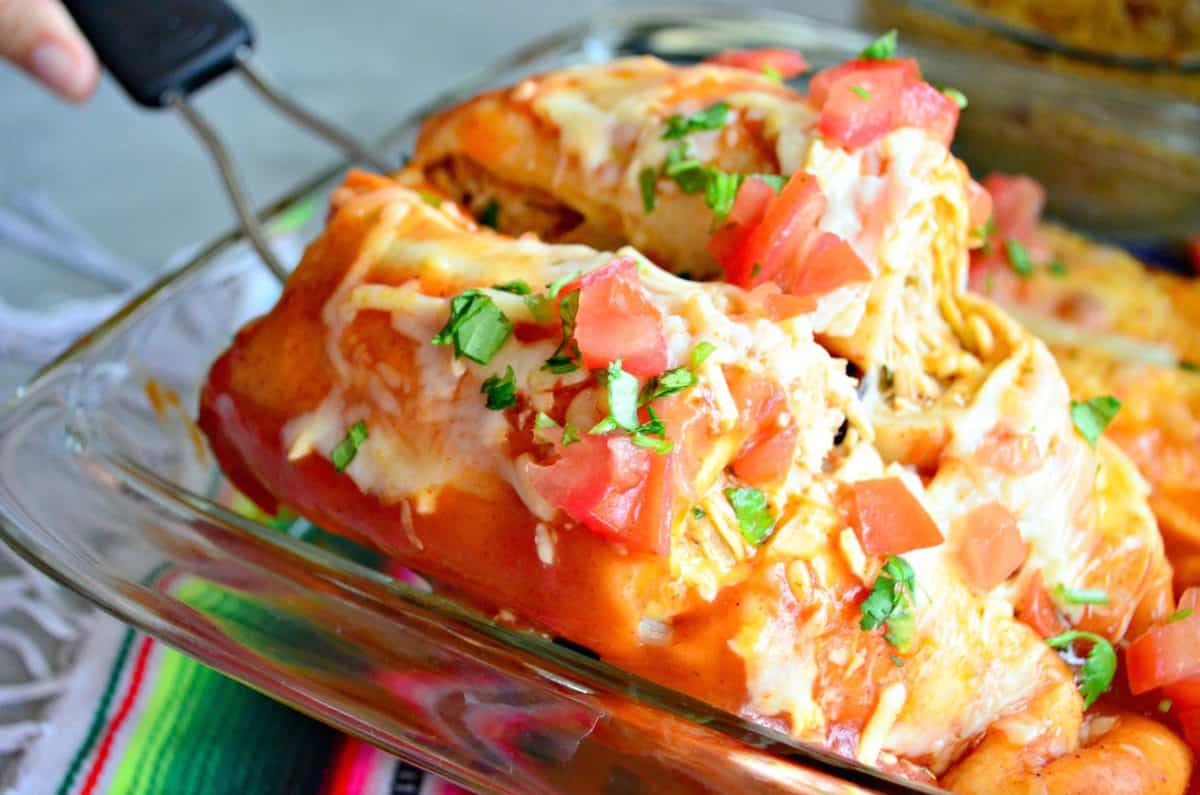 These enchiladas come together pretty quickly; however, you do have a little prep work ahead of you. You'll need to make the chicken ahead of time. I like to make the enchiladas ahead of time that way I can just pull them out of the refrigerator, heat and enjoy! This is also a smaller batch of enchiladas–just 4 servings opposed to the normal 8-10 servings of enchiladas. I used my recipe for Instant Pot Shredded Mexican Chicken. I made a double batch and freezed the remaining shredded chicken to be used for future tacos or enchiladas. Don't worry, if you don't have an Instant Pot you can use my slow cooker shredded chicken method. Both ways work just fine.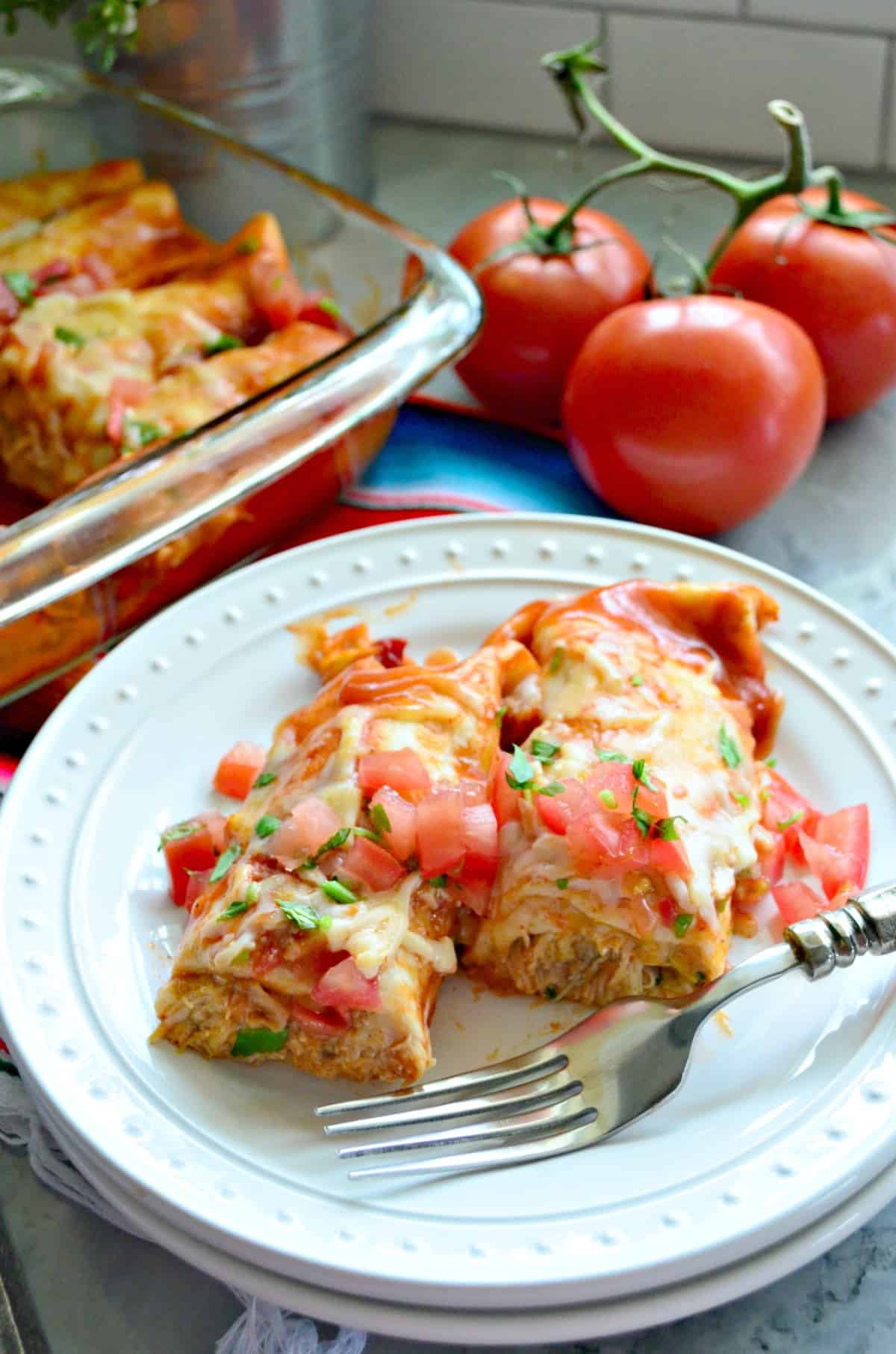 PRO TIP: place your cooked chicken breast and about a ½ cup of the sauce in a stand mixer fitted with a paddle attachment and let your mixer shred the chicken for you. In the matter of seconds you'll have perfectly shredded chicken with little to no work on your part (minus the dish washing)!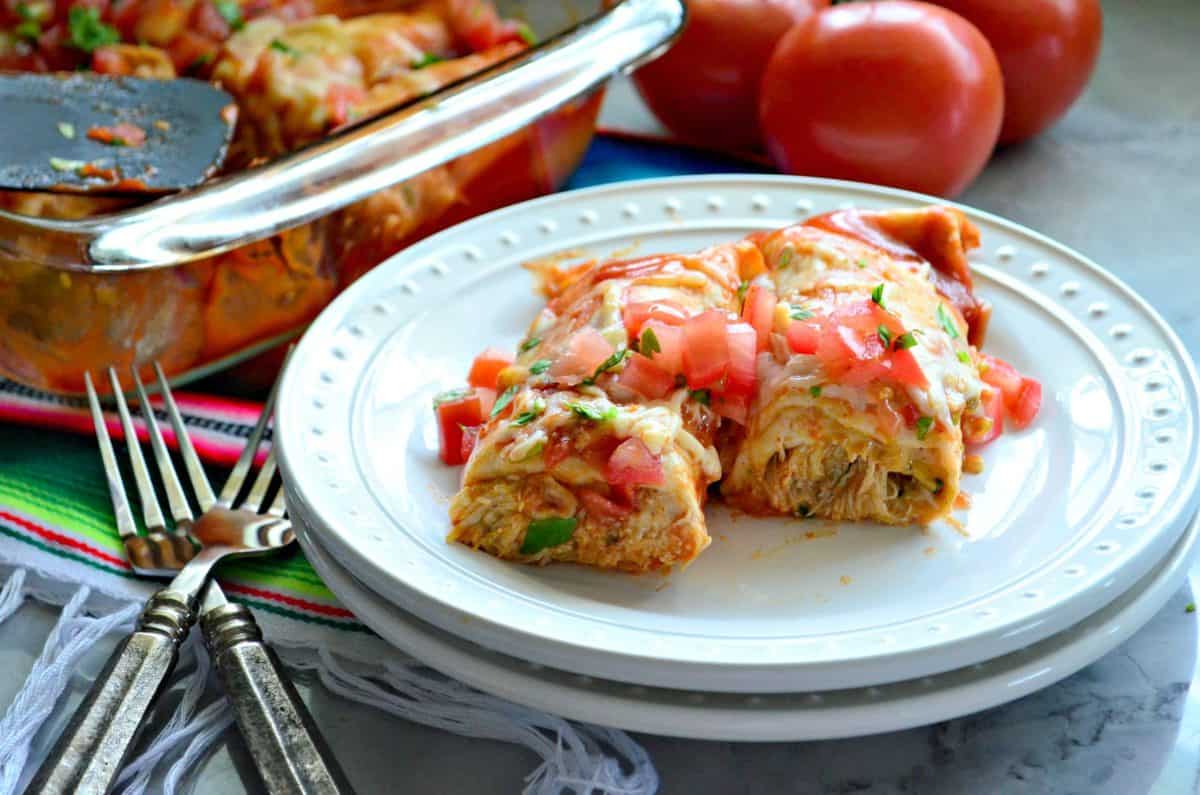 If you have extra time while preparing these enchiladas I encourage you to try my spicy enchilada sauce. 100% homemade and you'll never want to go back to store bought again! However, using the can sauce is totally okay too! You just won't achieve as rich as a flavor. I find the canned sauce to not be as robust as making your own. I admit though in a pinch I use the canned sauce too! So don't fret! You can use any blend of Mexican shredded cheese. For this recipe I used the new Cabot Firey Jack Shredded Cheese. Complimented this recipe perfectly and gave it a nice little zing! I love to top the enchiladas with additional cheese. Then once out of the oven I add fresh cilantro and diced tomatoes. You can serve the enchiladas with guacamole or slices of fresh avocado. If you are looking for more dairy add on a dollop of sour cream. I always make my favorite Mexican rice and ranchero beans. If you are looking for a delicious and pretty simple enchilada recipe I hope you'll give my recipe for chicken and cheese enchiladas a try.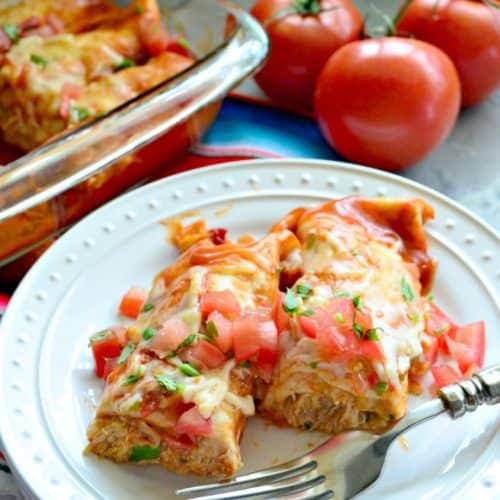 Chicken and Cheese Enchiladas
Get ready to bite into the most delectable chicken and cheese enchiladas you've ever tasted and in under 30 minutes time!
Print
Pin
Rate
Instructions
Preheat the oven to 350 degrees Fahrenheit.

Spray an 8×8 square glass baking dish with non-stick cooking spray. Then, pour ½ cup of the enchilada sauce in the baking dish. Swirl around and ensure that the entire bottom is covered in the sauce.

In a large bowl add the shredded chicken, 3 tablespoons of the freshly minced cilantro, and ¼ cup of enchilada sauce. Mix well and set to the side.

Lay a flour tortilla on the counter. Place in the middle of the tortilla; ½ cup shredded chicken and a ¼ cup shredded cheese. Close the tortilla in half then scoot all the filling to one side and roll tightly. Place the tortilla seam side down. Repeat until the other 3 enchiladas are made.

Pour the remaining sauce on top of the enchiladas–completely covering the tortillas. Top with ¼ cup of cheese. Bake with foil for 25 minutes. Then remove the foil and cook for a remaining 5 minutes.

Heat the remaining enchilada sauce and set to the side.

Remove from the oven and top with diced tomatoes and the remaining minced cilantro. Carefully cut and serve enchiladas. Pour remaining sauce on top and enjoy.
Nutrition
Calories:
918
kcal
|
Carbohydrates:
145
g
|
Protein:
30
g
|
Fat:
23
g
|
Saturated Fat:
7
g
|
Cholesterol:
28
mg
|
Sodium:
3711
mg
|
Potassium:
463
mg
|
Fiber:
10
g
|
Sugar:
26
g
|
Vitamin A:
1818
IU
|
Vitamin C:
7
mg
|
Calcium:
314
mg
|
Iron:
10
mg