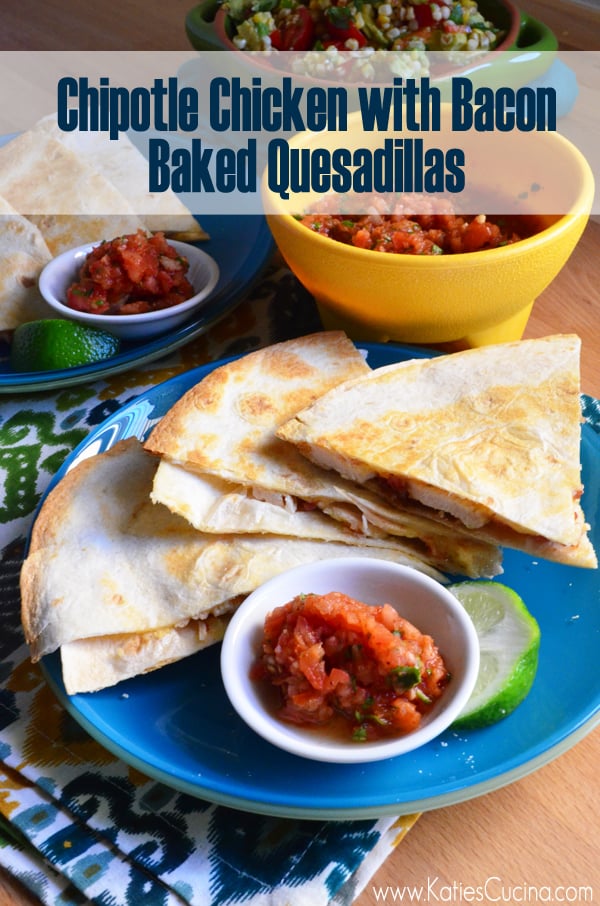 Happy Cinco de Mayo! One of my favorite eating holidays of the year, because I love Mexican food! I know its the one day of year I can eat Mexican food for breakfast, lunch, and dinner and no one will judge me. Although this year, I haven't partaken on the breakfast and lunch Mexican feast. I'm telling you that as I feverishly type and eat my leftover penne and meatballs from last nights dinner during the hour naptime i have to myself. This is the first week where I don't have anyone guest blogging for me, and as much as I was trying to be prepared and have the first few weeks of May scheduled out–well it snuck up on me. So I'm pretty sure from now until who knows when, I'll be writing my blog post on the fly!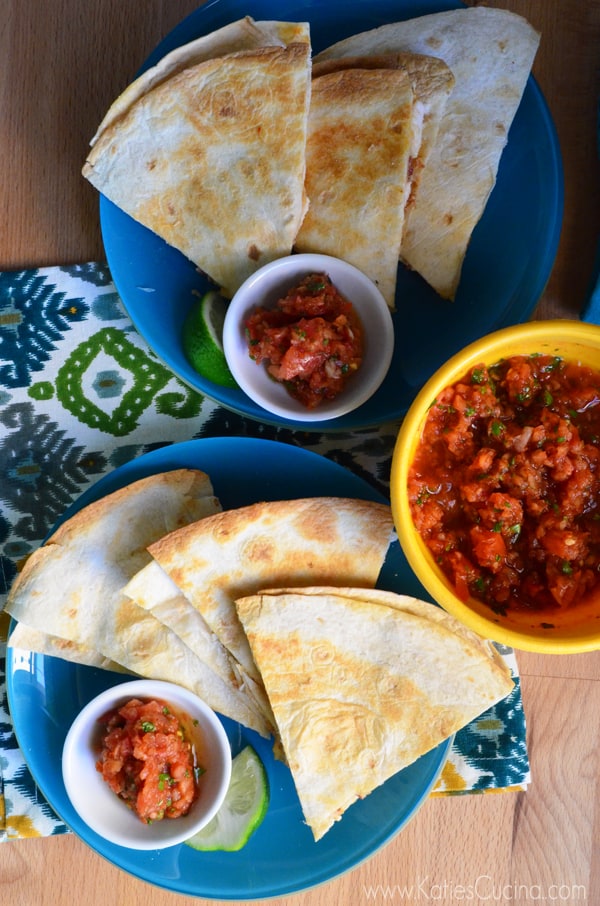 So, let's talk about these Chipotle Chicken with Bacon Baked Quesadillas. I made these the other week in an effort to use up some leftovers. I typically make quesadillas at least once a month for lunch or dinner since its a quick weeknight meal. I almost always bake them as well, unless I decided to get all crazy and then I turn on the grill. Baking quesadillas makes me feel like its a little healthier. Since being on maternity leave and being held hostage in my own house not being able to drive just yet my trips to the grocery store have become crazy limited. Typically I'll text my husband during the day and tell him we are in need of x,y, and z (typically fresh produce and yogurt) and then hope he can make time to go pick up said grocery items we are in need of. I will tell you that are grocery bill has gone way down over the past month. I'm pretty sure it will continue to stay down for the next few months until I feel comfortable driving and taking the baby out on my own.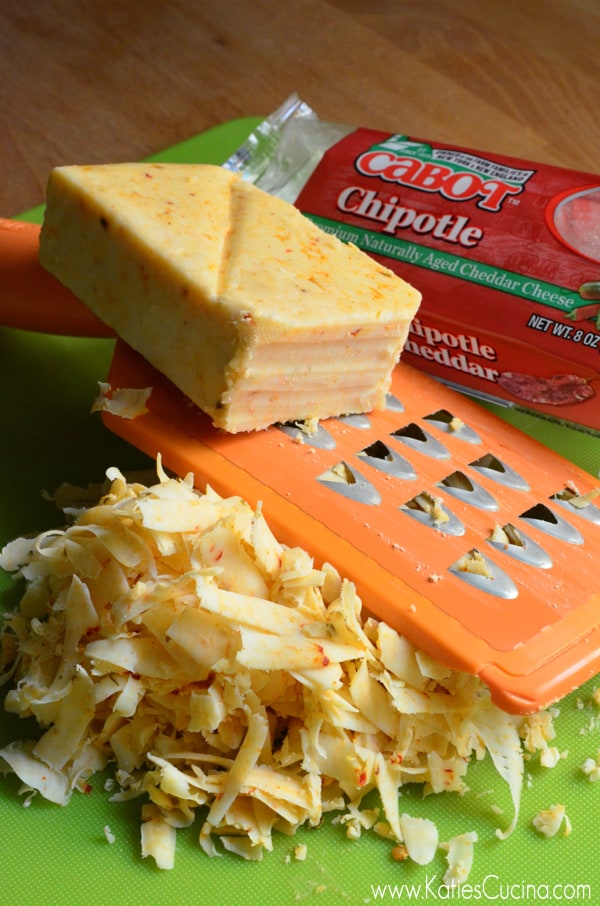 So I've been super resourceful using up every single thing we have in the fridge (or at least as close to being able to use it up as possible) plus utilizing my over-packed pantry. During my recent cleaning out of the pantry I found two tortillas that were still good. Tortillas are something I almost always have on hand–they are great for breakfast burritos, lunch wraps, or in my case today, quesadillas! Very versatile and relatively inexpensive. This recipe for Chipotle Chicken with Bacon Baked Quesadillas came about because I had one leftover grilled chicken breast in the refrigerator. I also received a package of Cabot cheese last month for National Grilled Cheese month (which I totally missed because well I was a bit occupied taking care of a 2-legged human being), and in that package was a block of chipotle cheddar cheese. It was calling my name and I knew I wanted to use it either as grilled cheese or a quesadilla. And well I added bacon, because lets face it everything is better with bacon. Of course, the night I made these the baby was sleeping so I opted to use the bacon bits on hand rather than fry or even (dare I say) microwave the fresh bacon I had on hand. That was going to require too much time and the clock was ticking to get dinner on the table before the baby woke up. It's a luxury these days to eat dinner with my husband at the same time. Something we have done together for over the past 7 years living together. So I layered all the ingredients and baked the quesadillas for 5 minutes until golden brown and voila, easy-as-that dinner was served! Of course I served it with homemade salsa and sour cream and a delicious avocado, corn, and tomato salad (recipe to come).
So whether you are partying hard today for Cinco de Mayo or staying in with family like me–you have no excuse to not have a Mexican dinner tonight!
Katie Original Recipe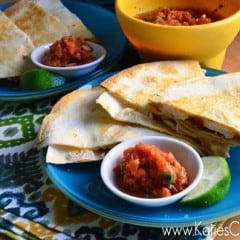 Chipotle Chicken with Bacon Baked Quesadillas
So, let's talk about these Chipotle Chicken with Bacon Baked Quesadillas. I made these the other week in an effort to use up some leftovers.
Print
Pin
Rate
Ingredients
2

Flour Tortillas

burrito size

1

cup

Cabot Chipotle Cheddar Cheese

shredded

1

cup

sliced cooked boneless skinless chicken breast

1

tablespoon

bacon bits

Salsa and Sour Cream for serving if desired
Instructions
Preheat oven to 400 degrees Fahrenheit.

While oven is preheating place one tortilla on a baking sheet layer with half of the shredded

Cabot Chipotle Cheddar Cheese

, followed by the sliced chicken breast, sprinkle with bacon bits, and then layer the remaining cheddar cheese on top. Place the other tortilla on top and bake for 5 minutes or until golden brown.

Remove from the oven and cut into 6 pieces. Serve with salsa and sour cream if desired.
Notes
Notes: *Nutritional calculations are estimated and may vary depending on serving size and ingredients.
Nutrition
Serving:
1
tortilla
|
Calories:
424
kcal
|
Carbohydrates:
17
g
|
Protein:
33
g
|
Fat:
24
g
|
Saturated Fat:
12
g
|
Polyunsaturated Fat:
2
g
|
Monounsaturated Fat:
6
g
|
Trans Fat:
1
g
|
Cholesterol:
105
mg
|
Sodium:
739
mg
|
Potassium:
364
mg
|
Fiber:
1
g
|
Sugar:
1
g
|
Vitamin A:
589
IU
|
Vitamin C:
1
mg
|
Calcium:
451
mg
|
Iron:
1
mg