Don't waste the carcass of a store-bought rotisserie chicken. Learn how easy it is to make chicken stock in less than one-hour from a store-bought rotisserie chicken!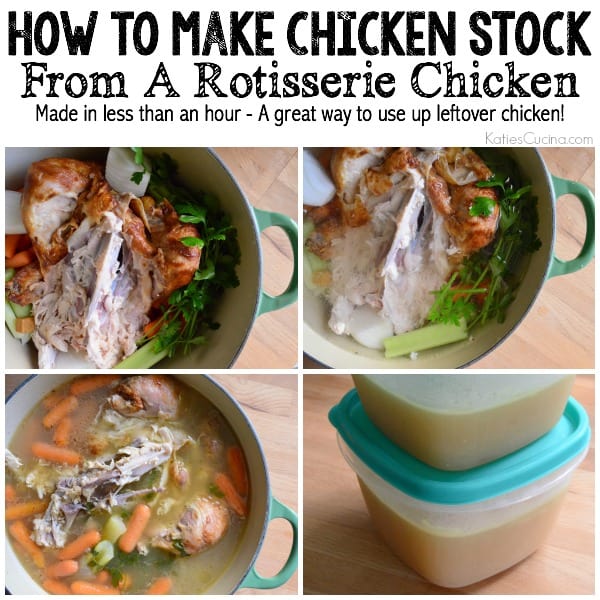 In an effort to stretch our money and food a little further I've started making chicken stock from a store-bought rotisserie chicken. I buy a $5 rotisserie chicken from Costco just about every week. Normally I remove all the white meat from the bird and discard the carcass (I've never been a fan of dark chicken meat). I've been doing that for years… until last month when I decided I wanted to make some chicken stock. Well, actually, I didn't have any boxed chicken broth on hand and I wanted to make a pot of soup. Then the light bulb went off in my head… ding ding ding… make chicken stock from that Costco rotisserie carcass! Duh?!?! Why haven't I thought of that before. Now, that I'm home daily with the baby I have no excuse. Plus, we are on a very tight budget now so I'm trying to stretch our money just a little further in this world where food is continually rising in price.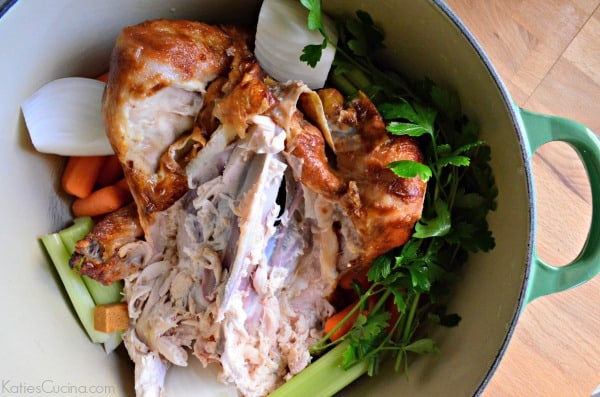 First step, take your carcass and place it in a large stock pot. I put mine in this 5.5 quart Le Creuset cast iron enamel pot. Then load it up with veggies. I like to use carrots, onions, and celery and since I grow my own herbs I put in a handful of fresh parsley. I also add in 2 chicken bouillon cubes (it adds additional chicken flavor) and some black pepper.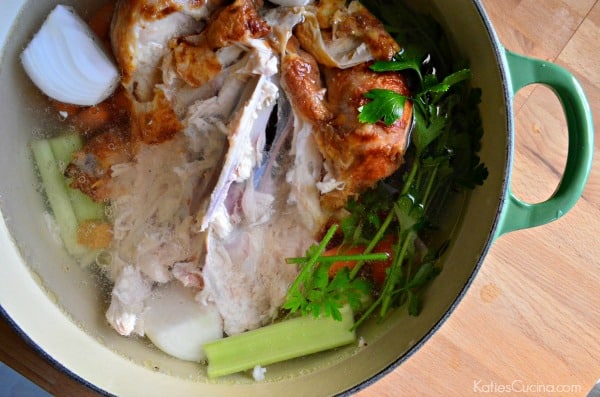 Then I pour in 10 cups of water.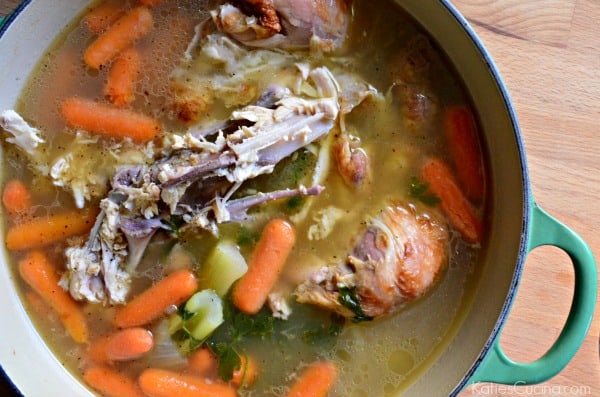 Next up, bring your carcass and veggies to a boil. Then reduce to medium heat and simmer with lid on for 50 minutes. I remove the pot off the stove and let it cool to room temperature. I begin to sift through and gather all the vegetables and dark meat from the carcass. I place that in a separate container that I'll use during the week for another pot of soup. See I told you I'm being ultra thrifty here. Then I place a mesh colander inside a very large bowl and begin to pour the broth into the bowl. The colander will catch all the bones and anything you don't want in the soup.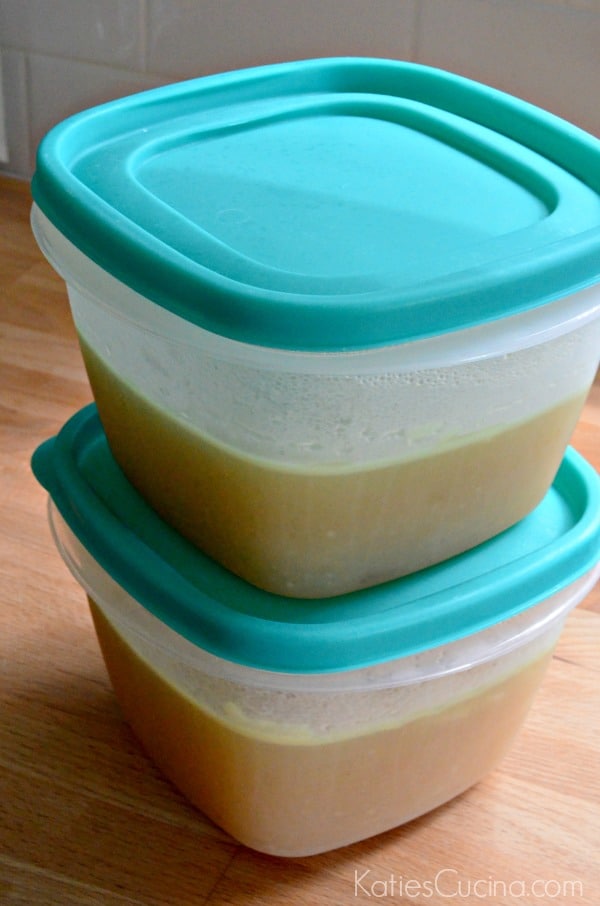 I divide the stock (4-5 cups each) into two containers or freezer bags (label the bags before you pour the stock into it). I typically place the stock in containers because I've never been able to freeze the stock to date because I make a pot of soup each week or every couple of days depending on how much I make.
That's it… super easy way to make your own homemade chicken stock and stretch your food and wallet a little further!
Katie Original Recipe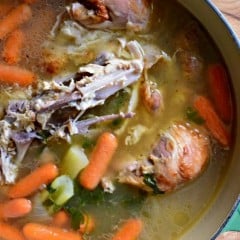 How To Make Chicken Stock From A Rotisserie Chicken
Don't waste the carcass of a store-bought rotisserie chicken. Learn how easy it is to make chicken stock in less than one-hour from a store-bought rotisserie chicken.
Print
Pin
Rate
Ingredients
1

Rotisserie Chicken

2

cups

baby carrots

4

celery stalks

chopped

1

white onion

quartered

Small bunch of parsley

about ¼ cup

2

chicken bouillon

⅛

teaspoon

black pepper

10

cups

water
Instructions
Place the chicken carcass in a 5.5 quart stock pot. Then place in carrots, celery, onion, parsley, chicken bouillon cubes and black pepper. Then pour the water on top of the contents in the pot. Bring to a boil on high (about 10 minutes) with lid on. Then reduce heat to medium and simmer for 40 minutes. Mix on occasion to ensure the carcass is breaking apart and all the flavors are mixing.

Let cool, remove any chicken left on the carcass plus vegetables and store in a separate container to be used for soup. Strain stock in a mesh colander that is sitting in a large bowl. Pour stock into freezer bag or container to use at a later date. Use within one week or freeze and use up to 3 months later.
Nutrition
Calories:
190
kcal
|
Carbohydrates:
3
g
|
Protein:
27
g
|
Fat:
8
g
|
Saturated Fat:
2
g
|
Cholesterol:
92
mg
|
Sodium:
368
mg
|
Potassium:
358
mg
|
Fiber:
1
g
|
Sugar:
2
g
|
Vitamin A:
3577
IU
|
Vitamin C:
1
mg
|
Calcium:
33
mg
|
Iron:
1
mg
Disclaimer: There are affiliate links in this post. That means if you click on it and make a purchase I'll make a percentage from the sale.