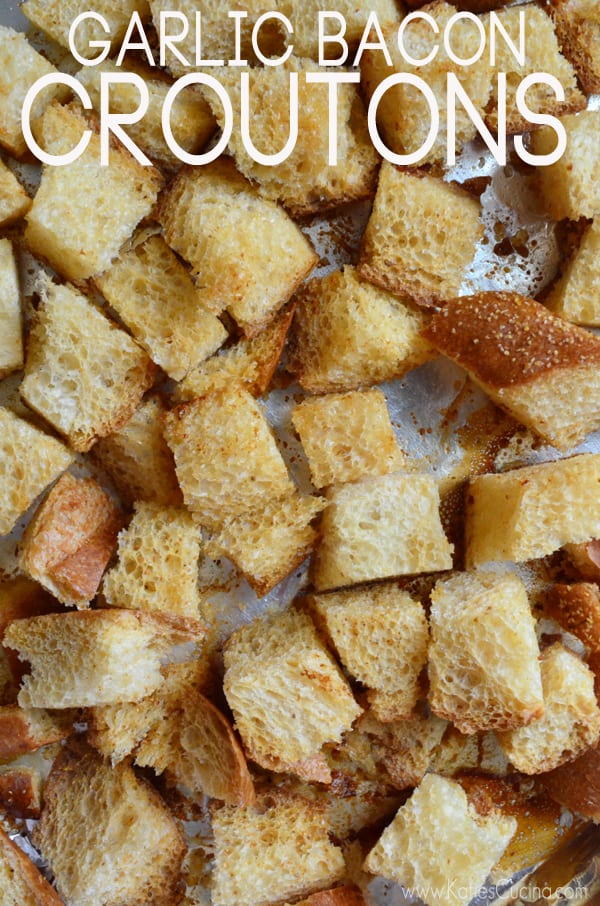 I know what you are thinking… bacon in croutons?
Yes… well sort of.
Because I love bacon so much I save the bacon grease to use for other cooking purposes. The other week, I made grilled sausage and pepper subs. I cut out the middles of the sub rolls and saved them to the side. I decided I would make a few croutons out of them instead of wasting the delicious fresh bread. We have been eating a lot of salads in our home. At least one with dinner every night. I had just pulled bacon out of the oven, when I decided to cube the bread and roll it in the leftover bacon grease. For good measure, I sprinkled a little garlic powder on top and popped them in to the oven.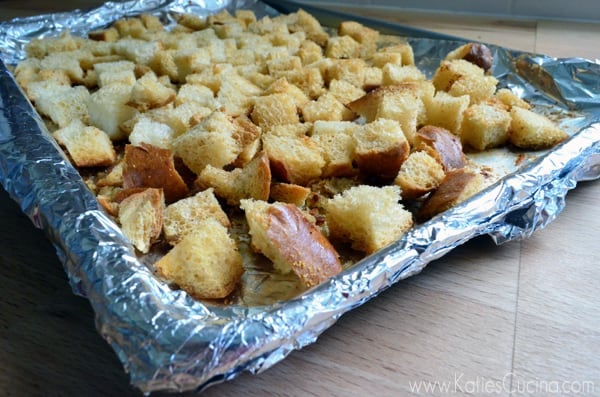 Later that night when we went to eat our salads I topped each salad with a few homemade croutons. This is a luxury item for our salads. I never have croutons on hand. I love them and eat them when they are presented on a salad, but its the last thing I think about buying at the store. I will tell you that it was love at first bite–the homemade garlic bacon croutons were amazing. They do not have an overwhelming bacon flavor to them, but just enough to make you think about what is on these croutons. Even my non-bacon loving husband loved the croutons. I didn't tell him what they were seasoned with until after he was done with his salad, and then when I told him he wasn't surprised at all. I think he loathes the fact that I keep a small jar of bacon grease in the refrigerator at all times. No wasting in our house is my motto (especially when it comes to bacon).
This was definitely a happy accident type of recipe. I wasn't going to blog about it, but after finishing my cup of croutons in less than a day I decided to make more. I finished the two remaining sub rolls and baked them up into beautiful garlic bacon croutons. Every night for the past 2 weeks we have enjoyed them on our salad, and I think once we are done with them I'll have to invent another new crouton recipe. Croutons are something that you forget is so good until you have them daily.
Katie Original Recipe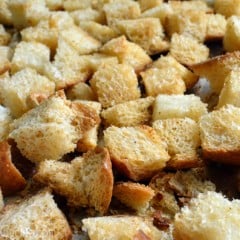 Garlic Bacon Croutons
I know what you are thinking... bacon in croutons?
Print
Pin
Rate
Ingredients
1

tablespoon

bacon fat

melted

¼

teaspoon

garlic powder

4

cups

cubed bread

French or Italian work fine
Instructions
Preheat oven to 350 degrees Fahrenheit.

In a frying pan, melt bacon fat if need be then spread on to a tinfoil lined baking sheet. Place cubed bread on baking sheet and rub around in the bacon fat until every piece of bread is coated. Then sprinkle on the garlic powder.

Bake for 350 degrees on the middle rack for 10 minutes. Toss the croutons and bake again for an additional 5 minutes until golden brown. Let them cool and then seal in an airtight container for up to 2 weeks.
Notes
I've had these still taste great for up to two weeks! Feel free to scale the recipe to however much bread you have on hand.
Nutrition
Calories:
183
kcal
|
Carbohydrates:
28
g
|
Protein:
6
g
|
Fat:
5
g
|
Saturated Fat:
2
g
|
Cholesterol:
3
mg
|
Sodium:
296
mg
|
Potassium:
102
mg
|
Fiber:
2
g
|
Sugar:
3
g
|
Calcium:
77
mg
|
Iron:
2
mg