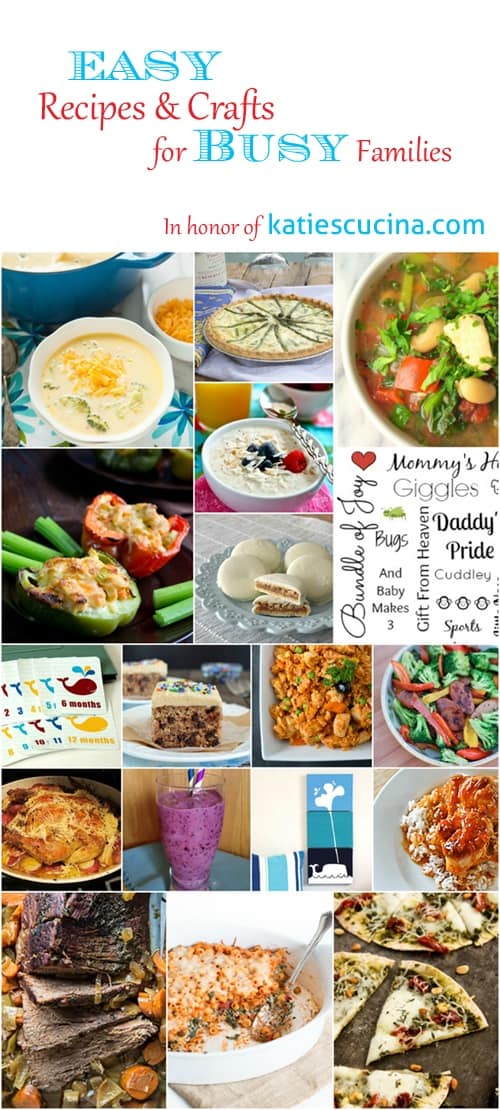 Yesterday, I woke up to a flood of tweets, Facebook messages, and Instagram tags. I'm use to seeing quite a bit of activity on my phone in the morning, but nothing like what I received yesterday. To my surprise, my nearest and dearest blog friends surprised me with a virtual baby shower! I honestly had no idea it was coming and was beyond taken back by the surprise!
A big thank you to Julie from The Little Kitchen and Christine from Cook the Story for organizing my virtual baby shower. I'm so lucky that we've become friends in real life and that I get to see them every few months (and I'll get to see both of them this weekend)!
The theme of the shower was easy recipes and crafts for new parents. Not only did Julie and Christine ask my food blog friends to participate, but they also organized some of my craft/DIY pals to join in on the fun! My heart was filled with joy and love yesterday. One of the reason's why I love blogging is the friendships I've been able to make over the past four years.
Another big thank you goest out to all my friends who surprised me yesterday. I can't wait to try all the easy recipes, and download the fun craft/printable items for the baby!
In case you missed this in blog land, here is a list of 27 easy recipes and crafts for new parents. I encourage you to check out all the blog post from my virtual baby shower yesterday. I have lots of new recipes to try that should hopefully get us through our first few months as new parents!
Easy Broccoli & Cheddar Soup from The Little Kitchen
Buffalo Chicken Stuffed Peppers from Cook the Story
Individual Tortilla Caprese Pizzas from a farmgirl's dabbles
Easy Cheesy Potato Corn Chowder from A Little Claireification
Slow Cooker Jambalaya from A Spicy Perspective
Italian Style Stir Fry from Aggie's Kitchen
Apricot Chicken from Bombshell Bling
Easy Baked Spaghetti from Chocolate & Carrots
Cuban Casserole with Whole Grain Mustard Butter Biscuits from Climbing Grier Mountain
Freezer-Friendly Quinoa Meatballs from Cooking with Books
Baby Boy Subway Art Printable from H2OBungalow
Peanut Butter Chocolate Chip Banana Cake from Inside BruCrew Life
Asparagus And Leek Quiche from Kokocooks
Roasted Lemon Parmesan Chicken with Red Potatoes from Life After Empty Nest
Yogurt Blueberry and Honey Smoothie from My Sweet Zepol
Pesto Parmesan Chicken Salad from Shaken Together
Printable Baby Whale Themed Cards and Project Life Mini Album from Simply Kelly Designs
Coconut Cookie Butter Sandwich Cookies from Simply Southern Baking
Slow Cooker Pot Roast with Garden Vegetables from Sweet Remedy
Easy Kofta Kebabs from Tasty Chomps
Crock Pot Fajitas with Chicken and Quinoa from The Dinner-Mom
Overnight Oatmeal from The Hungry Housewife
Honey-Dijon Chicken, Apple & Quinoa Wraps from The Kitchen Prep
Slow Cooker Italian Chicken Soup from The Lemon Bowl
Slow Cooker Pulled Pork Tacos from The Nifty Foodie
DIY Whale Art from While They Snooze
One Pot Mexican Chicken and Rice from Yellow Bliss Road