Combine fresh peaches and ripe plum tomatoes to create the ultimate peach salsa recipe.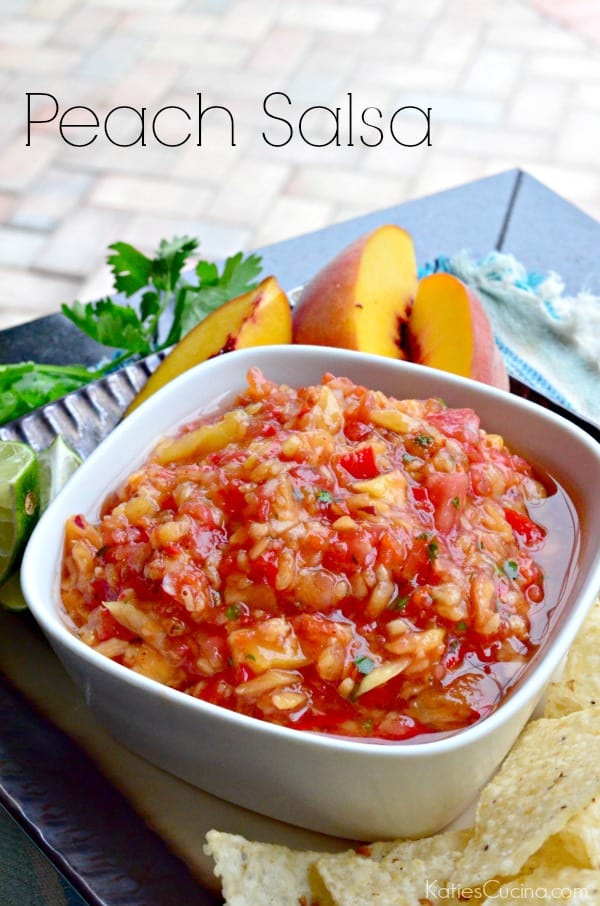 Peach season is nearing the end and what better way to commemorate the season than to make a delicious fresh and homemade peach salsa. I've made mango salsa a few times, sadly never documented it here on Katie's Cucina. While dreaming up ideas for dinner last week, I decided I would make a big batch of peach salsa verse my traditional salsa recipe that I make on a weekly basis. If dinner isn't close to being ready by the time my husband gets home from work we typically have what we call an appetizer and indulge in some chips and dip. If my husband had his way he would eat greasy potato chips with fattening french onion dip. But me, being the good and health conscious wife I am always try to have healthy options on hand. Hence why I pretty much always have fresh salsa in the fridge! It's light enough to not ruin dinner yet filling enough to keep us content.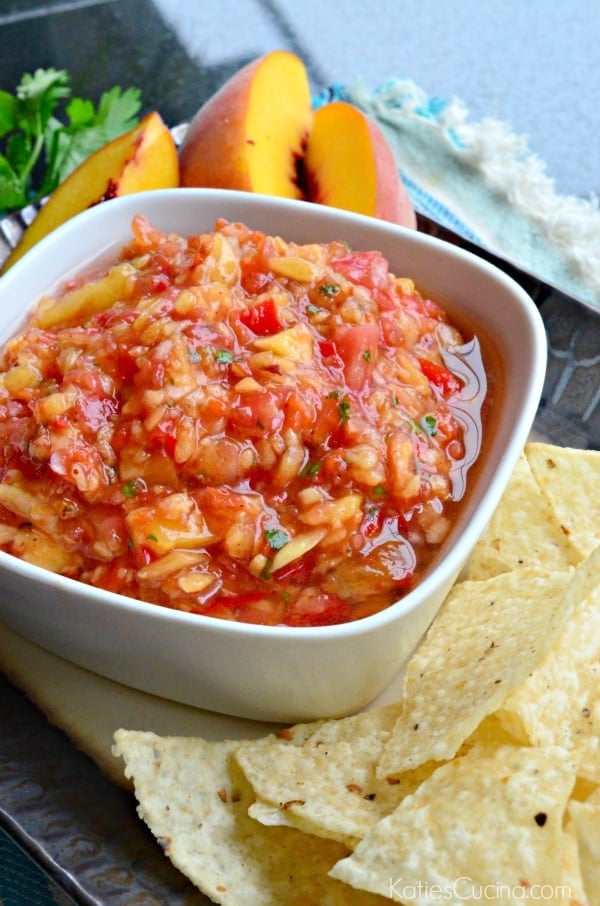 Back to my dinner planning. My husband went deep sea fishing for the first time in a year last month. He caught the biggest red snapper of the day on the east coast of Florida! That meant fish fillets for our freezer. Which I welcome with open arms since it's been a year since our freezer has been stocked with fish! I have perfectly portioned bags of fish for two in the freezer. I take them out of the freezer the night before and place them into the refrigerator to thaw and by the next day they are typically thawed and ready to go by dinner time. Last week, I decided I would make blackened red snapper and top it with peach salsa. The dinner turned out divine and we found ourselves eating large spoonfuls of peach salsa with each and every bite of the white flakey fish (recipe to come)!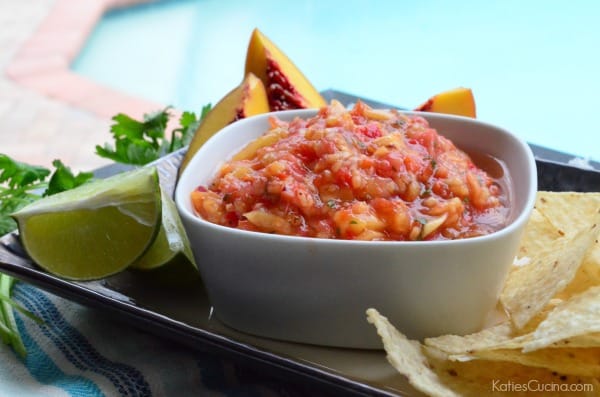 This peach salsa would also compliment a grilled pork tenderloin or chicken breast. Oh and what about a fresh summer spinach salad and using a few spoonful of peach salsa instead of dressing? Or of course you can scoop up the peach salsa with crispy tortilla chips! Peach salsa is perfect for munching on poolside, too!
Katie Original Recipe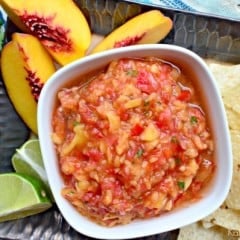 Ingredients
2

tbsp

fresh cilantro

1

tsp

lime juice

1/4

red bell pepper

1/4

red onion

1/4

tsp

garlic powder

1/4

tsp

cumin

1/2

tsp

chili powder

1

tbsp

brown sugar

3

Peaches

peeled and halved

2

plum tomatoes

quartered
Instructions
In a food processor combine, fresh cilantro, lime juice, red bell pepper and red onion. Pulse for 5 seconds. Then add in the garlic powder, cumin, chili powder, brown sugar, peeled and halved peaches, and quartered plum tomatoes. Pulse for 5-10 seconds until diced up. Serve immediately or refrigerate in a sealed container for up to 3 days.
Nutrition
Calories:
68
kcal
|
Carbohydrates:
16
g
|
Protein:
2
g
|
Fat:
1
g
|
Saturated Fat:
1
g
|
Sodium:
8
mg
|
Potassium:
313
mg
|
Fiber:
2
g
|
Sugar:
14
g
|
Vitamin A:
945
IU
|
Vitamin C:
22
mg
|
Calcium:
10
mg
|
Iron:
1
mg