Combine fresh homemade peach salsa with pan seared Blackened Red Snapper for the ultimate weekday dinner!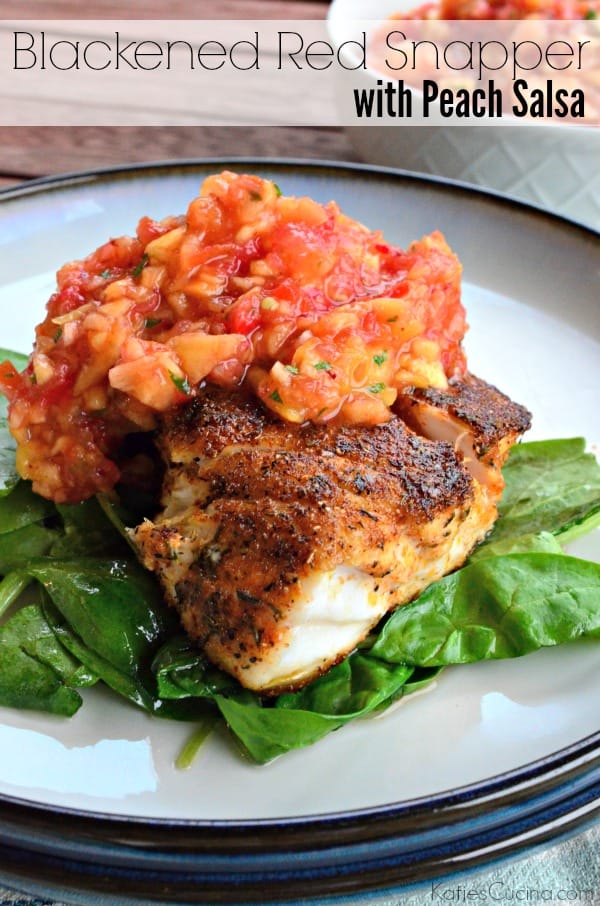 I mentioned last week how my husband went deep sea fishing on the east coast of Florida last month during the very short-lived red snapper season. He hasn't been deep sea fishing since last summer and sadly when he went last summer I couldn't indulge in any of the fish he caught because I was pregnant and had a horrible food aversion to all things fishy smelling. We went from consuming fish on a weekly basis to 100% cut off! I did try cooking it later towards the end of my second trimester and a minute into cooking fish I thought I was gonna get ill. Needless to say we ended up giving away all the fish in our freezer to friends and family since by the time I would be able to stomach fish it would all have gone bad. It killed me to giveaway all of our fish. I'm talking a month's worth a meals.
It's been nice having a few bags of freshly caught red snapper in the freezer again. To preserve the few bags we have I've added it into my dinner rotation every other week. That way it will last us until September and hopefully by then my husband will have gone fishing again and have caught even more fish for us to enjoy! A little information for those who are not familiar with red snapper. You can fish for it from North Carolina all the way down to the Florida keys. Spawning typically occurs from May through October with the peak time here in Florida in July. Because of over fishing, Florida Fish and Wildlife have dramatically shortened the season. Now, you can only fish for red snapper a few weekends in July and August. Limiting one red snapper per person per boat. Did you know that adult red snapper may live to be 20 years old and 35lbs in weight (source)? Pretty crazy to think!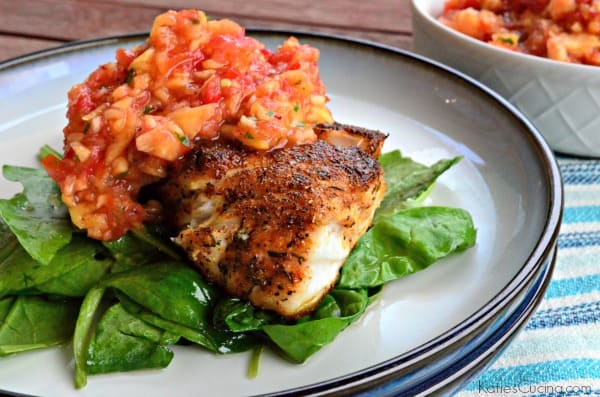 Red snapper is a white flaky but firm fish. So don't worry if you aren't lucky like me to had red snapper laying around your freezer. If you can't find it in the stores you can opt for a mahi mahi or even a grouper. I loved making this recipe for
Blackened Red Snapper with Peach Salsa
because not only is it healthy it's super quick and easy to make! And it made me feel like we were eating in some swanky restaurant–when in all actuality we were at home on a week night with a baby cooing and laughing at the dinner table. Even better the entire recipe is done from start to finish in 10 minutes. To ensure you can make it this quickly always read the entire recipe first! So if you love fish and looking for a which and healthy meal my recipe for Blackened Red Snapper with
Peach Salsa
should fit the bill!
Katie Original Recipe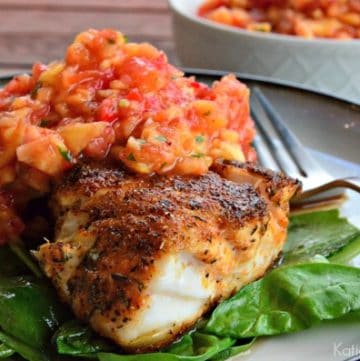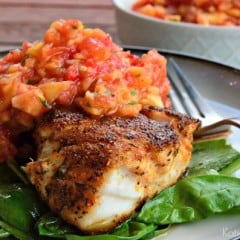 Blackened Red Snapper with Peach Salsa
Combine fresh homemade peach salsa with pan seared Blackened Red Snapper for the ultimate weekday dinner!
Print
Pin
Rate
Ingredients
2

filets of Red Snapper

about 1/2lb

2

tbsp

grape seed oil

divide

1

tbsp

homemade blackening season

1

cup

peach salsa

divided
Instructions
Preheat sauté pan on medium heat. Pour in one tablespoon of grape seed oil. While oil is heating rinse and pat dry fish. Place fish on plate and pour over remaining 1 tablespoon of grape seed oil. Then sprinkle on blackening seasoning, dividing among the two filets, seasoning both front and back. Don't be afraid to use your hands to massage the seasoning into the fish (don't forget both sides).

Place fish fillets in pan. Cook on medium heat for 5 minutes, flipping once. Your red snapper should have a nice blackened crust on both sides and be cooked inside (internal temperature of 165 degrees Fahrenheit).

Plate and top with a generous portion of peach salsa (about 1/4 - 1/2 cup salsa each filet).
Notes
Serve on top of wilted spinach if desired.
Nutrition
Calories:
1061
kcal
|
Carbohydrates:
9
g
|
Protein:
187
g
|
Fat:
26
g
|
Saturated Fat:
4
g
|
Cholesterol:
333
mg
|
Sodium:
2025
mg
|
Potassium:
4124
mg
|
Fiber:
2
g
|
Sugar:
5
g
|
Vitamin A:
1578
IU
|
Vitamin C:
17
mg
|
Calcium:
327
mg
|
Iron:
2
mg