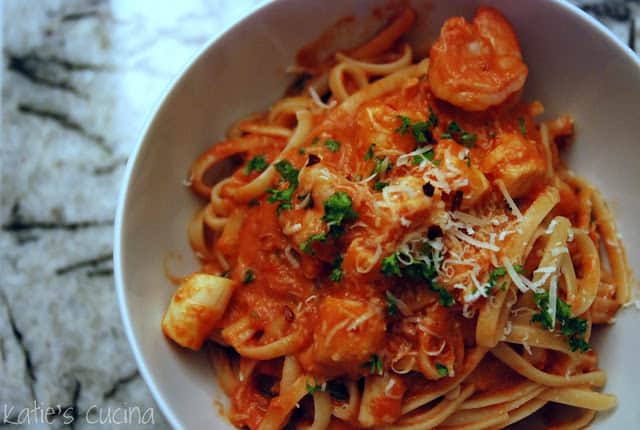 I've found my new favorite pasta dish. I've made this recipe 3 times since originally making this last month. It's that good. Whether you add the seafood or not, the vodka sauce is to die for. This was my first time making vodka sauce. I know… gasp. I didn't realize how easy it was until after I made it. I did alter the recipe a tad. I added some fresh herbs in the sauce and also on top of the pasta. I added a tablespoon of sugar. I like a sweeter sauce. I also didn't add the full ½ teaspoon of red pepper flakes like Paula suggest. You can always add heat but you can't take it away. Because of that I always tend to add less and then once it's done everyone can add more if they desire too. I ended up adding more and I think the ½ teaspoon would most likely be bearable, but I didn't want to ruin a perfectly good meal. If you tend to not like spicy… add a little and work your way up. If you love seafood and you love pasta I promise your going to love this super simple dish. I can't wait to serve this at a dinner party… it's perfect dinner party food!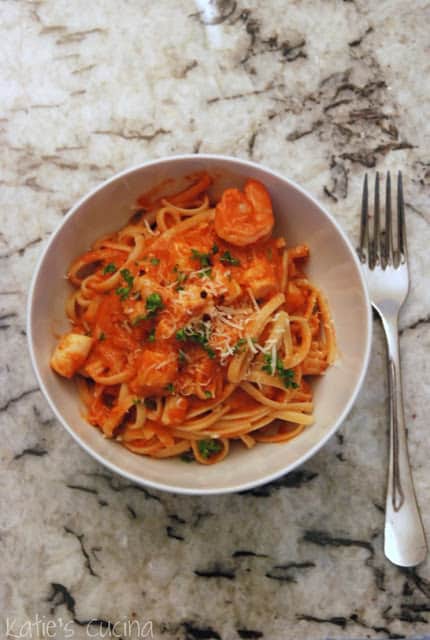 Adapted from: Paula Deen
Prep Time: 10 minutes
Cook Time: 25 minutes
Servings: 4


Ingredients:
2 tablespoon olive oil
4 cloves garlic, minced
½ cup vodka
1 14oz can crushed tomatoes
½ cup heavy cream
¼ teaspoon red pepper flakes
1 tablespoon sugar
2 tablespoon fresh pasley, chopped + more for garnish
2 tablespoon basil, chiffonade
salt and pepper
½ lb bay scallops
½ lb shrimp, peeled and deveined
1 lb linguine
*Parmesan Cheese


Directions:
1. Cook the pasta in a large pot of salted, boiling water over medium heat, according to package directions.


2. While the pasta is cooking heat the oil in a large skillet over medium heat. Add the garlic and cook until fragrant (about 1 minutes). Add the vodka and turn the heat up to medium-high; cook until the liquid has reduced by half. Add the tomatoes, cream, pepper flakes, sugar, fresh basil, fresh parsley, and salt and pepper, to taste. Cook, stirring occasionally, until thickened, about 3 to 5 minutes. Add the seafood and cook until just opaque, about 3 minutes.


3. Drain and transfer the pasta to the pot where the seafood vodka sauce is cooking. Mix in the sauce and toss to combine. Serve immediately; top with more fresh parsley and freshly grated parmesan cheese.