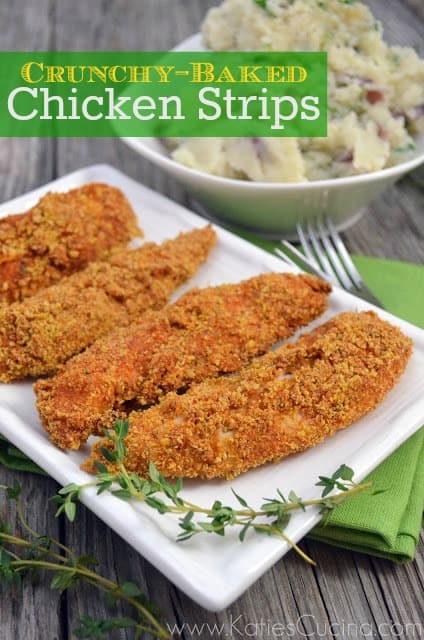 I made these crunch-baked chicken strips on Sunday night for dinner. These plump and juicy chicken strips were so amazing that I had to blog about them this week. Seriously, I needed to share this amazing recipe stat with all my readers. I'm going to tell you a little secret here… typically I cook/bake a few months out from when my post actually go to publish. It is just how life is, and its nice because I always have a nice little stock-pile of recipes waiting to be debuted (they always just need the TLC aka photo editing and recipe writing to be completed). So, with all this being said. You must now realize how special these chicken strips are. If I go back for seconds on any meat of any kind I know its damn good!
I rarely ever make a breaded chicken that is baked. It's either baked naked with seasoning on it, grilled, or sauteed in a pan. As I "thumbed" through the pages of my online copy of Eating Light I stumbled across this recipe. (A big thanks to a twitter follower who informed me that I can download magazines for free from our public library right on to my iPad!) It looked homey and comforting and low-calorie; which we can all afford to cut a few calories from our diet since binging on cookies, gingerbread, and all things peppermint in December.
The photo in the magazine of the super-crunchy chicken reminded me of the Shake-n-Bake chicken my mom would make when I was a kid. (I recognize, I'm sure to get a phone call and/or text message/email from my mom about "outing" her once again.) Nothing wrong with Shake-n-Bake. Let's just put that out there. The calories in such crispy chicken mixture isn't so great for us. So why not recreate an old favorite and be able to control what is going into it? I can attest that this chicken is 100 times better the new and improved way. And are you wondering how we achieve the crunchiness to the chicken? Cornflakes! Which I could write a whole other post on how my mom use to make what we called cornflake chicken when I was a kid. By the way, my husband had no idea he was eating what he would call a "diet" recipe. So with that being said… run. Don't walk, and go make this recipe.
I can't end this post without wishing my parents a happy 30th wedding anniversary! Seriously, in this day-in-age its unheard of for two people to be together for so long. So congrats to them and heres to another 30 years together!
I served the Crunchy-Baked Chicken Strips with Olive Oil Mashed Potatoes and Cauliflower. Recipe coming soon.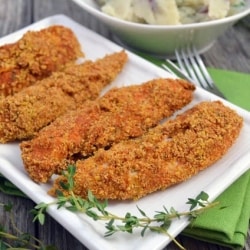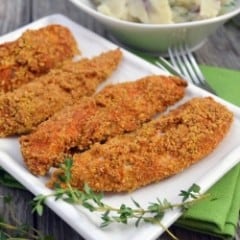 Crunchy-Baked Chicken Strips
So why not recreate an old favorite and be able to control what is going into it? I can attest that this chicken is 100 times better the new and improved way.
Print
Pin
Rate
Ingredients
1-1/2

cups

fat-free buttermilk

1

egg white

3

tsp

hot pepper sauce

1

lb

boneless skinless chicken strips

3

cups

cornflake-cereal

2

tbsp

paprika

1

tbsp

fresh thyme

1

tbsp

garlic powder

1

tsp

salt

Nonstick cooking spray
Instructions
Preheat oven to 400 degrees.

While oven is preheating, mix buttermilk egg white and hot pepper sauce in a deep bowl: mix well until incorporated. Rinse off chicken strips and add them to the buttermilk mixture. Let them sit while you prepare the crunchy mixture.

In a large food processor add cornflake-cereal, paprika, fresh thyme, garlic powder, and salt. Pulse until you have crumbs and all the seasonings have been incorporated together. Carefully pour the bread crumb mixture into a shallow plate.

Line a baking sheet with a Silpat (or tinfoil) then place a metal cookie cooling wire rack on top of the lined baking sheet. Spray with non-stick cooking spray. Then, begin assembling the chicken. One-by-one place the buttermilk chicken into the shallow plate and coat with crumb mixture. Then place on to the wire rack. Repeat until all the chicken strips have been covered and are on the wire rack.

Bake for 20 minutes or until crumb coating is crusty and browned and the internal temperature of the chicken reaches 165 degrees.
Nutrition
Calories:
238
kcal
|
Carbohydrates:
23
g
|
Protein:
29
g
|
Fat:
4
g
|
Saturated Fat:
1
g
|
Cholesterol:
73
mg
|
Sodium:
989
mg
|
Potassium:
581
mg
|
Fiber:
2
g
|
Sugar:
4
g
|
Vitamin A:
2216
IU
|
Vitamin C:
11
mg
|
Calcium:
25
mg
|
Iron:
8
mg