Smoked Paprika and Shallot Brussels Sprouts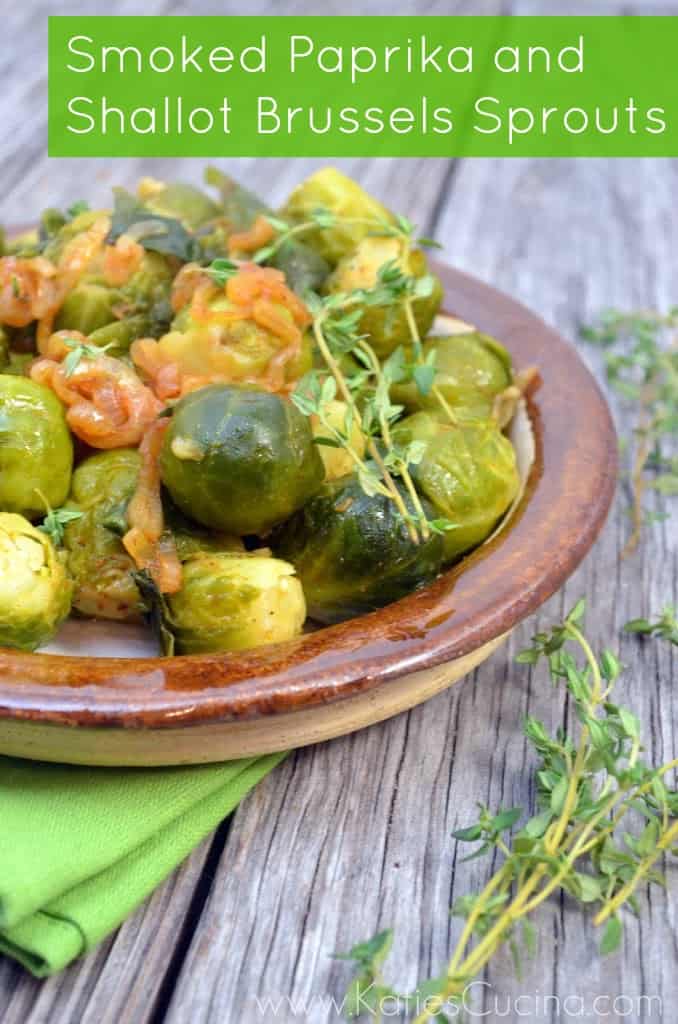 Last year, I shared this recipe over on Rachel Cooks. I figured why not share it this year with my readers in case you missed this awesome recipe last year.  People either love or hate Brussels sprouts. I am a lover, but I'll be the first to admit it wasn't until my late teens / early twenties when I first began to fall in love with Brussels sprouts. I am always looking for new ways to cook them up. I also love to keep my vegetable side dishes relatively healthy and not drown them in butter and fattening sauces. That is why I turned to my good friend, I mean spice, smoked paprika. This spice packs a punch and can bring tons of new layers of flavors to any dish. I just so happened to have a shallot in my pantry so I decided to make them fancy and add an extra-large shallot to the pan.
The night I made the Smoked Paprika and Shallot Brussels Sprouts I served them with the most delicious (and once again easy-to-make) Crunchy-Baked Chicken Strips and Olive Oil Mashed Potatoes and Cauliflower. This is a perfect healthy meal to cook on a busy weeknight when time is limited. Instead of reaching for your phone to call take-out give my complete meal a try!
Katie Original Recipe
Smoked Paprika and Shallot Brussels Sprouts
Ingredients
1 lb. Brussels sprouts, trimmed and stems removed
2 tbsp olive oil
1 shallot, thinly sliced
1/2 tsp salt
1/4 tsp pepper
1 tsp smoked paprika
2 sprigs of fresh thyme + more for garnishing
Directions
Trim and remove stems from brussels sprouts. Place in a large pot and boil for 10 minutes until tender.
In a skillet, add two tablespoons olive oil and one shallot (thinly sliced). Cook for 3 minutes on medium heat then add the salt, pepper, and smoked paprika to the pan. Stir well and then add brussels sprouts: stirring so that the shallots and seasoning cover the sprouts. Cook for 5 additional minutes. Once the Brussels sprouts are done sprinkle with fresh thyme and serve!
https://www.katiescucina.com/smoked-paprika-shallot-brussels-sprouts/
This recipe is brought to you by Katie Jasiewicz of Katies Cucina
Warning
: Use of undefined constant rand - assumed 'rand' (this will throw an Error in a future version of PHP) in
/home/kjasiewicz21/webapps/katiescucina/wp-content/themes/katiescucina/single.php
on line
74
13 Responses to "Smoked Paprika and Shallot Brussels Sprouts"
Leave a Comment