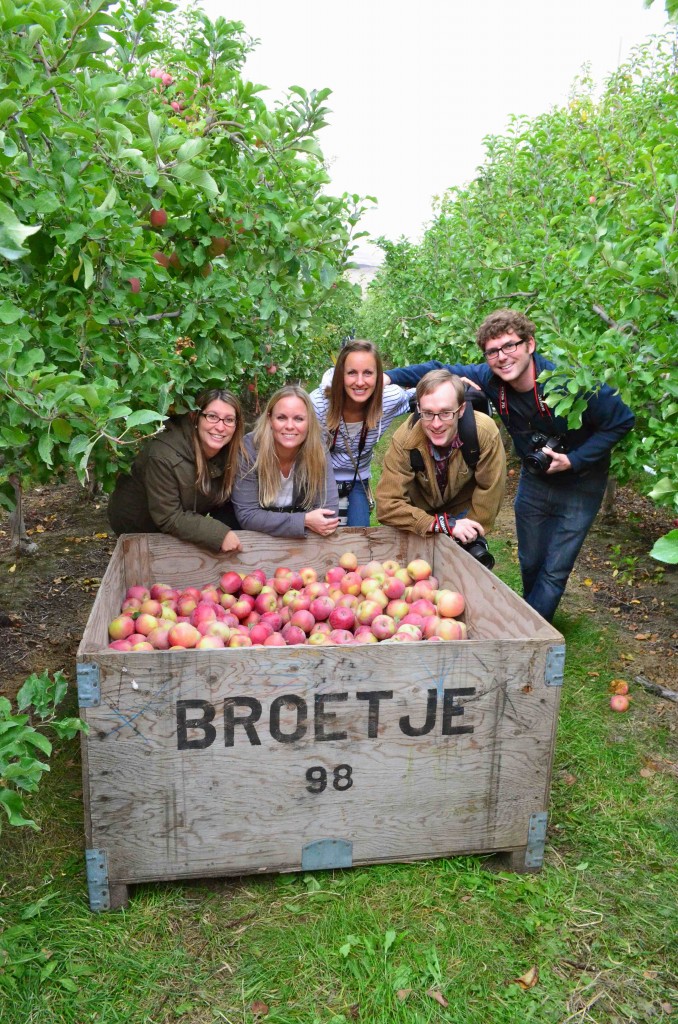 Back in September, I had the opportunity to travel to Washington State to learn all about apples. Not just any apples. Apples grown at Broetje Family Orchards owners of First Fruits; specifically the Opal® brand apple (among all the other varieties the family grows). I was accompanied by Kevin from Closet Cooking, Lindsay and Bjork from Pinch of Yum, and my dear friend Leslie from The Hungry Housewife.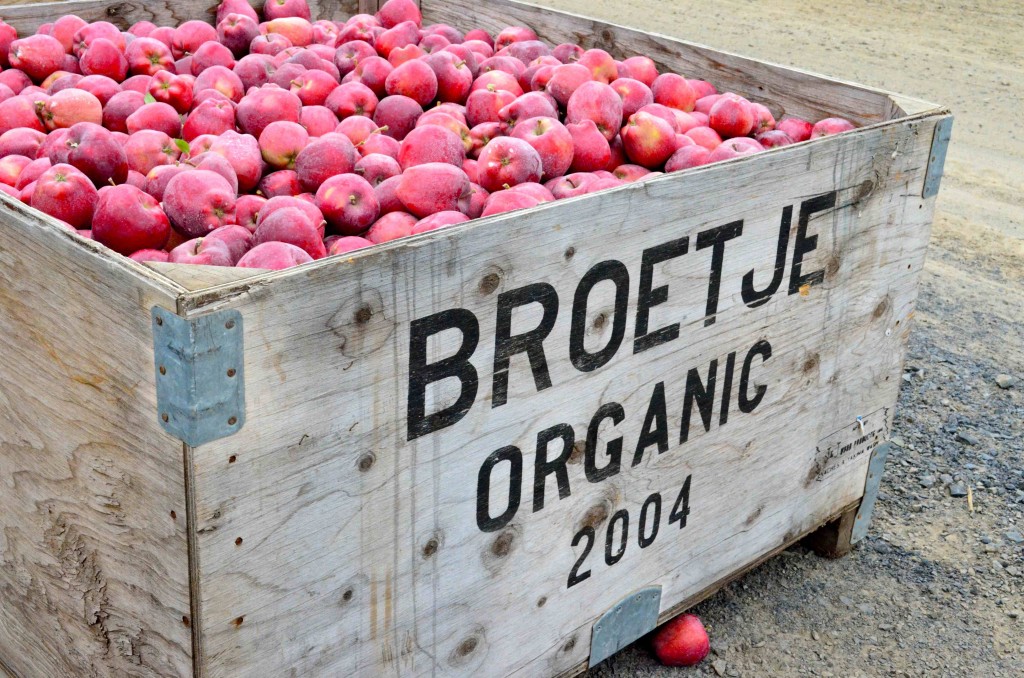 In just three short days, during my visit to Prescott Washington, we toured some of the 6,000+ acre farm the Broetje family owns. We learned the story of how the orchard came to life first hand from Ralph and Cheryl Broetje. Ralph and Cheryl are amazing entrepreneurs, philanthropist, and all-around humble and caring people.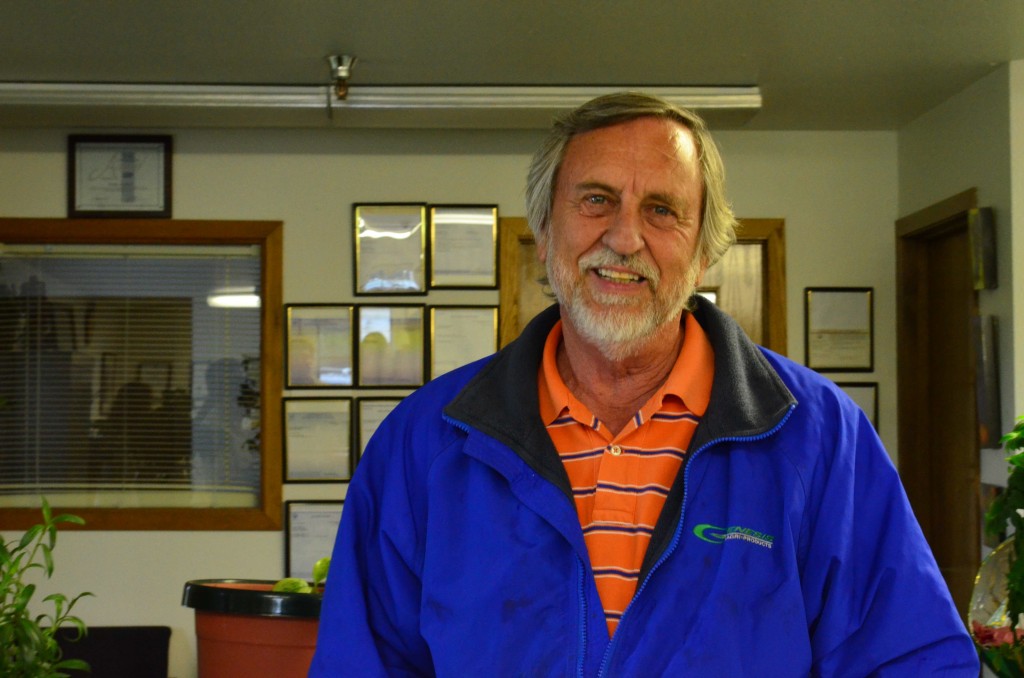 (Founder, Ralph Broetje pictured above)
"Broetje Orchards was founded by Ralph and Cheryl Broetje in 1967 and has grown to become one of the largest privately owned and operated orchards in the country. Based on the founding dream to help those in need, and a servant leadership philosophy to empower others, 50% of profits are invested annually to further our mission of "bearing fruit that will last." One of the most recent ventures, Ralph and Cheryl have gotten into is a new variety of apple!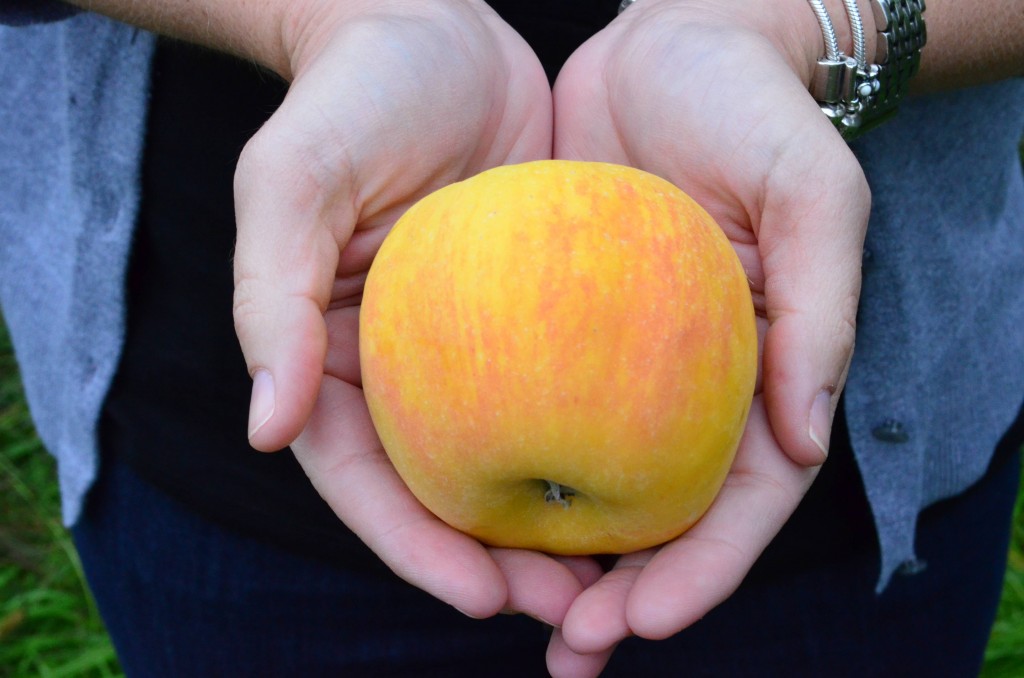 (compliments to my lovely hand model, Leslie from The Hungry Housewife)
The Opal® apple was discovered in Europe in 1999. The Opal apple was bred naturally (meaning non-GMO). The non-browning characteristics in Opal were discovered by chance, when Topaz and Golden Delicious were cross-bred, creating Opal. Cross-breeding is a traditional and natural method for creating new varieties. Browning is caused by a specific enzyme in apples which cause apple flesh to discolor when exposed to oxygen. Opal has a naturally low occurrence of this enzyme, thus slowing the browning process when cut.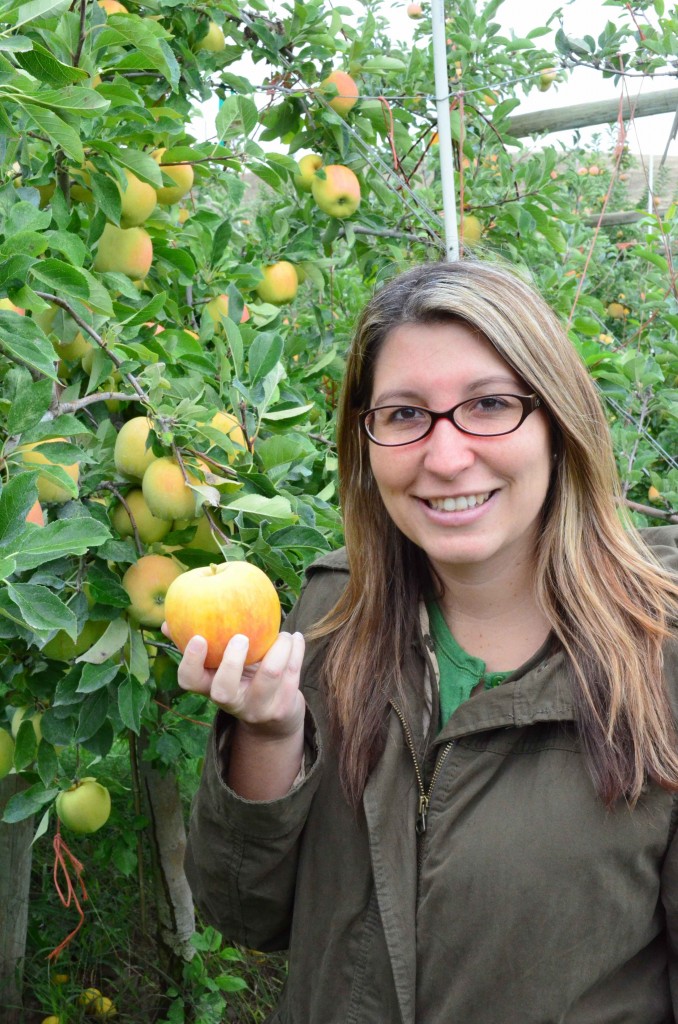 In March of 2010, Opal® brand apple made its debut appearance in the United States grown exclusively by Ralph Broetje, Broetje Orchards in Washington State. Opal® Brand apple is being marketed and distributed exclusively in North America by FirstFruits Marketing of Washington.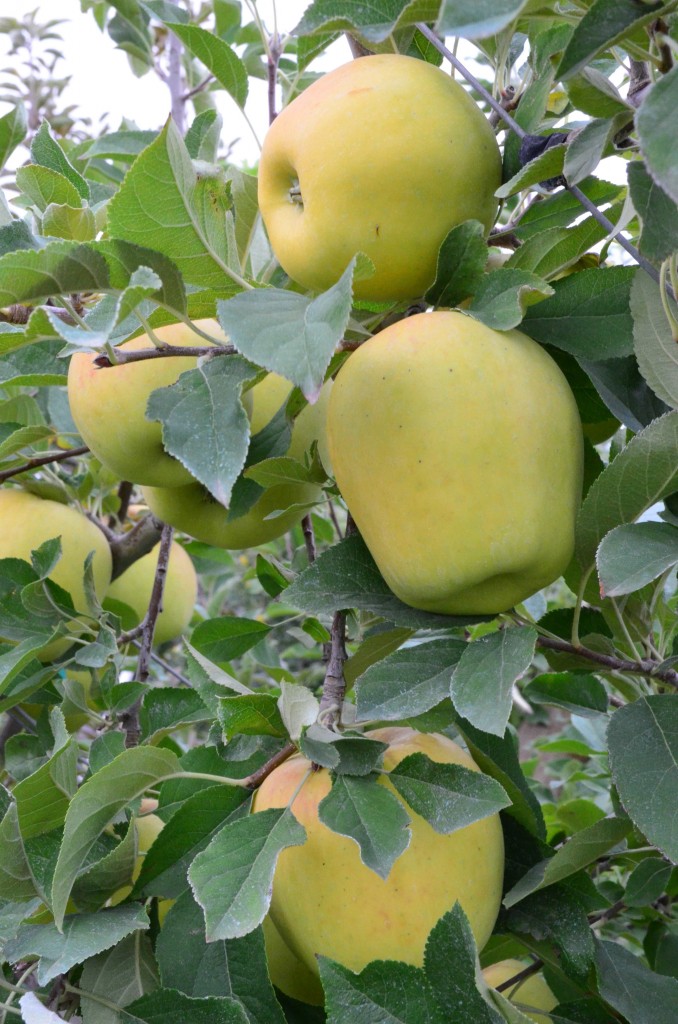 The Opal® brand apple variety has been praised for its bright yellow color accented with natural russeting at the stem, but is recognized above all for offering a distinctively crunchy texture and sweet and tangy flavor. In addition to its great taste, Opal® apple doesn't brown after slicing so it is perfect for snacking and lunches! Seriously, this apple is delicious. Its crisp and refreshing and best of all is low oxidizing, so it takes a while for it to brown!
I created a quick video from my trip to Broetje Orchards. It will give you an idea of how the apple process goes from start to finish. Unfortunately, Opal Apples were not in season when we were there, so you will see other varieties of apples in the packing facility.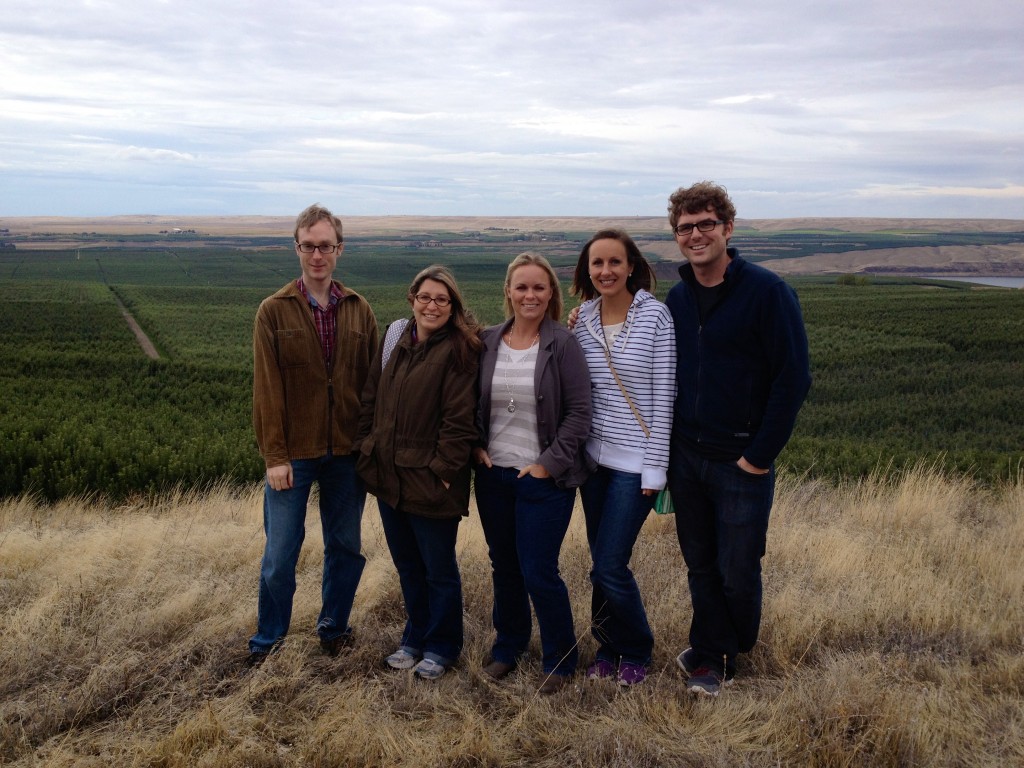 Here are a few more photos from my trip. The rain finally stopped giving us time to get all the way on top of the orchard and check out the view from above. It was cold and the wind was whipping. The view was breath taking!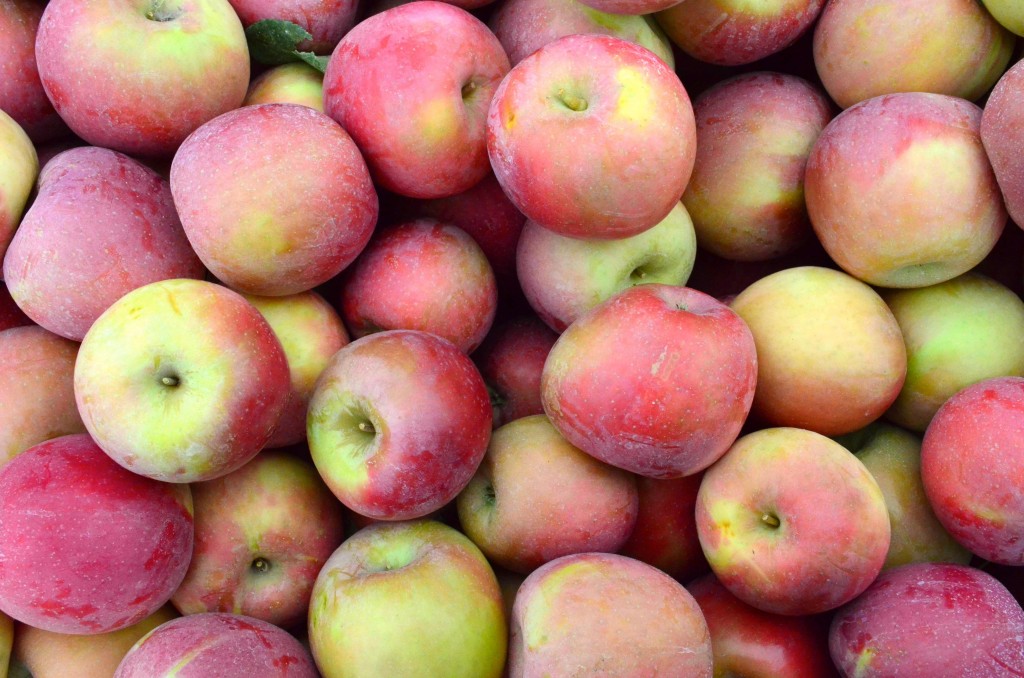 Apples were everywhere and couldn't help but snapping photos of them unwashed in their bins before they made it to the packing facility. I love this photo… I think I want to frame it and hang it in my kitchen to remind me daily how are food gets to us!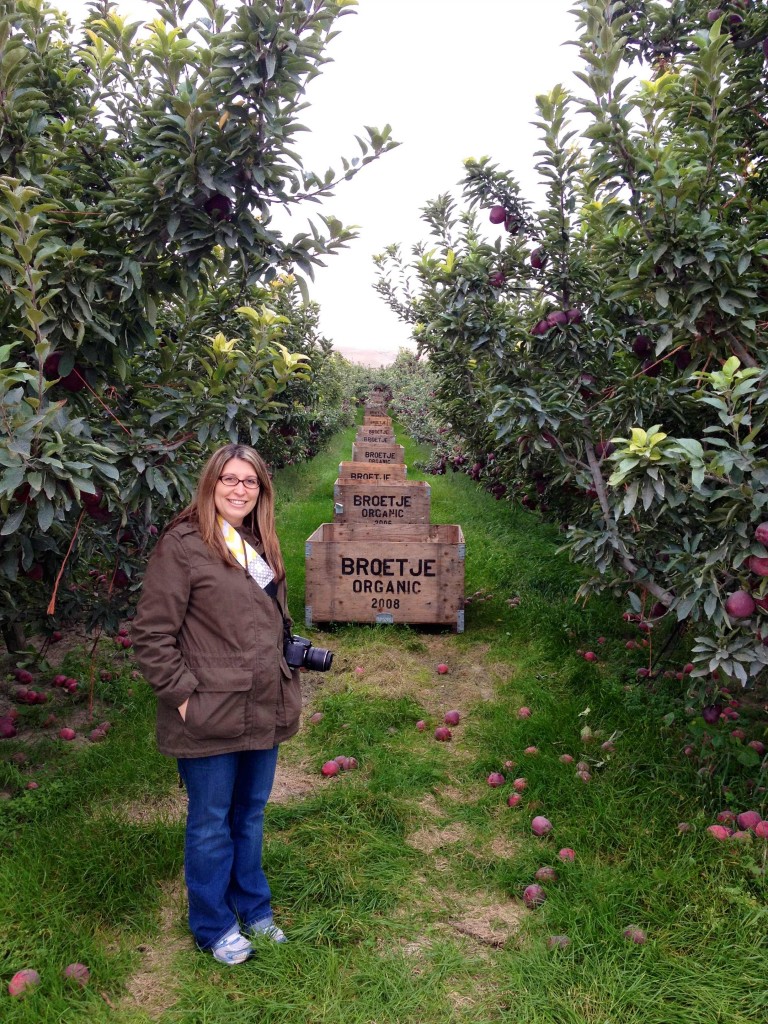 This is probably one of my favorite photos of the trip, and best of all… it was snapped on my iPhone. You would never know! This was back when I was able to zip up my jacket. Sadly, this jacket does not zip any more. I was 14 weeks with an itty-bitty baby bump!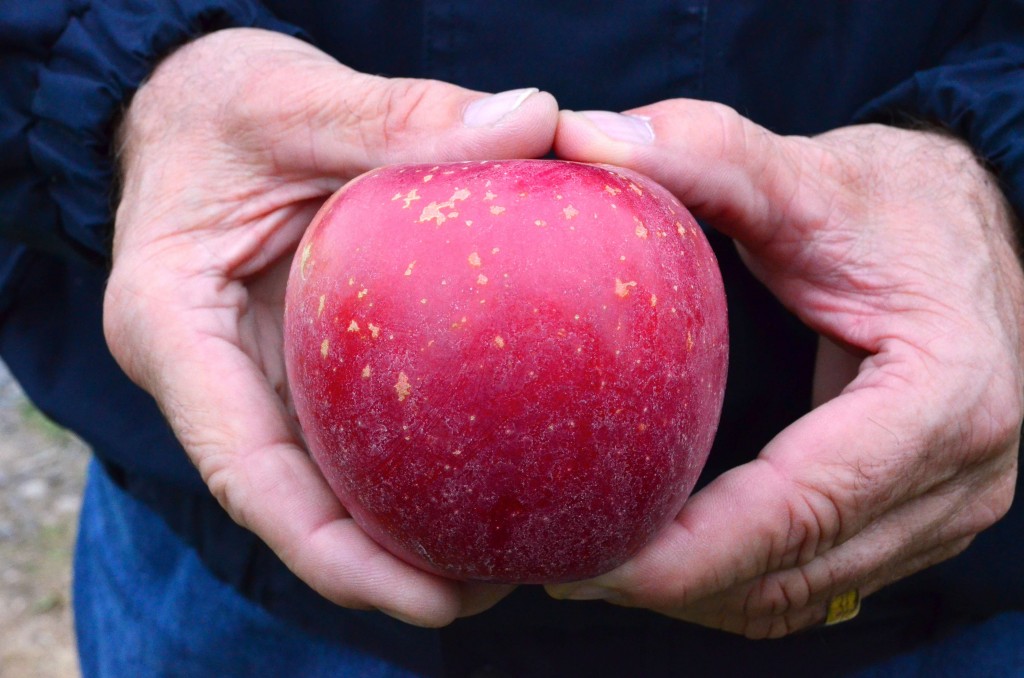 Keith, who works for FirstFruits Marketing shared many stories with us. He was holding this apple as he explained about the variety and I felt compelled to photograph it in his hand.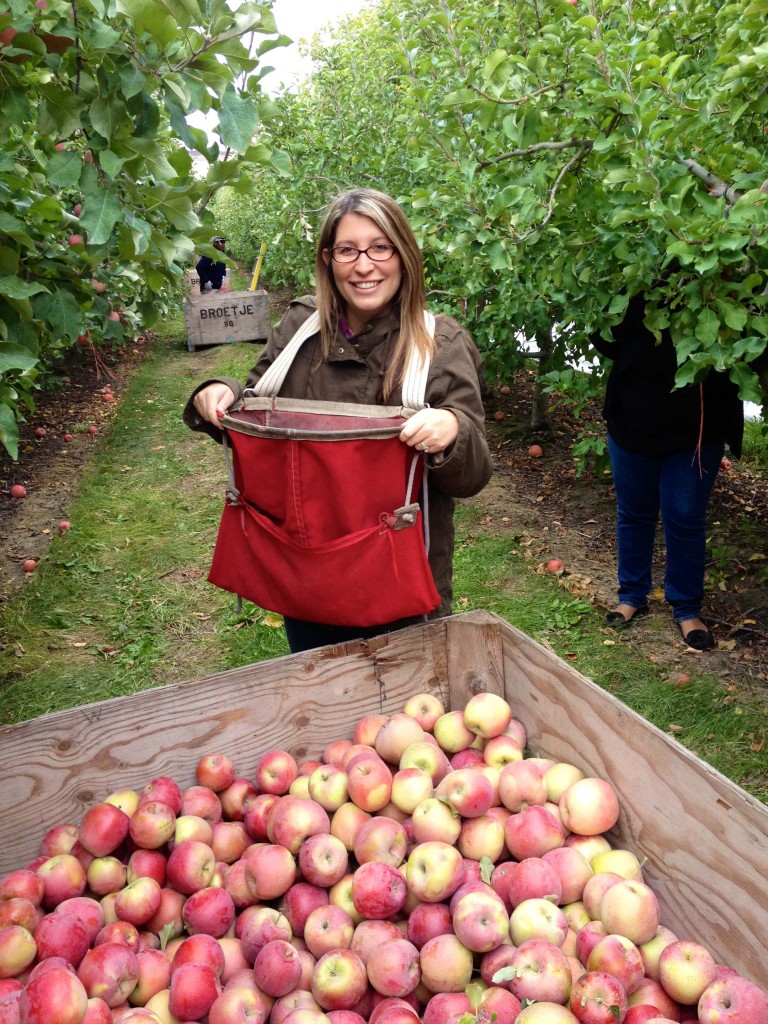 I was one of the few who volunteered to try to pick apples. Let me tell you first hand, its hard work. Don't think that anyone can do it. Its back breaking and there is an art to picking apples without bruising the apple or hurting the tree it rest in. I picked maybe a dozen and I officially retired! The workers will climb tall ladders and work until their bag is completely full. Then climb down the ladder, and carefully empty their bag by releasing the toggles in the middle of the bag (see photo above). Fun fact, when I sent this photo to my parents to tell them I was having a great time I immediately got a phone call and a scolding about how I shouldn't be lifting anything heavy. I informed them that I had maybe a dozen apples in the bag… the baby and me were not in any harm!
So are you interested and wondering what the Opal really tastes like? Your in luck! It's Opal season! Interested in trying this new variety of apple? Check out the locator to see what stores in your state are carrying the Opal® brand apple!
Make sure you like Opal Apples on Facebook. Every week now through the end of February, they will be picking one fan to receive free Opal apples! All you have to do is like a post, comment, share, whatever tickles your fancy for a chance to win!
Read other Broetje Orchards recaps:
Opal Apples. More Than Just The Apple. from The Hungry Housewife
And now you know about Opal Apples from Pinch of Yum
Disclaimer: FirstFruits Marketing flew me out to Washington. I was not required nor compensated to post about my experience. I love the brand and wanted to share their story and my trip with my readers. As always all opinions are my own.