Looking to take your chicken tenders to the next level? Discover a variety of mouthwatering sides for chicken tenders that pair perfectly and complement these crispy delights.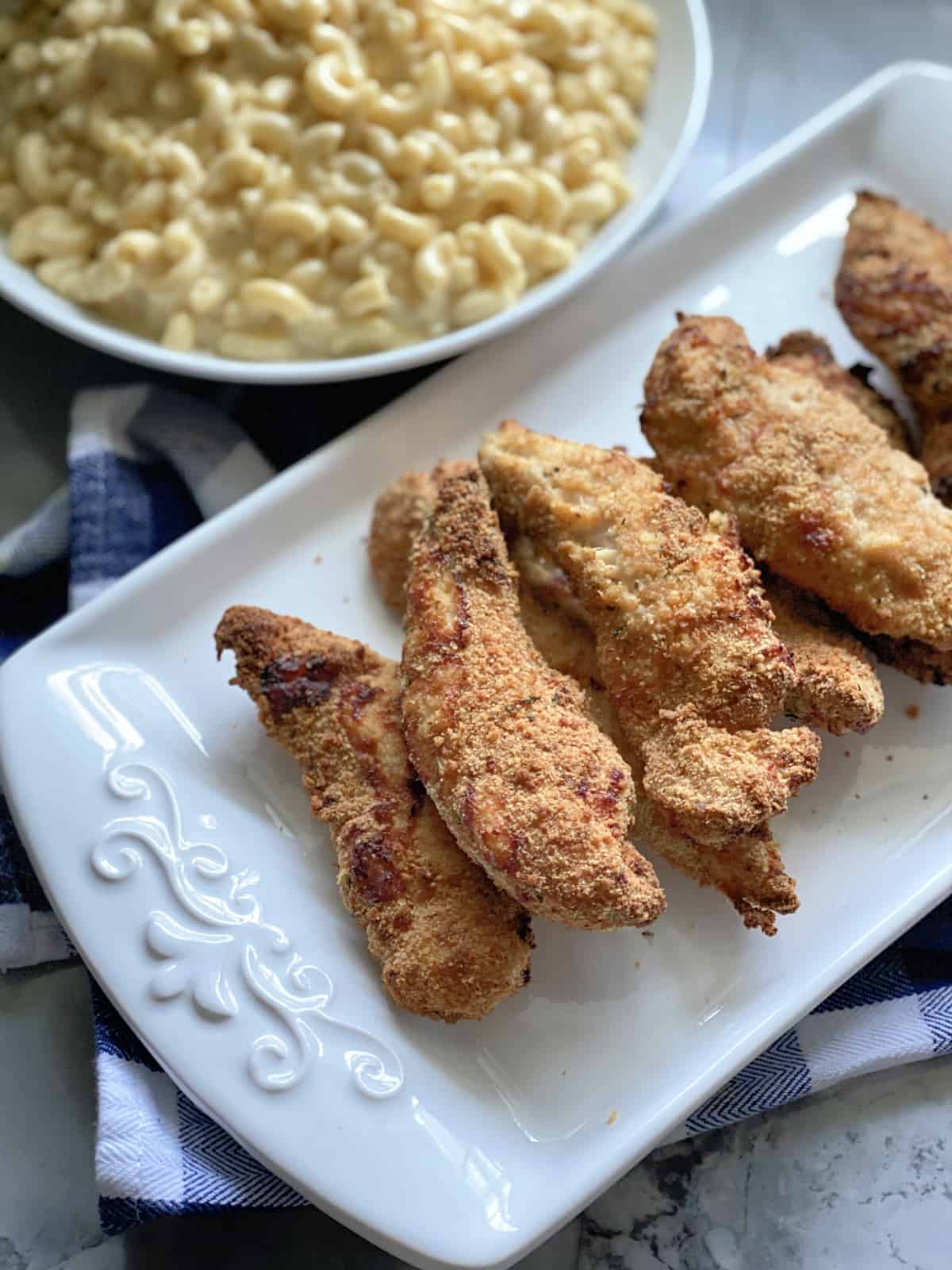 Whether you like to enjoy chicken tenders Air Fried, grilled, or even baked you will love getting ideas for sides for chicken tenders. With their crunchy exterior and tender interior, chicken tenders a beloved classic dish that appeals to both kids and adults alike. But why stop at just the chicken tenders? Elevate your meal by pairing them with side dishes that add a burst of flavor, texture, and variety to your plate. Whether you're hosting a casual family dinner or a weekend get-together with friends, these sides will take your chicken tenders from ordinary to extraordinary.
Jump to:
Sides that Pair Well with Chicken Strips
Fries – Enjoy traditional french fries or even swap out regular fries for these slightly sweet and crispy sweet potato fries that provide a delightful contrast to the tenders' savory flavor.
Coleslaw– The cool and creamy texture of coleslaw complements the crispy tenders perfectly, adding a refreshing element to your plate.
Refreshing Cucumber Salad – A light and tangy cucumber salad with dill and red onion provides a refreshing counterpoint to the richness of the chicken tenders.
Savory Garlic Bread – Turn simple garlic bread into a standout side by using fresh herbs, fresh and granulated garlic, butter and mayonnaise plus a sprinkle of Parmesan cheese and mozzarella cheese.
Casseroles – Whether you want to make a broccoli and cheese casserole or a hash-brown casserole — casserole's are always a great idea. Especially if you are feeding a lot of people!
FAQs for Sides for Chicken Tenders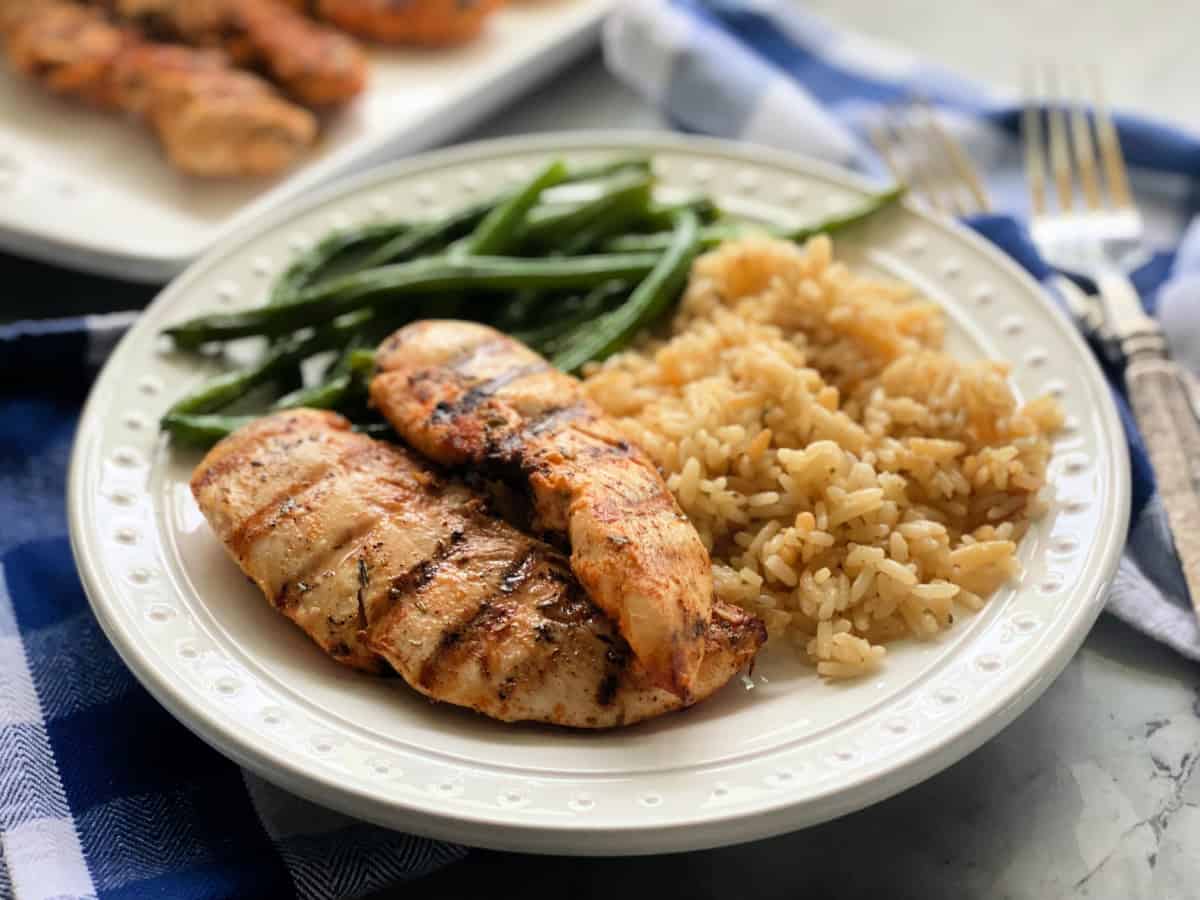 What are some good sides for chicken tenders?
There are plenty of options to choose from! We'll explore a range of sides that balance out the flavors and create a well-rounded meal.
Can I make these sides healthier?
Absolutely! Many of these sides can be prepared in healthier ways, such as baking instead of frying or using lighter ingredients.
Are these sides suitable for kids?
Yes, many of these sides are kid-friendly and perfect for picky eaters. You can adjust seasonings and ingredients as needed.
Can I make these sides ahead of time?
Certainly! Some of these sides can be prepared in advance, allowing you to spend more time enjoying your meal and less time in the kitchen.
How to Reheat Chicken Tenders
Reheating chicken tenders to enjoy their crispy texture and delicious flavor can be easily done with a few simple steps. Here's how:
Reheating chicken tenders to enjoy their crispy texture and delicious flavor can be easily done with a few simple steps. Here's how:
Method 1: Oven Reheating
What You'll Need:
Instructions:
Preheat your oven to 350°F (175°C) to ensure even reheating without overcooking the chicken tenders.
Line a baking sheet with aluminum foil. This helps to prevent the tenders from sticking and makes for easier cleanup.
Arrange the chicken tenders on the baking sheet in a single layer. Make sure they are not overlapping to ensure uniform reheating.
If desired, lightly brush or spray the chicken tenders with a small amount of oil to help them retain their crispiness during reheating.
Place the baking sheet in the preheated oven and reheat the chicken tenders for about 10-15 minutes. The exact time may vary based on the oven and the thickness of the tenders.
Check the tenders periodically to avoid overcooking. They are ready when they are heated through and the internal temperature reaches 165°F (74°C), ensuring they are safe to eat.
Once heated, remove the baking sheet from the oven and let the chicken tenders rest for a minute before serving.
Method 2: Microwave Reheating
What You'll Need:
Microwave-safe plate
Microwave
Instructions:
Place the chicken tenders on a microwave-safe plate, arranging them in a single layer. If you're reheating a large batch, you might need to reheat in multiple batches.
Cover the chicken tenders with a microwave-safe cover or a damp paper towel. This helps to retain moisture and prevent them from drying out during reheating.
Microwave the chicken tenders on medium power (50%) in 20-30 second intervals. This slower approach helps to evenly distribute the heat and avoid overcooking.
Check the tenders after each interval to assess their temperature. Depending on your microwave's power and the quantity of tenders, it might take 1-3 minutes to reheat them thoroughly.
Once heated through, remove the plate from the microwave and allow the chicken tenders to rest for a minute before serving.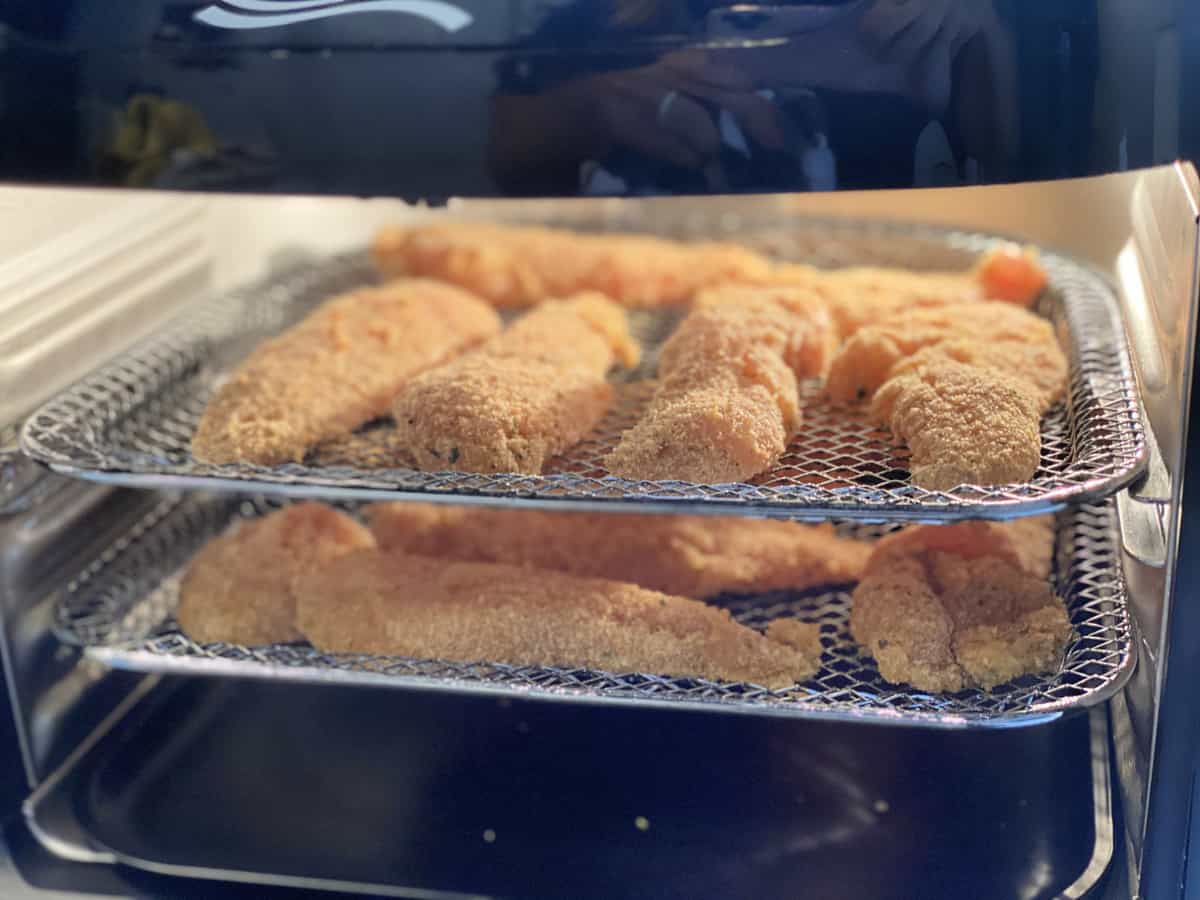 Method 3: Air Fryer Reheating
What You'll Need:
Air fryer
Leftover chicken tenders
Instructions:
Preheat the Air Fryer: Preheat your air fryer to 375°F (190°C). Preheating the air fryer ensures that the chicken tenders will start cooking immediately and retain their crispiness.
Arrange the Chicken Tenders: Lay the leftover chicken tenders in a single layer in the air fryer basket. Avoid overcrowding to ensure even reheating and crispiness.
Reheat the Chicken Tenders: Place the basket in the preheated air fryer and set the timer for about 3-5 minutes. The exact time will depend on the size and thickness of the chicken tenders, as well as your air fryer's model and wattage.
Check and Shake: After about halfway through the reheating time, pause the air fryer and gently shake the basket. This helps to ensure that the tenders are cooking evenly on all sides.
Check for Crispiness: When the timer goes off, check the chicken tenders for crispiness and internal temperature. They should be heated through to an internal temperature of 165°F (74°C) to ensure they are safe to eat.
Adjust Time if Needed: If the chicken tenders need more time to reach your desired level of crispiness, you can add another 1-2 minutes to the cooking time. Keep a close eye on them to prevent overcooking.
Serve and Enjoy: Once the chicken tenders are heated through and crispy, carefully remove them from the air fryer basket and let them cool slightly before serving.
Tips & Tricks for Reheating Chicken Tenders
Times may Vary – Reheating times may vary based on the quantity of chicken tenders and the type of reheating method used.
Drying Out – Avoid reheating chicken tenders for too long, as they can become dry and lose their crispiness.
Power Setting – If using a microwave, using the medium power setting and reheating in intervals helps prevent uneven reheating.
Sauces – Consider serving the reheated chicken tenders with your favorite dipping sauces like herbed buttermilk ranch dressing, Russian sauce, or even creamy cilantro dressing to enhance their flavor.
By following these simple steps, you can enjoy your leftover chicken tenders with their original crispy texture and delicious taste.
Sides for Chicken Tenders
Whether you're enjoying a casual weeknight dinner or celebrating a special occasion, these sides for chicken tenders will turn your meal into a delightful feast. Experiment with different combinations to find the perfect pairing that suits your taste buds. With these ideas, you'll never look at chicken tenders the same way again.
If you make any of these sides of chicken nugget recipes, I would be honored and love for you to take the time to leave a ⭐ star rating and comment! I spend hours developing and testing these recipes, and always love to hear feedback and user experience!
Don't forget to FOLLOW ME on Facebook, Pinterest, and Instagram, and subscribe to my email list!