Impress your friends and family with this easy melt-in-your mouth buttermilk biscuits recipe. Made in less than 30 minutes time!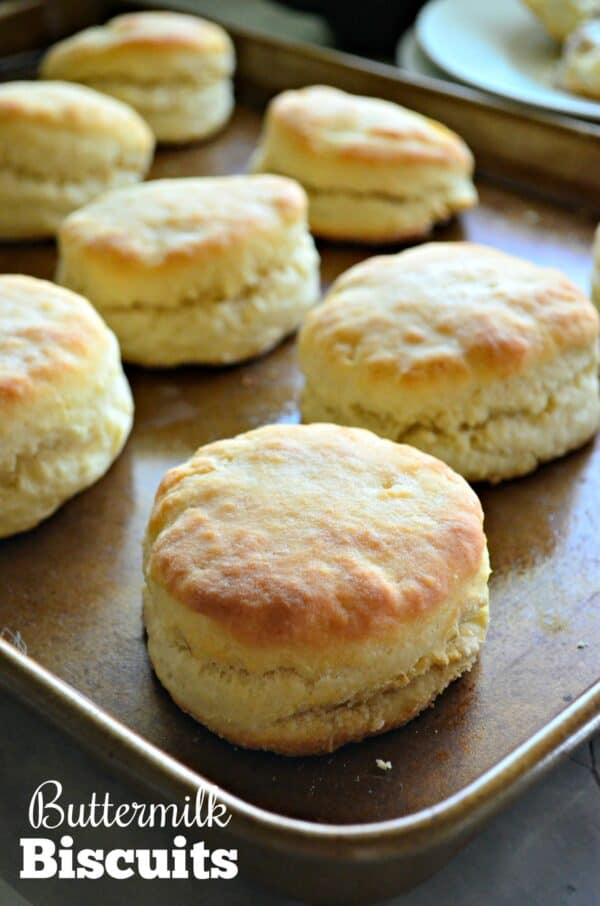 Let's take a break and talk about breakfast for a quick minute. We love it in our home. Nothing is better then bacon, eggs, potatoes maybe even a little sausage gravy on a thick and fluffy buttermilk biscuit. The problem is –most people either don't know how to make mouthwatering biscuits or they are straight up intimidated by the thought of even making your own. I'll raise my hand. I was one of those until last year. I tried my hand at so many different biscuit recipes for years always resulting in a dry thin hockey puck. That was until I went on a media trip with the Florida Beef Council. That's when I learned the secret to making the best buttermilk biscuits around. So what does beef and biscuits have to do with each other? We had the most amazing home cooked southern breakfast on a cattle ranchers summer home one of the mornings of my trip. Their entire family cooked the breakfast from scratch. One of the sweet daughter in-laws, Annie, made the most amazing buttermilk biscuits. I pressed her for the recipe and she wouldn't divulge; however, she did say that the key to the ultimate buttermilk biscuit is Crisco. Don't be intimidated by it. Grab it by the stick and show it whose boss!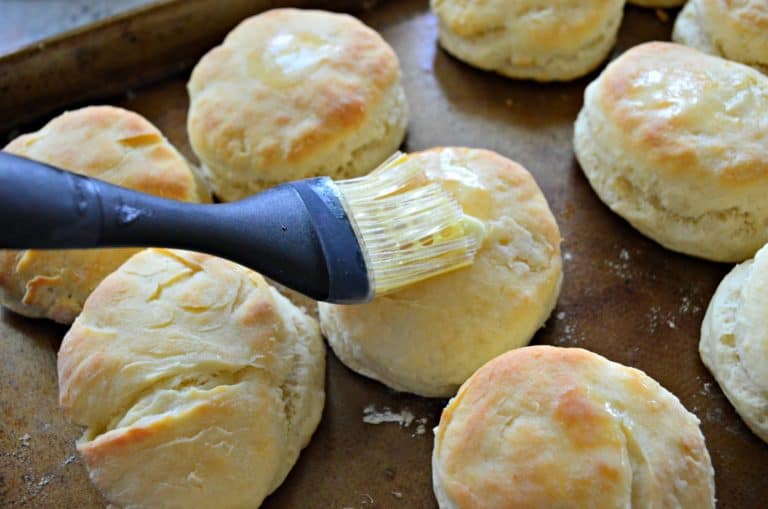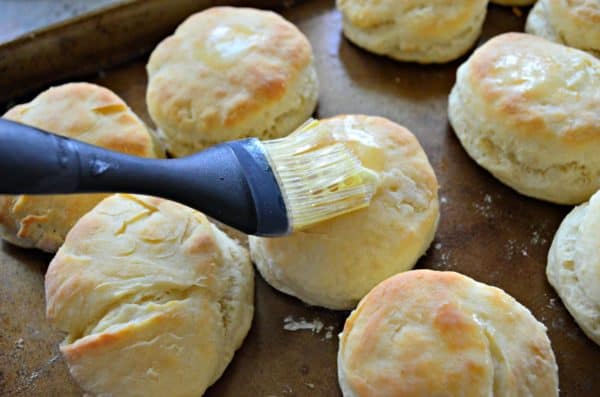 Yep, you heard right. Good olf shortening. That's one ingredient I stayed far from. As I left that trip, I was determined more than ever to make the most mouthwatering fluffy buttermilk biscuits. At the time, I was pregnant and in my first trimester with Reagan. After I ate those biscuits on my media trip, I couldn't get them out of my head. I was determined to master the art of biscuit making. I probably made over 100+ biscuits in just a few short weeks after that trip. Also, it helped that I craved all things comfort food with her, and biscuits were right at the top of my list! lol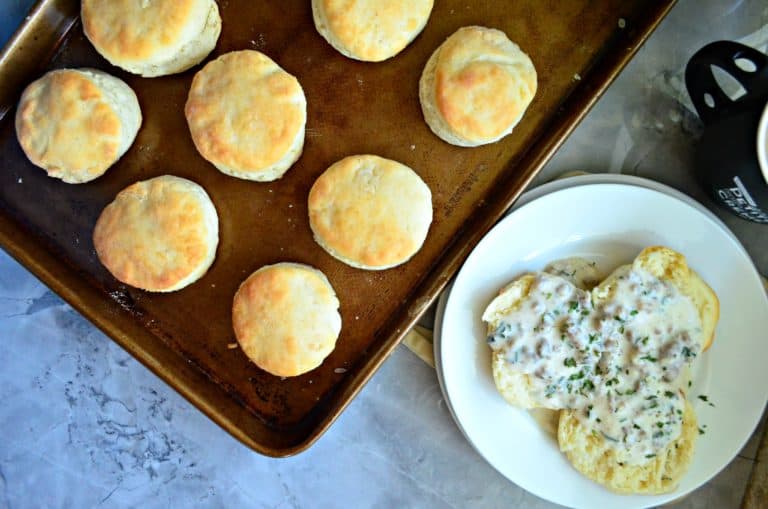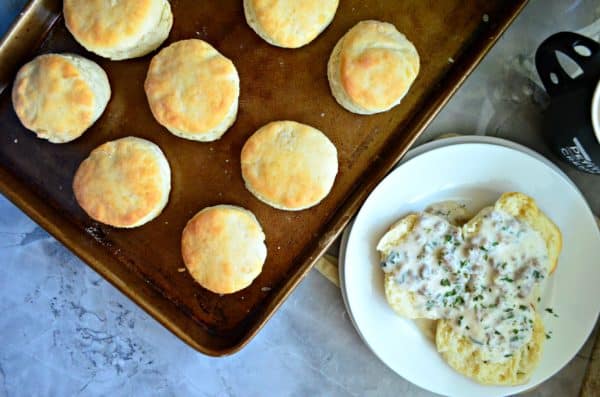 My husband was in biscuit and gravy heaven for weeks and weeks. He was happy that I had finally mastered yet another favorite food of his; the buttermilk biscuit. And I'll be honest, pretty darn proud of myself for conquering my biscuit fears.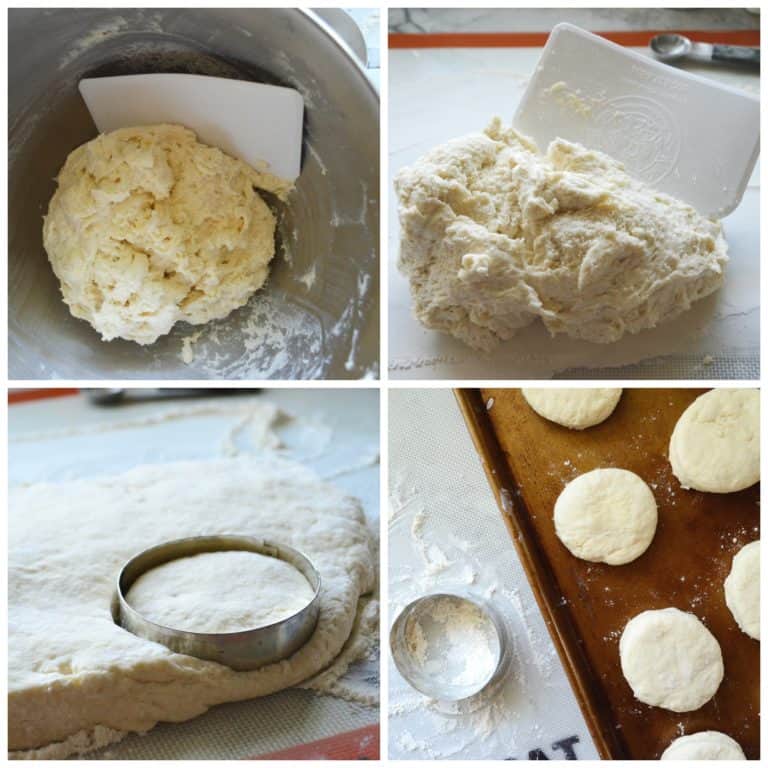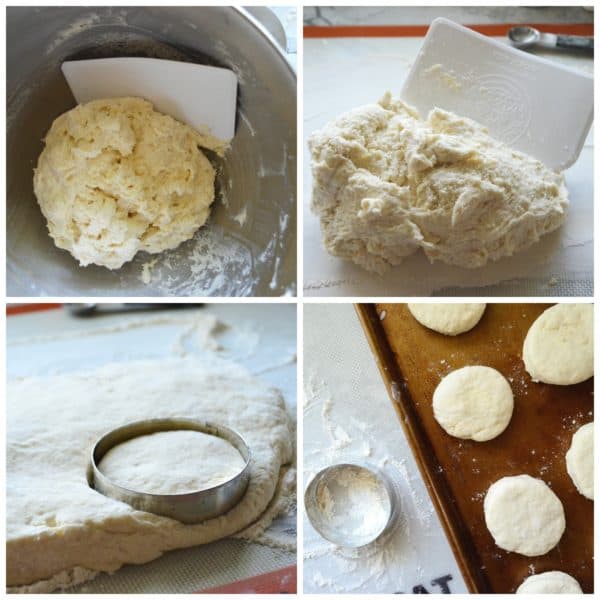 Making buttermilk biscuits is actually really easy. The key is finding the perfect recipe to make fluffy biscuits. You can mix the dough by hand or let your stand mixer do a little of the mixing. I don't use a rolling pin either. I actually prefer to hand pat the dough to a somewhat even level, so that I don't over work the dough. Plus, I'm lazy and I don't like to have to clean up anything extra. That is one of the keys to making fluffy buttermilk biscuits–do not overwork your dough.
A few supplies that I find very helpful when making biscuits:
So if your like me and have been searching for years to find the perfect buttermilk biscuit recipe, then I invite you to give this recipe a try. I promise it won't disappoint. The result will make you a biscuit making pro in no time at all!
Save
Save
Save
Save
Save
Save
Save
Save
Save
Save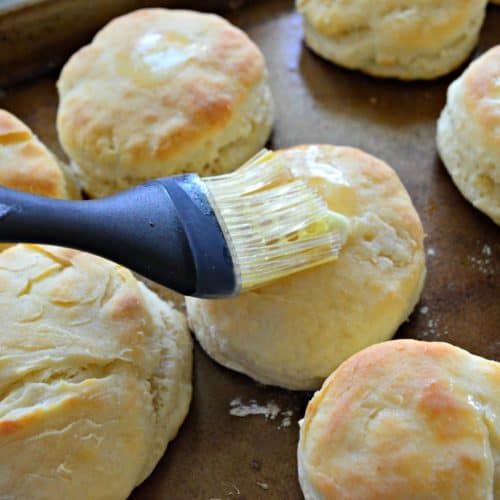 Buttermilk Biscuits
Melt-in-your mouth homemade buttermilk biscuits made in your kitchen in less than 30 minutes time! With just a few ingredients your next breakfast or brunch will be complete.
Print
Pin
Rate
Equipment
KitchenAid Stand Mixer

Baking Sheet
Ingredients
No-Stick Cooking Spray

3

cups

All-Purpose Flour

4

tsp

Baking powder

1/4

tsp

Baking soda

1

tsp

Salt

1/2

cup

Crisco® All-Vegetable Shortening

1 1/2

cups

Buttermilk

Melted butter
Instructions
Preheat the oven to 425°F. Coat cookie sheet with non-stick cooking spray.

While the oven preheats add flour, baking powder, baking soda and salt in a stand mixer fitted with a paddle attachment. Add the Crisco and mix for 30 seconds to 1 minute on speed 2/4 until mixture resembles coarse crumbs. While mixer is still running, pour in the buttermilk and mix until a soft dough forms. It needs to pull away from sides of bowl.

Place the dough on a lightly floured surface and sprinkle additional flour on top of the dough (and flour on your hands so the dough doesn't stick to your hands). Pat with flour and roll out to 1/2-inch thickness.

Using a biscuit cutter or a cup, flour the rim and and cut biscuit dough. Place the biscuits 2-inches apart on the cookie sheet.

Bake for 10 minutes, then remove the biscuits from the oven and brush with with melted butter. Bake for an additional 2-4 minutes until golden and cooked through.
Nutrition
Serving:
1
g
|
Calories:
209
kcal
|
Carbohydrates:
26
g
|
Protein:
4
g
|
Fat:
10
g
|
Saturated Fat:
3
g
|
Cholesterol:
3
mg
|
Sodium:
254
mg
|
Potassium:
242
mg
|
Fiber:
1
g
|
Sugar:
2
g
|
Vitamin A:
50
IU
|
Calcium:
111
mg
|
Iron:
2
mg