Sausage Gravy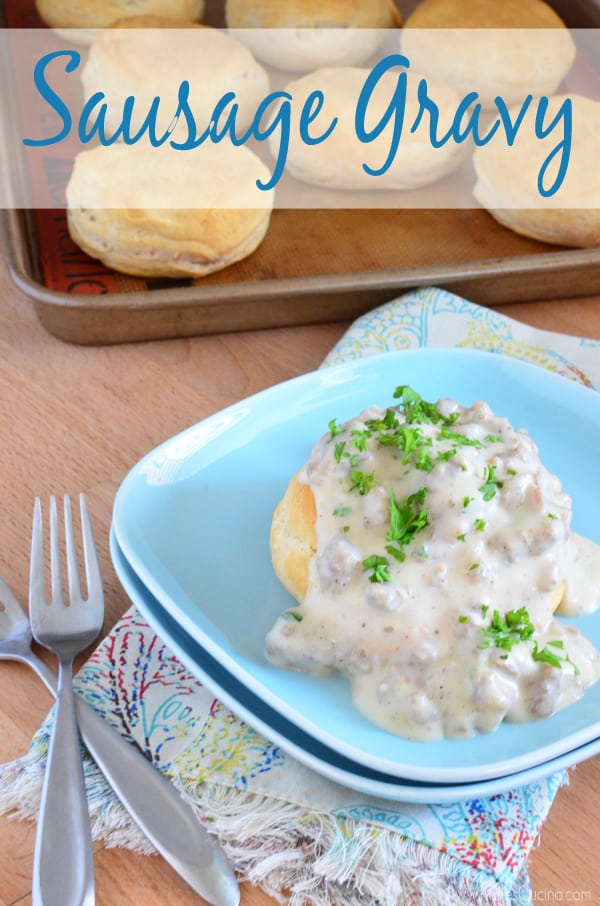 Yesterday, was my husbands 30th Birthday. I didn't make him a sweet dessert or a fancy dinner this year. Instead, I woke up a little after he woke up at 5:45 am, packed his lunch, made his coffee, and made him a hot breakfast! He didn't see me wake up–he was already out the door walking the dog, so when he got in he was beyond surprised. You see, before I was pregnant I was up with him every morning. Packing his lunch, making his breakfast, and coffee. And then I developed the craziest exhaustion I've ever experienced in my life with a healthy bought of morning sickness (which was really all day sickness) and the days of me getting up with him soon turned to Jon getting ready in the morning without me. He would also make me smoothies every morning, so that I had something to sip on before I even stepped foot out of bed. I know… he's a keeper. Thankfully the morning sickness is long gone but the exhaustion still plagues me daily. So I "sleep-in" on work days and depending on if I'm working at home or have to go in the office will depend if I get to sleep until 6:30 or 7:30 am. So the fact that I got up to get him ready for work was a gift in itself to him. We splurged on a fancy dinner since this is the last Birthday we will share that we won't need a baby sitter. I'm taking full advantage of this not needing a baby sitter thing while I can.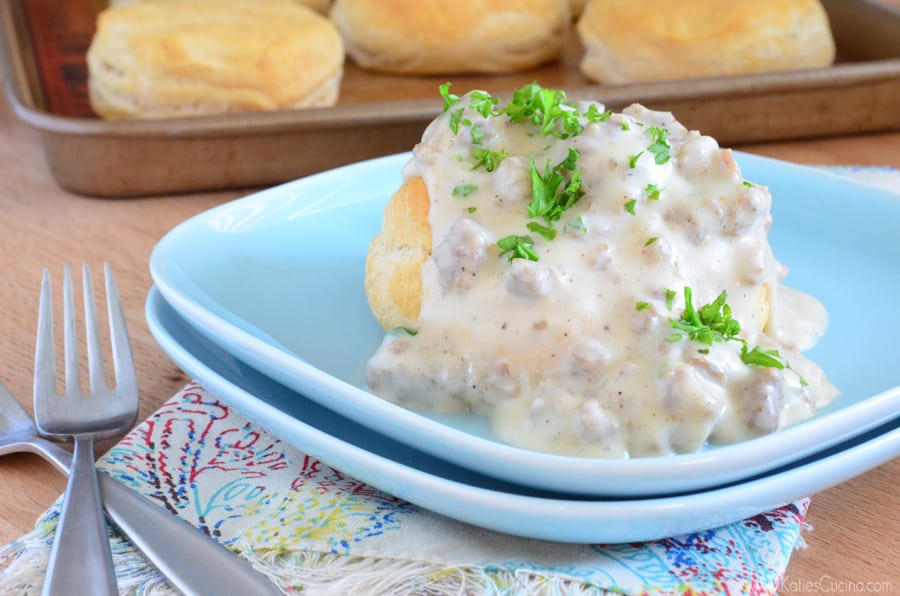 If their is one thing my husband, Jon, loves it's breakfast. I'm pretty sure I've made that statement on here before. He LOVES breakfast and looks forward to having a sit-down breakfast every weekend (as well as sleeping in because who likes to get up at 5:30am, daily?). The other week after skimming the pages of my instagram feed I saw that my friend Jenna was having breakfast for dinner. I instantly knew I wanted to make breakfast for dinner. Forget the leftover chicken. Eggs and hash-browns and sausage patties were in my imminent future. I called Jon on his way home from work and asked him to stop for apple juice and sausage patties. I declared we were having breakfast for dinner. We had breakfast for dinner that night, and only used half of the ground sausage patties. I knew that we would use the rest of it over the weekend.
Fast forward 4 days later…
I woke up early that Sunday morning and knew I had a can of biscuits in the fridge and remembered that I had the half package of ground sausage to use up. I decided I would make Jon's favorite breakfast food, sausage gravy and biscuits! I had all the ingredients on hand and knew he would be thrilled to wake up to smelling biscuits bake in the oven and sausage gravy simmer on the stove top.  We ended up inviting our neighbor over for an impromptu breakfast that morning thanks to the heating element breaking on our dryer. I was hoping she would be ok with biscuits and sausage gravy. Not everyone loves them. I will be the first to admit — it's not my thing. I solely make this recipe for my husband. I paired the biscuits and sausage gravy with sunny side up eggs, home fries, baked bacon and a fruit salad. Everyone was in love with breakfast, and bellies were full by 9am. My neighbor proclaimed that she was beyond impressed that I'm still cooking breakfast being so pregnant.  We have to eat, and well I love breakfast too. It's something that both Jon and I look forward to every weekend. She was shocked that we eat like this every weekend. Their is no such thing as cereal for breakfast in our house. I can whip up a hot breakfast in 15 minutes or less if need be. This one (because I photographed part of breakfast) was completed from start to finish in 30 minutes.
Katie Original Recipe
Ingredients
1/2 lb ground breakfast sausage
2 tbsp salted butter
2 tbsp white onion, minced
1/4 cup flour
1 cup whole milk
1/4 tsp salt
1/4 tsp black pepper
fresh minced parsley for garnish
Directions
In a small sauce pan, add minced onion and breakfast sausage and begin crumbling sausage. Cook for 5-10 minutes until sausage is cooked through.
Once the sausage is cooked through add butter and melt. Then sprinkle flour over sausage, mix well, sprinkle salt and black pepper on top and pour in the milk. Stir milk until the mixture is thick (about 5 minutes).
Remove the sausage gravy from the heat, add a little fresh minced parsley to the gravy, stir, and then pour on top of biscuits. Top with additional minced parsley for garnish. Enjoy.
Notes
If you happen to have leftover sausage gravy feel free to freeze it in a freezer baggie. To cook frozen gravy, thaw one day before, reheat in sauce pan and add more milk if necessary.
https://www.katiescucina.com/sausage-gravy/
This recipe is brought to you by Katie Jasiewicz of Katies Cucina
Warning
: Use of undefined constant rand - assumed 'rand' (this will throw an Error in a future version of PHP) in
/home/kjasiewicz21/webapps/katiescucina/wp-content/themes/katiescucina/single.php
on line
74
8 Responses to "Sausage Gravy"
Trackbacks/Pingbacks

Leave a Comment