Get ready… this is one epic veggie bagel sandwich. So epic, that you spruce up whipped cream cheese and turn it into the most decadent and savory herb and garlic cream cheese on this planet. I was inspired years ago on a bright Saturday morning while strolling along at my local farmers market. Our local farmers market just doesn't sell produce. They sell other speciality items like dips and sauces, local honey, freshly baked bread, and a variety of food. My favorite part of the farmers market is this bagel. I discovered it in college and would treat myself every time I made my way down to the farmers market.
And then one day it hit me like a brick wall… why don't I try to recreate this "treat" at home? So I did just that a few years ago. And by now I've made it even better than the bagel stand at the farmers market. I can say that since I recently had one of their bagels and made the comment "mine is better". Which my husband either Whenever I buy everything bagels there is a 99.9% chance that I'll be making my famed veggie bagel sandwiches for breakfast. Yes, people… we eat these for breakfast; however, this would be great for brunch or even lunch. Heck while we are at it you could make it for dinner, too. Why not? This is great way to start off your morning. A good balance of carbs, veggies, and dairy! The major food groups in my life!
A majority of the time when I do make this famed veggie bagel sandwich I make it in the morning before we are ready to leave for work. We both chomp on them during our drive into the office. During the days I make this delectable treat I have to check my face for cream cheese smears and my body for excessive everything seeds! Whether your on the go or just want to indulge in the comforts of your own home for breakfast, lunch, or dinner I highly suggest you give this veggie bagel sandwich a try!
Katie Original Recipe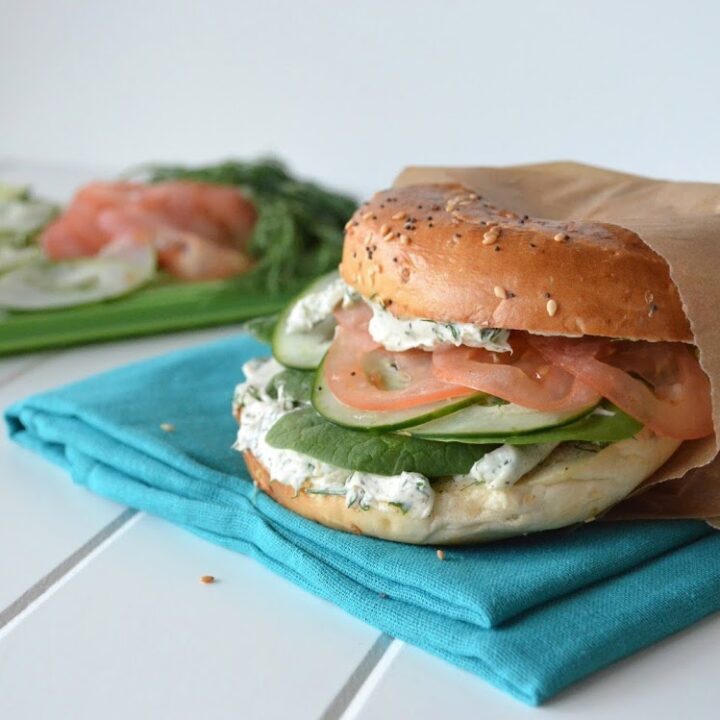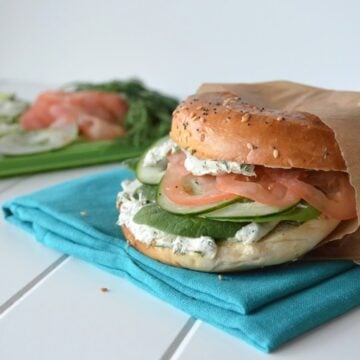 Ingredients
¼

cup

whipped cream cheese

1

tablespoon

each fresh parsley and dill

chopped

⅛

teaspoon

black pepper

¼

teaspoon

Cavenders Greek Seasoning

2

Everything Bagels

10

slices

each of plum tomato and cucumber

thinly sliced

8-10

spinach leaves

per bagel
Instructions
Toast the everything bagel.

While the bagel is toasting; in a bowl combined whipped cream cheese, fresh parsley, fresh dill, black pepper, and Cavenders Greek Seasoning. Mix, until well incorporated.

Smear the garlic and herb cream cheese on both sides of the toasted bagel. Then add a layer of spinach followed by a layer of thinly sliced plum tomatoes and cucumbers (about 5 slices each). Close the bagel and push down so all the contents stay in the bagel. Repeat the same steps above on the second bagel.

Wrap it up and eat it on the go or serve it on a plate and eat it at your own pace!